Love it
By
Robyn H.

(Roulette, PA) - February 11, 2014 (
See all reviews by this customer
)
I have been looking around at all the different types of "family rules" and I'm so glad I got this. It's beautiful.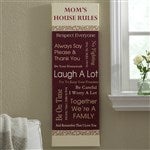 Great product with exceptions
By
Heather E.

(West Fargo, ND) - January 23, 2014 (
See all reviews by this customer
)
We really like the final product, however the coloring was not exactly true to the final image. There is more of a pink tone in the brown canvas and green tone with the swirl design in the tan canvas.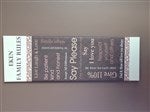 Excellent
By
Laura M.

(Claremont, CA) - December 21, 2013 (
See all reviews by this customer
)
I've been looking for "Family Rules" that fit our lives, but to no avail. Then I found this website and was able to create applicable rules for my family. I went back to purchase another one for my niece's Xmas gift.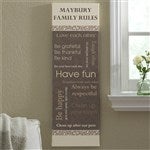 The way to go!
By
Elisa L.

(Saugus, MA) - July 30, 2013 (
See all reviews by this customer
)
This is the way to go to get oyur own sayins down if you are a fab of "family rules" it came fast, and it exactly as described We love it!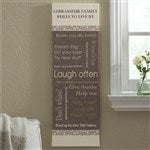 WRONG COLOR
By
Shopper

(Columbia, MO) - June 27, 2013
I wsa so disappointed when I received this item and found that sage green is a prominant color, as it appears to be tan, gray, and brown. Customer service did not help me with this problem. Be warned if you want a neutral item for your home, THIS IS GREEN!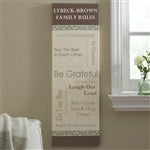 Very nice canvas
By
john Z.

(baltimore, MD) - May 15, 2013 (
See all reviews by this customer
)
My wife and I have been ordering from this site since 2008 and have never been disappointed. This canvas is great. Good size and color. We have no kids, just happy parents to two wonderful dogs. Instead of family house rules we made it cute by putting their names with their house rules. Great product and once again we are very satisfied customers.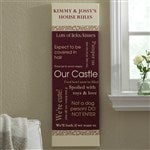 I would give this a 10!!
By
Shopper

(Meriden, CT) - January 29, 2013
I have purchased many items through this site and have always been completely satisfied and happy. This is by far my favorite item to date. I had a great time coming up with uour family rules. We have it hung in the entry way of our house so it's the first thing people see as they enter our home. The size and colors are exactly as they appear on the site. Love,Love,Love!!!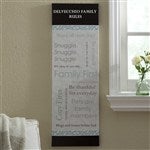 Canvas Art
By
Debby M.

(Huntsville, TX) - January 28, 2013 (
See all reviews by this customer
)
It looked just like I ordered it. I have liked everything I have ordered thru Personalization Mall.com.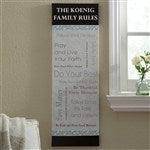 Family Rules
By
Angie W.

(Belvidere, IL) - December 28, 2012 (
See all reviews by this customer
)
Everybody loves this. It would be nice if the quotes were available to choose from (or choose your own)to make it easier.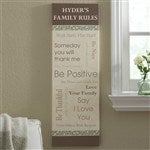 Perfect expression
By
Barbara M.

(North Port, FL) - December 22, 2012 (
See all reviews by this customer
)
It is amazing how personalization mall can create a wonderful, personalized, canvas in such a short time. It will be loved for years to come. More than what I expected. I will be ordering more.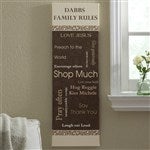 Canvas Art Holds Memories
By
Cynthia B.

(Shohola, PA) - December 21, 2012 (
See all reviews by this customer
)
As always Personalization Mall has delivered a beautiful, quality product. I was looking for a special Christmas gift for my son and daughter-in-law for their first Christmas together. Instead of listing house rules I listed "Promises" they made to each other on their wedding day using words and phrases from their marriage vows. The canvas turned out great and looks beautiful.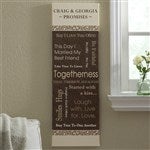 Love it!!
By
Shopper

(Delmar, NY) - December 15, 2012
I bought this for a Christmas gift and I am absolutely thrilled with it. I know my niece and her family will also love it. The shipping was unbelievably fast. I picked the rules and had to add one to make them smile.... Don't play in traffic. I wanted to put, Hug Aunt Brenda whenever possible, but didn't. I am very happy with this gift and will order more for other family members! I like the fact I could see the finished product before I finalized my order, because I swapped the position of two rules and liked the look of those two rules much better. Great gift or addition to your home!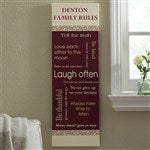 Family canvas
By
Shopper

(mount ephraim, NJ) - December 14, 2012
I ordered this on a Sunday, and it was at my door Tuesday! It is better in person, than in the picture. I loved it so much, I ordered a second one! Great gift!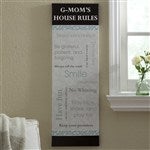 Exactly what I ordered
By
Shopper

(Traverse City, MI) - December 4, 2012
The item I ordered was received in excellent condition, obviously packed with care. It looked exactly like the review on the web site and the size stated is accurate so it fit right where I wanted it. The personalization of family rules was an excellent opportunity for our kids to have input into what they thought was important. I really liked that I could preview and move the "rules" into different boxes so the ones most important to our family were prominantly displayed. Also, it was great to be able to pick a color that fit into my already existing decor. Wonderful product!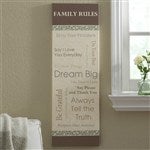 Looks nice
By
EMILY W.

(WOODBRIDGE, VA) - October 15, 2012 (
See all reviews by this customer
)
I like the way this turned out. Wish I would have left off our last name. Seems sort of "cheesy" with it. I like the fact that your get to create it with your words. Great gift!!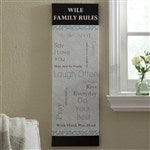 Family Rules
By
Kerri M.

(Plainfield, IL) - January 21, 2013 (
See all reviews by this customer
)
I order from this site all the time and love everything I buy from here. The quality of the canvas art is excellent and looks great in my family room. I get compliments on it all the time. I highly recommend!

exceeded expectations
By
Shopper

(kansas city, MO) - December 30, 2012
This is the second personalized canvas that I have purchased from this website. It's a fair price for a nice looking piece. It looks better in person than on the computer screen. I really enjoyed personalizing it and we have received many compliments from friends and family.

Beautiful and personal gift
By
Shopper

(McHenry, IL) - December 28, 2012
I loved that I could fully customize/personalize this piece of art.

Feedback
By
Shopper

(Glendora, CA) - September 11, 2012
Product was received on time and in perfect condition. This item looked just like the picture. I am very impressed with the quality of service and delivery.

beautiful way to commemorate
By
Shopper

(Buckhannon, WV) - December 15, 2013
I didn't use this as a "family rules" piece. Instead I used it as another example of a way to commemorate special places/events in mine and my husband's relationship.

Better than expected!!!
By
Rachel M.

(Morristown, TN) - December 29, 2012 (
See all reviews by this customer
)
I ordered & personalized two of these as gifts for family members and was very pleased with the finished product! The quality is exceptional, the colors true to form, & the recipients were thrilled with their gift! Now, I plan to personalize & order one for my own home. I highly recommend this unique & beautiful item.

Awesome product
By
Shopper

(Chesterfield, MO) - June 16, 2014
Love this product. Family and friends are amazed that I was able to personalize this canvas frame. Instead of Rules, I used Memories of our blended family and gave it to my husband for Father's Day. It was a big hit!

Love it
By
Shopper

(Warrington, PA) - June 29, 2014
We love our family rules sign! People always notice it and comment on how it really does reflect us and our family beliefs..... Worth every penny!

Great Product!
By
Shopper

(Piketon, OH) - January 7, 2014
Love our personalized rules! The canvas was thick and the color was great.

Great addition to our living room
By
Jourdan B.

(Wrightstown, WI) - June 10, 2014 (
See all reviews by this customer
)
My husband and I recently renovated our entire home. I purchased this for our living room and get so many compliments on it. It looks great and adds a very personal touch. It's one of my favorite new pieces of decor!

Very pleased
By
Shopper

(Glastonbury, CT) - July 12, 2014
I was very pleased with this product. It was exactly as shown and looks great on the wall of our beach cottage. I have been consistently pleased with personalization mall. I would highly recommend this product!

Nice gift - sketchy pricing
By
Melinda S.

(Niagara Falls, NY) - September 9, 2014 (
See all reviews by this customer
)
I love giving this as a gift, especially weddings - personalizing it for each couple with names & date of wedding. I just ordered my 4th one since December, and feel like I have to watch the price of it like I do flights for airlines. They will send you a 20% off coupon and then increase the price of product 25% - when I questioned this sketchy pricing I was told "they reserve the right to govern the price as frequently as they want" - not certain that was much of a thank you for being a frequent shopper! Hopefully you are paying $50-52 for this product, not the $65 that it is sometimes priced at. Other than that, you will love this item, and so will anyone receiving it.

We love it!
By
Shopper

(Chesterfield, VA) - July 5, 2014
I bought this canvas in green. I thought the top and bottom were going to be brown and the text green, but the top and bottom is actually an olive green. I love that you can type in whatever personalization you want to fit your family. On the first line of the rules area, I put our wedding date and like that it shows when our family started. The size is perfect and it was a great anniversary present for my husband. He loves it.

Anniversary Gift
By
Shopper

(Milwaukee, WI) - July 10, 2014
I ordered from Personalization Mall for a 30th wedding anniversary gift for my parents. The website and templates are user friendly and I loved the picture preview. The turnaround time for the production, shipment and delivery of the canvas was amazing and quicker than any other site I've ordered from. The best part is the product: it looks fantastic, just like the picture and my parents loved it.

Adorable & meaningful gift!
By
Melinda S.

(Niagara Falls, NY) - December 20, 2013 (
See all reviews by this customer
)
I have ordered two of these, and will most likely order more. They are so meaningful with your own words, plus I added the names of each family member within the sign. Absolutely love it and great price for such a long lasting gift.

Love it
By
Shannon A.

(Tiline , KY) - May 15, 2013 (
See all reviews by this customer
)
It is perfect! I love the colors they match perfect. I love the print! It is a wonderful piece of art work for a great price.

nice quality
By
Shopper

(Gilbert, AZ) - July 27, 2013
fast shipping and looks very nice!

Beautiful wall decor
By
Tish A.

(Baytown, TX) - February 3, 2013 (
See all reviews by this customer
)
I am so happy with my order. It is gorgeous! Everyone asks me where I bought it and I am proud to say personalization mall .com.

Love it!
By
Shopper

(Kendall Park, NJ) - February 16, 2013
Was looking at these types of wall hangings for a long time, but they all had something on them I wasn't crazy about. This is perfect, completely personalized to my family with exactly what i wanted to say on it! Super fast delivery and looks great. Receive compliments on it all the time.

This RULES!!!
By
Shopper

(Tell City, IN) - November 11, 2013
Love this item! It's a great reminder for your family as they walk out for the day!

Great product for the family
By
Shopper

(Rochester, NH) - December 8, 2013
We had a family meeting with our two little ones establishing our family rules. They were involved in helping come up with the rules as well as the consequences and rewards if the rules are not followed. I love that this is a beautiful and stylish way of displaying them. The boys love it as well and we can point to a family rule that they may not be following. They even go to the rules and point out their favorite. It hangs in our living room and we have had a few people already ask us where we got it because they want one. I love it.

So pretty and so fast
By
Shopper

(Baton Rouge, LA) - August 24, 2013
This canvas is beautiful and arrived just as I ordered in only a few days. I will be recommending to friends and buying as gifts.


Great Gift for anyone
By
Shopper

(Mount Airy, MD) - September 30, 2013
I was so excited to find this personalized canvas. This is a great item to create for families, friends, children young and old! I used family favorite sayings that my children grew up with and gave as college gift. I made another canvas with personalized sayings and places for our family beach house. Looks great! I bought Tan color and was so pleased! I would recommend this item. So many guests in my home want to know where I bought it!