The best gifts EVER!!!!
By
Ramona G.

(Smallwood, NY) - June 24, 2014 (
See all reviews by this customer
)
OMG I was looking for a gift for my brother who needs nothing and has everything. So I was just browsing and saw the cuties apron that can be personalized and with a photo. So I followed the easy instructions downloaded the photo right from my PHONE ordered on their secure website and WITH IN 2 HOURS IT HAD SHIPPED OMG OMG he got it the day before his birthday with was I my 6 days away
OMG I LOVE THEM AND WILL ORDER FROM THEM WHENEVER I NEED ANY GIFT FOR Anyone THANK YOU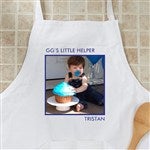 Memorable Gift
By
Tami J.

(Oceanside, CA) - February 20, 2014 (
See all reviews by this customer
)
I bought this apron as a gift for a special Aunt and used a photo of her and 4 of us cousins. It was very easy to order and turned out better than I had hoped. The neck of the apron is adjustable, which I didn't know about, which is perfect as my Aunt is under 5 ft. tall. It has pockets in the front and it is made very well. I was extremely pleased and will definitely order this again for someone in the future. It also arrived on time which I was grateful for as I had not left much time before I was leaving town with it. As it was a joke that we are all her "favorite" nieces, I also did my own aprons for the 4 of us that identified each of us with our name and as her "favorite" niece. It was such a hit. I am very happy with this product!!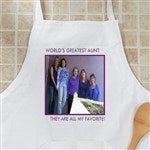 Winning!
By
katrina H.

(Powder Springs, GA) - December 28, 2013 (
See all reviews by this customer
)
How about.... With all the mis-fires of deliveries this holiday season, YOU GUYS CAME THROUGH! The apron was a 'MEGA HIT'! Even if everything else had arrived in time, STILL would've excelled! The pics in the chef's apron were clear and the text was clearly understandable! EVERYBODY "Oohed & Ahhed"! Will DEFINITELY be a Return Customer?

Great picture quality
By
Theresa M.

(Holladay, UT) - December 19, 2013 (
See all reviews by this customer
)
I was impressed with how clear the pictures were on the fabric. This is a big, sturdy pot holder that is sure to please grandma!

christmas made easy
a great product that makes Christmas a little more personel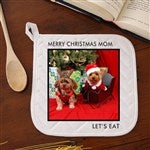 so cute
By
Shopper

(white plains, NY) - October 4, 2013
great idea. great pic. great price. quick shipping. couldn't be better.

Perfect Grandmother gift
By
Vickie W.

(DAWSONVILLE, GA) - September 15, 2013 (
See all reviews by this customer
)
I didn't get to see the gift itself, but my mother never quit raving about it.
She said it was so nice she wanted to hang it up and not wear it. Ha!
Thanks for making her day so special. She said the photo was great.
Ms. Wilkinson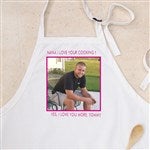 Great gift!
By
Shopper

(West Chester, PA) - July 23, 2013
I got this as a gift for my mother and personalized it with pictures of the newest addition to the family- my sweet little nephew. I know that she'll love this gift and treasure it forever!
My order consisted of 3 items and was shipped very quickly. I'm very happy with all my purchases and will be coming back here often now!

JUST PERFECT
By
Shopper

(Baldwin, NY) - June 19, 2013
PERFECT

Happy customer!
By
Brenda D.

(Paterson, NJ) - May 18, 2013 (
See all reviews by this customer
)
The product came out perfect and the shipping was FAST!

Mothers Day
By
Shayne A.

(apple valley, MN) - May 18, 2013 (
See all reviews by this customer
)
Very happy with my last purchase.Thank You

Beautiful!!
By
Shopper

(Fayetteville, GA) - May 15, 2013
Turned out amazing!!

Perfect gift for my mom! Turned out amazing!
By
Shopper

(Fayetteville, GA) - May 15, 2013
I picked my own design, pictures and saying on it. Turned out even better than I expected!

Great personalized gift
By
Maureen K.

(Sylvania, OH) - March 8, 2013 (
See all reviews by this customer
)
I ordered these to accompany a set of pans being given as a bridal shower gift. I put a picture of the engaged couple on the pot holder - a BIG hit!

Easy, Fast Shipping, Looks Great
By
Cindy B.

(Los Alamos, NM) - February 25, 2013 (
See all reviews by this customer
)
The process to upload and personalize was easy. The item shipped very quickly and the product looks great

Cute!!
By
Shopper

(Fort Edward, NY) - February 15, 2013
My daughters and I designed this as a Valentine's Day gift and it turned out so much cuter than we thought it would've. He loves it and it looks adorable :)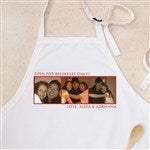 Great Gift Idea!
By
Becky M.

(Orlando, FL) - January 3, 2013 (
See all reviews by this customer
)
Bought this apron for my Bestie & she loved it - Also bought one for myself with a pic of my boys on it - Quality Item! Really Nice!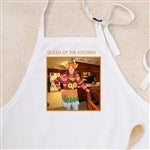 Great Gift
By
Shopper

(Norfolk, VA) - January 2, 2013
Quick and Easy personalized gift. Looks like lots of effort and time went into ordering!!

Great gift
By
Shopper

(Fairfax, VA) - December 31, 2012
I gave this to my father-in-law for Christmas. I had it shipped directly to him and although I didn't see it myself, he said it was great.

Great gift! Great price!
By
Shopper

(Houston, TX) - December 15, 2012
I ordered two of these as a gift set, each with its own personalized photo and writing -- and they came out great!! The quality of the photos I submitted wasn't even that good, as I was actually using photos of photos from newspaper articles. But Personalization Mall's edit tools helped to enhance them, and the potholders look fantastic! What a unique way to celebrate someone!! And it took no time to get them. Within a day of submitting my order, my items had shipped. They arrived with plenty of time to spare before Christmas. Can't wait for my friend to open them!!

Very cute.
By
Ann S.

(Indianola, IA) - November 27, 2012 (
See all reviews by this customer
)
I had a little trouble getting pictures to fit on it, but that was more about my technical skills. The finished product is nice My mom will love it!

great gift!!!!!
By
Shopper

(Palo alto, CA) - November 12, 2012
Love this item

Perfect!
By
Shopper

(Royersford, PA) - August 5, 2014
We ordered two of these as a bride/groom gift for a shower. ..they turned out amazing. Great quality and durable material.

Cute gift idea
By
Shopper

(Steelton, PA) - December 29, 2012
The apron is a plain white apron and the picture turns out very clearly. I would suggest adding more color and decorating it further prior to gifting it. Excellent purchase.

Nice gift.
By
sandra P.

(Hutchinson, MN) - December 10, 2012 (
See all reviews by this customer
)
I ordered this pot holder with my husband's BBQ team logo on it. I was disappointed that the entire potholder wasn't black. That wasn't clear when I ordered it, I thought by picking the color, you were picking the color of the pot holder. I was wrong and they are all white.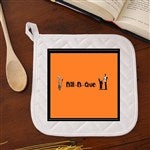 Crooked print
By
Brenda B.

(Edgerton, WI) - May 18, 2014 (
See all reviews by this customer
)
The print on the apron was crooked. Disappointed!

avoid this product
By
Shopper

(tracy, CA) - May 15, 2013
The quality was not great. And the color and size of the pictures I was not happy with. The pics are so small. I would not recommend this.