WINNER!
By
Shopper

(Buffalo Grove, IL) - July 21, 2014
I have purchased a number of these blankets for myself and for gifts. They are always a hit. They arrive quickly and are so adorable and cozy. They are a nice size too. Great gift item... I highly recommend this product.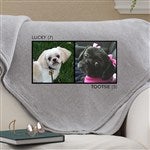 the perfect blanket
By
brenda W.

(canyon country, CA) - June 24, 2014 (
See all reviews by this customer
)
the blanket was so comfy and cute . perfect size to cover my dad in a hospital bed size.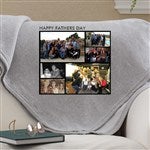 Father's day gift
By
Shopper

(Flushing, MI) - June 9, 2014
My husband opened his box, provided by Personalizationmall.com, and he couldn't stop smiling. He has washed the blanket and keeps it right with him. Proud daddy moment from his almost 2 year old son.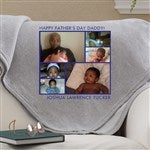 Fast and nice
By
Shopper

(CHATTANOOGA, TN) - May 17, 2014
The pictures printed sharp and the blanket isn't too heavy or too light. The best part is that it ships super fast.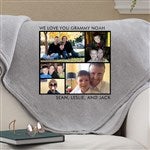 Personalized Sweatshirt Blanket
By
Susan M.

(Sewickley, PA) - May 14, 2014 (
See all reviews by this customer
)
I purchased this blanket as a house warming gift for friends who have two dogs. I personalized it with their family name and photos of them and their two dogs. I thought the clarity of the pictures would be a little sharper but, after considering the sweatshirt material that it is printed on, realized that these are good quality/clarity pictures! I can't wait to give it to them! Also, your customer service department was extremely, extremely helpful when I had a problem with cropping/resizing one of the photos! Without their help, I don't think I would have been able to order this product! I have ordered from your website in the past, and know that I will be a returning customer!!

Beautiful Blanket!
By
Ocarita H.

(Houston, TX) - May 13, 2014 (
See all reviews by this customer
)
I ordered this gift for Mothers Day for my mother-in-law also and she flipped over this keepsake blanket! I put all of her grandkids on there. She is already in love with it and I know she will show it to everybody! LOL! I like the light weight but quality of the sweatshirt material. I will definitely oreder my keepsake and sentimental gifts from Personalization Mall in the future! Thank you!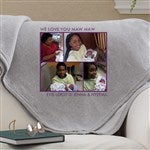 LOVE
By
Jessica H.

(Albuquerque, NM) - April 18, 2014 (
See all reviews by this customer
)
I love this blanket, as it is plenty big and the pictures that were printed on the bottom corner is so cute! The way the photo is printed on, it doesn't look like it will scrape off or wash badly. This blanket is just like a big sweatshirt and is super cuddly!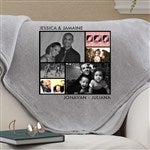 Blurry Photo
By
Shopper

(South Windsor, CT) - March 21, 2014
I have ordered MANY things from Personalizationmall over the years and have always been very happy. I recently purchased this photo blanket with my kids faces on it, and was dissapointed with the clarity of the printing. The photos are rather blurry.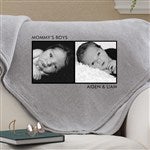 Pleased
By
Carli N.

(Virginia Beach, VA) - March 14, 2014 (
See all reviews by this customer
)
I was pleased with the way the pictures turned out. I wish the helpful 'good,better,best' tips when editing your photos would be more specific. Mine said better when I was editing my photos, and they were not as I expected. The pictures came out darker then they were pictured. I was still very pleased, and you could still make out what each picture was. If I was to order this blanket again, I would just make sure I chose better pictures.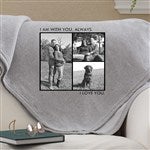 GREAT GIFT
By
Rhonda B.

(Joliet, IL) - March 10, 2014 (
See all reviews by this customer
)
Quality blanket & photo came out great! My husband loved it.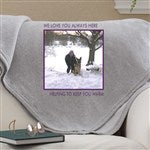 warm & cozy
By
Shopper

(Rockaway Beach, NY) - February 22, 2014
It's great when watching tv on the couch
I Ordered one for a gift
Then I Ordered another one for myself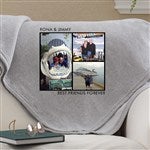 Mom Loved It
By
Teresa C.

(China) - January 24, 2014 (
See all reviews by this customer
)
It was my mom's 80th birthday and I wanted to get her somethings unique. So I chose our favorite picture and put it on this blanket. Since it is sweatshirt fabric it is not too hot nor to cold to use as a wrap. Great gift!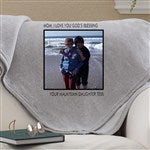 Very nice gift
By
Shopper

(Sistersville, WV) - January 23, 2014
I bought this to give as a gift. I thought it was a nice personal item to give. Only thing I would change is the size of the picture. I think it should be just a little bigger. Other than that, it was very simple to pick a picture, upload and preview.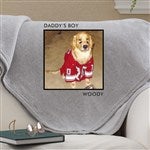 Sweatshirt blanket a treasure!
By
lydia A.

(omak, WA) - January 10, 2014 (
See all reviews by this customer
)
I have yet to order a bad gift from this company. I love that there are so many ways to be creative and out of the norm. My grandchildren mean the world to me and to give my daughter in law the sweatshirt blanket personalized, well it just hit the spot. She absolutely loves it! Personalization Mall is my one stop shop when I need something special.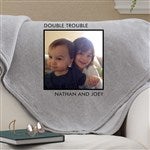 great gift
By
agueda S.

(houston, TX) - December 27, 2013 (
See all reviews by this customer
)
This was a gift for my mother for Christmas. She loved it! Also, all her friends saw the blanket and made her call me to see where I got it- they all wanted one.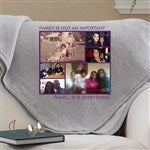 Smaller Than I thought
By
Donna F.

(Salisbury, MD) - December 24, 2013 (
See all reviews by this customer
)
I like the cover however, I thought that the image would have taken up more space on it. Other than that I am fine with the product.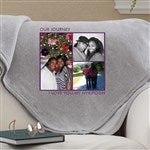 Exactly what I ordered, Amazingly fast shipping
By
Shopper

(Wauwatosa, WI) - December 15, 2013
I read other reviews about this blanket that mentioned the picture coming out blurry. I think this is simply due to the type of substrate used to print the photo on. Any photo will have a slight blurry look to it up close. Anyway, I love this blanket. It's exactly what I ordered and the great grandmas will love them (I ordered 2). I like that the picture is only in one corner so as to not dominate the decor of the room (I feel the full photo blankets are gawdy). Just a nice little reminder of her great-grandchildren on those chilly winter nights, I think. The shipping was amazingly fast...ordered on the 6th, shipped on the 9th, arrived on the 11th, even though the quoted expected delivery was much further out! My only wonder is if photo will hold up to washing. The material the photo is printed on seems almost iron-on patch material. Will see how it works out. Highly recommend this product and company, has not disappointed yet!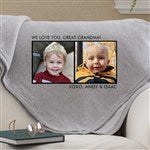 great grandchildren
By
angela B.

(north bergen, NJ) - December 14, 2013 (
See all reviews by this customer
)
I ordered two blankets with pictures of my grandchildren. They will be x-mas gifts for great grandma and grandpa. I am very happy with the way they look. I am sure great grandparents are going to be surprised and so pleased with these gifts.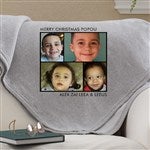 Blanket Photo
By
Tracey S.

(New Hartford , CT) - December 2, 2013 (
See all reviews by this customer
)
More than pleased with results. Photo so clear. Perfect so excited to give to my daughter at christmas. Will keep this sire in my favorites. Better than expected!!!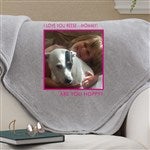 Perfect!!
By
Shopper

(Salem, MA) - November 24, 2013
I am very happy with my purchase!!! It came out beautiful!! I will be buying another one for a christmas present :)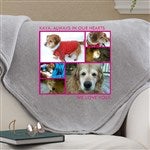 Excellent gift!
By
Shopper

(Easley, SC) - November 20, 2013
Will order more gifts from this company. Know the grandparents will love the blankets!!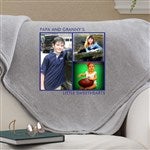 Almost perfect
By
Pat F.

(Maple Shade, NJ) - November 12, 2013 (
See all reviews by this customer
)
The sweatshirt material is just like one you'd wear, soft and warm. I hope it gets better with age, just like a sweatshirt you'd wear. My only wish is that the photos could've been much bigger. It only covers a small corner. I would've liked 8x10, or even larger photo sizes! Overall, it's a nice memorial of our dear cat, Butterman, may he rest in peace.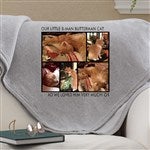 Keeping her warm in two ways!
By
Jesse N.

(phoenix, AZ) - October 14, 2013 (
See all reviews by this customer
)
I ordered this personalized blanket as a gift for my Auntie who is taking chemo for stage 4 cancer. She has lost a lot of weight and is often cold as well as mentally and emotionally down. When she received this blanket with hers and my picture on it she and my Uncle said they were "pleasantly shocked" and my uncle went on to say that "It will keep her warm in two ways", physically and emotionally whenever she looks down and sees our faces. It was a good choice for a gift for a very special person. Thank you!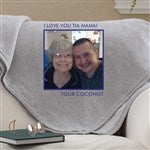 grandma blanket
By
Leslee M.

(Vista, CA) - September 7, 2013 (
See all reviews by this customer
)
I bought this blanket for a very special friend, with pictures of her grandchildren. She loved it. She recently passed away. It was one of her favorites. Was so glad I made the purchase.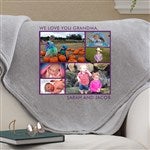 Never disappointed!
By
Samantha S.

(Thornton, CO) - September 5, 2013 (
See all reviews by this customer
)
Everything I have ever ordered from this website has been exactly what I've wanted, and much more upon receipt of the order! Every gift has put the biggest smile on peoples faces! The moments are priceless! 5 Stars all the way!!!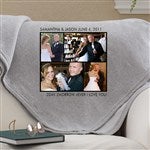 A wonderful comemorative blanket
By
Michaela M.

(Venetia, PA) - September 4, 2013 (
See all reviews by this customer
)
My cat of 17 years recently passed away. I wanted to have something to have him by me always, so I ordered this blanket. It turned out so much better than I could have hoped for. It looks great, and thanks to PM, I will have this forever.
Thank you.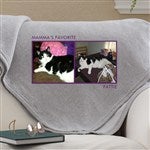 Family Sweatshirt Blanket
By
Nicole L.

(Blasdell, NY) - July 20, 2013 (
See all reviews by this customer
)
My picture perfect personalized sweatshirt blanket looks and feels great. My picture perfect personalized sweatshirt blanket came in the mail fast and on time.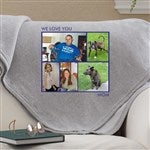 Sweatshirt blanket
By
Holly L.

(Mount Joy, PA) - June 14, 2013 (
See all reviews by this customer
)
This is a great gift for a guy. I put it together for a Father's Day gift. It is great quality. Highly recommend.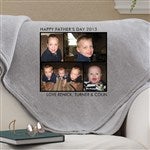 Wonderful Mother's Day Gift
By
Meghan L.

(Durham, NC) - May 14, 2013 (
See all reviews by this customer
)
Such a wonderful gift for Mother's Day... I had this made for my mother with pictures of my children. She just loves it!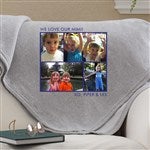 Sweatshirt Blanket HUGE success
By
Sandra B.

(Somersworth, NH) - April 2, 2013 (
See all reviews by this customer
)
I purchased the blanket as a 1st Birthday gift for my only grandson. Put a picure of him the day he was born with me feeding him added 3 other pictures of various stages of his year and ended it with a pitcute of his parents,him, me and his Great Grandfather.....what a HUGE success this gift was. Everyone wanted to know where I got it done and when I told them of the website and that it only tood a few days to get it they were all sursprised and excited to visit the site. I also brought it to my office and know several of the youngs moms that are going to be purchasing them. GREAT PRICE, GREAT KEEPSAKE, GREAT CUSTOMER SERVICE AND OVERALL GREAT EXPERIENCE.

Thanks Personalization.com
Sandra B.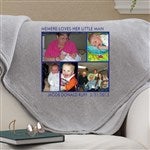 Beautiful
By
Shopper

(Bronx, NY) - March 16, 2013
I really was surprise to see how great the photo was on the blanket. I bought as a gift, I hope they enjoy it as much as i did.

Nice.
By
Shopper

(Baker , LA) - June 12, 2014
It's actually a pretty big blanket. One side is super soft too! The picture is at the corner of the blanket. The rest of the blanket is just plain. You get what they say you'll get. Only thing that could've been better is if the print would've had more contrast to show up on the blanket better. You can still see it clearly though. I'd recommend!

LOVE
Just received my blanket. I love it. So much nicer than what I expected. This was my first order. I will be a return customer. Fast delivery as well for a personalized product.



Sweatshirt Blanket
By
Shopper

(Poughkeepsie, NY) - January 6, 2014
I bought this blanket as a gift for my mother and put a picture of my son. The blanket itself is wonderfully soft. The picture printed a little lighter than I thought it would but it still looked nice.

Not what I expected!
By
Shanda M.

(Macomb, MI) - May 13, 2014 (
See all reviews by this customer
)
I ordered this for my mother for Mother's Day 2014. I was disappointed because the picture was placed in one corner of the blanket and it was smaller than I thought it would be. I would have liked the pictures to be bigger and in the center of the blanket so she could spread it across her bed.

quality wasn't bad
By
amanda L.

(commack, NY) - May 19, 2014 (
See all reviews by this customer
)
The blanket itself was nice, just really disappointed on how big the picture was.

Not as I thought
By
annie M.

(san ramon, CA) - April 27, 2014 (
See all reviews by this customer
)
It's a nice blanket but the pictures are too dark Ive never had problems before but this item wasn't the best quality

Not like the preview picture
By
Shopper

(Boulder, CO) - March 31, 2013
I have made so many orders from PM what I love about this website is the very high quality of their products and the fact that their preview (i.e. click to view your personalized item button) really shows you what to expect. I would say all their products either come as the preview or even better. But unfortunately, the preview for this blanket came with the pictures being really clear and crisp but when i received the actual blanket the pictures were really washed out and blurry even though the pictures are high resolution. I'm disappointed with the product (I bought two blankets and both are the same. I'm sure PM can improve the quality of this product). I wont stop shopping here but I would probably be more cautious buying clothes etc with pictures printed on them if the quality is like the blanket I got.

Loved the product
By
Shopper

(Blacklick, OH) - June 2, 2014
I purchased this blanket as a graduatuon gift for a friend going offf to college. I loved it and she loved it even more. It is the perfect size and will be very cozy once washed. However, getting the pictures cropped was rather challenging. I did not feel that the program for downloading and cropping pictures was very user friendly. Overall, very pleased with this product and all other products i have ever purchased from this site.

Not Happy
By
Shopper

(Moreno Valley, CA) - April 23, 2013
The preview for this blanket came with the pictures being really clear and crisp but when I received the actual blanket the pictures were really washed out and blurry even though the pictures are high resolution. I'm disappointed with the product