Wonderful Adoption Gifts!
By
Shopper

(Arcadia , CA) - August 11, 2014
I was looking for adoption gifts that I could give an 8 year old girl and her 6 year old brother. I saw these "a STAR is Born" and I thought that might be perfect for their new name and adoption date. And it was! For the girl I used the script writing and for he boy I used the block writing. I think the personalization was NAME - WEIGHT- DATE but I used it as FIRST NAME - NEW LAST NAME AND THEN DATE OF ADOPTION. It arrived perfectly and just as I had expected! The kids opened them and absolutely loved them and so did the new parents! All in all I am so happy I found these great items to give. Thank you Personalization Mall!

great item
By
Ashley B.

(Syracuse, NY) - August 1, 2014 (
See all reviews by this customer
)
beautiful. great quality

A wonderful keepsake
By
Sarah A.

(Tempe, AZ) - July 21, 2014 (
See all reviews by this customer
)
I have given these to each of my newborn grandsons, and the 5-year-old still has his on his dresser. I think it's something he can keep forever, not too babyish.

A Star is Born for Star Performance
By
Kathleen R.

(Germantown, TN) - May 2, 2014 (
See all reviews by this customer
)
Each year our childcare center is evaluated by our state licensing department. The overall rating is measured by stars; 3 stars being the best. I give each staff member a star with their name embossed on it and the year that the star reflects. Ex 2013-2014. The teachers enjoy them and the recognition. Many of them have been with me for many years so they have quite a collection of stars - each of them looking different than the others.
The stars are of high quality.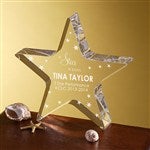 Nice Gift
By
Shopper

(Caledonia, WI) - April 26, 2014
This was sent as a gift . My niece in California recently had a baby girl. She and her husband thought it was beautiful and a wonderful keepsake. No comment from baby Stella yet!!!

Star is Born for a decoration
By
Lisa C.

(Palatine, IL) - April 25, 2014 (
See all reviews by this customer
)
My husband and I had a movie themed wedding and part of the decor in our house are Oscars that we have, so when our first child was born we wanted to add to the collection and the Star is the perfect fit next to our oscars!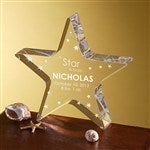 Special Gift for a special baby!
By
SUSAN P.

(HUBERT, NC) - March 9, 2014 (
See all reviews by this customer
)
It is priceless when you buy a gift that you know will be displayed and kept forever! Beautiful designed and so unique! And you can not beat the cost for a life time gift! And it arrived in less than a week. Thank you again. Personalization Mall is the best! Thank you! Susan P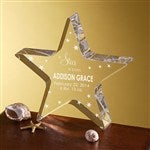 GREAT CUSTOMER SERVICE
By
Patricia B.

(Columbus, IN) - November 25, 2013 (
See all reviews by this customer
)
This was a very special unique baby gift and the proud parents just fell in love with it. I also need to mention that the customer service with this website was EXCELLENT. This gift arrived in just2 days after ordering it. This is a very good website for the very special gifts to be cherished for a lifetime.

a cool keepsake
By
Jeff S.

(PALATINE, IL) - March 29, 2014 (
See all reviews by this customer
)
The gift was for my favorite cousin's first child. She thought it was very unique. I forwarded my order email to my sister and she gave 2 thumbs up. Both of these women have great taste in everything from interior design to art. I really think that for a guy, it was a good choice. Finally, the price was reasonable.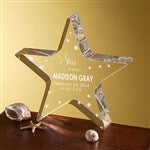 New baby gift
By
Patricia B.

(Macomb, MI) - September 21, 2014 (
See all reviews by this customer
)
A Star is Born is a cute gift, however being the impulsive person that I am, I did not realize how small this is. So I was a little disappointed.