Beautiful Afghan
By
Kristen F.

(Staten Island, NY) - August 5, 2014 (
See all reviews by this customer
)
This is a gorgeous gift of excellent quality. I purchased 2 and I can't wait to give them as gifts.

Afghan
By
Jane V.

(Glen Carbon, IL) - August 1, 2014 (
See all reviews by this customer
)
The quality was better than expected. Very nice weight and size. Soft too!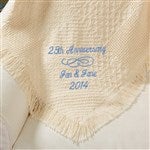 Embroidered Afghan
By
Karen P.

(O' Fallon, MO) - July 4, 2014 (
See all reviews by this customer
)
I have given this afghan as an anniversary gift, and also customized it as a wedding gift. It is a good quality afghan. Anyone that has received this as a gift from me has loved it! Nice keepsake for a special occasion. I would recommend getting the large gift box with your afghan. The afghan comes folded and displayed perfectly in this gift box.

Beautiful Afghan
By
Shopper

(Staten Island, NY) - June 29, 2014
I bought this afghan for my Aunt & and Uncle who are celebrating their 50th Wedding Anniversary in July. It is so beautiful and of good quality. I can't wait to give it to them.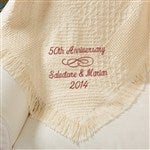 Afghan for a 50th Anniversary
By
Deanna T.

(Rimrock , AZ) - June 2, 2014 (
See all reviews by this customer
)
This should be a really great present for our friends. It makes it special to give them some thing that is personalized. It is a beautiful afghan. Some thing they can put on their couch or some where they can display it. I am happy it was done with the right names and date. Thanks so much. I have ordered lot of things this year and been happy.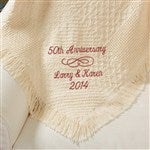 The afghan was so beautiful it looked and felt homemade.
By
Shopper

(Lansing, IL) - April 26, 2014
This was a special gift for a 50th anniversary.
I was extremely pleased with the quality. It looked like it was homemade.
The packaging was great and the gift box was well worth the extra cost.
I will definitely order from here again!

Exceed Expectation
By
Shopper

(Mount Laurel, NJ) - April 21, 2014
This gift was brought for my cousins who I love very much and blessed to enjoy the finer things in life. Therefore I wanted to get them something of quality, a great presentation and personal in nature for their 50 years of marriage and the afghan met all of my expectations. The website truly did the product justice.

Comfy and elegant
By
Crystal A.

(Port Allen, LA) - April 6, 2014 (
See all reviews by this customer
)
This is my second blanket that I've ordered. I love them. Simple yet comfortable and beautiful. Thanks!

Great Quality Gift
By
Shopper

(Piscataway, NJ) - March 25, 2014
The embroidered afghan I purchased for a 50th wedding anniversary gift is just beautiful! It's the perfect size and the quality is beyond my expectations. I had purchased this same afghan five year's ago for a special anniversary gift for very special friends and remembered how pleased they were. It is a perfect gift for the price.

Quality Keepsake
By
LINDA S.

(LAS VEGAS, NV) - March 11, 2014 (
See all reviews by this customer
)
I have ordered this afghan as a gift sent to others but this one was for myself. I was amazed at the quality and generous size! The embroidery is beautiful and the afghan is warm, yet lightweight. The fact that it is machine washable is a great bonus! Do wash it before use to eliminate "fuzz" on clothing. I was very pleased to see the manufacturer is the same company that I ordered tapestries from for our church gift shop. Now I see why my gift recipients were so pleased!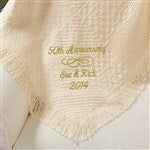 Really looks nice--great gift for my parents 60th anniversary
By
Shopper

(Roswell, NM) - January 7, 2014
Great quality and workmanship for the price. It looks better than the picture!!!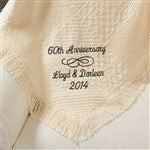 Beautiful
By
Kimberly S.

(Charlotte, NC) - December 19, 2013 (
See all reviews by this customer
)
Personalization Mall has never failed me. The afghan is simple beautiful and the engraving is very bold and pretty. I love it.

Beautiful Quality Blanket
By
Rhonda L.

(Spring Hill, FL) - December 7, 2013 (
See all reviews by this customer
)
I am very happy with the quality of this blanket. The gold thread on the blanket shows up nicely and the location of the embroidery is in the perfect place when draping the blanket over a chair. It is a beautiful blanket and I am very glad that I ordered it.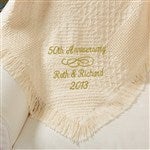 Anniversay Afghan
By
Shopper

(Manahawkin , NJ) - November 26, 2013
This is my second purchase from Personalization Mall.com I have been completely satisfied with both gifts. When at a loss as to what to buy I can count on your company to find something I love. I have told several friends about Personalization Mall and they commented on what a great idea. Thank you.

GORGEOUS AFGHAN
By
Shopper

(Milltown, NJ) - November 16, 2013
A BEAUTIFUL GIFT FOR ANY OCCASION! I HAVE ORDERED MANY GIFTS FROM PM AND THEY EVEN LOOK BETTER IN PERSON!

afghan for 60th anniversary
By
LORI H.

(La Porte, IN) - October 29, 2013 (
See all reviews by this customer
)
Well once again you pleased me. I didn't decide to order this item till last minute. I ordered on a Wednesday at 3 pm and received this item on Friday. This afghan was made of high quality and they loved it. I wanted to let people know that this is my 13th item ordered with this company and I have been happy with everything...

A Beautiful and Personal Gift
By
Shopper

(Coatesville, PA) - October 15, 2013
This afghan is simply beautiful. This is the second one I purchased. One for a 50th anniversary and one for a 30th. I chose gold thread for the 50th and Emerald Green for the 30th (emerald green was the color of our bridesmaid gowns). Both couples loved the gift.
The afghan is very good quality and construction. This will be my go to gift for anniversaries.

Great Gift
By
Donna V.

(Lyndhurst, NJ) - August 10, 2014 (
See all reviews by this customer
)
I purchased this blanket as a gift for my husband for our first anniversary.
It's quite lovely. Quality met my expectations; just as shown on website.
I recommend this.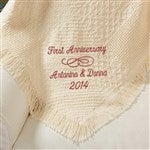 great gift
By
Kimberly W.

(Oak Hill, WV) - January 14, 2014 (
See all reviews by this customer
)
this afghan was an anniversary gift for my parents 50th anniversary and they loved it! I was very impressed with the craftsmanship. Would definitely recommend this as an excellent anniversary gift.