Whose is it?
By
Shopper

(Tampa, FL) - September 18, 2014
My great-granddaughter, a pre-teener, will absolutely love having this water bottle identified as being HERS! Nobody can possibly lay claim to this bottle when she's at school or practicing cheerleading antics in the gym. Who wouldn't love it? I like it because I'm sure it's a quality product that can take a bit of rough handling...you know how kids can flip, flop or drop their stuff!

My kids love these!
By
Shopper

(Castaic, CA) - August 15, 2014
Great water bottles! I bought these for my kids for school and they loved being able to pick what was printed on the bottle. Durable and great looking. Will buy again!

AWESOME! Love these for my preschooler and kindergartner!
By
Shannon A.

(Surprise, AZ) - August 9, 2014 (
See all reviews by this customer
)
I purchased these last month for my boys to take to school. Love the blue/green colors. The bottles are sturdy and the cap provides a great seal. WAY better than the Kanteen that PB sells.

(Note: the flip cap is a bit snug for my 3 year old to open on his own. He just keeps it open with no problems. It will probably loosen as it gets more use. My 5 year old has no trouble with it.)

These are large enough for plenty of water. I plan to give these as gifts for my nephews when they start school. Love them!
Thanks, PM! Great product!!!!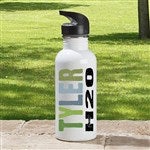 All Mine Water Bottle
By
Shopper

(Romeo, MI) - August 4, 2014
I purchased for my son to use as his school water bottle. He was so excited to create his own saying. When it arrived, we were both very pleased with the quality and the look of the bottle. Fun and functional!

Excellent product
By
Shopper

(Silsbee , TX) - August 4, 2014
My daughter absolutely LOVED this water bottle when it came in. She couldn't wait to take it to her first day of volleyball practice. It's geat for any sport. Keeps water cold too.

Love it !
By
Shopper

(Palm Bay, FL) - May 31, 2014
The kids picked out the words they wanted and they are both so happy with their new water bottles. They will work out well for summer camp. The bottle does get cold when you put ice in it but on a hot summer day, I'm sure that won't be a problem.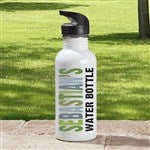 Exceeded Expectations
By
Shopper

(Palm Bay, FL) - May 31, 2014
Loved the water bottles we ordered for the kids. They are lightweight, easy to drink from and they kids had no problem opening the top for refills.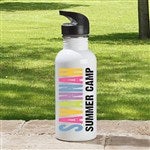 Great product
By
Patty K.

(Peru, IL) - April 25, 2014 (
See all reviews by this customer
)
I gave this bottle to a wonderful young man who absolutely loved it. He is able to take it to school with him, and can show it off as his very own. Great idea, and a quality product.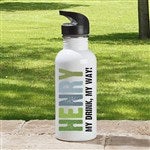 Nice Dry Backpack
By
Alison G.

(Los Angeles, CA) - March 23, 2014 (
See all reviews by this customer
)
Leak free bliss, so my son now has a nice dry backpack. This water bottle is great and thanks to the personalization there is no doubt as to its owner. I'm very pleased with the purchase.

Love
By
Shopper

(lockport, NY) - March 23, 2014
This was a gift and she loved it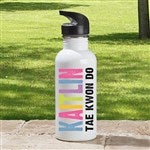 great
By
Shopper

(lockport, NY) - March 14, 2014
Love this bottle, my daughter and her friend liked it so much i just ordered one for her friend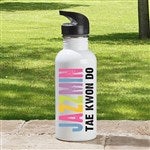 Great all around
By
Sue H.

(Onalaska, WI) - March 8, 2014 (
See all reviews by this customer
)
I wanted a water bottle for my daughter that was safe, fun, and didn't leave a nasty taste to the water. She loves this water bottle and so do I. Not only does the water taste great, the straw and drinking spout are easy and no leaks when it tips over.

Personalized Water Bottles were a hit!
By
Shopper

(Springdale, UT) - January 1, 2014
I didn't personally see these as they were a gift for my grandkids but on Christmas morning I heard from them and they LOVE their water bottles. It was fun to be able to personalize them with not only their name but a message underneath that was perfect for each grandchild. My daughter texted me a few days later and said they've been carrying them everywhere. Perfect gift and LOVE your website. I'm a frequent shopper and love your products, not only the quality but your service.

so nice
By
Shopper

(New Castle, DE) - August 19, 2014
it's so nice but little bit not easy to open for children and it we'll be better if it has Handel to hang it on their choler.

thank you