loved!
By
Shopper

(Kasson, MN) - September 15, 2014
The coasters turned out amazing! The person receiving them absolutely loved them!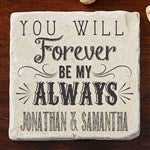 Great Wedding Present!
By
Shopper

(Marietta, GA) - September 15, 2014
I have ordered these for two seperate wedding presents and just love them. So personal and you can pick quotes that actually fit the couples. Great gift.
I love the quality and presentation of this gift.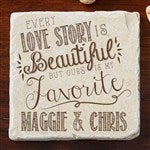 Great choice
By
Shopper

(Boxford, MA) - August 3, 2014
Great quality and price very happy with purchase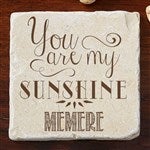 perfect gift
By
Theresa F.

(Staten Island, NY) - May 14, 2014 (
See all reviews by this customer
)
I was extremely pleased with how beautiful these coasters were. The quality was fantastic. I bought them for a friends bridal shower and she absolutely adored them. I may just have to order a set for myself.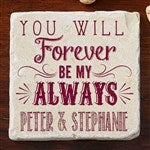 Beautiful Gift
By
Diane W.

(Westhampton, NY) - May 7, 2014 (
See all reviews by this customer
)
I gave these to my cousin when she announced her engagement and she loved that they were personalized and had different sayings. I have another style of these coasters (the beer ones for my fiance and he loves them too). We get a lot of compliments on the coasters. They are heavy and durable. Really nice! I got the red for both sets and love the color.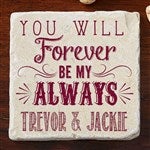 Brown Lettering is Pretty
By
Shopper

(Mauston, WI) - May 3, 2014
I ordered the brown color coasters for a bridal shower gift and was a little worried how "brown" would look (the bride is having more of a rustic-light green, brown, burlap wedding theme) however I love it!! I think I want to order a set for myself!!! Now I have to decide between Brown and Charcoal!!

Pros:
Big
Sturdy
Stylish
Made of Stone
Has cork-board backing so it does not scratch your furniture

Cons
Hard to neatly open/reseal bubble wrap packing (and fragile twine wrap) if you want to be able look it over before you give it as a gift



Happy bride and groom
By
Shopper

(Davenport, NE) - April 16, 2014
I ordered these as a wedding gift and had them shipped to directly to the couple. They were extremely please with the quality and loved the sayings I chose for each coaster. Such a neat idea for a newly wed couple!

super cute, great quality
By
Kirstin Z.

(East Northport, NY) - March 28, 2014 (
See all reviews by this customer
)
After reading the reviews, I was hesitant to make this purchase, but couldn't be happier. The coasters are high quality and the quotes and writing on each coaster is clear and looks as though they were individually made for recipient (as opposed to personalized items where you simply drop names here). I wanted to get something personalized for a bridal shower and think she will think these are super cute. Initially, I had hoped to be able to use different colors on each coaster, but think it looks fabulous and classy in the one color. I am planning on ordering for another shower in a few months.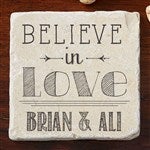 Perfect Gift
By
Johanna M.

(Concord, NC) - March 24, 2014 (
See all reviews by this customer
)
When these coasters arrived I was so happy to see how beautiful they were. The weight made them so impressive. The lettering was clear.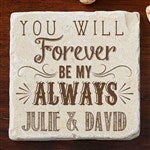 Great any occasion gift
By
Shopper

(Dallas, TX) - February 24, 2014
I am so happy with the quality and value of the coaster set. By getting to personalize them my way, I was able to split the set up, and paired them with personalized coffee cups. The coasters had our names, and the cups had their names. Great quality product. Have already made a list of the next personalized gifts needed for the upcoming year.

Love them!
By
Bridget D.

(league city, TX) - February 18, 2014 (
See all reviews by this customer
)
They are so cute and great quality!!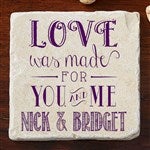 Inconsistent printing
By
Shopper

(corona, CA) - August 30, 2014
My niece loved these for her engagement gift, but when I saw a photo of the four coasters recently, I was surprised to see two of the coasters were nice and dark and easy to read, where the other two were very light. I didn't take he raffia bow off of them and examine them before I wrapped them up for them because I knew I wouldn't be able to retie it as nicely as it was when it arrived. If I had looked at them, they would have been returned. I'm sad I didn't open them before I gifted them.??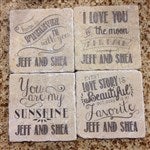 Great quality
By
Alicia P.

(Lake in the Hills, IL) - August 29, 2014 (
See all reviews by this customer
)
The quality of these coasters is great. Very pretty. I chose the expedited shipping and they arrived even before the estimated ship date.

Be ready for imperfections!
By
Kathy T.

(Pleasant Valley, NY) - February 13, 2014 (
See all reviews by this customer
)
I love all the quotes and the fact you can choose 4 different ones for each coaster. Wish you could choose 4 different colors too. Due to these being stone tiles be ready for imperfections some worse than others. They are nice coasters for the money (even nicer if you catch them on sale).

Disappointed
By
Rachel D.

(Dighton, MA) - February 11, 2014 (
See all reviews by this customer
)
I use this company all the time for a lot of different things and this is the first thing I'm not totally satisfied with. I bought this as a gift for some friends of mine and I ended up not even giving it to them. They look so cute in the picture but in reality, they look very fake. The picture/writing is very grainy. So sad I wasted my money on this product.