Very cute!
By
Shopper

(New York, NY) - February 14, 2014
Bigger than I thought. Picture was very clear on the puzzle. It was a great family activity and we may even frame it now. Great gift!!

Great Gift!
By
Shayna G.

(Millbury , MA) - December 29, 2013 (
See all reviews by this customer
)
I bought this for my 6 year old son for Christmas with a picture of him on it. He got a kick out of seeing himself in a puzzle. The puzzle itself came out great and arrived very quickly. I would definitely order again as a gift!!

fun for all ages
By
Tanya G.

(Boulder, CO) - August 16, 2013 (
See all reviews by this customer
)
This was a great gift for younger children to put together with the help of parents or grandparents if needed. The 26 pieces were enough to make it easy and yet challenging for the 8 and under child. Loved the round design which
I thought was unique.

Photo puzzle
By
Judy H.

(Ellisville, MO) - July 2, 2013 (
See all reviews by this customer
)
Every child should have their own "photo puzzle"! This is a wonderful gift to keep forever! Beautiful!

Picture It Puzzle
By
Shirley S.

(Orland Park, IL) - March 18, 2013 (
See all reviews by this customer
)
The service is amazing - always a prompt turn around time. The quality far exceeds expectations.

Great Gift
By
Shopper

(Elgin, IL) - December 13, 2012
Grandkids loved putting together a picture puzzle of themselves with grandma.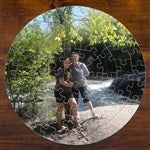 Great little gift
By
Margaret B.

(Pearl River, NY) - August 13, 2012 (
See all reviews by this customer
)
This was a perfect first anniversary gift for a couple that enjoys doing puzzles. They loved it.

Birthday Suprise
By
Shopper

(Bensalem, PA) - June 5, 2012
For my boyfriends birthday I got us a trip to Mexico and I wanted a clever way to present it to him. So I took a picture and got a personalized circle puzzle made. It was so much fun for him to put the puzzle together and see that we are going away. The puzzle was perfect and the picture came out very clear on it.

Picture Puzzle
By
Shopper

(Farmington, IL) - February 17, 2011
I ordered a photo picture puzzle in the round for my sons girlfriend. She loved it. I like that you can go back and forth with the picture until you can get it just right and preview it before purchase. I will order again and again from this comapny.

A Cute Twist on Puzzle-Personaliztions Spells F-U-N (for the reciever!!)
...I was immediately impressed by the overall presentation of your jigsaw-personalized-puzzle product. So, BRAVO to who ever the talent behind the picture presentation was. The little black satchell is a very classy touch (as opposed to all store-bought, regular jigsaw puzzles which are usually packaged in boring boxes.) Also, the fact the this puzzle is a circular shaped puzzle is one of the most attractive features of this type of product.

Good and on-time
By
Meenah T.

(Babson Park, MA) - March 3, 2014 (
See all reviews by this customer
)
I'm generally happy with this product. The picture is very glossy, looks great. But the paper on the back is pealing off and so it has to be handled with a LOT of care to make sure it doesn't tear. I got it as an anniversary gift for my fiance, and a few pieces tore the first time that the puzzle was pulled apart.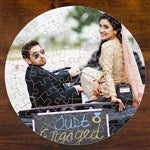 Photo puzzle
By
Carla A.

(Chandler, AZ) - February 23, 2014 (
See all reviews by this customer
)
Love the clear crisp image of the puzzle! My son ordered it for a part of his "Senior Class Project" to use it during his oral presentation about the different experiences that have had a role in making him the person he is today. His only issue with the product was that some of the pieces had edges of the photo peeling up at the edges. Other than that he was impressed overall.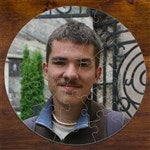 Birthday puzzles
By
Shopper

(DHanis, TX) - November 15, 2013
The puzzles turned out great. However, the first time we put them together, some of the edges started coming up. I glued them back down and hope they will stay. Otherwise, picture quality and ease of ordering was great!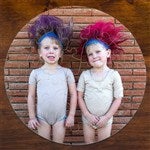 Need to offer larger pieces
By
Shopper

(Canada) - December 11, 2011
A nice puzzle. I ordered this one because it had the fewest pieces. The pieces are fairly small and not great for kids. Quality is good though.

Great
By
Nancy L.

(Canada) - April 1, 2011 (
See all reviews by this customer
)
I was very happy with the final product, looks exactly like the photo, it was really fun to put the puzzle together

Great!
By
Shopper

(Bridgeville, PA) - February 9, 2011
Although disappointed that I didn't look hard enough (because I would have gotten the heart shaped puzzle instead), I still love the idea of this puzzle. I received it very quickly with standard shipping, with plenty of time left until Valentine's Day. I might try and put it together myself being giving it to my boyfriend, and I'm sure I'll be happy with the result! I know he'll love it because we love doing crafts and things together. I would definitely recommend this gift to others.

good product
By
austin B.

(wenham, MA) - January 3, 2011 (
See all reviews by this customer
)
its a great little gift, but may be a little overpriced for the size and clarity of the puzzle.

Puzzle
By
Taniamarie Z.

(Bayside, NY) - December 19, 2010 (
See all reviews by this customer
)
This puzzle is worth it! My significant other loved the idea and the picture i chose for it. I will definately use this site again.

Great Product, Doesn't come with picture or box
By
Shopper

(Grapevine, TX) - February 17, 2014
I love this picture puzzle! The only thing I would want is a picture or a box to show what the finished puzzled should look like