elegant
By
Judy S.

(Greenville, PA) - September 13, 2014 (
See all reviews by this customer
)
I purchased this serving tray for nephew that is getting married in
Wisconsin --I know they will just love it as they do a lot of entertaining. The monogram is just awesome.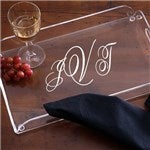 Great hostess gift
By
Lauren P.

(Tampa, FL) - February 9, 2014 (
See all reviews by this customer
)
I ordered three of these as hostess gifts for a baby shower. I was a little concerned prior to ordering that they may not be as nice as other, more expense brands. I was wrong! They look wonderful and I can't wait to see their reactions when they receive the trays!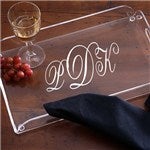 Beautiful Gift
By
Shopper

(Seaside Park, NJ) - October 25, 2013
I purchased the serving tray for a Christmas present. It is really quite lovely. It is very sturdy and the monograming is beautiful. I would recommend this product.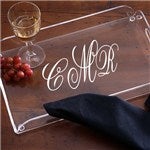 Love it!!
By
Shopper

(Huntingdon Valley, , PA) - March 15, 2013
Great price, excellently executed, quickly delivered. Have bought several. Always well received.

hostess gifts
By
Shopper

(Dallas, TX) - December 16, 2011
These trays were just gorgeous! I could not be more pleased. My friends loved them and said how versatile.These arrived fast, boxed, and in perfect condition.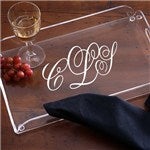 Beautiful
By
Marjorie R.

(Jersey City, NJ) - November 16, 2011 (
See all reviews by this customer
)
The tray was larger in person than in the photo. Absolutely beautiful and very strong. My friends loved it and can't wait to entertain and display it. The monogramed initials came out beautifully. Very pleased as always with your products.

elegant gift
By
Shopper

(Eau Claire, WI) - August 8, 2011
I ordered this for my boyfriend for our anniversary. He had been talking about wanting a serving tray, and this monogram tray is great. Good size, handles for easy carrying, and the engraving looks great. I'm sure he will keep this his whole life.

Great wedding gift!
By
Shopper

(Washington, DC) - August 6, 2011
I ordered this as a wedding gift for a friend after my boyfriend's sister gave it to her other brother's bride-to-be for a wedding shower gift. I haven't actually given mine to my friend yet, but I thought it was a really cute idea for couples who like to entertain. The one for my friend looks just as great as the one my boyfriend's sister gave to her sister-in-law-to-be, so I'm excited to give this one to my friend - I think she'll love it!

Great host and hostess gift!
By
Shopper

(Portsmouth, VA) - June 12, 2011
I purchased three of these monogramed trays for hosts of a couple's shower for my son and his fiance and all of the recipients were thrilled. This is my second purchase from Personalization Mall and cannot have been more pleased with the process, product and delivery! I will shop again!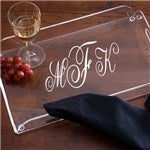 Love this tray!
By
Shopper

(Columbia, MO) - March 19, 2011
Durable quality and gorgeous monogramming. I've bought this as a wedding present for everyone I know getting married this year!

PERFECT!
By
Barb S.

(Orland Park, IL) - September 2, 2010 (
See all reviews by this customer
)
Got this tray for an engagement gift. They loved it!

Perfect Gift!!
By
Susan V.

(Anderson, SC) - July 26, 2010 (
See all reviews by this customer
)
I absolutely love the serving tray!!! It is the perfect gift!! Great quality and beautiful monogram made it the perfect entertaining tray!! Many compliments were made regarding the tray. I plan to buy more!!

nicer than i expected, good job on a good product.
By
edgar (Bill) S.

(nitro, WV) - May 17, 2010 (
See all reviews by this customer
)
I got this as a suprise for my wife, and she really loved it, and as it pleased her the way it did it pleased me twice as much doubled fold. And that what it's about after 38 years of marriage, pleasing the little lady. thanks for such a beauty......bill

Personalized Serving Tray
By
mary l C.

(elizabeth, NJ) - February 26, 2010 (
See all reviews by this customer
)
I was happy to find Personalization Mall.com as I had dropped a serving tray on a tile floor, and it cracked. The one I ordered and received is very nice. It is not only good looking, it is also functional. If I could make a suggestion, I would appreciate the choice of a larger serving tray as I would utilize it to carry BBQ type items (condiments, utensils, paper goods, etc.) from my kitchen to patio in one trip. However, I am very happy to have this tray and would recommend it. It is a pretty and practical gift. mlc

nan
I purchased as a wedding gift...the couple loved it..service was wonderful!!!!!!!!!!!!!!!

GREAT tray, GREAT service!
By
Julia W.

(Indianapolis, IN) - February 3, 2010 (
See all reviews by this customer
)
I decided to get this as a paper tray for my glass-topped desk after searching online and seeing similar trays for more than $100. I figured that I could also use it for serving if the spirit moved.

In preparing the monogram, I saw that the monogram letters needed some space adjustments between them. I called and they quickly responded that they saw what I meant and could make the change easily.

The tray arrived 2-3 days later - way earlier than I expected. And it is beautiful!

Nice work, guys!

Monogram Classics Serving Tray
By
Lois M.

(Largo, FL) - December 9, 2009 (
See all reviews by this customer
)
This tray was purchased for a wedding gift. The couple I sent it to really loved it and commented on how beautiful and elegant it was. They have it displayed on a shelf in their living room. Thank you for making this available. It is a unique and tasteful gift.

Easy elegance
By
Marylyn L.

(Flower Mound, TX) - October 11, 2009 (
See all reviews by this customer
)
The trays have been wonderful. I love to give them because they adapt to so many places. You have been very efficient and have provided a great product. I do wish you had the option of putting something like "The Smiths" instead of only initials. Thank you.

Wonderful wedding gift
By
Ann B.

(Arlington, VA) - October 7, 2009 (
See all reviews by this customer
)
This monogrammed tray was a hit with my newlywed friends. It's sturdy and elegant. I would recommend it as a housewarming gift as well.

Beautiful!
By
mary C.

(Malvern, PA) - September 26, 2014 (
See all reviews by this customer
)
The tray is a beauty. I wish it came with care instructions. Dishwasher safe?
Also, when I pay for a box I generally do NOT want advertising on it. It should be a plain box.
If it has your name on it , it should be free because I am essentially advertising for your company and paying for the privilege .....get it?
Mary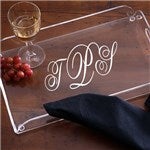 Okay
By
Shopper

(Poway, CA) - March 14, 2011
I like how the engraving looks, but I thought the tray itself would have been a little more high quality. It looks a little bit cheap to me. I guess I probably shouldn't have bought an acrylic tray, but I was hoping for the best. It's not so bad for acrylic.

A tad disappointed...but...
By
Kathleen C.

(St. Petersburg, FL) - August 9, 2010 (
See all reviews by this customer
)
I am giving this tray as a wedding gift for a middle-aged couple, this being a 2nd marriage for both, and was aware since they have everything at this point in their lives, that an expensive gift would not be needed. I think this would be a perfect gift if priced in the $25 range - at $40, it should have rolled handles at least - the finger opening is not too generous and doesn't accomodate women's long acrylic nails easily. The personalization is artfully done and that is the mail reason I chose this - nice to have something acknowledging your new name!

a bit disappointed
By
Shopper

(ridgefield, CT) - March 10, 2014
the tray when received seemed a lot smaller than expected, also the engraving was nice and accurate but it looks inexpensive. I had received on myself as a gift from a monogram shop and the engraving was deeper. This looked like it was etched rather than engraved.
Product came fast and napkins were good.

Close to what I expected
By
Kelli W.

(Chicago, IL) - March 15, 2010 (
See all reviews by this customer
)
I do like the serving tray and the character font. I guess I just expected the middle initial to be noticeably larger than the initials to the side of it.

Monogram Seving Tray
By
Shopper

(Chicago , IL) - December 20, 2012
This was the first item I have ever been disappointed in. It was plastic and cheap looking upon arrival even though it was expensive.