Very happy with this train bank for my cousin
By
Lisa M.

(Yorba Linda, CA) - June 23, 2014 (
See all reviews by this customer
)
Very Durable, a perfect size for the 3 year old I am gifting to ( my ring bearer). He loves trains so this is the perfect addition and keepsake for him to remember.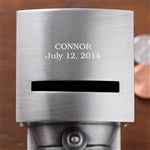 nice details
By
Shopper

(Northampton, PA) - May 14, 2014
love the bank it matched the blanket I got my grandson.I had to get it.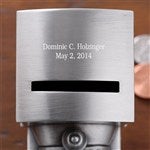 Great Ring Bearer gift!
By
Lisa M.

(Seattle, WA) - May 4, 2014 (
See all reviews by this customer
)
My 4 year old nephew is really into trains. He was the ring bearer at our wedding, and I couldn't think of anything to get him that would be both memorable and interesting to a young child. When I saw this, I had to have it! He loved it, and the engraving will help him remember it forever!

I should also mention that I ordered this Sunday night, and it was to my house by Tuesday! Just in time for our Thursday rehearsal. :)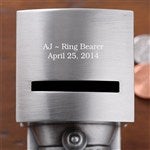 Perfect as always!
By
Shopper

(Grand Forks, ND) - May 3, 2014
I have ordered several times from PersonalizationMall and as always my item was perfect, shipped fast, well packaged and so very easy to order on line! I love that you can actually see your item as it will look when you order. I will continue to use this company for future needs.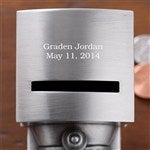 great gift
By
Skyla K.

(Tecumseh, KS) - April 20, 2014 (
See all reviews by this customer
)
Sturdy and cute! Little smaller then I thought, but it was a huge hit as a gift.

Very Nice
By
Shopper

(Bronxville, NY) - April 14, 2014
It's smaller than what I thought but I didn't really look at the measurements when I ordered it. It's very nice. Will definitely recommend it. I hope that my ring bearer will like it!

Beautiful detail
By
Shopper

(Collegeville, PA) - April 6, 2014
This item is beautiful. The details and engraving were ideal. The train bank is solid and appears to be high quality.

FANTASTIC!!!
By
SHEKESHIA A.

(HALEDON, NJ) - March 25, 2014 (
See all reviews by this customer
)
The picture really doesn't do this little Choo-Choo Train justice. It is really really nice. Much nicer and heavier than expected and just a wonderful gift. I am so glad I purchased this. Great keepsake. 5 stars!!

Choo choo train bank
By
Shopper

(Endicott, NY) - March 21, 2014
I adore it! It is so cute! The.engraving came out just right. The bank feels solid.


Pewter Choo Choo Train
By
Lori C.

(Canada) - March 18, 2014 (
See all reviews by this customer
)
This train came quickly and I am very pleased with it. It seems very well made, quite heavy and the engraving is perfect. I am very pleased with this keepsake and would not hesitate to recommend it.

Pewter Train
By
Bette Lou C.

(Sarasota, FL) - March 18, 2014 (
See all reviews by this customer
)
Everybody loved it, and when the baby is older I'm sure he will too.

GREAT
By
Theresa F.

(tucson, AZ) - March 1, 2014 (
See all reviews by this customer
)
Sent this as a gift & they loved it. I think PM is a great place to by unusual gifts......I can hardly believe how fast it was shipped (same day).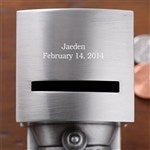 Gift
By
Jonathan G.

(Forsyth, GA) - February 28, 2014 (
See all reviews by this customer
)
Very nice product.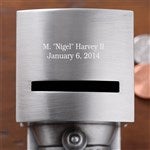 Baby gift
By
Shopper

(Dublin, CA) - February 10, 2014
I got exactly what I ordered. The gift was carefully engraved and looks beautiful!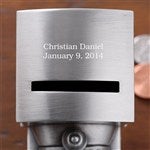 What a great idea
By
Shopper

(Millville, NJ) - February 4, 2014
The train it ordered came in very quickly. The price was very reasonable too. My sister is going to love this for the baptism !

for grandson
By
Shopper

(Orlando, FL) - January 24, 2014
it is great. Just what I wanted. My train loving grandson loved it.

Pewter Train Bank
By
Shopper

(Boonton, NJ) - January 19, 2014
Absolutely adorable and unique gift for a baby boy.....loved it!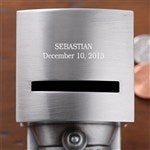 So Cute
By
Roberta B.

(Ridgeway, WI) - January 17, 2014 (
See all reviews by this customer
)
This choo-choo bank is so adorable. We purchased for a baby gift, and wanted something different to give. This is perfect. It is well made and couldn't be more pleased.

Beautiful
By
LaToya B.

(Conroe, TX) - December 23, 2013 (
See all reviews by this customer
)
I purchased this for my 1 year old nephew. It is a timeless gift.

keepsake for my nephews 3rd bday
By
latifah P.

(raleigh, NC) - December 22, 2013 (
See all reviews by this customer
)
My sister was blown away from the gift psckaging and she stated the train was a rich looking gift.

Small but perfect
By
Mary L.

(Suffolk, VA) - December 16, 2013 (
See all reviews by this customer
)
We bought this for my son from his Great Nana he is 4 and I think this is the perfect size for him. If you catch it on sale thats even better.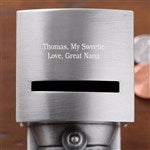 Great little train!
By
Shopper

(Angier, NC) - December 14, 2013
Got this for my nephew's 1st b'day, and it is fantastic! Nice and heavy quality; large opening in the bottom to remove the money...nicely engraved.
love it!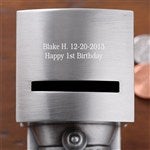 cho0 choo
By
Rocky N.

(Lincoln, NE) - December 12, 2013 (
See all reviews by this customer
)
Ordered this for a friends niece that had the family's first baby. IT'S A BOY!
I haven't given it to them yet but I'm sure they will totally like it

Great gift!
By
Shopper

(Laurel, IA) - December 3, 2013
I'm always hesitant to order things on-line because I have been disappointed enough times--the pictures and description looked good, but the actual product was inferior. This time I was REALLY pleased with the quality of the product. The pewter train bank far exceeded my expectations. The engraving was superior. I wouldn't hesitate to order another one if an occasion came up that I could use it for.

Perfect gift
By
Shopper

(Princeton, WV) - October 27, 2013
We bought the train for a baby gift. Not knowing what the baby had already received, this was the perfect gift. We added some money to it to get the little one started on a life of saving. Beautiful little train bank!! Thanks!!

pewter choo-coo train bank
By
Yvonne B.

(Yonkers, NY) - October 20, 2013 (
See all reviews by this customer
)
Love it! Great gift for a newborn or christening gift. Nice quality.
Great customer service.

Happy Baptism Gift
By
Patricia M.

(Hackettstown, NJ) - October 1, 2013 (
See all reviews by this customer
)
This is adorable and a quality gift for a boy's baptism. The train was engraved (See pic) with $$ inside the bank, and I received many compliments. So happy to have found this site.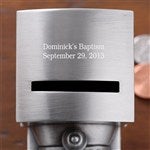 wonderful gift
By
Shopper

(Roseville, MI) - September 27, 2013
we were very impressed as to the size and the quality of the train. it would be perfict for any child as first bank. priced well.

Exactly What I was Looking for
By
Shopper

(Waltham, MA) - September 23, 2013
The quality of the material and the execution of the etching are wonderful.

Unique Gift
By
Shopper

(Shippenville, PA) - September 20, 2013
My grandson is into trains, so I thought this would make a good gift. The inscription makes it unique.

Ring bearer gift
By
Christy C.

(Houston, TX) - September 17, 2013 (
See all reviews by this customer
)
Nice gift. Well made.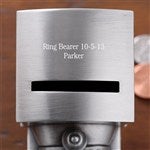 Train bank
By
Shopper

(South Bend, IN) - September 16, 2013
The quality is awesome!!! The engraving is beautiful! I ordered two & I am so happy with them & so are the Moms of the recipients! I bought them for baby gifts! Also quick delivery!

Loved it!
By
jeanne G.

(woburn, MA) - September 14, 2013 (
See all reviews by this customer
)
I was so pleased with this adorable bank. The engraving looks beautiful and I can't wait to give it to my daughter-in-law at her baby shower.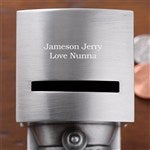 Product features
By
Shopper

(Fort Myers , FL) - September 8, 2013
Nice finish, beautiful keepsake. Fast service and prompt delivery.


AMAZINGGGGGG
By
Lauren B.

(new york, NY) - August 30, 2013 (
See all reviews by this customer
)
When I received this product i was SOOOO happy. Before i received it i read review about how small it was. However, it is a perfect size. It is not meant to be a huge gift. It is a small sized piggy bank. The quality is amazing and the engraving and look of it all is outstanding. I cant wait for my nephew to receive this for the wedding, since he is my ring bearer.
He is OBSESSED with trains so I know he will LOVE this. :)

Also, their customer service is GREAT. Right after I ordered it I had realized that i had left an important part out of the engraving. "Ring Bearer". They say on the website after you place your order you can not change any personalization's. However i called up and the young lady on the phone had no problem changing it for me since iI just placed the order.
This site is awesome!!!

Great item
By
Lisa S.

(Muskegon, MI) - August 28, 2013 (
See all reviews by this customer
)
Was very pleased with my purchase. This will make a great gift for the boy that will be in my wedding. Thanks Personalization Mall!

Great gift for my ring bearer!
By
Shopper

(Belmont, MA) - July 15, 2013
We were looking for ideas of what to get our 3 (soon to be 4) year old ring bearer and we came across this train bank. The pewter is very durable, the product looks just as it does in the photo, and the inscription came out great. The train showed up for quickly to our house, much quicker than we had expected. We are going to give it to our ring bearer with a roll of coins for him to start using it. It is small, but we figured that 4 year old don't really have all that much money anyway! So we don't think that is an issue. Overall, we think this will be a great gift!

Hi Quality Pewter Bank is Perfect size
By
Shopper

(Mahopac, NY) - July 12, 2013
I Found this bank to be well made, And the engraving is perfect and very readable. I will disagree with others who say this bank is to small. I found it to be a perfect size. I was able to put a 50 dollar bill folded into its top so it stuck out a bit. If i wanted I could of put the bill all the way in. I also put a few quarters in it so he could hear them jingle. I gave this for a nephews christening and have turned it into my personal way of giving money to the child in future holidays. I mean if you really want a big bank then this may not be for you, but if you want some one to have a keepsake for life, that also functions as a bank then this is the perfect gift....Also I found the shipping to be right on time, and well packaged. Peace

Choo-Choo Train Bank
By
Patricia K.

(Metairie, LA) - July 1, 2013 (
See all reviews by this customer
)
I loved this gift when i received it in the mail; but when i gave it to the new mom for her infant son, she was thrilled, surprised and thought it a very unusual gift. That made the gift perfect for me.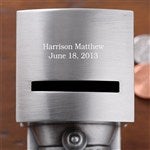 Product Review
By
Karen H.

(New Orleans, LA) - June 18, 2013 (
See all reviews by this customer
)
Very nice! My niece bought this as a gift for the ring beater in her wedding. The train was sturdy and the engraving was well done. Makes a nice useful keepsake.