Pieces not cut completely through
By
Shopper

(Raleigh, NC) - October 10, 2011
The tin is nice and the materials used for the puzzle are nice, however the pieces were not all cut through completely and tore when we tried to separate them. We had to use a straight blade to cut them. If you give this as a gift, be sure to check the pieces beforehand.

A little disappointed
By
Shopper

(Denver, CO) - May 18, 2011
I want so badly to give this product 5 stars - it's so fun! The photo quality was good; the gift tin is really nice; it shipped quickly (5 days from order to delivery); ordering was easy, etc.

However, when we started to put the puzzle together, many of the pieces were not cut clear through. I've experienced this with other puzzles, but those pieces always come apart easily. These puzzle pieces did not. We ended up leaving many of them together after we tore a piece trying to separate it. It was really discouraging, especially because it seems like Personalization Mall just didn't take the time to ensure it was a good product.

Adorable gift for Grandma!
By
Shopper

(Twin Peaks, CA) - May 13, 2011
This is a great gift idea for a Grandma who enjoys puzzles. I gave it to her for Mother's Day with a picture of my daughter on it. It was adorable! We haven't put the puzzle together yet. The tin turned out fairly nice but I was dissapointed that the top of the picture was slightly cut off and thats not how it looked on the preview. Also, the gloss coating wasn't applied perfectly, there were some flaws. But Grandma loved it anyway!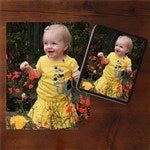 Expensive
By
Shopper

(Salem, CT) - May 1, 2011
This site has a tendency of changing the cost of their products often. Unfortunately, I bought this product when it was at a considerably high price. I wish I had known this before I spent $15 more than I needed to.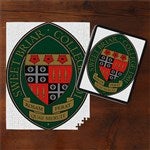 Puzzle warped
By
Shopper

(Mahwah, NJ) - September 3, 2013
The quality of the picture is fantastic.. but the puzzle itself is not thick enough and is warped when it is put together. The tin that holds it is perfect.


great concept not good quality
By
Shopper

(Santa Fe, NM) - July 10, 2013
the result was great as far as the concept and the print on the container and the print on the puzzle. HOWEVER, the quality of the product over all is not good at all in that the picture that they glued to the cardboard and then cut into pieces separates from the cardboard backing so that the item can only be safely put together once

Make sure your photo rates "best"
By
Kelly M.

(Germantown, MD) - October 2, 2009 (
See all reviews by this customer
)
This puzzle is a great idea, but you have to be very very careful about the photo you select. The one I uploaded looked fine when it was cropped on screen and was still in the "better" category. When I received it the puzzle was blurry and grainy. Personalization Mall's quality department reviewed it and said that it was the picture, not their service that made it look bad, and offered no further assistance.

poor quality
By
Renee L.

(Pinellas Park, FL) - April 30, 2013 (
See all reviews by this customer
)
I was looking forward to this puzzle so much as a gift for my mom. I was pleased with the printing of the photo on the tin and on the puzzle, but the puzzle quality itself was very poor. the cardboard is really thin and the picture was peeling of the puzzle before we even put it together.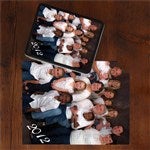 Poor quality
By
Shopper

(Irvine, CA) - February 25, 2013
poor quality.

can't do this
By
Caryle S.

(The Villages, FL) - February 22, 2012 (
See all reviews by this customer
)
product has yet to be received.

pieces are very tiny
By Shopper (Dallas, GA) - December 5, 2011
I ordered 3 puzzles, 2 for 2 grandmothers and 1 for a great grandmother - yes, that's $90 plus shipping. Although the copy says 252 pcs and states the measurement, it doesn't state the dimension of the pieces. I called customer service and told them they should at least put something in the picture like a quarter or a cup of coffee so the buyer can really see the relation in size before buying. Of course, she offered no help because of their no return policy. i think that is why I am upset because the csr basically said, 'aww that's too bad goodbye'. I am stuck with this $90 set of puzzles I can do nothing with. The pieces are far too small for elderly hands. I guess I should have mapped out the size and cut out my own 252 pieces to confirm the size before spending so much money on this. The only thing good out of it is the tin. It is about 5 times the size it needs to be to hold all of the tiny little pieces. At least they can use the tin to store things in; although, pretty expensive for just a storage box. I will be hesitant to buy anything from here again without calling and getting all of the unpublished details.
terribly disappointed.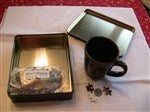 Puzzle was grainy
By
DAWN A.

(IDABEL, OK) - November 15, 2011 (
See all reviews by this customer
)
I was not happy with the puzzle. It was a snap shot so when it was put on the puzzle it was very grainy. It will be hard to put together due to the image not being good. However I put images on a guitar pick & post it notes and they turned out well. I loved them.