How you use the product
By
Shopper

(La Quinta, CA) - July 22, 2014
I'm very pleased with the products and the good quality. I have ordered from Personalization Mall many times. It's very easy ordering and it gives you the opportunity to see the personalization. What a special gift to send and have it personalized. I highly recommend PersonalizationMall.com.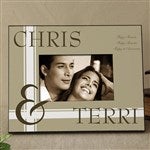 Great Couple Gift
By
Shopper

(Meraux, LA) - June 28, 2014
This is a great photo frame for a shower or wedding gift. The frame comes in different colors and you choose the saying on the right hand corner.

Great gift
By
Lori M.

(Martinez, CA) - May 30, 2014 (
See all reviews by this customer
)
Such a wonderful gift to give and to receive. The newly wedded couples love it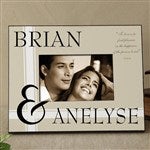 Perfecto!
By
Shopper

(Jacksonville, FL) - May 20, 2014
Bought the sea green frame and it was absolutely a perfect match in our bedroom. Love this item!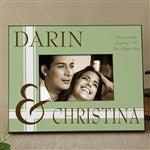 Truly Wonderful!
By
Shopper

(Saint Joseph, MN) - May 19, 2014
The colors of the frame are vibrant and beautiful! The frame is of great quality! SO happy with this gift!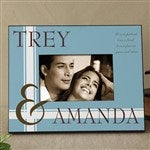 Perfect wedding gift
By
Kathy E.

(Saint Louis, MO) - April 29, 2014 (
See all reviews by this customer
)
The frame is just what I wanted! Well constructed and the print on it is lovely. Couldn't get anything nicer for under $25! Very pleased with my purchase.

ITS A NO BRAINER
By
Shopper

(Corpus Christi , TX) - April 19, 2014
This frame is perfect for all couples out there. I have bought this for all the closest people in my life and plan on continuing to buy it as anniversaries come up. The frame is GREAT quality and the printing is as well. Everyone I have given one too displays it right away and the excitement they get is awesome. Usually I pit the husband name first and the wife name second and then for the four lines i use Matthew 19:6 Therefore what God has yoked together let no man put apart.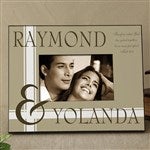 They Loved It
By
Shopper

(Boise, ID) - April 2, 2014
Me and my boyfriend got this gift for my aunt on her wedding day. The couple absolutely LOVED it and we were so happy with the result. Just like we planned it! Thank you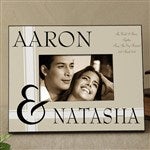 Great wedding gift
By
Shopper

(Alpharetta, GA) - March 4, 2014
Lovely quality. Pleased as usual.

Perfect Gift
By
Shopper

(Kingsland, GA) - March 4, 2014
I purchased this for a relative's wedding gift....It was super cute.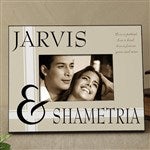 Sweet
By
Shopper

(Hunt Valley, MD) - March 3, 2014
Looks great--Valentine's Day gift so personalization is fabulous.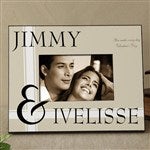 Love this frame!
By
Brunilda D.

(Orlando, FL) - February 25, 2014 (
See all reviews by this customer
)
I ordered this frame a couple of weeks ago and got it last week. I love how big the frame is and how big the names are on it. It doesn't feel flimsy either. And the price is right!

love it
By
Shopper

(Storm Lake, IA) - February 24, 2014
Will be a great gift!






Love this frame!
By
Shopper

(Rochester, NY) - February 24, 2014
Lettering is very professional. Love the personalizaiton of it. Will put a recent vacation photo in it to remind us of great times!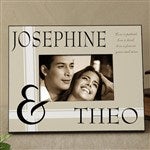 Great Gift
By
Shopper

(Midland, MI) - February 23, 2014
This picture frame looks exactly like the picture. High quality. Great price. I am giving this as a wedding gift, and I can't wait to give it to the couple. The product was shipped and at my door within three days of ordering. Highly recommended!!

Great frame
By
Shopper

(Joliet, IL) - February 22, 2014
The frame looks classy and arrived faster than expected. Great service and the website is easy to use.

Absolutely Fabulous
By
jeffrey G.

(orlando, FL) - February 20, 2014 (
See all reviews by this customer
)
This was such an awesome gift! Not only will it last forever but it will hold our memories forever too!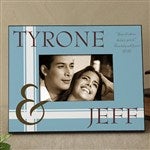 To love you Personlized frame
By
Shopper

(Helena, AL) - February 12, 2014
Bought this for an engagement party gift . Very nice and arrived promptly.

Love it
By Shopper (Hempstead , NY) - February 11, 2014
It's exactly what I wanted and more! I love it!

Personalized Frame
By
Shopper

(Australia) - February 3, 2014
I love this! Quality is excellent and shipping to fast to Australia. Thank you

Happy customer
By
Shopper

(Silvis, IL) - January 20, 2014
Got this for my mother-in-law and she said it was one of the most best gifts she has ever gotten, it is really sturdy too i dropped it and it didn't break or chip.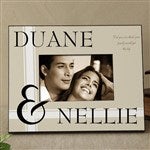 Super Happy!
By
Shauna W.

(Inkster, MI) - January 14, 2014 (
See all reviews by this customer
)
I really liked this picture frame. I'm more than satisfied with this website as well as my many purchases.

Engagement frame
By
Shopper

(Manassas, VA) - January 3, 2014
The perfect gift for our grandson and his fiancé.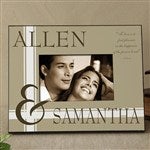 Loved it!
By
christine G.

(Lansdowne, PA) - December 30, 2013 (
See all reviews by this customer
)
Came out nicely...great product for the price.

Beautiful!
By
Shopper

(Woodbridge, VA) - December 24, 2013
I got it for my husband on our anniversary to keep on his desk. The frame is just beautiful!


Very nice product
By
Shopper

(Rockville, MD) - December 23, 2013
Very nice frame and love that I could personalize it.

everyone loves a personalized gift !
By
crystal W.

(amenia, NY) - December 20, 2013 (
See all reviews by this customer
)
Gave this gift as a house warming present for a couple starting a new life in there New home , and they were told to place the first memorable moment together in their new home in this frame...they were at awwww ...they loved it and the idea

Beautiful!
By
Shopper

(Wichita, KS) - December 13, 2013
Much prettier in person. Great quality and design

LOVE IT
By
Teresia B.

(hollywood, FL) - November 12, 2013 (
See all reviews by this customer
)
This looks so much bigger and better in person. The quality is extraordinary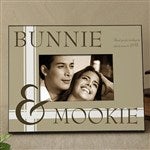 Frames are fantastic
By
JoAnn W.

(Katy, TX) - November 10, 2013 (
See all reviews by this customer
)
I've been ordering items for years and these frames make excellent gifts for any couple. I ordered several lately and they were a hit! Thanks for your high quality items, reasonable prices and excellent service!

Looks better in person
By
Sante P.

(King of Prussia, PA) - October 27, 2013 (
See all reviews by this customer
)
I bought this frame as well as another for my daughter and her boyfriend as a Christmas gift. I was happy with the finished product but just wished I would have switched the names around to reflect the recipient.

The quality of the product is outstanding. Love Love Love it and I hope they will too

Better than picture
By
Shopper

(Carrollton, TX) - October 20, 2013
Used my own verse and it looks great. Website very easy to order from and I love the preview of the order. The frame is very good quality and it was received as promised. Will use again.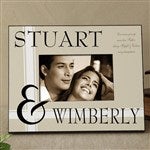 well made
By
Shopper

(Bath, NC) - October 4, 2013
It looked even nicer than pictured in the website. I was very pleased.

love it
By
Shopper

(Santa Ana, CA) - September 30, 2013
perfect and great quality!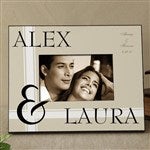 Excellent
By
Shopper

(Denver, CO) - September 30, 2013
always an impressive gift!

Personalized Name Frame - Beige
By
Shopper

(Tampa, FL) - September 2, 2013
The quality of this frame is great. Nice craftsmanship and design. Names and quote came out beautifully on the beige frame. I plan to purchase this again for future friends. Having it gift boxed for me was done nicely; better than a lot of other places. I would definitely recommend this item to a friend.

Great Frame
By
Kristi C.

(Phoenix, AZ) - August 6, 2013 (
See all reviews by this customer
)
Great quality - made a very nice gift

Anniversary Picture Frame for our son's first year wedding anniversary
By
Barbara M.

(Vero Beach, FL) - June 15, 2013 (
See all reviews by this customer
)
Beautiful,well made picture frame. It fit a 4 x6 picture well. Names were perfectly engraved! Very Happy with the frame. Will order again!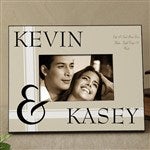 Beautiful
By
Ashley L.

(Cincinnati , OH) - May 21, 2013 (
See all reviews by this customer
)
Simple, yet classy. A perfect wedding gift. I got a personalized Christmas ornament to go with this and I know the Bride will love them both!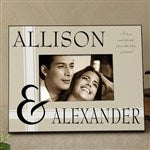 Great wedding or bridal shower gift!
By
Tari S.

(Lake Winnebago, MO) - April 17, 2013 (
See all reviews by this customer
)
I gave this to a bride-to-be for her shower gift and her jaw dropped when she opened it. She passed it around and everyone ooed and aahed about it! The price for this personalized gift is unbeatable and the quality is outstanding!!! I love that I was able to choose my own verse. This frame will go with any decor and is suitable for the living room or bedroom...or where ever you like it!! Excellent!