so cute
By
Vonda J.

(Overland Park, KS) - October 16, 2011 (
See all reviews by this customer
)
My son and daughter inlaw will love this. They are a young newly wed couple that are so very in love. This suncatcher says it all. Simple but the spelling of their names in the center were pretty small. It would great if your name onle has 3 or 4 leters in it. All in all i love it!!!!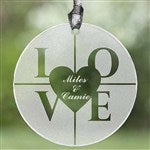 Best shipping service
By
Shopper

(Grand Ledge, MI) - April 20, 2013
I purchased the suncatcher as a gift. I was shocked and thrilled that it arrived the next day.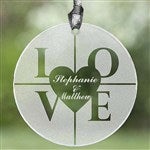 nice
By
Shopper

(Indianapolis, IN) - February 21, 2013
very nice, just what I expected - thank you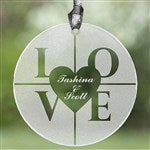 Beautiful suncatcher!
By
Carolyn B.

(Dewitt, MI) - February 11, 2010 (
See all reviews by this customer
)
I ordered this suncatcher to tie on a wedding gift. I thought it would be a nice finishing touch to the ribbons and bows. Boy, was I right! I had the bride and groom's names engraved in the heart and it actually serves as a very lovely "tag" for the gift. They will treasure it, I am sure. It is just beautiful!

Special gift!
By
MICHAEL D.

(MARTINEZ, GA) - January 28, 2010 (
See all reviews by this customer
)
Not only is this a sun-catcher, but an eye-catcher too! We bought this for a newly-wed couple & bought another for my wife & myself. The personalization makes this such a special gift!

Great gift
By
Minh L.

(San Jose, CA) - April 15, 2010 (
See all reviews by this customer
)
I bought it for my Gf, and she was so happy when she got it.

Love sun catcher
By
Linda C.

(Westmont , NJ) - April 2, 2010 (
See all reviews by this customer
)
I got this for my daughter's wedding 4-17-10. It's hanging in my kitchen window where everyone enters. It is so pretty.

Thank You, Will order again.

Linda

Beautiful
By
Sheryl H.

(Erie, PA) - August 11, 2010 (
See all reviews by this customer
)
My order was processed quickly and everything looks GREAT! I can't wait to give it to my daughter at her shower! Thank you

Personalized sun catcher
By
Shopper

(Colonia, NJ) - November 24, 2013
When i ordered it, i was under the impression that the colors in the sun catcher were clear, white and green. So I was disappointed when I received it,to see it was just clear and white. Looks nicer online :(

Perfect
By
Stacey R.

(Unadilla, NY) - October 11, 2009 (
See all reviews by this customer
)
This item was exactally what I expected and the couple
I gave it to loved it. Reasonably priced and great quality! Would definatly order from this site time and time again.

Sun Catcher
By
Shopper

(Rolla, MO) - February 16, 2013
I really like this suncatcher. The letters for our names were small. They are hard to read. It is really thick. Other then that its a great product and very pretty.

Wedding gift tag
By
Nancy K.

(Ellendale, ND) - May 4, 2010 (
See all reviews by this customer
)
I purchased this suncatcher as a special tag to tie on a wedding gift...it is exactly what I wanted. It was printed with their names perfectly. it is a good size for my purpose. The bag that it came in adds to the quality.

Thank you.

nice suncatcher/ornament
By
Shopper

(Warroad, MN) - January 15, 2012
Very nice! This will make a nice personalized gift for a friend who will be getting married soon.

Beautiful Wedding Gift
By
RUTH ANN A.

(EVANSVILLE, IN) - August 10, 2011 (
See all reviews by this customer
)
Really loved the Personalized Suncatcher I ordered for my niece and her husband for a wedding gift, the ornament was beautiful and the engraving perfect. It came with a suction cup hanger for a window, I also ordered the silver stand to give them two options for displaying. I love Personalization Mall for personalized gifts, I have ordered baby gifts, birthday gifts, wedding gifts and have been so pleased with everything I purchased, and the service is fast.
Thanks so much for great products and great service.

Pretty Suncatcher
By
Kim T.

(Erie, PA) - March 16, 2013 (
See all reviews by this customer
)
This is the first suncatcher I've ordered from personalizationmall.com. I was very happy with the quality and I'm anxious to give it to the bride and groom.


Excellent Quality
By
Shopper

(Spring Hill, FL) - February 24, 2012
I wanted something for our domestic partners anniversary, I saw this and since we both like Suncatchers I thought this might fit the bill. I placed the order they did show how it would look after personalization, the order arrived by Fed X within 5 days, it was exactly as ordered. It was heavier than expected but a good size, it hangs proudly in our window. Thank you for making the experience so nice. I would order again.

Awesome surprise
By
Shopper

(Farmville, VA) - May 22, 2011
My wife was astounded when she saw the gift. She tried to guess what was it for about 3 hours, until I finally told her she has absolutely no clue. She was speechless.

Love Is In the Air.
By
Betty N.

(Neptune, NJ) - July 30, 2010 (
See all reviews by this customer
)
This is a great item. It'just the right size, beautifully done and looks great in our window. Also, the company is very helpful. I accidently left out my house number on the shipping adress. I emailed customer service, explained what happened. They assured me they would take care of it when it was returned "No such address" and they did so in a timely manner. Buy this suncatcher. It's charming and deal with a great company.

Beautiful
By
Debra P.

(Sacramento, CA) - May 25, 2010 (
See all reviews by this customer
)
This surpassed what I was hoping for. It is very elegant looking and made well. A plus is that every time I have ordered from personalization.com I have recieved my items in a speedy manner and have always been great quality.

LOVE the suncatcher!!
By
bob B.

(greeneville, TN) - February 15, 2011 (
See all reviews by this customer
)
I ordered the suncatcher for my wife for valentines day. it arrived in time, and she really loved it!...i just wish it had a year on it, besides our names.

Very Pleased
By
Shopper

(Newportville, PA) - January 28, 2011
After receiving the "All You Need Is Love" personalized Suncatcher, I was totally pleased with the quality. The Description on site was exactly as received, and can't wait to give this Gift!