Great gift
By
shannon S.

(Little Mountain, SC) - July 2, 2010 (
See all reviews by this customer
)
Simple and smaller than I'd expected but I probably didn't pay attention to dimensions. It's the perfect gift for my far away friend and I think she'll love it.

good product
By
Monica L.

(Albuquerque, NM, NM) - January 19, 2010 (
See all reviews by this customer
)
I would have liked if you could center the text to one side instead of centered. I think it would have worked better for the picture we wanted to use. The product looks great though...

Great gift! But, be careful how you crop the picture.
By
Heather C.

(Burleson, TX) - December 15, 2009 (
See all reviews by this customer
)
I ordered two of these for friends for Christmas gifts. Love the idea and personalization. They are very nice.
My only advice is, don't crop the picture where the heads are really close to the top. Because the canvas is folded around the edges, part of the picture is on the sides. So, in one of mine my friend's head is right at the top because the little space above her head in the picture is folded over the side. The box that they use to show you what size you can crop the picture to includes what will be folded over the sides. So, make sure you have a little extra space on all side inside the crop box.

i liked it over all.
By
Shopper

(Zephyrhills, FL) - August 18, 2012
I bought this item for my best friend for her birthday, and as far as I could tell, she loved it. The picture advertizing this item is a little misleading on the size....it is a lot smaller than I would have liked it to be. However, I didn't look at the demensions in the description of the item, so it's my fault for expecting something different. I also found that the product looks exactly like the final picture in the editing process, so when you get there, make sure you like everything about it. Also, I personally wouldn't invest in the personalized wrapping because its just some boxes with their name written all over it, and a black rubber band around the corners: however if you don't have wrapping paper or bags with tissue paper, it is convinent.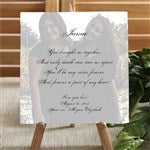 Not too happy.
By
Diane B.

(Tamarac, FL) - September 17, 2011 (
See all reviews by this customer
)
Have been ordering from here for quite a few years and always satisified.
However this canvas picture sentiment I was not very happy with. I loved the way
the sentiment was inscribed, but not pleased with the way the picture came out.
It was very light and faded looking . You really had to look hard to see who was in it. Not at all like the sample above. If you compare this to the one above you will see exactly what I mean.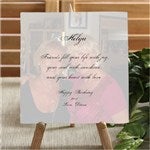 Not impressed but not completely dissappointed
By
Sherry R.

(Seabrook, TX) - December 29, 2010 (
See all reviews by this customer
)
I almost didn't order the item because it took nearly 20 minutes just to get the picture uploaded to order. I kept getting an error message stating the picture was too small. When the package arrived my first impression was the canvas was loose and too big for the frame. The print could have been larger and darker because it gets lost in the picture. I purchased this as a christmas gift for my best friend and he thought it was nice. I am glad that I had another gift to go along with it. Overall, it wasn't bad but I was not impressed like I have been in the past with orders from Personalizationmall.com. I will of course order more.... just not this particular item.

canvas picture
By
LaTonya A.

(Chicago, IL) - April 29, 2010 (
See all reviews by this customer
)
It is very cute and very small, the pic shown is the actual size so don't expect anything bigger than your hand...I was a bit unhappy when my bff face was covered by the words on the canvas...otherwise it is a great gift, quality is amazing.

limited choices
By
donna M.

(everett, WA) - August 3, 2012 (
See all reviews by this customer
)
product was to small in size. Description did not give dimensions on product and you dont get to choose the font you want. I was going to order in bulk for a non profit i have, but need a different font and size so will look for another company to purchase from.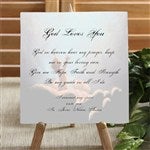 Personlized Canvas
By
Marilyn P.

(Glen Rose, TX) - November 25, 2009 (
See all reviews by this customer
)
I love the concept of this gift. The one shown as an example is what I expected. However, upon receiving my order, the print is so small and can is so hard to read, I probably will not even give it as a gift. This is the only item I have every been disappointed in from this company.

Quite dissapointed
By
Kimberly H.

(Shelton, CT) - November 19, 2009 (
See all reviews by this customer
)
I ordered this a a gift for one of my friends....note to others.. the "canvas" which looks like thick paper...is folder over ang stapled to the back and it makes it look very chincy... and the picture or the words are not straight. Dissapointed and would not order again.