Memory Plate
By
bev E.

(ofallon , MO) - December 29, 2011 (
See all reviews by this customer
)
I had a personalized plate made with a very special photo, as a present for 4 of my friends (and one for me too). . . . it came out beautiful. . . it was easy to follow directions in creating the plate and the delivery was very timely. . . i have sent then all out and i'm sure my friends will love it as much as i do. . .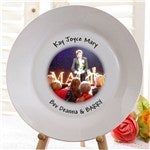 Pretty good
By
David S.

(Reno, NV) - December 6, 2011 (
See all reviews by this customer
)
I got this for my father in law for Xmas. It looks fantastic, The picture came out amazingly on the plate, the writing looks good, its all very colorful and none of it is "Blurry looking" Like i have seen before. I only gave it 4 stars because I would prefer if the plate was a little bit bigger, But that is not a quality or appearance issue at all.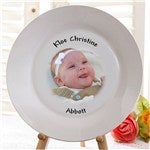 Great gift!
By
Megan K.

(New Carlisle, OH) - November 15, 2011 (
See all reviews by this customer
)
The quality of this plate is very good! Personalization Mall did a great job on my plate! I would buy again!!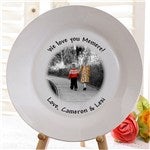 Beautiful
By
Melissa S.

(Camden, AR) - May 19, 2011 (
See all reviews by this customer
)
Shipped fast, looked beautiful, and Mom loved it! Was a perfect Mother's Day gift!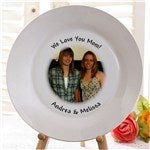 Plate
By
Elizabeth B.

(Spotsylvania, VA) - December 26, 2013 (
See all reviews by this customer
)
I was disappointed with my purchase. The plate did not look like the preview of the plate at all. The picture was really dark.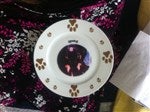 Beautiful Gift
By
Shopper

(Canton, MS) - May 20, 2012
I loved the way the colors are so bright, it looks the same as the picture itself. I was very pleased with the results.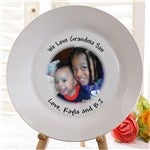 Extremely Small
By
Shopper

(Farmington, KY) - April 20, 2012
I was pleased with the photo quality to the plate, but the plate is more of a saucer size. It is extremely small. I was expecting a regular sized plate. The dimensions are given, but it is hard to visualize what it will look like. I was very disappointed because I had ordered this for a gift. I was trying to save money but ended up wasting money.

Great product
By
Laurie S.

(Hazel Green, WI) - July 13, 2010 (
See all reviews by this customer
)
very good quality product. the photo turned out great and process was very easy to do. i will definitely use this site in the future.

A Little Small
By
Carrie B.

(Newport Beach, CA) - May 7, 2012 (
See all reviews by this customer
)
I ordered this for my mom for Mother's Day as she is a plate collector. I must not have read the product information that carefully as the plate was a lot smaller than I thought. However, It did turn out great and the picture quality very nice.

Personalized Photo Plate
By
Shopper

(Yonkers, NY) - March 24, 2014
We were so disappointed with the quality of the photo printed on the plate. It was very dark and did not represent the computer proof at all. Although customer services was excellent and replaced the first plate pretty quickly the quality of the photo on the replacement was only slightly better. We had purchased a photo plate in the past that was really nice and was so much fun at the party we wanted to have one again at our next special birthday party. The idea was still a lot of fun but the photo on the plate was horrible. I'm not sure if it is a different company producing the plate but they did a really bad job. So sad :(

ok product nothing exciting
By
Shirley A.

(Salem, OH) - December 30, 2013 (
See all reviews by this customer
)
Smaller than anticipated. Boring just plain white, would be nice to have decor options around edge s. Bought as a gift, she liked because of photo of kids but wouldn't buy another too plain. Good quality, fast shipping.

Grandma
Thank you for this serves

Great item
By
Sharon S.

(San Antonio, TX) - May 8, 2010 (
See all reviews by this customer
)
I used a graphic instead of a picture but it turned out pretty good. It wasn't positioned exactly like it was shown on the online proof during the ordering process, but it was close enough. I know that my sister will love it.

good plate, fair personalization
By
Julie H.

(Frederick, MD) - May 7, 2010 (
See all reviews by this customer
)
The quality of the salad plate was excellent--heavy duty and not plastic!
The photo print seemed a bit green in color and not true to the actual image color.

Just as expected
By
Shopper

(Sunderland, VT) - June 24, 2011
Bought for my dad and he loved it!

Excellent image
By
Shopper

(Washougal, WA) - May 10, 2011
Image was quite good. Plate good quality.

Personalized Photo Plates
By
Sylvia A.

(Mechanicsville, VA) - July 18, 2011 (
See all reviews by this customer
)
The personalized photo plate for my daughter's 40th birthday was absolutely amazing. She was livid with joy. It was the best present I could ever have given her. Thanks a million!!!

Great Plates
By
Carlos T.

(Kansas City, MO) - December 27, 2011 (
See all reviews by this customer
)
We did this for my grandmother as a kid - plates came early enough for me to get them off to home in the mail. Pictures were clear, cropping was easy (interface is great in general), quality of the product is high - all around win.

Great product, exactly what I ordered!
By
Shopper

(Westbrook, ME) - December 21, 2011
Loved this product. The picture was perfect and it looked exactly like the preview.

Beautiful and easy to order
By
Shopper

(Rochester, NY) - February 20, 2011
I was pleasantly surprised at the quality and sturdiness of the plate. And it WAS delivered "by" Valentine's Day, mid afternoon, (though I originally mistakenly assumed that meant "before"). The recipient absolutely loved it, and the little girls in our photo (our granddaughters) were tickled to be "on a plate" :)

Love the photo plate
By
chia C.

(Norman, OK) - April 27, 2010 (
See all reviews by this customer
)
I order my gift on Monday and got it in the mail thursday. Fast and perfect for mother's day. I'm happy with the result from this website. Love it.

The Perfect Plate
By
Marlene K.

(Fort Myers, FL) - November 19, 2009 (
See all reviews by this customer
)
This plate only measures 7 1/2" across but is absolutely gorgeous!! Excellent quality and the picture quality is very good and has soft edges. It make a fantastic gift and will be perfect on a shelf or in a curio because it is a little smaller than a dinner plate.

Gifts Plates for Mom, Grandma, Sisters, New Mothers....
By
Genevieve M.

(Springfield, VA) - May 10, 2010 (
See all reviews by this customer
)
Perfect gift for women of all ages and status. The black and white photos look awesome but are best with just head shots and not too much background... otherwise, the full color are better...... Perfect for so many occasions!

Excellent but small.
By
Penny S.

(Sugar Land, TX) - July 23, 2010 (
See all reviews by this customer
)
Fast Delivery - Excellent Price - Excellent Product. I did not read the size and thought it was a regular plate size but it is a salad size but other than that the plate is Beautiful. Do not worry about delivery because it was FAST FAST FAST!

Wonderful gift for any occation!
By
Maya W.

(Concord, CA) - June 14, 2010 (
See all reviews by this customer
)
I made this plate for a bride and groom. I used a photo from their engagement photos and put their wedding date and names on it. I can't wait to give it to them for their wedding. This site had the best price and the plate turned out fantastic. WOW fast shipping!!!! I would highly recommend this plate and site to anyone! Be creative it doesn't just have to be "just for her" it can be what ever you want. I am glad I did it!