BEAUTIFUL!!!!!!!!!
By
Shopper

(mobile, AL) - April 9, 2014
we ordered this so our daughter could have a memory from us that would last a lifetime and this beautifully made plack is amazing! thank you

Very Pleased In All Ways
By
Shopper

(McHenry, IL) - January 24, 2014
Although this item seems to be geared to graduates, and I debated on saving it for our granddaughter's college graduation next year, I also found it very meaningful for her soon to be 21st birthday, another big step in her life. The message implied is perfect, and we know she will treasure this keepsake forever. The etching is absolutely beautiful, including the added lines I composed to convey our special 21st birthday greeting. This product is very true to it's description and arrived beautifully boxed in a very timely manner. I would definitely purchase this again for any special occasion.

!8th Birthday
By
Shopper

(irondale, AL) - December 23, 2013
This was an excellent gift/keepsake for my Grandson's 18th Birthday. He loved it.

Perfect!
By
Shopper

(Fontana, CA) - October 12, 2013
I was extremely happy when I received my item. I was surprised that it came so quickly. I know my boss will enjoy this gift forever. The craftsmanship is excellent. The script I added is perfect. Thank you so much!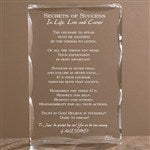 The perfect gift.
By
Donna D.

(Macomb, MI) - August 25, 2013 (
See all reviews by this customer
)
I bought this as a gift for my son who recently received his Bachelor's degree. It was the perfect gift. As usual I was not disappointed in the quality of the product and I received it just a few days after I ordered it.

good for inspiration
By
Shopper

(cerritos, CA) - June 11, 2013
great product.


Excellent Grad gift
By
Rick S.

(Virginia Beach, VA) - May 30, 2013 (
See all reviews by this customer
)
Looks even better than I thought it would from the picture! Thank you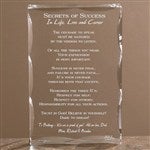 Graduation Gift
By
Stephanie E.

(Sugar Land, TX) - May 14, 2013 (
See all reviews by this customer
)
Nice quality! Fast shipping!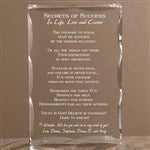 Nice gift for grad
By
Shopper

(Holt, MO) - May 13, 2013
This is a really nice gift for someone, especially a graduate.

Great retirement gift!!
By
Andrea H.

(Canada) - April 30, 2013 (
See all reviews by this customer
)
This was the perfect gift and it came fast!!!! It was boxed VERY nicely too!!!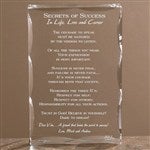 Pleasantly Surprised
By
Arlene R.

(Davie, FL) - December 26, 2012 (
See all reviews by this customer
)
This was a gift from me and my dept. to my manager. I chose to purchase his gift through Personalization.com because I had purchsed several Christmas presents here and was pleasently surprised when I received them. The quality was very good and the products are unique and personal so I knew this gift would be no different. My dept. loved the gift and my manager loved it. He related to the saying on the plaque and loved the quote we added along with his name.

Thank you Personalization.com for all of the personalized gifts I purchased from you this year. These gifts were loved by all.

PERFECTION
By
Shopper

(Brooklyn Center, MN) - November 16, 2012
Your product, service, attention to detail are impeccably PERFECT ONCE AGAIN!
THANKS AGAIN for a gift we are proud to give!


Excellent product
By
Shopper

(Miami, FL) - July 20, 2012
Very good product and service, thank you very much

Gradsuation Gift
By
Shopper

(Houston, TX) - May 21, 2012
Great gift to a graduate effective for the cost.

Secrets of success
By
isaac S.

(telford, PA) - May 21, 2012 (
See all reviews by this customer
)
I presented this Personalize Keepsake at a graduation dinner party for my step-daughter and everyone was impressed. I normally would'nt have purchased this type of item unless I saw it first hand. But when I opened the package,I was very impressed. My step-daughter really enjoyed this product. I now know where to buy gifts in the future. Thank you very much.

Great gift
By
Shopper

(Tamarac, FL) - May 17, 2012
touching!

The perfect gift
By
Shopper

(Springfield, MO) - May 17, 2012
I purchased this for my daugther and son-law to memorialize the start of their new business. They both like it and couldn't wait to get their office set up to display it. I think this is a perfect way to let someone know that your thoughts are with them always.

Lovely Sentimental Keepsake!
By
Shopper

(Highlands Ranch, CO) - May 14, 2012
Lovely for Graduation. Nice reminders for life! Good size keepsake.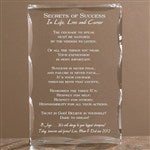 Beautiful
By
Shopper

(Naperville, IL) - May 12, 2012
I love the verse on the keepsake, and am thrilled that our differently-spelled names were spelled correctly! I am very happy that I ordered it. The ONLY suggestion I would have is to put the gluey sticker somewhere off of the Keepsake. It was on the bottom, yet after removing it, I still have to take some nail polish remover or something to get all the glue off: and the problem is, you can see the glue patch there as something odd on the gift. You can see the glue patch show through. Put it on the box instead, because anyone giving it as a gift is going to remove it and go through what I am. Other than that annoyance, very satisfied.

Fantastic
By
Susan C.

(Tully, NY) - May 9, 2012 (
See all reviews by this customer
)
This was so great to give our son who was commissioned a 2nd lieutanant in the Army. He loved it.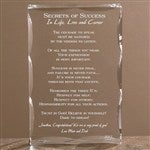 a nice gift
By
Shopper

(Raleigh, NC) - May 9, 2012
It is a nice gift. A little smaller than I expect, but looks really pretty. It will be better if I can put more words on it.

Absolutely Beautiful gift
By
KEVIN B.

(NAPA, CA) - May 6, 2012 (
See all reviews by this customer
)
Purchased this for my son who is graduating h.s. this yr. Very nicely worded and the personal closing at the end just brings it home. My son is going to love this gift.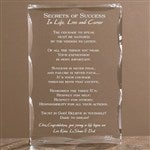 Excellent
By
David J.

(New Albany, IN) - May 5, 2012 (
See all reviews by this customer
)
Thank you for your prompt service. Our Keepsake was beautiful and very well done. We received this within 4 days of ordering, enough time to give as a gift to our daughter on her graduation day. We could not have been more pleased. Thank you for a job well done.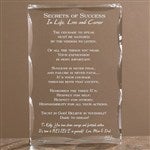 Surpased my expectations
By
Dennis B.

(Gardners, PA) - April 29, 2012 (
See all reviews by this customer
)
I wanted something special to express my feelings to my step-daughter on her graduation from College. This DID IT ! It said exactly the words I wanted to express, and in the very sincere and heartfelt way I wanted also. The ability to add a few 'personal' words is great. The quality of the product is also worth noting. It has 'weight' to it, another words, does not feel like a light piece of plastic. It's near perfect. If anything, if it were just little bigger, or less words (lol), the personal words would have had more room to be larger. Still, I am VERY pleased with this. The costs, the quality and fast shipping. 5 stars !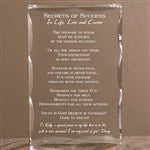 Awesome Gift
By
Gwendolyn F.

(New York, NY) - April 25, 2012 (
See all reviews by this customer
)
Gift was much better then expected. Very pleased with this company. Highly recommended.

Great Gift
By
Shopper

(Maple Grove, MN) - April 23, 2012
The Secrets of Success is a wonderful gift to share with your graduate; I love the "richness" of the product - the verse, the thick, glass-like appearance, and the add-on of your own message engraved on the gift. Excellent product!

Beautiful!
By
Cheri S.

(Fresno, CA) - April 16, 2012 (
See all reviews by this customer
)
This was beautiful. A lot heavier than it looks. Classy....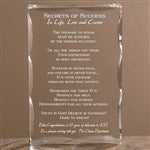 I will be proud to give this gift to our daughter for her confirmation!
By
rebecca M.

(anchorage, AK) - March 25, 2012 (
See all reviews by this customer
)
I was very impressed with how quickly the item was delivered to Alaska, even with having personalization done. The plaque arrived in a very pretty box; I may not even wrap it! The personalization looks as though it belongs on the plaque with the original message! Beautiful quality and the plaque looks like something she will be able to treasure for the rest of her life! I will purchase this item again for friends' children graduating in the near future!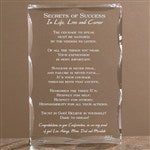 Absolute Perfection
By
AuTumn Y.

(Chula Vista, CA) - March 23, 2012 (
See all reviews by this customer
)
I was looking for something unique and personalized that would express my gratitude and appreciation. It needed to be a gift that spoke for itself, leaving a permanent lasting impression. This Secrets of Success Keepsake was stellar in every way: looks, quality, engraving and packaging. Truly ideal, as I purchased it for a co-worker that has shown dedication for 17yrs. The Keepsake was beautifully packaged, no need to even use wrapping paper. I have purchased several items from Personalization Mall and they all are breathtaking. So, if your looking for something unique that you can have personalized, you need not look anywhere else. Thanks Personalization Mall!!!

Class Advisor
By
Shopper

(Merced, CA) - March 23, 2012
Perfect for class officer gifts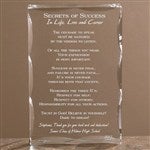 Awesome Gift
By
Lindsay H.

(Alexandria, LA) - March 16, 2012 (
See all reviews by this customer
)
This is the perfect gift for someone who loves quotes but is also highly motivated and supportive. This is a great gift to show anyone your appreciation.

Great gift idea
By
Emilija D.

(Canada) - February 25, 2012 (
See all reviews by this customer
)
I was really impressed with this product. I would buy it again.

Great
Great gift to give to someone special

Very nice for the price!
By
Karen F.

(Wilmington, DE) - December 24, 2011 (
See all reviews by this customer
)
My graduate loved this and said he would "keep it forever". They did a great job personalizing and it came quickly and very nicely packaged.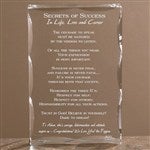 gift for college grad.
By
Ronald C.

(South Hill, VA) - December 23, 2011 (
See all reviews by this customer
)
beautiful and first quality craftsmanship purchased this as a gift and have received only positive feed back.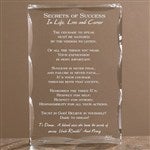 like the verses and able to have own words inscriped
By
christina A.

(Chandler, OK) - December 19, 2011 (
See all reviews by this customer
)
very pleased the product came in time for grandsons graduation last saturday.also the card was very nice.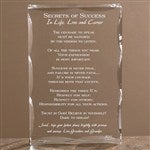 As expected
By
Barbara P.

(Colonial Heights, VA) - December 8, 2011 (
See all reviews by this customer
)
This product is exactly as it appears...Great quality and a wonderful keepsake...I would purchase it again and again.

Boss Gift
By
Kathleen N.

(Marlton, NJ) - December 2, 2011 (
See all reviews by this customer
)
We am thrilled with the quality of this item. This is a Christmas gift from the girls at work for our boss. It is beautiful and we can't wait to give it to her!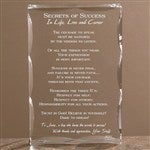 Secrets of Success© Personalized Keepsake
By
Shopper

(Hampton, VA) - June 11, 2011
I ordered this keepsake for my cousin. He just graduated from college and is moving on into his "adult" life apart from college life. He said he really likes it and it will be displayed in his new apartment! That's good enough for me. Always quality work from Personalization Mall!

Keepsake success!
By
Shopper

(Gilbert, AZ) - June 6, 2011
I got this for my son as he graduated HS. I loved that I was able to put my own words on it. Very nice product for the money. He'll cherish it forever. Thx!