Cheer shorts
By
Shopper

(Pine Valley, NY) - September 10, 2013
My daughter was a very pleased with her surprise! Her personalized shorts looked very nice, excellent quality and such a nice keepsake. Thank you, again, for another great gift to give someone I love.

A little extra info
By
Shopper

(Shelby Township, MI) - July 28, 2013
In addition to my previous review I would like to add a comment about the sizing of these shorts. If you have ever had "Soffe" shorts, you know how they run. These are the same fit as the ones I bought at a local sporting goods store. If you have never had this brand, perhaps you could go to an area store that carries them & try them on for size. I was not at all surprised by the fit because my daughters have worn them for cheer practices and these fit the same as all the others. Hope this helps.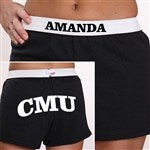 Very Cute
By
Shopper

(Shelby Township, MI) - July 28, 2013
I ordered 2 pair of these shorts for my daughters. They are even better than the picture because the words on the back are centered and they look adorable. Very pleased with this purchase.

What a great gift idea!!!!!
By
Leslie C.

(Byram, , MS) - November 17, 2012 (
See all reviews by this customer
)
I bought a pair of these shorts for my daughters 20th birthday. They are well made and very cute. If I were a teenager again I would wear them.

Cue!
By
Shopper

(Escondido , CA) - May 14, 2012
Good quality item, runs small order a size up. Very cute on!

athletic shorts
By
Shopper

(WOLFORD, ND) - March 19, 2012
Excellent Item..My daughter loved them. Very comfortable. Very fast shipping. The wording was excellent and correct.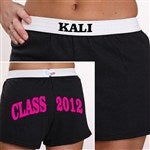 Shorts
By
Shopper

(sheridan, MI) - March 13, 2012
Wisk the name on the waist band could be done in a color other than black! Like Harley Orange for example. Other than that I really like the product.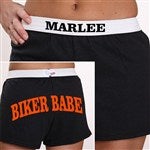 great grad gift
By
camilla O.

(avon, NC) - May 30, 2011 (
See all reviews by this customer
)
My granddaughter loved it. I guess that means I have to get her more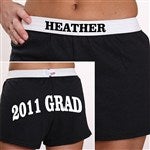 A Big Hit!
By
Shopper

(Savanna, IL) - May 21, 2011
Quality fabric and so cute! Glad I found this gift - she loved 'em!

Very Cute Shorts
By
Chandra D.

(Butte, MT) - May 20, 2011 (
See all reviews by this customer
)
I know my daughter is going to love these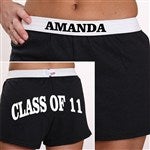 Team Shorts
By
Rebecca P.

(Boxborough, MA) - September 28, 2010 (
See all reviews by this customer
)
Our team purchased these shorts for a race and they are perfect! We got them quickly (in less than a week!!) and they look great!

Graduation Soffe Engraved Athletic Shorts
By
Marcia D.

(Houston, TX) - June 9, 2010 (
See all reviews by this customer
)
Very prompt service. The graduate I gave them to received a
scholarship for softball, so I thought these would be perfect for her. She loved them. When ordering them, get the next size up they do run small. Thank goodness for these reviews because that is how I found out they run small.

Great graduation gift!!
By
Ruth Ann F.

(Louisville, KY) - June 22, 2011 (
See all reviews by this customer
)
I was glad I had read the reviews on these shorts before ordereing them because they do really run very small. However, they are really cute and a great gift. I would suggest ordering at least 2 sizes up from what you normally wear.

Who wears short shorts? LOL
By
Melanee S.

(Irving, TX) - May 30, 2010 (
See all reviews by this customer
)
I like the way these are shown in the pictures. However, the top part wear the name is, simply has the elastic rolled over. It is not how they would be if you flipped it up. That is a little misleading. But, I ordered them and they came in just a few days and were as I ordered. I like that you can chose the color of not only the shorts, but also the wording. They do run small, I was hesitant, but ordered two sizes larger...and they still barely fit. My son won't really wear these as a regular piece of attire, but it was more of a joke gift anyway. His girlfriend on the other hand, will wear them. Glad I ordered larger. They are still small, but very cute!

Very cute but very small
By
Tosha J.

(Covington, LA) - March 10, 2010 (
See all reviews by this customer
)
Be careful when ordering the size - i ordered 2 sizes bigger for my daughter and they are still small. They tell you they run small but they run extremely small.

Waist band
By
Shopper

(Surprise, AZ) - June 10, 2013
The picture is misleading. It appears that the name on the waistband is on the outside when in fact it's on the inside. It is uncertain weather I would have ordered them if I'd known. More savvy shoppers might have picked up on the label showing in the back, but my attention was on what was written and thinking about what I wanted to say.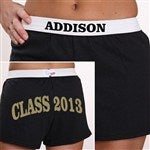 Lil disappointed...
By
Shopper

(Gresham, OR) - July 8, 2012
Too bad the size tag is on the white strip where the name is writen. I didn't know it had to be folded over to see the name. That kind of s*cks! Maybe it should be sewn or something so it is always seen?!?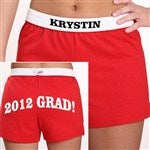 they're just okay
By
Shopper

(Northglenn, CO) - May 1, 2012
I read the reviews on these shorts and eeeeveryone said to order a larger size, that they ran very small. I don't know what those people are talking about but I ordered the next size bigger for my daughter, a medium instead of a small and they were too big. I tried washing them in hot water to shrink them and then dried them on high but they didn't shrink - probably due to they are 50/50 blend (cotton & poly). Maybe those people who said they run too small have overweight kids or something but I'd consider carefully when ordering a size up! I ordered the bigger size against my better judgement 'cause all the previous reviews said they ran small so buyer beware...BTW, my daughter is 5' and 103 lbs. A small would've been perfect. They quality of the shorts was just ok. I didn't care for the placement of the lettering on the back. I had them put 2012 GRAD, but unlike the picture featured, there was too much space left between 2012 & GRAD...but my daughter still liked them so I was thankful of that :)

Graduation Soffe.. Athletic Shorts
By
Susan P.

(Canada) - December 11, 2011 (
See all reviews by this customer
)
Very upset with this purchase. I ordered XL for my son who usually wears a large. Wanted to make room for shrinkage but the shorts are so small fitting that he can't even wear them. Not pleased at all with this purchase... very disappointed!!!

not worth the money
By
Kathy M.

(Kingston Springs, TN) - May 26, 2010 (
See all reviews by this customer
)
If you order these shorts be sure to order two sizes larger than you would normally wear. They run incredibly small. The lettering does not seem like it would make it through many washes.