Summer Smash!
By
Donna D.

(Burlington, NJ) - August 31, 2014 (
See all reviews by this customer
)
Arrived quickly and is vibrant and colorful. Everyone who sees it comments how cute it is. Heavy duty quality. I have it hung poolside so all can enjoy it while taking a swim. Customer service is always awesome.

Love it!
By
Colleen M.

(Colgate, WI) - July 25, 2014 (
See all reviews by this customer
)
The only thing I was a little disappointed in was that the colors of this plaque online were much brighter than the actual plaque. My daughter still loved it though.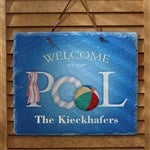 Exactly as pictured
By
Brian Y.

(St. Louis, MO) - July 2, 2014 (
See all reviews by this customer
)
Shipped much quicker than we thought, came safely packaged and exactly as ordered. Thanks!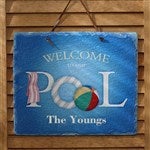 Pool plaque
By
Shopper

(allendale, NJ) - June 9, 2014
I was very happy with the plaque. The quality was outstanding & as always, the engraving was exceptional . .

Pool Gift
By
Shopper

(San Antonio, TX) - May 16, 2014
This gift was purchased for my daughter and son-in-law for their anniversary so I don't know how well the can/bottle wraps work. But the printing on the slate and wraps is neat and clean, plus the packaging was excellent and protected the slate very well.

What a great pool plaque!
By
carol D.

(prospect, KY) - April 23, 2014 (
See all reviews by this customer
)
Ordered this as one of my son's birthday gifts. He has a pool house next to his pool and this plaque will be wonderful displayed on the stone wall. Love the personalization.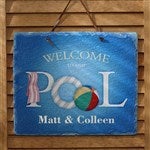 Perfect addition to pool area!
By
Shopper

(Ardmore, AL) - April 18, 2014
I gave this as a housewarming gift and it was so very appreciated! The recipients sent me a lovely message saying they LOVED it and thanked me for such a "thoughtful gift". They commented on how sturdy it was and couldn't wait to display it at their pool entrance. The colors were vibrant, the plaque is heavy duty and the personalization makes it such a great gift. Perfect housewarming gift= check!

Great gift Idea
By
Shopper

(Bay Village, OH) - March 30, 2014
To be clear, I haven't actually seen this item in person because it was sent as a gift. The response from the receiver,a person that expects only the best, was VERY positive! I purchased the matching bottle wraps and they too were a huge hit. The items were personalized and delivered unbelievably quickly, (3 days) and I couldn't be more impressed with the company!

Very pleased!!!!
By
Shopper

(Dothan, AL) - March 25, 2014
I got this as a birthday gift for my mother. She has a screened in back porch that goes out to her gorgeous pool that is surrounded by Palm trees so it feels like your at the beach. Her screened in porch along with the pool house are decorated in beautiful salt water fish and other beachy decor.... When she opened this gift her mouth dropped... It was perfect and would match very well with all the other decor she has... I plan on doing a lot more shopping from this web site...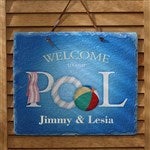 Awesome Pool Sign
By
Linda D.

(Hilliard, FL) - February 1, 2014 (
See all reviews by this customer
)
Ordered the "Welcome to Our Pool" Sign which is on slate. Thought it would be cute to hang outside our pool.
When I received it, the sign was so much better than I expected. The quality of the sign/print/design was beautiful. Can't wait to hang it up.
Really awesome....highly recommend...

Made a splash!!
By
linda N.

(rocky hill, CT) - September 20, 2013 (
See all reviews by this customer
)
Loved this plaque! The colors are vibrant and quality is outstanding. It looks great on the gate on my neighbor's new pool!He received many compliments at his recent pool party. I have purchased many items from your company and have yet to be disappointed.

Just as it looks!
By
robyn C.

(harrisburg, PA) - August 26, 2013 (
See all reviews by this customer
)
Very pleased with my purchase. It arrived just as it looks on the site!

Amazing quality
By
Shopper

(Boston, MA) - August 15, 2013
Gave as a gift - they loved it!

Love it!
By
Diann J.

(Acton, CA) - August 10, 2013 (
See all reviews by this customer
)
This is item is fabulous! Great quality! Highly recommend especially for the price!

Great Pool Present
By
Shopper

(Maywood, NJ) - August 9, 2013
This pool plaque exceeded my expectations! It was solid craftsmanship, the colors were bright and vivid. I gave it as a present and my friends were both surprised and very appreciative of the quality of the product. I would definately order other types of plaques in the future.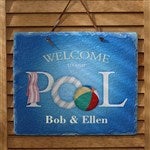 Gorgeous colors
By
Donna J.

(North Chesterfield, VA) - July 27, 2013 (
See all reviews by this customer
)
My son and his family LOVED receiving this personalized pool sign for their new home/pool. It's a great (heavy) weight, as it's painted on a piece slate. The colors are gorgeous...just as they appear on-line. Thanks, again, Personalization Mall...y'all just get better and better with every gift I purchase.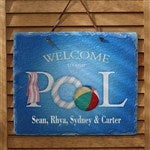 Loved
By
Shopper

(Saint Louis, MO) - July 27, 2013
Excellent quality thick and professional

pool signThe pool sign is absolutely beautiful.
By
Susan P.

(Fort Wayne, IN) - July 27, 2013 (
See all reviews by this customer
)
The pool sign is awesome!!!!! I can't wait to hang it outside!!! LOVE IT!!!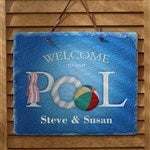 POOL PLAQUE
By
mary R.

(colonia, NJ) - July 23, 2013 (
See all reviews by this customer
)
THEY DID A BEAUTIFUL JOB
I LOVE IT AND THE SERVICE
WAS VERY FAST

Great accent for a new pool area.
By
Shopper

(Gibsonia, PA) - July 5, 2013
I bought this item for a neighbor who just added a pool to the back yard. The gift was a hit. The quality is excellent, and the colors in the accent design are very vibrant.

I would definitely recommend this item.

Welcoming
By
Pamela M.

(Somerset, PA) - June 24, 2013 (
See all reviews by this customer
)
This slate is bright and welcoming. It is beautiful.

Great Gift Idea
By
Shopper

(Lake Forest, IL) - June 18, 2013
Extremely well done. Came sooner than expected in perfect condition. Bought for a Father's Day gift and he loved it! Nice coloration to the plaque. Printing expertly done.

Awesome Sign
By
Melissa I.

(Ham Lake , MN) - June 4, 2013 (
See all reviews by this customer
)
This sign is exactly what I was looking for and came even better than I hoped. The colors are so bright and the slate plaque is so heavy - it is perfect!!
Thank you for always providing such amazing items.


ikes pool
By
ralph E.

(wheeling, WV) - May 3, 2013 (
See all reviews by this customer
)
highly recommend love the color and printing great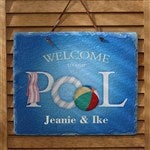 Perfect
By
Shopper

(Huntersville, NC) - December 6, 2012
I was so happy when this arrived. It is bigger and nicer than I expected. It is a gift I am saving for the spring and I cannot wait to give it to my friend.

Great gift items
By
Laura P.

(Wildwood, MO) - October 21, 2012 (
See all reviews by this customer
)
Very nice quality! Nice design!

Very Fancy!
By
Shopper

(Round Rock, TX) - August 19, 2012
Quality of this item is superb. Looks almost like glass. It is on the heavy side for something that is to hang, but nothing that is a deal breaker.

Always thrilled with everything!
By
jennifer D.

(Allentown, PA) - August 13, 2012 (
See all reviews by this customer
)
you can't go wrong with the personalized gifts from personalization.com! Its easier than going to the mall, then getting it monogrammed/engraved and shipping it. Great turnaround time, too!!!

very satisfied
By
Marion H.

(Levittown, PA) - August 13, 2012 (
See all reviews by this customer
)
I have had nothing but success with my several purchases from this Personalization site. My products have shipped out amazingly quick and the quality of them was extraordinary. I will definitely continue to shop from them as many of my purchases have been gifts to other people. They have really enjoyed the fact that they were personalized especially for them.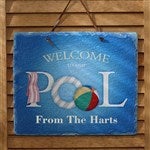 TOP NOTCH QUALITY
By
Sue J.

(Macomb, MI) - August 5, 2012 (
See all reviews by this customer
)
THIS PRODUCT IS WORTH EVERY PENNY... VERY GOOD QUALITY. I BOUGHT THIS IS A GIFT GIFT AND SHE WILL TREASURE IT AS A MEMORY! !

Very Pleased
By
Gloria R.

(Grasonville, MD) - August 3, 2012 (
See all reviews by this customer
)
This was a nice addition to our pool area!

Fun Poolside Decor
By
Shopper

(Bernardsville, NJ) - May 13, 2012
This attractive sign makes a fun and cheerful addition to the poolside decor. The quality is everything you would want and it comes exactly as pictured. The service is fast and printing accurate.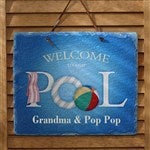 Personalized Slate Plaque
By
Shopper

(Olney, MD) - April 28, 2012
Love the plaque! It looks just like the picture that I saw online. Delivery was quick also!

Housewarming Gift
By
Shopper

(Collierville, TN) - April 6, 2012
I purchased this for friend's who just purchased a house.
They LOVE it! Thought it was great that it had their name on it!

THEY LOVED IT
By
Shopper

(GARFIELD, NJ) - February 26, 2012
I live in NJ, I Sent this to my SON & Daughter-InLaw in AZ and they loved it. They called and said it was the perfect gift. If their happy, I'm Happy. So this is a Great Product..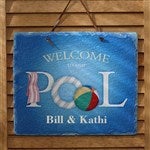 Adorable!
By
Venissa G.

(Rocky Face, GA) - February 23, 2012 (
See all reviews by this customer
)
Came in better than expected. I cant wait to hang it out by the pool :) The only thing i would change is the name be in white instead of the dingy yellow color.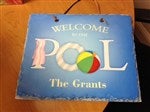 Great Gift for Boss
By
Megan C.

(Boonville, IN) - December 16, 2011 (
See all reviews by this customer
)
My boss and his family had just put in a new in-ground pool at their house so I wanted to find something pool-related for a Christmas gift. I thought this sign was really cool. As it turns out, so did he and his whole family. Even his sons who are 10 and 13 loved it. He said they couldn't wait to go find a place to hang it outside. I figure if you can impress 10 and 13 year old boys, then that's saying something. The plaque looks great and is a nice value for the money. It's very heavy and well made. I would definitely consider giving this to others I know with pools.

Beautiful!
By
Shopper

(York Springs, PA) - November 2, 2011
I just received this sign today. It is BEAUTIFUL! The picture online does not show how great it really is. I bought it as a Christmas gift and I can't wait to give it.

Great sign
By
Shopper

(Bowdon, GA) - September 18, 2011
I bought the sign for my pool like it so much I am buying one for a friend who is having a pool built. The slate and color are very good quality

Great sign
By
Shopper

(Bowdon, GA) - September 18, 2011
I bought the sign for my pool like it so much I am buying one for a friend who is having a pool built. The slate and color are very good quality