Looks nicer online
By
Shopper

(Topton, PA) - December 7, 2011
When I received the towels, they werent what i thought they would be. Nicer online then in person.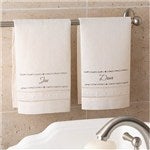 Linen towels
By
Kelley C.

(Spring Hill, KS) - September 11, 2011 (
See all reviews by this customer
)
very thin, wouldn't recommed for purchase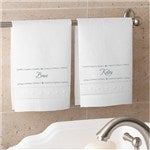 Linen Towel Set
By
Shopper

(Canada) - March 22, 2011
I received the towels last week. They are very nice!

Linen towels bring back a feeling of the past and are very decorative. You do not see many linen towels now.

I loved the decorative touch and would buy again anytime!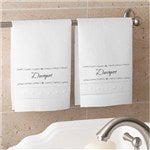 A Little Disappointed...
By
Michael T.

(Tallahassee, FL) - January 23, 2014 (
See all reviews by this customer
)
These aren't actually towel size? They're closer to handkerchief size & don't decorate a bathroom too well? Still a good gift item, but a better description is needed for this particular item. Thanks anyway...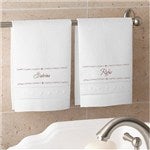 too thin....almost see-through
By
Janelle P.

(MIAMI, FL) - June 23, 2013 (
See all reviews by this customer
)
I really did not like this item. i ordered it for someone and I didnt even give it to them because it was soooooo thin and looked cheap. please DO NOT order these towels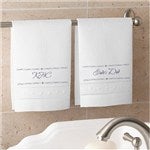 Linen towels
By
Shopper

(CHERRY HILL, NJ) - February 26, 2013
Ok so it does say linen. It's like eBay, where you gotta make sure it's what you really want. Why linen "towels" were even made is beyond me. I mistakenly brought them not even realizing that they were indeed linen. They look more like oversized hankies.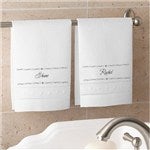 Linen towel set
By
Cheryl W.

(Brooklyn, NY) - October 27, 2012 (
See all reviews by this customer
)
This is a nice item, but I will probably only use it as decoration. I'll only put them out when company is coming over. They are somewhat thin & delicate so I wouldn't actually use them to wipe my hands on. Overall, I think they are cute.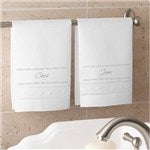 towels
By
Shopper

(Brooklyn Park, MN) - September 10, 2012
I guess the towels were not what I expected.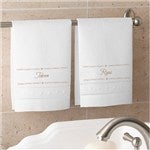 Towel Set
By
Shopper

(Eureka, MT) - February 4, 2012
I was very pleased on how fast the towel set shipped, but I was not pleased by the quality it is very very thin. it was not what I was expecting. The personalization itself was very exceptional.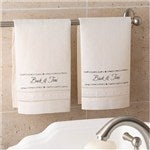 Not what I thought
By
Elvira G.

(Kansas City, KS) - March 2, 2010 (
See all reviews by this customer
)
These "towels" are way too thin for the price. I know they are linen but would consider them more a linen napkin than towel

not what I thought it would be
By
Jerri W.

(Baylis, IL) - May 13, 2010 (
See all reviews by this customer
)
these towels are so thin that I was disappointed in the
product itself.

Personalization not embroidered !
By
Christina P.

(Rockville, MD) - September 15, 2010 (
See all reviews by this customer
)
I should have read more closely that the personalization part was actually printed on, not stitched. The towels are kind of cheap feeling and looking :(

not what it seems
By Shopper (West Lafayette, IN) - September 26, 2012
I personally did not know what 'linen' is so i just thought it was a towel, it isn't. its a piece of cloth. you never dry your face on a piece of cloth because it doesnt absorb water, it was very flimsy and I really dont know why someone would purchase this.

Not what I expected
By
Shopper

(Brooklyn, NY) - November 30, 2012
Service was great, but the quality of the linen is horrible. Really rough to the touch. Was truly disappointed and now embarassed to give as a gift. Also don't like the quality of how the names are on the towel it just looks cheap!!!!!!

Linen Towel Set
By
Paula M.

(Los Angeles, CA) - May 18, 2010 (
See all reviews by this customer
)
Fabric very thin. I purchased them for gift towels, but they look like large handkerchiefs. Not pleased.

NOT "Linen"
By
Shopper

(Houston, TX) - December 30, 2011
Not what it seems like. They say it's linen towels, but it's not. It's nothing more than a flimsy piece of cheap cheap cloth.

disappointed
By
Shopper

(Gallatin, TN) - April 2, 2014
I was very disappointed when I got these "towels" -- they are more like handkerchiefs. For $20 I was expecting something more substantial in weight and quality. Sorry -- I am just being honest. I have been very happy with most of the items I have purchased through your company. And you were very good about making right one item that was below standard. I don't know where you can use these "towels" but I am not paying to return them. I was going to give them as a gift but I am not sure what I will do with them now.

not what i expected
By
Krystal B.

(Shelby Twp., MI) - December 11, 2009 (
See all reviews by this customer
)
i thought the material was cheap looking. i expected them to have a heavier weight and be more like a towel material. These looked like they were printed on two pieces of unfinished fabric.

Bad, bad, bad
By
Shopper

(Ridgway, PA) - December 5, 2012
This is not at all what it looks like in the photo. I was really upset when I received this because I have ordered from here before and loved everything. This on the otherhand was a waste of my money. So upset...

These are NOT towels!!!!!!!!!!!!!!
By
Rita R.

(Las Vegas, NV) - September 16, 2013 (
See all reviews by this customer
)
Beware! These are not bathroom towels. The picture is deceiving! They are more suitable as dining linen napkins. I don't see how they can function at all in a bathroom. You can't dry your hands with them. Very disappointed.

Great for decoration, not practical use
By
Shopper

(Franklin, IN) - July 30, 2012
These towels look great. They give a great decorative edge to the bathroom. They are too thin to be actaully used as towels, but I didn't buy them with the expectation of them being everyday towels.

Not so bad.
By
Jacqueline P.

(Canada) - July 21, 2010 (
See all reviews by this customer
)
Some of the other reviews talk about how thin these towels are. Yes they are thin, but thats the way linen towels usually are. These towels are for looks more than use. They do dry your hands, but they are more suited for decoration in your powder room. The personization came out nice.


Good for the Money
By
Sheila S.

(West Des Moines, IA) - February 11, 2010 (
See all reviews by this customer
)
They are thin, but that adds to the elegant linen look. Very delicate. Writing is very pretty. Would be nicer if it was embroidered, but still looks nice. The price is right. Makes a great gift.

Great buy
By
Shopper

(Virgin Islands (U.S.)) - December 13, 2012
Great service

Family Get-Away
By
Pattie G.

(Rutland, VT) - March 12, 2012 (
See all reviews by this customer
)
Beautiful heavy towels that are a compliment to a guest bathrooom-I purchased for my brother and sister-in-law as a Thank You for taking me to FL to visit their vacation get-away-they loved it and will be emailing me pictures once they get back there!

Personalized Hand Towels
By
Jessica P.

(Bronx, NY) - May 3, 2010 (
See all reviews by this customer
)
great gift - shipped perfectly and fast!!!!! love it! its great!

Very Nice!!
By
Ann B.

(Birmingham, AL) - October 23, 2009 (
See all reviews by this customer
)
These were just what I wanted and they turned out GREAT!

not happy
By
kathleen M.

(whiting, IN) - June 8, 2013 (
See all reviews by this customer
)
the material of the "linen" was flimsy. and the names appeared stamped on. very disappointed for the money.

Not what I expected
By
Shopper

(Oxnard, CA) - March 4, 2013
I thought I was buying bath towels--the photos online should do look like it! When the tiny thin package arrived, I was like "Seriously?! This is what I ordered?" I have no idea what I can use them for, napkins? hand towels? They are surely too rough to use on mouth or hands. I should have read other people's reviews before I place the order. :(

Cheap
By
Kirby M.

(Hanover Park, IL) - December 19, 2011 (
See all reviews by this customer
)
These towels are VERY thin and a bit cheap looking. I should have read the description. Names are printed on, NOT embroidered. Overall, they looked better in the picture...

Cute but not good in describing them
By
Shopper

(Riesel, TX) - March 9, 2013
So I ordered these thinking they would be actual towels,but their not "towels".their like lace hankies,no towel material that could serve that purpose.if I had of known I wouldn't of ordered these but only bc it's not what I wanted.if your not needing true towels then these are perfect and very cute.

good
By
Shopper

(rockford, IL) - December 1, 2012
this is more like a table napkin, its vary pretty and well done but i dont think that its a bathe towel

Cute but Thin
By
Amy H.

(Jennings, LA) - August 13, 2010 (
See all reviews by this customer
)
These Linen Towels are cute but they are thin. I was expecting thin but not THIS thin.