Love these frames
By
Teri G.

(South San Francisco, CA) - December 2, 2011 (
See all reviews by this customer
)
Not only are they good for family members but can be used to group things like vacation, or a special gathering.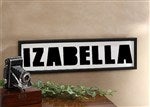 Their name in print
By
Teri G.

(South San Francisco, CA) - November 23, 2011 (
See all reviews by this customer
)
I am buying these for my grandchildrens pictures. When they come over they can see their name in print, as well well as their siblings and cousins. It will also be something that I can give them when they get older as a keepsake. I would like to see them available in verticle as well. They are well made and easy to hang as the hardware is included.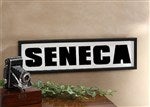 Great Gift
By
Shopper

(Peoria, AZ) - June 3, 2011
Great Quality. Great baby gift - I will order more of these in the future for sure.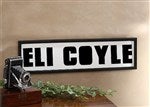 Looks great
By
Sue W.

(Grinnell, IA) - August 31, 2014 (
See all reviews by this customer
)
My name frame came very quickly and looks great.
Some of the letters were a challenge to be able to
have a good view of the picture but that was due to
the name and not to the cutting.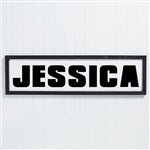 Great Baby Shower gift
By
Shopper

(Portland, OR) - August 27, 2014
The quality was great. It almost brought tears to the eyes of the expectant parents. I wish the frame could come in a color other than black, but overall I am happy with the purchase. It was easy to wrap for the baby shower and shipped timely and without damage.

This was my first purchase from PersonalizationMall.com and I am so excited to have found them. I will definitely purchase more from them in the future.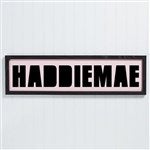 Photo name collage
By
Almida Z.

(Allendale, NJ) - February 11, 2014 (
See all reviews by this customer
)
Birthday gift for 13 year old. Nice quality and great keepsake.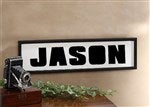 Heart or star
By
Shopper

(Tallmadge, OH) - November 8, 2013
Love the frame however with a 5 letter name it leaves 2 huge gaps on the side of the name! I couldn't believe that you didn't have a heart or star or something that could fill in there if needed. Couldn't imagine if it was less than 5 letters! Your site shows that "Jacob" takes up the whole frame which isn't proven to be true since it's 5 letters.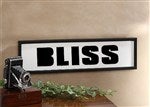 Great, unique, fun gift idea
By
Katrina P.

(Irvine, CA) - August 9, 2013 (
See all reviews by this customer
)
I've bought a couple of these for my family and now recently one for my best friend's family as a baby shower gift. The ones I bought previously for my family were a father's day gift and mother's day gift and every recipient has loved them, especially when they receive it already filled with photos :)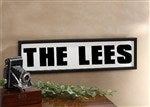 Gift
By
Linda B.

(New Britain, CT) - May 27, 2013 (
See all reviews by this customer
)
Gift for new baby Logan. Absolutely loved it with the pictures in it. It's great with or without pictures. I would have liked it if there was a very slight mat inside each letter so that each letter stands out even when using light colored pictures that have a tendency to disappear from far away. That would have made this perfect.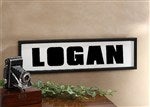 Great Quality
By
Shopper

(Shelby Township, MI) - April 5, 2013
Love it! Perfect cut on the matte. Can't wait to put pictures in it. Have ordered many other products and everything I have got from this site has been great quality and all the engraving has been excellent. Very fast service too! Can't wait to order other products.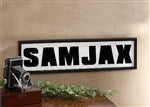 Great gift idea!
By
Amanda G.

(Needham, MA) - August 13, 2012 (
See all reviews by this customer
)
I ordered this name frame as a baptism gift. I wanted something different and non-religious given that the little girl would undoubtedly already be receiving many religious tokens. I loved how you can preview the item first, which makes it easier to visualize what the name you choose will look like in the frame. The frame came quickly and was even nicer than I had anticipated. I have ordered similar frames in the past from other companies and they were not as good quality as this one. Overall a great gift and one I plan to purchase again in the future! :)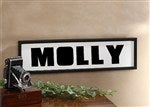 name photo frame
By
Shopper

(Ellsworth, ME) - May 9, 2012
I ordered a name photo frame. It arrived quickly. It had a blemish on it so I contacted customer service, they were super nice and quick. They replaced the whole frame at no coast to me. I had the replacement one in less than a week.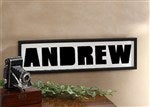 Sweet 16
By
Shopper

(Flemington, NJ) - March 16, 2012
This was a gift for a boy turning 16. It was a unique way to celebrate him and things that were a part of his life. We put pictures of him with friends and one block was saved for a Bible verse, which he chose. He was thrilled with the gift. It was great quality, shipped very quickly, and in perfect condition (no broken glass!). I will order more products in the future. Great gift ideas! Very happy.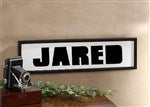 Perfect condition
By
Shopper

(Natchitoches, LA) - February 10, 2012
It came to me in perfect condition. It looks very nice. I bought it for a friend's wedding gift, but haven't given it to them yet. I'm sure they will LOVE it though!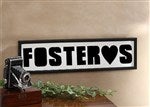 Great Gifts
By
Shopper

(Baxter , MN) - January 9, 2012
The personalized collage frames are going to work out great as special gifts for some people close to me. I am excited to put a variety of pictures of those closest to them in a word that means so much to them too! Thank you for these items!

Collage Frame
By
William C.

(Arab, AL) - September 16, 2010 (
See all reviews by this customer
)
The frame itself was cheap looking, but the mat is beautiful! The personalization and shipping time was awesome!

Name fram
By
Sue W.

(Grinnell, IA) - May 10, 2010 (
See all reviews by this customer
)
The frame came quickly.
Very nice overall look.
Matt was cut nicely, wood just a little rough, but not really bad.
Happy with the look when finished.

Colin
good

a cheap worthless frame
I got this frame as a present from my mother-in-law. As soon as I opened, I found out that its just a cardboard punch out and an inexpensive frame. The back of the cardboard was dirty or had some water spots on it (odd). Its too expensive for what you get. Also note that you should use as many letters as you can (like all 9) or else you are mainly hanging up cardboard on the wall.

I Also note that the cardboard is just plain - a good idea would be to have some stock decals, like balloons on the right and left portion of it. This product is nothing special.

Great
By
Melissa H.

(Alachua, FL) - April 20, 2010 (
See all reviews by this customer
)
The frames were beautiful and arrived early!

Looks great but took some effort
By
Lorrane M.

(Douglasville, GA) - January 18, 2010 (
See all reviews by this customer
)
I bought this item for my boyfriend. I found that the end result looked really nice. But for the wider letters like B and O that you should still stick with vertical pictures and not wider. It makes it harder because you have gaps and you have to try and cover them.

Personalized Collage Frame
By
Bitz R.

(Minnetonka, MN) - October 9, 2009 (
See all reviews by this customer
)
it looks nice i'm now trying to pick out photo's for it. pleased with the items i've purchased

Good product but had a red dot
By
Shopper

(Overland Park, KS) - January 1, 2012
It was a good product and it looked cute...it did have a tiny redish blemish on the mat. I didn't have time to deal with any sort of return since it was a gift and the person i gave it to said it was fine... but I wish it would have come in with no markings on the mat.

Good but a little over-priced
By
Shopper

(Newburgh, NY) - May 10, 2011
I bought this for my grandma for mother's day. She seemed to like it. It shipped well and was packaged well. However, I was disappointed with the back of the frame. For the price, the back of the frame should be easier to take out and install/remove pictures. The back is cheaply done in my opinion. Also, it would be nice if there were other color frames available, like brown, cherry, etc.

Great Item
By
Kathi W.

(Redondo Beach, CA) - October 9, 2009 (
See all reviews by this customer
)
It so cute but the only pictures that fit good in the spaces are vertical ones. If you have a horizontal picture there is a little space left.

Not the best quality for the price
By
Lauren W.

(Chicago, IL) - December 10, 2009 (
See all reviews by this customer
)
I was a little disappointed when I received this frame in the mail. The idea of it is cute but it is made out of plastic. I thought for $40 bucks it would at least have a glass front! Now I am a little embarrased to give this as a gift by itself. It seems cheap.

Awesome idea. Horrible quality.
By
Brooke S.

(South Elgin, IL) - May 17, 2010 (
See all reviews by this customer
)
I ordered three of these as gifts for my sisters for mother's day. The personalized mat is awesome, but the frames are awful quality. One of the three frames cracked in shipping, and another was so bowed and misshapen that I would never give it as a gift. Even the frame that stayed in one piece was so cheap looking that I had to replace it. So after spending the money on these three items, I had to go spend more to get all 3 mats reframed at a custom frame shop. They looked really great once in good quailty frames. After contacting customer service at Personalization Mall to express my dissatisfaction, I was reimbursed only $20 (just over $6 per frame!) of the $120 I spent. Goes to show that the frames are literally worth nothing. For such a cool product idea, you'd think the company would give the option of a nice frame, or of just buying the personalized mat. So keep in mind before buying...the frame is junk!

Not what I expected.
By
rebecca J.

(ghent, WV) - February 11, 2010 (
See all reviews by this customer
)
I have purchased 2 of these and I was disappointed in the size & quality of the frame. If I knew it was plastic instead of glass, I wouldn't have ordered them.

Completely satisfied
By
Barbara L.

(Mercerville, NJ) - June 8, 2010 (
See all reviews by this customer
)
The frame arrived and was a little longer than I expected, which was a GOOD thing. I am very happy with the quality and workmanship and would definitely buy again.

Excellent Product - Very Pleased
By
Heather G.

(San Antonio, TX) - April 2, 2013 (
See all reviews by this customer
)
Despite a few complaints I read about this product (plastic not glass, no hardware for hanging, expensive for the quality), I ordered because I liked the way it looked so much. Upon receiving, I was not only very pleased but impressed because they obviously have been listening to your complaints and have fixed the issues that were mentioned in many reviews and that tells me that they really care about providing a quality product.

I ordered two of these frames with my children's names.

I liked:
1) the cutouts look professional & clean
2) the letter cutouts are large enough that even though it may be an unusual shape for a picture, I had no trouble getting the majority of the picture I wanted showing through the cutout using 5 x 7 pictures
3) has glass not plastic
4) hardware for hanging provided
5) frame is hard wood not plastic or cheap fiberboard
6) quick delivery and very well packed for protection

Disliked:
I wouldn't even say I disliked this, it was just a little more effort on my part . . . since the frame is a hard wood, I was unable to screw into it for the hardware attachment and had to use a drill to predrill holes - that only took an extra step and a little more time.

Great product that I highly recommend!!



Perfect!!!
By
Shopper

(Cuero, TX) - July 23, 2013
The frame is soooo cute and perfect just like my grandbaby!!!

GREAT!!
By
toni R.

(elkridge, MD) - February 28, 2012 (
See all reviews by this customer
)
My teenager loved this!! you can either use color photos black and whites copies. it was a gift for her for no reason. just thought it was a cute idea. something that is change able as gets older.

great!
By
Michael S.

(Deer Park, NY) - March 3, 2012 (
See all reviews by this customer
)
Cute product!

Perfect gift!
By
Whitney R.

(Acampo, CA) - June 29, 2014 (
See all reviews by this customer
)
I bought this frame as a gift for a friend's child for her third birthday. It was the perfect gift and they loved that it was personalized with her name. I also filled it with photos before I gave it to them. It was great. The quality was more than I expected. Perfect size, Sturdy frame and nice matting. I will definitely be purchasing more in the future!

great frame
By
Shopper

(New Lenox, IL) - August 8, 2014
This is the second time I have purchased this frame for a gift and once again I'm very satisfied. I like being able to see what it will look like before purchasing and that it comes very quickly. I have and will again highly recommend this to friends.

Very happy
By
Jennifer B.

(Acworth, GA) - December 18, 2013 (
See all reviews by this customer
)
After reading other reviews I was nervous about the quality of this item. Upon receiving it I can happily say that I'm pleased with the purchase and cannot wait to give it to my husband for Christmas.

Makes a great gift
By
Shopper

(Souderton, PA) - April 1, 2014
We purchased this as a 30th birthday gift for a family member, it was larger than I expected and quite easy to fill with photos - it was fun forming a collage of family memories to fit into the letters! Great idea, and a quality product.

Happy Shopper
By
Shopper

(TROUTVILLE, , VA) - December 28, 2011
Product was on time and looked exactly as it was described online. Very happy with your service! I will definitely order from you again!

LOVE THEM, LOVE THEM, LOVE THEM!!
By
Emma R.

(Lawton, OK) - November 9, 2010 (
See all reviews by this customer
)
I purchased these as a Christmas gift for my baby brother. I got one for each and every country/place he has been to already. Hong Kong, Mexico, Canada, Europe, Las Vegas, Paris, etc.

I can't wait to give them to him. They are a little pricey but in the end, if you look around everywhere and can't find them as big or nice as these like I did, they are totally worth it.

My mother-in-law purchased me one for my birthday last year that said Adam "heart" Emma. I still ADORE it!!

Thanks so much Personalization Mall! You are truly awesome!!

Emma

1st impressions
By
david B.

(danielson, CT) - November 25, 2010 (
See all reviews by this customer
)
hello to all potential customers im getting ready to propose to my girlfriend and have a baby w her. i bought few items and i must say i was very impressed by the qaulity and preciseness of all engravings done good 1st impression by this company. this will make me a repeat customer forsure. the variety of things is wide open very nice site to go and browse and buy things.