Great Mug for College Bound Students
By
Karen L.

(Spartanburg, SC) - July 31, 2012 (
See all reviews by this customer
)
I purchased 3 of these mugs. The most recent for my cousin, who will be heading to college this Fall. I placed photos that will remind her of home and of how much she will be missed. The others were for my mother and mother-in-law of their first grandson (our James). Pictures turned out great and they loved the mug!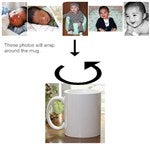 Awesome!
By
CAROLINA P.

(hialeah, FL) - May 24, 2012 (
See all reviews by this customer
)
This is so pretty and for everyday use. The quality is incredible and looks great. We made one with color pictures and one with black & white they both look great.!!! Will buy again and again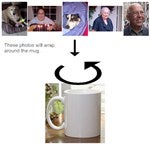 Perfect!
By
Brittani C.

(Canton, OH) - May 19, 2012 (
See all reviews by this customer
)
Small cup but pictures came out perfectly!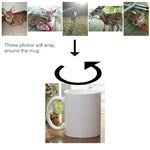 Great gift; photos a bit small.
By
Sherrie R.

(Bronx, NY) - May 15, 2012 (
See all reviews by this customer
)
I loved the gift. To "immortalize" memories on a mug that my grandparents will use every morning is great. I already ordered five different personalized gifts from here. The one tiny complaint (not really a complaint, more like an observation) is that the pictures were printed on so small compared to the space that was available length wise, but I suppose it's so to not obscure the photo. I didn't realize how small the photos would be on the mug. On the website, they look a lot bigger than the actual pictures on the actual item I received. But otherwise, it's absolutely the perfect gift and I'm so glad there is a business that immortalizes memories. My grandmother was overjoyed and thought it was the coolest gift. She is used to the mugs that put the actual picture behind a thin pane of plastic over a mug, that with after many washings, was ruined. This was definitely a treat for her. Thank you for making it possible!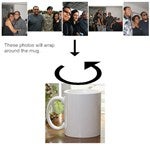 Fantastic Unique Gift
By
Brandi S.

(La Plata, MD) - May 13, 2012 (
See all reviews by this customer
)
This year was a big year for my mom. She's got her oldest moving out of college to start a career, and her youngest moving into college. So we wanted something so she always had her babies with her, but our family is...weird. After searching on several sites,this seemed like the best option. The mug was beautiful and the pictures were crystal clear. Thank you so much for making this Mother's Day so memorable. Definitely will be ordering from here in the future and recommending this site to family and friends.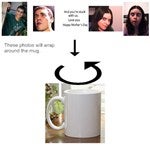 Collage for mother's day
By
Sandra S.

(Miami, FL) - April 21, 2012 (
See all reviews by this customer
)
I'm very happy with the collage. The pictures came out so clear. They did a great job.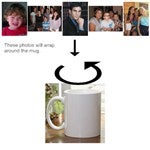 Huge Smiles!
By
Crystal P.

(Downey, CA) - April 17, 2012 (
See all reviews by this customer
)
I put 5 pictures of our beloved dog to give to my sister who moved out and can't see our dog as often. Since I was already ordering, I decided to also get one for my dad. Can't tell you how much they both loved it! Perfect quality, perfect gift! I love this website and have always been pleased with all purchases from start to finish!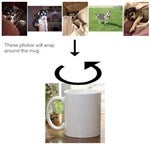 excellent gift
By
Shopper

(Pennellville, NY) - April 6, 2012
purchased for our Mom's and daughter. Personalization Mall has quality cups that, so far don't stain & crack like others. I love the selection. I come to this site for mugs.


Great Present
By
Shopper

(Atlanta, GA) - March 23, 2012
My sister and I designed mugs for our mom for her birthday and she loved them. The photos came out very well and mugs are well made.

great pics
By
Shopper

(streator, IL) - February 27, 2012
the mug turned out great. the color of the pictures were very bright and clear. great job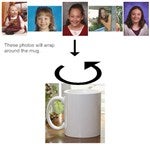 Great gift Idea
By
Shopper

(Lockport, NY) - January 23, 2012
Ordered this gift for my mom's birthday, great way to display her grandchildren while at work. She really loved it!

Great Grandparent Gift
By
Juliet T.

(Park Ridge, IL) - January 2, 2012 (
See all reviews by this customer
)
Looks professional, easy to put together online and you get to preview before submitting.

How you use the product
By
Shopper

(Cheltenham, MD) - January 1, 2012
This personalized coffee mug was a perfect gift! Extremely easy to order with my chosen photos. The recipient was pleasantly surprised by this gift, and stated that it will be a very useful and enjoyable gift for years to come.

Thanks for everything! Happy New Year!

wonderful gift
By
Michael K.

(Clarks Summit, PA) - December 31, 2011 (
See all reviews by this customer
)
The people who received this loved it. I found delivery to be quick and the product to be of excellent quality. Escpecially since it was a week before christmas that it was ordered.

Surprise!
By
Shopper

(Dowagiac, MI) - December 31, 2011
I purchased as a gift this yr. and used photos from facebook. The photos on the mug turned out GREAT! Needless to say this was worth it!!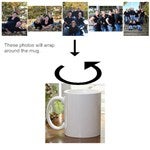 wonderful gift idea
By
Shopper

(Dayton, OH) - December 30, 2011
we ordered this as a gift. it arrived earlier than expected and it was in perfect condition. it was made and packaged with care! My first experience with personalization mall was a good one. we will definitely come back with more orders. :)

Excellent!!
By
Shopper

(San Jose, CA) - December 29, 2011
I ordered two mugs and they both turned out great! And they shipped in time for Christmas!

Good quality
By
Sara S.

(seattle, WA) - December 29, 2011 (
See all reviews by this customer
)
The photos look clear and the mug is solid- not much more to ask for :)

Cute cup!
By
Shopper

(Laredo, TX) - December 29, 2011
This became my sister-in-law's new favorite cup when I had pictures of her baby on it.

Product features
By
Shopper

(Fall River, MA) - December 29, 2011
The Photo Collage Personalized Coffee Mug exceeded my expectations. The photos that I chose to be placed on the mug were clear, the colors were perfect, there were absolutely no flaws at all, and to top it all, personalization was free! I will gladly recommend this product to family and friends and I will continue to be a customer for many years!

Mom loved it!
By
Felicia T.

(Hayward, WI) - December 28, 2011 (
See all reviews by this customer
)
She's been wanting a coffee mug with pics of her kids on it FOREVER! You should have seen her face when she opened up the gift box, (also purchased through Personalization Mall) SHE WAS ECSTATIC!!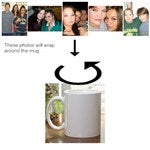 My mom loves her gift!
By
Rahmana S.

(Carlisle, IA) - December 28, 2011 (
See all reviews by this customer
)
I bought this as a christmas gift for my mom, and she was so excited when she opened it! I was really happy with the service from personalizationmall.com!

A Grandmother's Love
By
Shopper

(Clinton, UT) - December 28, 2011
I ordered this, sight unseen and sent it to my daughter's grandmother for Christmas. She was sooooo delighted with it! Thank you for taking the time to do such a great job for her!

Fantastic
By
Julie L.

(Dublin, OH) - December 28, 2011 (
See all reviews by this customer
)
So easy to create and they turned out better than expected! Will defiffnitely do this again in the future.

Nicely Done!
By
Sherri S.

(Canada) - December 27, 2011 (
See all reviews by this customer
)
I felt the quality was very good. I was happy with the product and thrilled with the price. Great customer service. I love ordering from you guys.

BIG hit this year
By
steven R.

(pompton lakes, NJ) - December 27, 2011 (
See all reviews by this customer
)
Everyone loves personalized gifts and the mugs were no exception. They were a big hit this year.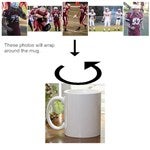 Picture Perfect
By
Shopper

(Clearfield, PA) - December 27, 2011
This item was given to an elderly aunt who has everything. She enjoyed this so much as it represented her life so well. Her three favorite and most loved people in her life and her wonderful pet. She could not believe she received a gift like this.



Excellent gift!
By
Judith W.

(Arlington, VA) - December 26, 2011 (
See all reviews by this customer
)
I received the mug very quickly and it was great quality - much better than I had expected. It was a wonderful gift and loved by the recipient.

Awesome
By
Shopper

(Naples, FL) - December 24, 2011
Our son wanted to give Dad this for Christmas. The upload, edit and previews were so easy it made the whole process fun!! And the finished product is so nice! He is going to love it!!

Nana will be thrilled!
By
Shopper

(Lithia Springs, GA) - December 19, 2011
I just purchased this mug for my MIL (the kids' "Nana") for the holidays. It arrived very quickly (less than 5 days from order to receipt!) and it is absolutely just as it looked online. The colors are true, the pictures are clear, and it was well-packed and arrived in excellent condition. I cannot wait to see her face when she opens this gift from her grandkids!

Terrific gift for parents or grandparents
By
Shopper

(Flowery Branch, GA) - December 17, 2011
Exceeded my expectations!

Always the right kind of gift!!
By
Joanne P.

(Dallas, TX) - December 14, 2011 (
See all reviews by this customer
)
Love the options for gift giving from Personalization Mall. Always the right gift for anyone. We all love to see our names and faces on things that we use everyday. Love the Collage Coffee Mugs I have purchased and so has the person receiving my gift!!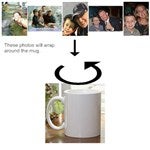 Photo coffee mug
By
heidi D.

(Kentwood, MI) - December 13, 2011 (
See all reviews by this customer
)
Love this sight. I have ordered several things. Everything has been perfect. I also got everything in 48 hours or less!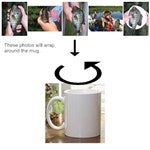 Adorable
By
Deborah S.

(Lauderhill, FL) - December 13, 2011 (
See all reviews by this customer
)
This turned out great. So easy to order too. What a great gift to have pictures on the mug! I just love this!

Cute Keepsake
By
Jill M K.

(Grovetown, GA) - December 12, 2011 (
See all reviews by this customer
)
Very pleased with this item. After receiving the mug, I had to call back about a flaw in one of the pictures. I got GREAT customer service and immediately was offered a replacement mug. It arrived in a few days. Very cute and very satisfied.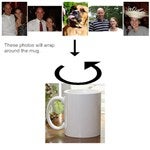 Loved it!
By
Shopper

(Odenton, MD) - December 11, 2011
I ordered 5 mugs with a variety of photos. I was pleased with all of them. Can't wait to give them to family for Christmas.

Such a wonderful idea for a gift
By
Janice T.

(Laytonsville, MD) - December 10, 2011 (
See all reviews by this customer
)
I chose the 5 picture mug to give my son for Christmas with his one-year old daughter in most of the pictures. I was so please with the clarity of the pictures and the ease of ordering. Doing something personal like this is always fun and having it done so nicely and professionally was a real plus.

Collage photo mug
By
Leslee M.

(Vista, CA) - December 7, 2011 (
See all reviews by this customer
)
Bought two of these mugs for a Christmas gifts for brother-in-law and his wife. Made two so they each can have their own and won't have to fight over. Hopefully they will enjoy them as much as enjoyed making them.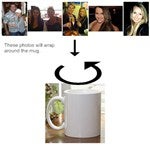 Magnificent!
By
Shopper

(Soddy Daisy, TN) - December 2, 2011
Such good quality! Can't wait until Christmas!

Great!
By
Shopper

(Viroqua, WI) - November 30, 2011
Fantastic. Wonderful gift