Made Nana cry...
By
Veronica M.

(Chicago, IL) - May 12, 2011 (
See all reviews by this customer
)
My Mom just loved this! She read the inscrpition (from my son) & began to cry immediately! This was enough for me, but to make it even better, the construction seems really solid and the price can't be beat! Overall, one of the best purchases I could have made for Mother's Day!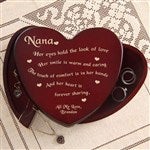 Great Gift anytime
By
kaysha L.

(buffalo, NY) - May 11, 2011 (
See all reviews by this customer
)
Bang for your buck. This box was engraved perfectly and was much bigger than i expected. I was pleasently please and my mother-in-law was so happy with it she cired!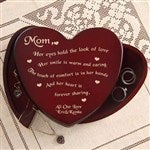 Jewelry Box
By
Gloria R.

(New Orleans, LA) - December 27, 2012 (
See all reviews by this customer
)
Nice and beautiful piece. I know they will like it.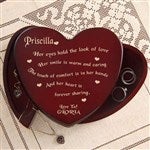 Bittersweet!
By
Arlene B.

(Keego Harbor, MI) - December 26, 2012 (
See all reviews by this customer
)
I got this for my daughter from her son, who is 6 yrs. old but is being raised by my husband and I. She lost her parental rights, but has finally gotten her life back on a good path. Although she will never be able to raise her son, she is allowed to visit and spend time with him as long as she stays going in the right direction. So to show our support for the good job she is doing I bought her this box. She was so touched not only by our support, but because of the sentiment on the box. She cried but it was bittersweet, because she was happy, yet sad at the same time. Thank you Personalization mall.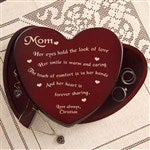 Hit the mark
By
Shopper

(Indianapolis, IN) - December 23, 2012
We purchased this jewelry box for our childrens loving childcare giver who was retiring. This item was very well made and the engraving was beautifully executed. I know she will have this item for a really long time. I had been searching for the words without getting to sappy and this one hit the mark.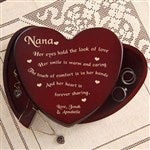 Beautifuk wooden box.
By
Connie S.

(west deptford, NJ) - October 28, 2012 (
See all reviews by this customer
)
The products I have ordered on this web site are Fabulous. Beautiful quality and great pricing also.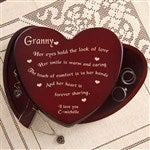 A Mom's Complete Joy
By
Misty R.

(Spurlockville, WV) - September 18, 2012 (
See all reviews by this customer
)
My 14 year old daughter actually got on my account and ordered this jewelry box for me. It is such a sweet gift and very beautiful! I was very overjoyed that she bought me such a sweet gift. Thank you for such great quality and beauty. It has pleased my daughter and myself.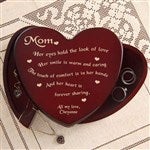 Very beautiful
By
Charles A.

(FPO, AE) - May 13, 2012 (
See all reviews by this customer
)
very nice product and shipping was fast. recommend.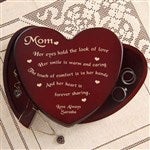 Uniquely Beautiful
By
Shopper

(Parsons, TN) - February 14, 2012
Very pleased with this uniquely beautiful heart shaped jewelry box.
the way the little compartments swing open, gives it that special touch
of enchantment. I couldn't be more pleased to have ordered this as a
special gift for my mother.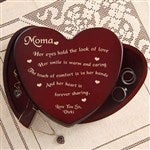 Amazing
By
Madison C.

(Chambersburg, PA) - December 15, 2009 (
See all reviews by this customer
)
I bought this jewelry box for my grandmother, and it well exceeded my expectation. I love the print and the wood. It was amazing. Well worth the money!

Perfect Gift
By
Patricia D.

(San Antonio, TX) - December 18, 2009 (
See all reviews by this customer
)
I ordered this for my mom who is 81. It was lovely. I was more than I expected in the quality. I know she will love it.

Gorgeous Print
By
Emily M.

(Bowling Green, OH) - December 13, 2009 (
See all reviews by this customer
)
I gave this to my mother for her birthday and she absolutely loved it. I wish I could have personalized it with a special note instead of the already inscribed one, but it's gorgeous! Thanks!!!

Heart Jewelry Box
By
Sheimein P.

(New Hyde Park, NY) - May 10, 2010 (
See all reviews by this customer
)
Very unique, a lot bigger than what I thought!

Lovely Gift for Grandma's from Grandchildren
By
Keith P.

(Bloomingdale , IL) - March 26, 2010 (
See all reviews by this customer
)
My wife ordered this for her Mother from our two children for her birthday. My mother-in-law is a jewelry freak and it was the perfect gift to her from the grandchildren. It came within two days of ordering it and was beautifully done. We are giving it 4 stars only because the box top should also be able to open to allow for a little more storage, along with the two flip out sides. This piece is not small but it would make more sense if the top opened, not just the two sides. Other than that, this piece is wonderful! Would wholeheartedly recommend this product as a gift.

Beautiful gift
By
Starlett M.

(Elyria, OH) - December 5, 2009 (
See all reviews by this customer
)
This item is beautiful with the personalization, a very
nice quality wood. A great gift that I'm going to make even
nicer by adding a surprise piece of jewelry inside!

heart jewelry box
By
Shopper

(Honolulu, HI) - November 26, 2011
This heart shaped jewelry box is well made and sturdy. It is cute and the writing on it is of good quality...a good buy

I love it!
By
Dina W.

(Finleyville, PA) - December 11, 2010 (
See all reviews by this customer
)
I love it! It's very nice! I would buy it again!

Lovely Keepsake
By
Shopper

(Boiling Springs, PA) - May 1, 2012
I purchased this for my mother (who is a very active 92) for Mothers Day! It is very well made, well worth the price and each time she looks at it and reads the message, she will be reminded how much she is loved and treasured. Great size to hold rings or a watch, and pretty enough to just sit and be admired.


great gift
By
Shopper

(Decatur, AL) - April 22, 2012
Good Quality and good keepsake gift.Shipped quickly.I love the design of this Jewelry box and I know that my Mom will to.

AMAZING jewelry box!!!
By
Shopper

(oakland, CA) - June 23, 2012

I am so glad I bought this box for my mom, it's absolutely adorable, and I was not expecting this quality on the box and the writing on it...it was also alot bigger than I expected, a nice suprise. My moms loves it, and I thank you guys for a great product!!! Highly reccomended buy!! @->-

More than what we had expected!!!
By
Shopper

(Owings Mills, MD) - May 14, 2012
What more can I say??? She absolutely loves it!!! I am very happy to have made her Mother's Day yet with this beautiful jewelry box. Thanks guys!!!! Looking forward to next Mother's Day... ;-)

nice gift!
By
Shopper

(Lynchburg, VA) - December 6, 2011
My wife and I gave this to my mom. I couldn't believe how nice it was! The box, as mentioned in another review, will be larger than what one would expect. The lettering is really attractive. Shipping is very fast. You won't regret the purchase, and the recipient will certainly treasure it.

excellent
By
Shopper

(Port Orange, FL) - February 20, 2011
Great price, product, service - 100% satisfied with this website and their company!

Great gift for mom's everywhere
By
Grace N.

(San Antonio, TX) - February 27, 2012 (
See all reviews by this customer
)
I bought this gift for my mom to show my love and appreciation of her and she loves it. It is a good size and awesome design to the drawers of the jewelry box.

great!
By
Shopper

(Wasington, DC) - February 11, 2012
Great website! I love to do business with you guys. The product was great and it got to the recipient in a great time.