Address Rubber Stanper
By
son T.

(san jose, CA) - August 27, 2014 (
See all reviews by this customer
)
very nice, good quality, so far working perfect really like it.

Personalized Postage Perfection
By
Shopper

(Milford, OH) - July 18, 2014
This was the perfect hurt for our new home. It's classy and timeless. Couldn't ask for a more perfect personalized postage accessory!!

Excellent product!!
By
Shopper

(hahira, GA) - May 4, 2014
Bought for a wedding shower gift and the bride loved it!! Well made for the price! I need one for myself! Haha

Rubber stamper
By
Rachel H.

(Lucedale, MS) - January 18, 2014 (
See all reviews by this customer
)
I could not be more pleased. The image turns out very clear and readable. It is exactly what I wanted and more.

FAST replacement of damaged order
By
Jonathan K.

(Miami Beach, FL) - September 21, 2013 (
See all reviews by this customer
)
My order arrived damaged and they replaced it almost instantly at no charge...Thank you

Our school notecards
By
Shopper

(Essex, IL) - August 3, 2013
I just received these cards. They came very fast and were packaged in plastic protective boxes. The cards were sturdy and the writing on the cards was bold and crisp. Very sharp. We love them. I started to use them as soon as they came in!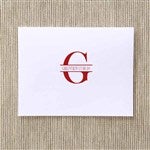 Excellent Stamper
By
Michael C.

(Fisherville, KY) - March 19, 2013 (
See all reviews by this customer
)
This is a very nice product at a great price. Good quality, excellent stamping with an awesome design.

Expectations
By
Shopper

(Conway, AR) - January 8, 2013
Quality exceeded expectations

Simply nice
By
Shopper

(New Orleans, LA) - December 31, 2012
Perfect for social notes. I would not use as a professional card, but great for personal thank you notes.

Great Gift for New Home Owner
By
Andrea I.

(Aliquippa, PA) - December 28, 2012 (
See all reviews by this customer
)
I gave this as a Christmas gift to someone that just purchased a new home within the year. She really loved it!

notecards
By
Delise D.

(Columbia, MD) - December 17, 2012 (
See all reviews by this customer
)
A nice way to say thank you and keep in touch.

CLASSY CARDS
By
Shopper

(Los Angeles, CA) - December 13, 2012
These cards look terrific and classy. Perfect for Thank You's and correspondence. Thick cardstock, too. I love them!

Happy Customer
By
Shopper

(Mission Viejo, CA) - December 11, 2012
Easy to personalize, great quality and no unexpected surprises when it showed up, it was actually what it said it would be ... refreshing.

Great purchase
By
Holly L.

(Buffalo, NY) - November 12, 2012 (
See all reviews by this customer
)
Very pleased with this purchase. Everything online was true to the actual product. Can't wait to use it!

Love my stamp
By
Shopper

(Ypslanti, MI) - November 5, 2012
Love my return address stamp! It is crisp and clean looking when stampeed and I received it in the mail within 36 hours of ordering it. I would definetly order from this company again.

Another great stamp!!
By
Shopper

(Grafton, MA) - September 18, 2012
I bought this stamp and the Mr & Mrs one and love them both!! I love that they are self-inking so you can just keep stamping away!! And these stamps are the first things I have with my new last name on them! Loving it! Even my fiance was having fun testing them out! Easy to use, easy to refill! They look great! I just love how they look! The ink is even across the whole stamp (there are NO smudges or excess ink). Very happy with my purchases! Cannot wait to put them to greater use!

wonderful item
By
Katie M.

(Denham springs , LA) - August 6, 2012 (
See all reviews by this customer
)
I love these rubber self-inking stamps. I purchase them for house warming gifts all the time from this company. The stamps are good quality and work well. Much more conveinient than a rubber stamp with seperate ink pad.

Easier than the labels you get for free in the mail
By
Shopper

(Little Canada , MN) - June 20, 2012
After showing my mother the square address stamper I purchased for my daughter and son in law and seeing how much she liked it, I purchased an address label sized stamper for my parents for Father's Day. Mom liked the smaller size that replicates the address labels you get in the mail. When the stamp arrived she was thrilled with the ease of use, the convenient holder and the clarity of the design. She keeps it right by her postage stamps and doesn't have to have sheets of address labels laying on her table.

Stamper
By
Julie G.

(Elizabeth City, NC) - March 17, 2012 (
See all reviews by this customer
)
This return address label arrived very quickly. It has our information spelled correctly and looks exactly like the photo. I was very happy with it.

bragged to all my friends!!!
By
Robbe L.

(Round Rock, TX) - March 2, 2012 (
See all reviews by this customer
)
My stamp is perfect!!! I have showed it off to everyone. It is clear and the ink is even and dark! I love it and have referred everyone to your website to order their own!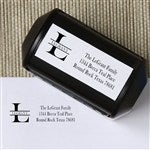 happy
By
Lindy D.

(Englewood, CO) - January 21, 2012 (
See all reviews by this customer
)
The stamp looked great on a mass mailing we had to do! Looked very professional.

cannot wait to use them
By
Shopper

(johnson city, TN) - January 4, 2012
i have already placed my second order. these note cards are very professional looking and are of great quality. hope someone does something nice, so i can send them a card. have already used most of my first box. delivery is great!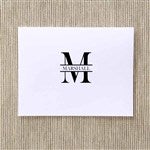 Bold impact!
By
Daniel M.

(McKinney, TX) - December 27, 2011 (
See all reviews by this customer
)
I love the simplicity of the design, and the ink applies evenly. This works just as well as pricier versions!

Bar Mitzvah thank you notes
By
Esther-Ann A.

(New York, NY) - October 25, 2011 (
See all reviews by this customer
)
my grandson loved the cards and will use them for his thank you notes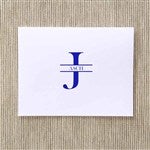 stamp
By
Jennifer L.

(Boyce, LA) - September 24, 2011 (
See all reviews by this customer
)
The return address stamp works great and defintely saves a lot of money on buying the peel and stick ones!

love it!
By
Jennifer C.

(Schenectady, NY) - September 19, 2011 (
See all reviews by this customer
)
Getting married in a few weeks and bought this in anticipation of stamping our names together on our outgiong mail... it looks great! great value! would recommend it.

great review on stamp
By
Shopper

(Devers, TX) - August 20, 2011
I was very happy with this item and its promptness in delivery.

Excited to Use
By
Shopper

(Fort Wayne, IN) - June 13, 2011
I had been looking for thank you cards for my wedding. These are perfect and not the average card. I was pleased with the thickness of the paper too. Our family is going to think we spent a small fortune. But, little do they know it was cheaper than a lot the the generic thank you cards.

Namely Yours Address Rubber Stamper
By
Rian W.

(Mount Carmel, IL) - April 8, 2011 (
See all reviews by this customer
)
I am very satisfied with this stamp. Quality is excellent and shipping was fast.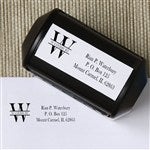 Address Stamps
By
Shopper

(Thief River Falls, MN) - January 9, 2011
I often give these stamps to my real estate customers. They love the convenience and the quality of these stamps.

Great!
By
Colleen N.

(Chicago, IL) - December 22, 2010 (
See all reviews by this customer
)
I am so pleased to give these to my cousin's wife. They can be used for multiple purposes and I know she will love them.

Love this stationary!
By
Kalee B.

(Rockwall, TX) - June 11, 2010 (
See all reviews by this customer
)
Classy and timeless, perfect for any occasion to send someone a quick note!

Personalized Note Cards
By
Beth H.

(Durham, NC) - May 24, 2010 (
See all reviews by this customer
)
I ordered these personalized note cards for my son to use as thank you notes after graduation. They were much cheaper than the ones he could order through the graduation company, are a good quality paper, have more space for writing, and are more personal since they have his name on them. I thought it was a very "masculine" option compared to what you often see in stores, and since it just has his name, he can use them for anything.

Love This Stamp
By
Constance A.

(Henderson, NV) - March 5, 2010 (
See all reviews by this customer
)
I ordered this stamp because of it's professional look. My husband and I just married and were looking for something nice to stamp thank you cards and such with. This fits the bill to a T. Smooth operation and even ink application, couldn't find anything out there that looks this nice for this price.

Classy, well presented
By
Christina V.

(Henrico, VA) - December 12, 2009 (
See all reviews by this customer
)
These cards are gorgeous, simple, and elegant. They come with a gold sticker sealing the plastic case, and they are the perfect gift for family. I would definitely recommend them to anyone looking for a personalized, useful gift.

Perfect Personalized Presents
By
Carla Z.

(Westminster, MD) - December 6, 2009 (
See all reviews by this customer
)
The note cards are as high a quality as those I have purchased from print shops I use for my business stationary. The paper weight and the design make this a great gift. The ease of the website in creating my order was user friendly. The feature allowing you to see your product beforehand is fantastic. The speed of delivery was another great advantage of using your site. I will be returning as I have other needs.The quality of your work will keep me a customer.

pleased
By
Shopper

(Wilkinson, WV) - February 1, 2014
Very pleased with my purchase.

stamper
By
Shopper

(Nanuet, NY) - December 8, 2013
The layout was nice ink pad wasn't working when received, but after wetting it and letting it sit it started to work better.

Clean, Crisp, and Simple
By
Shopper

(Rossford, OH) - April 21, 2012
These cards appear professional and give off an element of sophistication. Although the design is simple, the product is printed very well. I am very pleased.

Good buy!
By
Shopper

(Newberry, FL) - October 17, 2011
Good buy! Great Customer Service!