VERY PLEASED
By
Shopper

(salisbury, MD) - December 30, 2011
The tin was gorgeous! My picture was not distorted at all! Great Christmas present! Shipped so fast!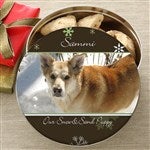 Worth buying.
By
Shopper

(Minnetonka, MN) - December 11, 2011
I used this Tin twice for my personalization. The first photo I chose was a lovely photo. And it turned out great!! The second one was a little choppy, did not look exactly like the preview photo. But that's okay. Still looks good enough to send. Can't wait to send this out!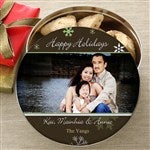 I should have ordered more!!!
By
LANA J.

(PERU, IA) - December 7, 2011 (
See all reviews by this customer
)
We stumbled across this website while looking for a way to make a photo into a puzzle which had more than 200 pieces. I am so glad we found this site! I guarantee that I'll be back again.
I will say that I edited the image in PhotoShop so I wasn't sure about the quality of the original image I provided. I was thrilled to see how nicely this printed and I've been waiting to be able to sing the praises of Personalization Mall since I got them.
The tins arrived well protected, printing was just the way I previewed it, the color was good, and the tin quality was great! Now that I've shown this to people there are several more who want one of their own. I guess I should have placed a bigger order!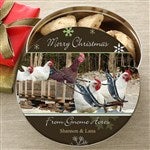 Beautiful tins
By
Laura B.

(Pawleys Island, SC) - November 27, 2011 (
See all reviews by this customer
)
I bought these tins for my Mom & Dad's 50th Anniversary & they received them before the specified date & they just loved them!! They said they were too beautiful to put anything in....I will reccomend this company to everyone!!

Xmas Photo Tine
By
Shopper

(Brush Prairie, WA) - December 19, 2012
These are very nice but small and you need to be sure your photo is formatted such that it fits the longish picture space.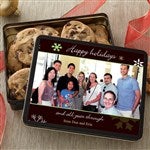 The perfect keepsake
By
Eunice K.

(Ellicott City, MD) - December 12, 2012 (
See all reviews by this customer
)
I ordered two of these containers to give as gifts and was absolutely delighted when they arrived today. The photo was clear and sharp and the colors were true to life. I appreciated the fact that the tin isn't so deep that it will be expensive to fill it with candy, cookies, etc. This makes a wonderful keepsake for many years to come.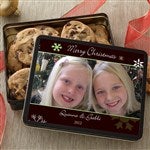 Awesome cookie tins!!!!!
By
Shopper

(Rural Retreat, VA) - October 28, 2012
This is the second time I have ordered the holiday cookie tins. Both times my order was perfect! We are car nuts around here.....restoring old muscle cars, drag racing them and taking them to cruise ins is how we spend most every weekend. I have used one of our cars on each tin. Friends and family have been so impressed with our hot rod Christmas tins. Everyone just loves them, especially my husband and I, they almost make wintertime bearable ;) Thanks so much for a great product!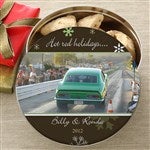 personalized photo gift tin
By
Neva B.

(Lawrenceburg, TN) - December 12, 2009 (
See all reviews by this customer
)
I ordered one for my aunt and had a faimly pic put on it and it made her cry very happy tears she wanted to know where i got it. also my mom wanted one so i got her one.she said next christmas she is having 8 made for her sisters im very impressed with the quality and its a gift to treasure

Very good service
By
Megan S.

(Anderson, IN) - December 15, 2009 (
See all reviews by this customer
)
I received the package sooner than expected. It was great and the product looked wonderful. I will recommend this site to everyone I know. Thank you!

Very nice tin
By
Teresa M.

(Fort Madison, IA) - December 19, 2009 (
See all reviews by this customer
)
The personalized tin is a very good quality and the picture turned out well. Definitely a gift that keeps on giving!

Not what it appears
By
Sarah D.

(Rush City, MN) - January 13, 2010 (
See all reviews by this customer
)
The quality of this tin turned out to be far less than I expected judging from the picture online. The color also did not come out the color that is portrayed. They sent me another one free of charge, saying it is not supposed to be green but brown, and the second one arrived the same exact way. The picture is not very clear. It is grainy. I am embarrassed to give it to someone as a gift because it looks cheap.

Be careful with photos
By
Shopper

(Clanton, AL) - December 19, 2012
I ordered a personalized tin for my parents for Christmas. I chose a photo that was taken by my boyfriend, who is a professional photographer (no copyright infringements!). I reviewed all of the sections, and it did look great on the screen. It showed that one line of personalization would be green, and it was white--though not a big deal. The size is nice, the tin is great. I have no problem with the product and think it's a great idea, but the website tells you to pick a certain type of photo, and then shows you "exactly" how it will appear. It looked great! I bought it and was disappointed at how it looked on the tin. I might order one again, but not sure if I'd use a photo or not. I think my parents will overlook the poor photo quality, but I wish it would have looked like it did online.

Superpersonal gift, nice keepsake
By
Annie A.

(New Hyde Park, NY) - December 26, 2009 (
See all reviews by this customer
)
What I liked about this tin is that not only could I personalize it with a picture and brief message, but I could give it an extra personal touch by filling it with home-made goodies. What I didn't like was that I used a sepia toned picture which looked stunning in the personalized preview, but not on the actual product. I would stay away from sepia next time. It makes the product look way too dark and brown.

Nice!
By
Calvin M.

(Ponca City, OK) - November 27, 2010 (
See all reviews by this customer
)
Very attractive. They will make a nice gift.

Unique cookie tin everyone will love
By
Shopper

(Excelsior Springs, MO) - October 15, 2011
A few weeks ago I got my order of 6 tins with my family picture on it. I think this will be a great gift for friends and family you could put cookies, candies or whatever really. I plan to buy these for next year as well, I am so happy with everything I have bought from this web page.

A neat creative tin that will always be kept!
By
Shopper

(Excelsior Springs, MO) - October 8, 2011
I recieved my 6 tins I ordered last night. Now I can say the tins I will be buying for other events now. My family photo was clear and perfect. I showed my neighbor this she thought it was really cool. I think it is a neat item that family and friends will keep for a long time. This is a must have gift that will have people talking!!

Holiday Phoro Gift Tin
By
Shopper

(Gladwin, MI) - November 4, 2013
My holiday photo gift tin order exceeded my expectations. The picture is clear and beautiful. I can't wait to surprise the family with this wonderful idea. The customer service was most helpful and the speedy production removed all stress from my shopping experience. You are terrific!

Great quality
By
Shopper

(Lakeland, FL) - December 23, 2012
I was very impressed with my order. The photos look fantastic.

Perfect to store holiday cookies!
By
Rachel A.

(Newport News, VA) - December 20, 2010 (
See all reviews by this customer
)
I purchased a dozen of these tins to send cookies to family. They came out perfect and made for a great holiday gift. They shipped really fast too!

GREAT PRODUCT
By
Karina B.

(Deerfield Beach, FL) - December 28, 2009 (
See all reviews by this customer
)
Very good quality, picture turn out great and got lots of complements ...every one wants to know where did I got it done. A great gift

Sweet Gift Both Inside and Out!
By
Julie V.

(Port Chester, NY) - December 26, 2009 (
See all reviews by this customer
)
This gift was ordered for my daughter to give to her brand-new mother-in-law. It was personalized with a treasured photo and she filled it with homemade and from the heart cookies. It was a fantastic gift with a wonderful presentation and is sure to be a valued family heirloom for years to come. Inexpensive, thoughtful, with a from the heart touch makes this choice the perfect sweet gift from the inside out.

great quality
By
william M.

(gretna, VA) - November 23, 2010 (
See all reviews by this customer
)
My tins arrived in a timely manner and were better quality than I expected. I had scanned the picture at 300dpi but still it was very clear. I'm glad I found your site on the web and I will be back!!

Great!
By
Jena S.

(Wickenburg, AZ) - January 4, 2010 (
See all reviews by this customer
)
Adorable gift to give family and friends. The product was made well and very quickly!