very nice!
By
Shopper

(Union City, NJ) - May 23, 2013
nice labels, grandmother loves the size and shape of labels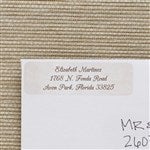 JUST WHAT I EXPECTED
By
Cheryl P.

(Hackettstown, NJ) - December 24, 2012 (
See all reviews by this customer
)
Great quality, lettering looks wonderful and this is the only place I order labels when I want something original!

Watercolor return address labels
By
Shopper

(Clarendon Hills, IL) - November 16, 2012
These were for a gift and they turned out just great. They came in sheets. The only chage I would make is order a dispenser. The background color and the print color was perfect. They look great. Would order this product again.

Unique WaterColor Labels
By
Michael G.

(Freeport, NY) - October 19, 2012 (
See all reviews by this customer
)
I loved the burgundy water color labels. The font was elegant and fit perfectly both my husband's and my name on the label together with our last name. Other labels which I searched on line did not have that capability. The label was beautiful and legible. I would definintely use them again, but would like to see more color options for the watercolor return address labels.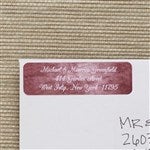 Beautiful Labels
By
Shopper

(Savannah, GA) - October 6, 2012
Wonderful Labels...Just like the preview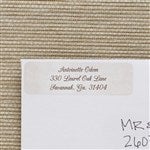 Even better in person
By
Shopper

(Southfield, MI) - January 23, 2011
The background color is much better in person than it is on the screen. I thought the font would be too light, but it wasn't. I'd buy more.

Address Labels
By
Patricia H.

(Falls Church, VA) - January 15, 2011 (
See all reviews by this customer
)
Was very pleased with the speed of delivery and the product. Will use them again

Great Quality
By
Mandy N.

(Union City, TN) - December 27, 2010 (
See all reviews by this customer
)
These look great and are also great quality address labels

Awesome
By
Christopher P.

(Torrington, CT) - September 27, 2010 (
See all reviews by this customer
)
Labels are perfect. Like the book-like set up and the price was very affordable.

Elegant, Simple, Professional
By
Amanda B.

(South Bend, IN) - December 31, 2009 (
See all reviews by this customer
)
I am absolutely in love with this product. The color is the perfect shade to be noteworthy but not overbearing. The print is elegant but not overdone. The simple layout keeps it professional so I can use them for everything. The labels themselves are sturdy made with good adhesive thus a very good quality all around.

White is probably better
By
Joan T.

(Gregory, SD) - January 18, 2010 (
See all reviews by this customer
)
These are affordable address labels. My only dissatisfaction is when ordering the maroon colored ones with white font, it isn't really easy to immediately distinguish what the writing on them says. I may order these again, but next time I'll definitely go with the black font on a white background, because I do think those are probably more legible.

Address Labels
By
Mattye A.

(Huntsville, AL) - October 29, 2009 (
See all reviews by this customer
)
Labels would be easier to read if the printing was darker.

Disappointing
By
Shopper

(Ramsey, NJ) - August 25, 2014
I was disappointed with these labels. I ordered them in the deep rose color not anticipating that,while pretty,the address is not as clear. Also I was expecting the labels on a roll, not large sheets. This format makes the labels awkward to store in my desk. That said, my many other orders from PM have been highly satisfactory.

Not Great!
By
Stephanie W.

(Saint Leonard, MD) - December 14, 2010 (
See all reviews by this customer
)
Very dark (burgandy), hard to read between the font and color. Not happy with product! Would be o.k had I chosen a lighter color...

watercolor address labels
By
Katherine M.

(Semmes, AL) - March 19, 2010 (
See all reviews by this customer
)
I do not feel this item is up to your usual standards, I was disappointed in the quality.

Font too small for size of label
By
Tara W.

(Houston , TX) - March 8, 2010 (
See all reviews by this customer
)
As stated above, the print size is too small for the size of the label with as much space blank as is occupied by the print. Coupled with the watercolor background, the label is difficult to read.

Still waiting
By
Shopper

(Anchorage, AK) - November 23, 2011
I ordered these labels about 2 weeks ago and still have not received them. I am disappointed in the fact that there was no warning that this order would take a month to receive. I wanted to send out my save the dates the week after thanksgiving and that is not looking like it is going to happen. And on top of that the way they are labeled I have to use them before my wedding so I couldn't just save them. So I don't even know yet if they turned out exactly how I wanted them because I am STILL waiting. If I had know it was going to take this long I woud NOT have ordered from this site. Also when I track the order it keeps pushing my delivery date back! Terrible!