So Cute!
By
Shopper

(Pawtucket, RI) - August 19, 2014
Purchased for our new granddaughter born in Japan. Love how it could be personalized with non-traditional names for grandparents. Very cute and well worth the money.

Absolutely adoreable
By
Shopper

(Shelby, OH) - August 5, 2014
I bought these bibs for a gift for a reveal the gender party. They were so soft and cute.

This is the cutest thing ever.
By
Loretta T.

(Friendswood, TX) - July 8, 2014 (
See all reviews by this customer
)
I'm so glad I found this site. now our grandkid can know how much she means to us.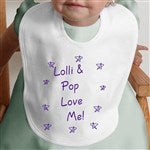 Excellent Material.
By
Shopper

(North Bergen, NJ) - May 6, 2014
I bought this for my four year old nephew.The packing was beautiful and the sweatshirt was exactly as I had ordered with NO spelling mistakes. A lot of the words I had used were spelled in English but are essentially hindi words which is my mother tongue and there was no mistake in how they were written on the shirt.

The material is really soft and very fine which far exceeded my expectations. The sweatshirt is pure white and my nephew as cute as he is looked really handsome.

Thirdly the shipping was right on time and I received my package according to the shipping method I had chosen.

This was my first time ordering from personalizationmall.com and I have become a loyal customer for life. I have nothing bad to say about my shopping experience because everything was exactly as I had planned and expected to look.

Love it!
By
Shopper

(Deerfield Beach, FL) - April 12, 2014
My grandchildren loved the shirts. Fun way to show how much they are loved. Good quality. Looks exactly as shown. Love them!

Great Baby Shower Gift!
By
Shopper

(Holland, OH) - April 9, 2014
Absolutely love this onesie! Nice quality and they look so cute!

GREAT PRODUCT
By
Shopper

(OAK RIDGE, NJ) - March 4, 2014
Once again I am satisfied with your product. Quality and service are always first rate. Its great to get personalized items with names that are not common. I will continue to shop with you!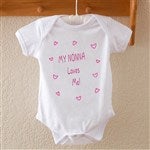 somebody loves me nightgown
By
Shopper

(Decatur, IL) - February 21, 2014
My 8 year old granddaughter loved this!! & what was crazy awesome was that I recieved it the next day!!! awesome job!!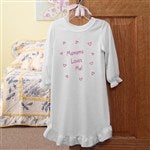 TOO CUTE
By
Lisa J.

(Bellville, TX) - February 11, 2014 (
See all reviews by this customer
)
I bought this for my grandson for valentines. It is so cute. It is the perfect gift for him.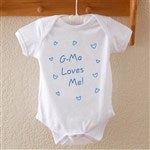 Very Pleased
By
Jamie B.

(Ypsilanti, MI) - January 15, 2014 (
See all reviews by this customer
)
I Bought this for my great nephew for his baby shower.My niece and everyone else loved it. Cant wait till someone else has a baby so I can order another one. A little big for newborns but he will grow into it.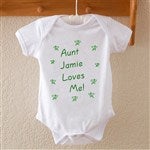 Really nice!
By
Shopper

(Angier, NC) - December 14, 2013
Love this little body suit. I've ordered something similar for all 3 of my recent great nieces and one nephew. It's really cute and is as pictured.
Would recommend.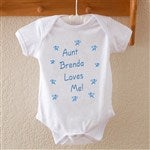 Creating a smile for great grandparents
By
Linda G.

(Coroapolis, PA) - December 13, 2013 (
See all reviews by this customer
)
I found Personalization.com by accident while surfing the internet. My sister is becoming a great-grandma in Feb. I wanted a bib to address a great grandma since my shopping at the mall was unsuccessful for great-grandma bibs just grandma. I purchased these bibs and the articles arrived quickly and customer service was very helpful in my creating the bibs. When they arrived it put a smile on my face + my mother who is 87. She is my niece's great great grandmother. She smiled + laughed with joy when she saw the bibs. I know my sister + brother in law will be pleased also.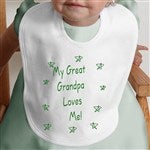 Will make them happy!
By
fatimah A.

(PITTSBURG KS, KS) - November 18, 2013 (
See all reviews by this customer
)
I choose this nice bib for my nephew - five months old - . It was adorable , I like it, they like it. very good quality as usual. clear & nice colors and writings. the middle part which has the writings is easy to be cleaned. Above all , it is good gift to keep as memory for ever especially that I did not see this angel baby since he was born ,so I want him to never forget that his aunt really loves him. Thanks to personalization mall.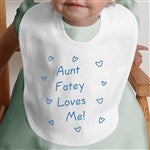 God-mother approved
By
GWENDOLYN C.

(SPRINGFIELD , MA) - November 11, 2013 (
See all reviews by this customer
)
This was a perfect gift.... beautiful! !!!

Make your own message
By
Shopper

(loves park, IL) - August 4, 2013
Cuddly, cute and soft as can be.
Washes well. Our grandson is 7 1/2 months.
We love seeing the personalized sentiment on his little onsie!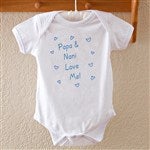 Awesome Onesie
By
theresa M.

(springfield, PA) - July 9, 2013 (
See all reviews by this customer
)
Love my onesie, the quality is great, can't wait to give it to my daughter!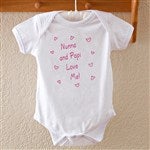 Awesome Shower Gift
By
Barbara H.

(Manteca, CA) - April 20, 2013 (
See all reviews by this customer
)
My son and daughter-in-law are expecting a baby and I am hosting a shower for them. I put the Bodysuit (which says "Nana Loves Me" on a Teddy Bear and sat it in the car seat. SOOOOOOOOOOO Cute!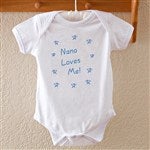 Adorable gift
By
Rebecca G.

(Glendale Heights, IL) - April 20, 2013 (
See all reviews by this customer
)
Personalized onesie is high quality, soft and comfy. Super cute with pink hearts and personalized saying. A great gift!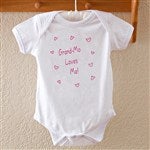 Loves Me Bodysuit
By
Kathy B.

(Henrico, VA) - April 3, 2013 (
See all reviews by this customer
)
Absolutely perfect!! Loved the personalization!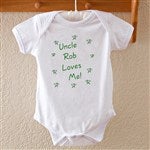 Good Things Come In Small Packages!
By
Shopper

(Naples, FL) - April 3, 2013
Nice quality, quick ship. I have ordered many gifts from this site, and have never been disappointed !

baby onesie
By
Shopper

(WARREN, OH) - March 9, 2013
The product came very quickly and was as I had designed it to be. I would order again from here.

Granddaughters love this!
By
Shopper

(Florida, PR) - February 17, 2013
This is the third purchase - 2009, 2011 and now ... one of each size as my granddaughter has grown. She asked for a new one 'because I'm a big girl now' and the old one no longer fit.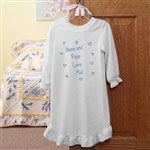 Too cute!
By
Barbara A.

(Cranberry Township, PA) - February 11, 2013 (
See all reviews by this customer
)
This is adorable. We bought this for our toddler granddaughter. Very good quality and soft material. It is difficult to find "Nonni and Papa" personalization, so we are huge fans of Personalizationmall.com.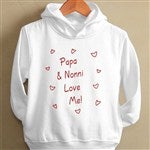 Somebody Loves Me Infant Bib
By
Joanne B.

(Baltimore, MD) - February 4, 2013 (
See all reviews by this customer
)
Bought this as part of a shower gift for my niece's first baby. It's so soft and adoreable. Our Ravens just won the Super Bowl, so purple is perfect.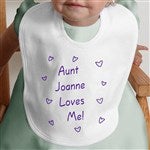 Perfect !!
By
Andrea R.

(Grundy, VA) - December 10, 2012 (
See all reviews by this customer
)
Getting 2 new great-nephews in early 2013 - I needed the perfect gift and found it with these bibs. Now, whenever they use it their mommy can remind them how much their great aunt loves them!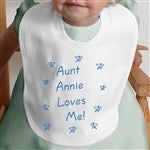 Baby Bib wins Big at Baby Shower!
By
Trish L.

(Bloomfield, NY) - September 28, 2012 (
See all reviews by this customer
)
I attended a baby shower where the grandparents were first time grandparents,so I decided to personalize the bibs to say " Grandma Crandall Loves me" and same thing for grandpa and other side of the family grandparents. It was a hit some came up to me asking where I had them done. I like doing this for baby showers I attend because it is a personal gift for grandparents. With a seperate gift for mom,dad and baby. I even got a hug from Grandma Crandall right after she opened it. She so loved it. It is exciting to be a grandparent for the first time so i like making a big deal out of it for them its a precious momment to remember for all.

cute outfit
By
Helen F.

(Canada) - August 22, 2012 (
See all reviews by this customer
)
my girl looked so adorable and fit her perfect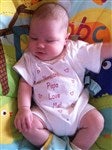 Fun Gift
By
Cathy C.

(Saint Paul, MN) - May 11, 2012 (
See all reviews by this customer
)
This was a fun way to give personalized shirts to my niece and nephew. Simple, yet beautiful.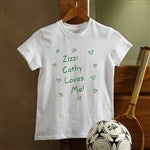 Precious
By
Ann M.

(Manassas, VA) - May 8, 2012 (
See all reviews by this customer
)
This T-romper was the perfect gift. There are so many names for grandfather. It was wonderful to get exactly "our" name on a shirt. Great quality and craftmanship. Couldn't be happier with the purchase.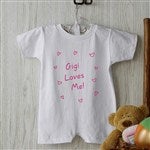 It was just right
By
Garey G.

(Auburn, CA) - April 10, 2012 (
See all reviews by this customer
)
I order this t-shirt for my four year old daughter and was unsure about the sizing as my daughter is very tall and looks to be six and not four. So I ordered a size 6 pink with hearts displaying Daddy loves me!. Shortly after my daughter seen the gift and what the t-shirt said on it. She wanted to wear it and it fit perfect for her size. The t-shirt very nice and was not to thin like some t-shirt are. Like I said it was just right and it all work out. Every product I have purchased from this company has been great! I keep coming back.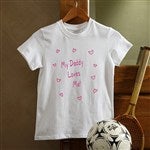 Somebody Loves Me T-shirt
By
Shopper

(O'Fallon, MO) - April 8, 2012
I ordered 2 & both t-shirts were darling! I ordered them for my new grand daughter scheduled to arrive in a few months. I ordered a 6 month size, and they looked a bit small, but the designs were great and my daughter-in-law loved them! Over all, I was pleased with the product.

GREAT
By
Shopper

(Houston, TX) - March 5, 2012
Loved the shirts for grand-daughters at Valentine's Day.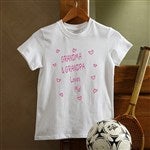 Good Experience
By
Shopper

(Trinidad, CO) - March 3, 2012
I received the T-shirt promptly and in time for the birthday girl's party. It came out great and I would order from you again.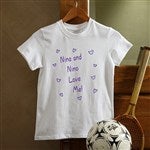 Infant T-Romper
By
Bonnie S.

(Freehold, NJ) - March 3, 2012 (
See all reviews by this customer
)
My three month old grandson looks adorable in his new romper. High quality cotton fabric and an excellent choice for new mother's to quickly change baby's diaper because of the snap features on bottom. You won't be disappointed with your purchase.

Great gift!
By
Shopper

(Clarendon Hills, IL) - February 26, 2012
Shirt was cute and looked just as previewed. Will be a great gift. Arrived quickly.

Adorable T
By
Rachel S.

(Santa Maria, CA) - February 21, 2012 (
See all reviews by this customer
)
Very cute and special for my first grandchild. Great quality and received in time for Valentine's Day.

Terrific!
By
Shopper

(Apollo Beach, FL) - February 15, 2012
My family thought it was so cute! Personalization Mall does a great job.

Nightgown
By
Shopper

(Graham, TX) - January 28, 2012
Fast, and just exactly as described.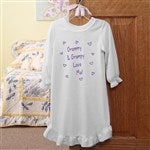 Precious
By
Shopper

(Ringgold, GA) - December 28, 2011
I had this bib made for my husband for a stocking stuffer at Christmas! He loved it so much and cant wait to put it on our baby in May!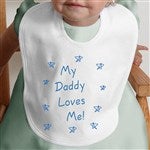 Adorable Grandson T-shirt
By
Patricia T.

(Waterford, PA) - December 14, 2011 (
See all reviews by this customer
)
I got this for my first grandchild born Dec. 2, 2011. Absolutely adorable. Good quality and should be a keepsake when my grandson grows out of it. We`ve purchased items from you before and have experienced great service and unique personalized clothes found nowhere else. Reasonably priced and fast shipping.