gorgeous
By
Julie F.

(Grant, MI) - May 17, 2014 (
See all reviews by this customer
)
This is a lovely item. You won't be able to decide where to put it because it can go anywhere... planter, magazines, party items, baby things. It would be perfect anywhere.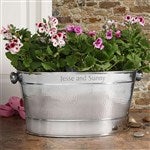 execlent
By
Shopper

(Austin, TX) - August 24, 2013
I could not be happier with my customer service experience. There was a mix up with my order, totaly by fault and the customer service I received was exceptional. They worked with me and helped me fix a problem that was all my mistake on a corperate order.
Will use them again and again!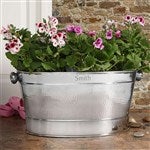 Large Stainless Steel Tub
By
Kimberly A.

(Summerville, SC) - August 3, 2012 (
See all reviews by this customer
)
My mom received her gift on time; maybe even earlier than I had expected. I have not yet seen the item but she tells me it is a good size. That means she can have some gardening fun when the season is right. Thank you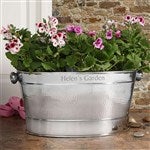 a very nice gift item
By
Rosemary L.

(Bergenfield, NJ) - June 18, 2012 (
See all reviews by this customer
)
This tub is just as nice as it looks. It is very roomy inside, and we were able to put many items in it for our theme tub. The printing of the names came out very nice. It was an engagement gift and the couple loved it. I do not have the same feelings about the tub stand that had to be returned due to a lot of damage and the quality is not at all what we expected. We did not reorder it, we just took the refund which was no problem at all to get back.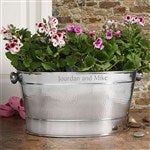 happy customer
By
NICHOLAS P.

(CALDWELL, NJ) - April 27, 2010 (
See all reviews by this customer
)
The steel tub is made nicely and it is very shiny. The monograming on the front of it, some may consider small for the size tub it is. I also bought the stand. I have a covered front porch and use it for my mail at this time. It fits all the magazines in it well. It could have alot of uses. I am very pleased. And I have received 2 compliments on this tub. I would recommend getting this. You would not be disappointed !

I'm very impressed with the item and the service ...
By
Shirley C.

(Middletown, NJ) - March 31, 2010 (
See all reviews by this customer
)
I am going to be giving this item as a wedding gift.
I can't wait to see the couple's reaction. I am sure they
will like it as much as I do. I am very impressed with
the quality and even more impressed with the speed with
which the order was filled and shipped.

Unique
By
Jeanne D.

(Henderson, NV) - June 21, 2010 (
See all reviews by this customer
)
This Hampton Stainless Steel Tub is very nice! With the stand, it is the perfect height for outdoor entertaining. I also ordered one for my son's wedding for the champagne and he loves it, too! Very good quality.

Fabulous Gift!
By
Lynn P.

(Omaha, NE) - May 20, 2010 (
See all reviews by this customer
)
I ordered this tub as a wedding gift for some friends of mine and would love to have one myself! It is excellent quality and the personalization of their names turned out great! It can be used for serving beverages or for holding flower pots! I would highly recommend it!!

Beautiful Tub
By
Kelli H.

(Lynch, NE) - May 6, 2010 (
See all reviews by this customer
)
I love this tub. I'm using it as a flower pot, just filled the bottom with several large rocks for improved drainage. Very fast shipping.

Nice Gift
By
Brittany B.

(Tipton, CA) - April 12, 2010 (
See all reviews by this customer
)
The tub is looks great and is very big! I was a little disappointed with the personalization though; I thought it would be engraved but it was more like a grey sticker on the tub. It still looks very nice though.

Loose handles
By
Shopper

(Lyndhurst, NJ) - June 14, 2011
The tub itself is absolutely gorgeous and different from anything else I've shopped on the internet. The side handles however, are not as secure or well made as I expected for the price I was paying.

Steel Tub
By
Norma N.

(Flushing, NY) - September 22, 2010 (
See all reviews by this customer
)
The only thing that I didn't like was the product is thinner than I thought it would be.

It is shiny and it has a good presence. It is a big size tub and it will be a nice display in or out of the house. I know the bride to be and the groom will be happy with the gift.

Delivery was prompt and well packaged. Thank you!

Tub Review
By
Ann P.

(West Hartford, CT) - October 8, 2009 (
See all reviews by this customer
)
The tubs looked much better than I envisioned in person than in the picture. Monogram was easy to read. They were used at a wedding reception to hold iced bottled water and became a wedding present after that. Many compliments were received.

holds flowers?
By
Julie M.

(Amagansett, NY) - April 16, 2010 (
See all reviews by this customer
)
I was not thrilled with this product. I was expecting something made of a stronger quality, and the engraving barely noticeable at all.

Multi Purpuse Tube
By
Shopper

(Walker, MI) - December 8, 2012
Very nice - high quality product - perfect for my parents pool.

Great gift!
By
Shopper

(Philadelphia, PA) - May 29, 2011
Just what I wanted and arrived in great time!

hampton tub
By
Shopper

(CANTON, TX) - April 30, 2013
we were pleased with the product:)

Love this!
By
Shopper

(philadelphia, PA) - January 25, 2014
I have order this tub a few times now and it never disappoints. I have been giving this as bridal shower/housewarming gifts and people love it! It can be used many ways and looks great on display!

Perfect housewarming gift
By
Donna J.

(North Chesterfield, VA) - July 27, 2013 (
See all reviews by this customer
)
This personalized tub made a great housewarming gift. My son and daughter-in-law loved it, and it can be used in so many ways. It's a nice size and a great price for the quality. As usual, the personalization was perfect!!!

Very Impressive Tub!
Love the personalized etching! Nice & shiny appearance to the tub! Very durable! I'd also like to thank the Personalizationmall company for the superb service & lightning-quick shipment! Many thanks!!!

Nice and sturdy
By
Shelly S.

(Washington, MI) - July 8, 2010 (
See all reviews by this customer
)
Heavier than I expected, nice quality, name is etched clearly. Will make a nice Thank You gift for our neighbors. Would buy again.

Great Way to Create a Gift Basket
I engraved this tub for the wedding couple and filled it with personalized gifts i.e. the monogrammed towels (large, heavy towels), a bottle of wine (happens to have their last name), crystal glasses with names engraved for the wedding. It was a gorgeous gift! They loved it!!

looks impressive
By
Andrea H.

(Ohatchee, AL) - October 4, 2010 (
See all reviews by this customer
)
this was a retirement gift. the new owner seemed pleased.
like the stand, could have been packed for shipping better. both arrived in good condition, but i'd say they were both lucky. i work for the P.O. and there are alot of heavy boxes shipped daily. these items could have been damaged.
that being said, the tub itself looked GOOD. shiny, engraving was nice, and it seems sturdy enough for its purpose. a little nicer than the galvanized ones that are available.
the size was good too. i'd highly recommend this for anyone that likes to entertain.

love it
By
Beverly F.

(Hugo, OK) - September 21, 2010 (
See all reviews by this customer
)
This is the third time I've ordered one of these as a gift. Everyone seems to love it.