Pleased
By
Vicky D.

(Gardner, KS) - December 11, 2009 (
See all reviews by this customer
)
Velour Towel Wrap was a gift. Was very pleased w/ the production and delivery time. Recepient seemed pleased w/ the gift. I would order from this site again.

Great
By
Linda P.

(Robins, IA) - November 28, 2009 (
See all reviews by this customer
)
Received it. Am very pleased. Am excited to give it to her
for Christmas. Thank you.

Well Pleased
By
Margie T.

(Milan, TN) - November 18, 2009 (
See all reviews by this customer
)
I order the bath wrap with my daughter's name on it and when it came the quality is great the I feel she will be well pleased with it. I do see me ordering from this site again.

Margie

Milan TN

Perfect Gift
By
Shopper

(The Colony, TX) - January 4, 2014
Gave this gift to my mother. I always seem to gravitate to these personalized gifts. Towel Wrap was thick and soft! Embroidery was high quality. Nothing negative here.

love the towel wrap
By
Shopper

(iselin, NJ) - February 15, 2013
i love this towel wrap. It fits comfortably and covers up well for a one size fits most.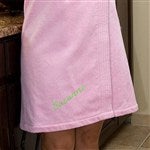 wrap
By
Renee M.

(Homosassa, FL) - May 1, 2012 (
See all reviews by this customer
)
I love it, just wish it was a little smaller, it's a little big for me. Other than that, it's really cute.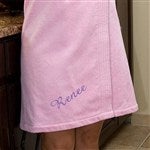 very pretty color !
By
Shopper

(Rome, ME) - July 2, 2011
this item arrived very promptly unlike other sites I've ordered personalization from. The wrap is soft and the color is a very pretty pink- more so than the photo depicts, but perhaps it's my computer. Quality embroidery. I guess my only reservation is the stiffness of the velcro- but hey that's VELCRO and nothing to do with the construction of this item.

Great product!
By
Sharon S.

(Escondido, CA) - June 6, 2011 (
See all reviews by this customer
)
I received my towel wrap in the mail,and tried it and I love it!! It is very soft and absorbent. I would recommend it to others.

Lovely towel wrap
By
Shopper

(Wausau, WI) - May 31, 2011
I bought this for a young lady going off to college and she loved it. My only criticism is that I wish her name was in a slightly bigger font. I think it would have made for a nicer design. That said, it is worth buying and owning yourself or gifting. It makes a nice first impression.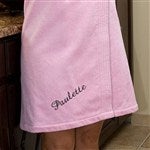 LOOKS NICE!
By
CAROL C.

(ROANOKE, VA) - September 27, 2010 (
See all reviews by this customer
)
I got the pink and it was a pretty color. Very good size. It was not skimpy but I was hoping for a little more plush. Still overall it was really nice and am thinking of getting others as xmas presents. Monogram looks real nice also. Pretty script.

Nice
By
Elizabeth A.

(New Canaan, CT) - April 21, 2010 (
See all reviews by this customer
)
Pretty in pink

PERFECT!
By
Andrew A.

(Hollywood, AL) - April 1, 2010 (
See all reviews by this customer
)
I bought my wife the pink towel with the lime writing and she loved it. She now wants a white one.

Great customer support
By
William B.

(Zelienople, PA) - March 15, 2010 (
See all reviews by this customer
)
My original order came with the wrong name embroidered. So I immediately called and talked to the most pleasant and accomodating young lady. She was profusely apoligetic and promised to send me the correct one which I received just two days thereafter. I was extremely pleased with the service I got and my wife loved the wrap.

Bright pink color
By
Christine H.

(Hobart, IN) - February 14, 2010 (
See all reviews by this customer
)
The material of the towel was terrific. However, the color was a very bright pink, which I was not expecting. Overall, satisfied with my purchase.

Loved the wrap !
By
Debbie L.

(Rolla, MO) - December 21, 2009 (
See all reviews by this customer
)
I got this towel wrap for my daughter in law. Its very nice, and thick as well. The name looks beautiful on the towel.I think the elastic in the back she will love. I got it for her for Christmas so I haven't given it to her yet. But I know she will love it. The only downfall was how expensive it was, I do believe the price could be a little less.

a must for "pink" lovers... almost perfect towel wrap
By
Mary G.

(Bonita Springs, FL) - October 30, 2009 (
See all reviews by this customer
)
What a great purchase overall. That said, my ONLY negative is the velcro closure on top makes for a too-tight fit... I'm 5'10" and 170 pounds (not top heavy) and am forced to leave 2" of velcro exposed in order to "widen" the top for a comfortable fit. Hoping over time the elastic will loosen up a bit (?). Now the positives are numerous... this is a cheery bubblegum pink (not a soft light pink as pictured) which is perfectly matched with monogram thread color "flamingo rose"... this combination is a hit and I'm thrilled with the end result. The 100% cotton terry is absorbent on the inside and soft on the outside. Love it!!!

Great softness, but 1 size doesn't fit all
By
Michael N.

(Los Angeles, CA) - March 2, 2010 (
See all reviews by this customer
)
It came in the mail just on time, looked great when my girlfriend unwrapped it and saw the embroidery, and felt so soft and fluffy...but was waaaaaaay over sized when it came to coverage. now, my gf is very small (about 5 feet tall, 110 lbs) but having a larger and smaller size would have been perfect. I know, it's kinda being sour grapes, but it would have been nice. Great softness and the embroidery was excellent, so an average score from me.