Personalized Wallets
By
Linda M.

(Canada) - November 17, 2009 (
See all reviews by this customer
)
Very pleased - I am sure my nieces will love them!

Great Find!
By
Linda A.

(San Jose, CA) - November 13, 2009 (
See all reviews by this customer
)
I ordered this personalized wallet for my granddaughter. It arrived in a flash, the personalization was perfect, as was the item. Very sturdy, very cute, and when she opens it...she may even find a few dollars in it! I know she will love it!

Nice gift!
By
Robin G.

(Lovettsville, VA) - October 8, 2009 (
See all reviews by this customer
)
My daughter loved this! It is the perfect gift for a child looking for a first wallet.

a grandaughter's delight
By
Sally H.

(Avon, CT) - October 7, 2009 (
See all reviews by this customer
)
"It was just what I always wanted", she said when she opened her gift. It was something I had looked for in many places, and finally found at your shop. Thank you so much for making us both happy. Sally Hurlbert

not just cute
By
Shopper

(Bethpage, NY) - September 13, 2013
This wallet feels well made and not like a flimsy Velcro wallet. I gave 4 stars because there is no zipper to hold change. Daughter thinks its cute and really likes having her name on it.

Gift idea
By
Shopper

(Norwood, NY) - December 12, 2012
Great gift for the little girl who has lots of toys but is old enough to get something on the "big girl" end of things. Added some cash with the wallet for how old she is and it made a great gift! She loved it. I just wish it has a spot for coins, but for a first wallet it is cute.

Cute girls' wallet
By
Shopper

(Aguascalientes, Aguascalientes) - August 10, 2012
My daughter really liked this wallet. The personalization makes it very unique. I just wished it had an internal zipper for the coins. The quality of the product is really good and overall is a nice product.

Only rated 4 stars because there is no coin compartment
By
Shopper

(Catawissa, PA) - April 10, 2012
I purchased this item for my grandddaughter who has an unusual name and can't ever find retail products with her name. The wallet is a good value. The only thing I don't like is that there is no coin compartment.

Valued shopper
By
Shopper

(bloomfield, CT) - December 30, 2011
I bought this wallet for my 8 year old daughter and she loves it. She put her school picture in it as well as gift cards she received for christmas and of course her money. She carries it around everywhere in her little purse.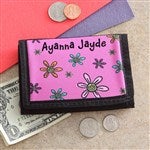 Just right!
By
Shopper

(Rockville, MD) - December 21, 2011
Our 6 year old really loved this wallet!

wonderful wallet
By
Shopper

(Fruitland , MD) - December 20, 2011
My granddaughter will be very happy with her own little wallet with her beautiful name on the front! She will be able to keep her change in a safe place and insert all of her pics and play credit cards in the places in the wallet. It will be carried by her every where she goes and will show it to all her friends.

perfect 1st time wallet
By
Ann R.

(Mishawaka, IN) - September 25, 2011 (
See all reviews by this customer
)
loved the monkey face on this wallet

Well received Easter gift!
By
Shopper

(Euclid, OH) - April 25, 2011
I bought these cute little wallets for my grandgils ages 4 and 6 and they were quite happy with them. I was too.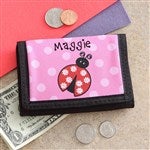 Misunderstood
By
Charlene C.

(Macon, GA) - December 23, 2010 (
See all reviews by this customer
)
For some reason, I thought the personalization was done in embroidery and not just written. I like the wallet and everything else about the gift though. Maybe I didn't understand, or maybe you didn't spell it out.

Great Value
By
GENEVA L.

(LAS VEGAS, NV) - December 22, 2010 (
See all reviews by this customer
)
The only reason why I am not giving this 5 stars is because of the plastic photo holder. It slides in and out of the wallet and with kids I don't think it will last long. Furthermore, I don't think the photo pockets actually fit wallet size photos. I only put one in but I had to cut it down some. I ordered the pink flowers and the little monkey. The pink flowers was a little disappointing the pink is dark a dull and not bright. The flowers really don't stand out as much as I had hoped. The little monkey is adorable and looks as pictured on the website. Overall a great value for the money.

Personalized little girl's wallet
By
Vicki M.

(San Angelo, TX) - September 27, 2010 (
See all reviews by this customer
)
Cute but maybe a tad big overpriced. It will be a stocking stuffer so I did not open the plastic wrappper yet.

Wallet
By
Janet S. R.

(West Hartford, CT) - December 5, 2009 (
See all reviews by this customer
)
Great item - especially for people who have strange spelling names - definitely for child or young teen.

Cute!
By
Ann P.

(Collinsville, CT) - December 4, 2009 (
See all reviews by this customer
)
Perfect! I have tucked a couple of bills in it along with a gift card and photos for my 6 year old niece. I purchased sports themed ones for young nephews in the spring and they were a big hit.

Cute, but ................
By
Shopper

(Festus, MO) - December 2, 2012
The wallets are cute but the quality was somewhat less than I expected for the price. I think my grandaughters will be pleased with them so I do not regret the purchase but believe they should be priced lower.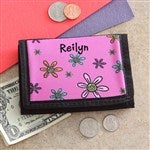 Children's wallet
By
Shopper

(Seattle, WA) - February 3, 2012
The wallet was damaged when it arrived. Contacted Personalization Mall. Sent them a photo of the damaged wallet, and they responded stating they would send a replacement soon. GREAT customer service! Still waiting for the replacement but I'm sure it will be fine.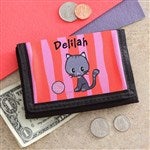 It's ok
By
Shopper

(san jose, CA) - December 9, 2011
Looks a little cheap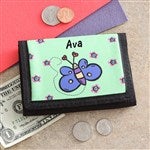 personalized wallet
By
Shopper

(Pulaski, WI) - January 29, 2011
I thought it would of been made just a little bit better. It talks of a coin area, but personally, I think the coins would fall out!

No place for coins
By
Ann M.

(Lebanon, OR) - December 25, 2010 (
See all reviews by this customer
)
There is no coin holder. It's a sweet child's wallet, though the name is not sewn on, but looks like it was written on with a non-bleeding marker. A bit of a disappointment, but my child liked it.

Ladybug Wallet
By
Kim J.

(Grimesland, NC) - March 16, 2010 (
See all reviews by this customer
)
The wallet is cute but for the price, it should have at least had a place for coins...a place you can zip up. I realize the personalization is free and I love that you provide that but honestly, I could have purchased a sharpie pen and wrote my daughter's name on it.

I have no doubt my daughter is going to love it no matter what. Thanks!

Nice stocking stuffer
By
Diane H.

(Westfield, MA) - December 13, 2009 (
See all reviews by this customer
)
Well made, rugged. My young granddaughters will love the designs. There is no zipper for change, however, which I think takes away from the utility of the wallet. Does have spaces for pictures, which younger kids will probably like a lot.

Not what I expected
By
Marta P.

(Ashburn, VA) - January 7, 2010 (
See all reviews by this customer
)
Purchased wallet for 8 yr old daughter. I handed it to her, she said it was hard to separate the velcro, it was very thin and not enough compartments, especially for coins (although picture on website shows coins in the wallet, they fall out and doesn't have enough room). It looks more like a boys wallet. I'm not sure she will use it. The name on the outside and design is pretty, but I don't think it will serve it's intended purpose