Beautiful Work
By
Shopper

(Houston, TX) - July 25, 2011
I have ordered personalized items from Personalization Mall before, and I am always very pleased with the outcome. The work is beautiful and the item always arrives quickly. I will certainly order more from this company in the future. Their personalized items make GREAT and unique gifts.

Great House Sign
By
Laura M.

(Phoenix, AZ) - May 21, 2011 (
See all reviews by this customer
)
This is a very nice quality, sturdy, heavy duty, and beautifully done plaque that can add a touch of elegance to the entry of any home. Once I put it up, I feel like it personalized and warmed up my home's front porch. Since it's a little heavy you have to make sure you hang it securely. Thanks Personalization Mall!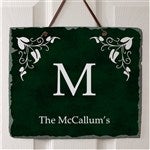 love the slate plaque
By
Shopper

(West Bloomfield, MI) - March 21, 2011
We love the look and quality of this product. It looks very handsome outside of our house and on our door. I would have liked larger printing for our name but it is still very visible. Fast delivery as well.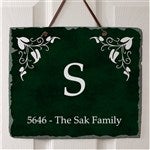 Better than expected!
By
Shopper

(Biggs, CA) - March 8, 2011
I purchased this as a housewarming gift. It was amazing how fast it arrived, and when I saw it I was SO pleased. It was even more beautiful than expected! I like the feature that allows you to see what the finished plaque looks like online before you order. Needless to say, the recipients were very pleased with their gift. I love your site!

Perfectg
By
Mark M.

(Harrah, OK) - October 7, 2010 (
See all reviews by this customer
)
I loved this plaque in the catalog but up close I really loved it. I can't wait to give it to my daughter and new son-in-law when they get their house. I got one for my daughter earlier and when I got it a small corner was chipped but with it being made of the slate it really wasn't noticeable so my husband and I decided to keep it. We love the quality of your products. Thanks for all your products. We ordered mugs for the groomsmen and they turned out perfect!
Wonderful website and easy to use.


Absolutely beautiful
By
Melissa B.

(Pittston, PA) - July 14, 2010 (
See all reviews by this customer
)
I thought this plague looked so beautiful when I saw it online. It is even more so in person. I ordered it in beige and had it personalized as shown in the example, with our family name.

It arrived today, and I could not wait to put it up on the wall in my entryway. My mom was with me when I opened it and she loved it too. Would be a perfect wedding or housewarming gift. Don't hesitate to purchase for yourself!

Slate Plaque
By
Carolyn H.

(Kenosha, WI) - April 2, 2010 (
See all reviews by this customer
)
Loved it! The quality, the size & the look of it was every thing I had hoped it would be. I plan to order more & give them as gifts.

Ginger McCoy
By
Ginger M.

(Kimberly, AL) - February 19, 2010 (
See all reviews by this customer
)
I ordered the Elegant Monogram Slate Plaque for my daughter and her husband for their new home. They love it !!! It exceeded all of my expectations. I am so happy I stumbled upon your website.

Elegant
By
Charlene B.

(Tullahoma, TN) - February 11, 2010 (
See all reviews by this customer
)
Exactly what I was looking for. The quality of the piece was made surprising well. I would definitely order from PersonalizationMall.com again and again. Highly satisfied.

Slate Plaque review
By
Liana C.

(Clearwater, FL) - December 27, 2009 (
See all reviews by this customer
)
This product was just beautiful. I bought it as a gift and it was a huge hit. The slate was excellent and the engraving was flawless. Was heavier than I would have thought, this is extremely well made. I would have no problem ordering from you again.

OUTSTANDING SERVICE
By
DIANA N.

(VANCOUVER, WA) - November 23, 2009 (
See all reviews by this customer
)
Thanks for your outstanding service. My wall plague looks great on my brick fireplace. I can't wait to tell my friends anc co-workers. I will recommend your business for any future engravings. Your processing and shipping time is great.

Great price for the perfect gift
By
Danielle G.

(New Berlin , WI) - October 7, 2009 (
See all reviews by this customer
)
I loved the choices of colors, and bought two, one in green and one in burgendy, I can't decide which I like more, they are both so lovely!

Nice plaque
By
Cherry S.

(Rome, GA) - July 11, 2014 (
See all reviews by this customer
)
I ordered 2 of these,one for me and the other for my son. They are very pretty,I guess I did not read very well,I thought they were wood. I wanted to hang on my
carport door but it was too heavy and clanged when you opened or closed the door.
I thought it would crack or break,so I hung it on the wall in my den. I still love it!!

almost perfect
By
Daniell B.

(Sneads Ferry, NC) - December 22, 2011 (
See all reviews by this customer
)
Some of the edges broken off

very pleased
By
greta K.

(oceanside, NY) - September 17, 2010 (
See all reviews by this customer
)
i ordered this monogram to put on my front door, and i am pleased to report that already some of my neighbors have commented on its look. The only drawback is that is feel the cord needs to be a little sturdier, but it is hanging fine and i just hope it withstands the winter ahead! It survived a severe rainstorm last evening. Good Job!

not exactly what I expected, but still beautiful
By
Jessica R.

(Sykesville, MD) - August 5, 2010 (
See all reviews by this customer
)
I purchased the plaque in the burgundy color, and rather than using some sort of stain to dye it the color, Its printed on, so it has that sort of sheen to it that you get with some computer printed inks, it is slick. Other than that though its gorgeous.

Nice
By
Wayne H.

(Newton, NJ) - May 19, 2010 (
See all reviews by this customer
)
It came with a scratch through the blue paint and gloss but other then that it is very beautiful

Good plaque for great price
By
Douglas C.

(South Portland, ME) - October 30, 2009 (
See all reviews by this customer
)
I got this for my parent's wedding anniversary. Great plaque, but in the photo it is hard to tell--I thought the letters were actually etched in the stone, but it is printed on top of the stone. Still nice, but can be deceiving.

Nice plaque!
By
Jen A.

(Uncasville, CT) - October 13, 2009 (
See all reviews by this customer
)
Looks good on my wall! I'm happy w/ this purchase!

Great Item - But fades
By
Susan O.

(Englewood , CO) - August 16, 2013 (
See all reviews by this customer
)
This was fantastic when received and looked great but faded quickly outside. I purchased black and it now faded to a dull dark green.

Happy Home
By
Shopper

(Brockton, MA) - February 15, 2012
The Door Plaque eluminates that they are about to enter a home filled with joy the plaque was perfect to complete my home.....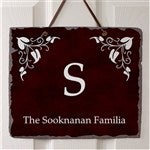 Nice quality/ colors different than expected
By
Shopper

(Suffield, CT) - July 25, 2011
I originally wanted the vertical version of this with the "Est. Date" on it but our last name was too long...this one is very high quality. However, I was disappointed that the dark blue did not match the color on the site ...more of a grey. The finish is also very glossy which I wasn't expecting.

Happy customer
By
NICHOLAS P.

(CALDWELL, NJ) - April 27, 2010 (
See all reviews by this customer
)
This slate was nice. I have to admit, I was not over the top about it. Its alittle shiner then I expected. But it is nice, and many people would probably like it. There is nothing wrong with it and I do have it hanging outside my home. It doesnt look handmade, it looks very factory made. Its just ok..

Disappointed
By
Shopper

(Johnson Creek, WI) - November 23, 2011
I have previously orded the Monogram Slate Plaque in the Dark Blue color and was so happy with it that I ordered multiple of it again as gifts for clients. Unfortunately the items I received were a big dissappointment; they were not dark blue, but sky blue and looked tacky vs elegant.

I contacted the customer service department expressing my displeasure with the product and received excellent care. My concerns were passed along to the production department and new plaques were sent out within 48 hours. Unfortunately, the replacement items were no better than the originals.

Working under time constraints, it was necessary to purchase other items to give to my clients, more time and money spent.

To summarize, I will purchase items from Personalization Mall however it will definately not be the Dark Blue Elegant Monogramed Slate Plaque.


Not What I expected
By
Terri C.

(Shelbyville, KY) - June 3, 2011 (
See all reviews by this customer
)
The photo on the website made this look like a satin type finish. It is not. It is high gloss finish. The wording at the bottom seemed out of proportion to the large letter in the middle. I ended up painting over mine with a satin finish and will find a stencil to do what I want.