Awesome!
By
Shopper

(Red Bay, AL) - April 7, 2014
This clock is little but it packs a big punch! It is beautiful yet inexpensive, which is for us is a bonus since we're a rural hospital with a small budget! Best of all, our docotr's loved them!

A Wow Effect
By
Shopper

(Pine Lake, GA) - December 31, 2013
The engraved marble clocks exuded such class! The weight of the clocks suggested the authenticity of the marble. The black-tie box with signature tissue wrapping was extremely elegant! The velvet drawstring sack and packaging said "gift par elegance" to the recipients. Thank you for making a great impression on my friends, and an even greater one on me! I shall return to Personalization Mall again and again. Oh! The pricing was so consumer friendly!

Great gift idea.
By
Karen H.

(Lynwood, CA) - June 17, 2013 (
See all reviews by this customer
)
Great gift idea and reasonable price. Makes a wonderful gift for anyone with a desk.

Gift for a Physician/U.S. Congressman
By
Richard W K.

(Henderson, NV) - March 19, 2012 (
See all reviews by this customer
)
I thought this an appropriate gift for a Physician who is also a United States Congressman. I visited him recently in his office, to share some of my concerns and also to thank him for the fine job he does in representing our State and all of his constituents. I received a Thank You from him, happy for the beautiful marble desk clock with his name and titles engraved on it. It is of excellent quality and I felt it a very fitting gift for him. He assured me that it now sits proudly on his desk. I have always been quite pleased with my purchases from Personalized Mall, and will continue to be a customer as the need arises. You are very professional and it shows in all you do! Thank You.

Treasure
By
Patricia A.

(Canada) - October 31, 2011 (
See all reviews by this customer
)
So happy with this a wonderful keepsake to someone special

Great Personalized Clock
By
Carol C.

(Shelton, CT) - July 31, 2011 (
See all reviews by this customer
)
This item was delivered quickly and perfect! The item is great but PersonalizationMall.com is even better. They are quick, take pride in their products and have excellent customer service! Do not hesitate to purchase from this website-they are 2nd to none!!!

Wonderful
By
Carla J.

(Evansville, IN) - May 28, 2010 (
See all reviews by this customer
)
Wonderful quality, great price, speedy service! This is a wonderful website!

Needs better wrapping
By
Lana N.

(Houston, TX) - May 27, 2010 (
See all reviews by this customer
)
It is a nice clock. However, when I recieved it , it had a scratch on it. So I don't know if it is from the shipping or needs to be inspected before it is shipped to the customer.


Nice Creative Gift!
By
Nicole G.

(Mayfield Heights, OH) - April 19, 2010 (
See all reviews by this customer
)
The clock itself and the engraving were very nice and I liked the gold engraving. The clock was smaller than I thought though, it looks bigger on the site. Still a great gift for an office!

Nice and heavy clock
By
Shopper

(savannah, GA) - November 7, 2013
The clock marble was extremely heavy and pleasing to the eye but the size more like a paper weight. This I could have handled but the personalization put on it was something that I could not read and I am the one that ordered it. The name was so close together you didn't know what you were looking at and the title underneath was just as bad. A good clock but with no writing!!

OK Product
By
Joy B.

(Dallas, TX) - November 21, 2011 (
See all reviews by this customer
)
This is a great little desk clock, but its appearance is diminished by the natural imperfections in the marble which look like flaws. Unfortunately, all the spots are on the front, close to the personalization. Basically, I guess this is just bad luck on the particular clock I received.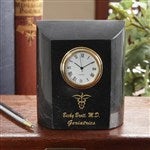 Clock personilizatio too small
By
Shopper

(savannah, GA) - November 12, 2013
I purchased this clock but was very disappointed in the personalization. The name should have been larger so it could be read. The font is ok but it is pushed together so it is non-legible. Clock size is perfect for a desk.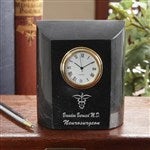 desk clock
By
Dawn S.

(New Lisbon , WI) - May 18, 2010 (
See all reviews by this customer
)
Although I have like everything I have purchased from your company in the past, I was very disappointed with this desk clock. It was smaller than I thought, and the marble was scratched in places. I would not recommend buying this clock.