Xmas covers
By
Shopper

(Plainfield, IN) - November 15, 2011
Nice quality!!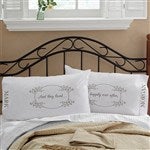 Awesome
By
Barbara E.

(Hemingway, SC) - October 28, 2011 (
See all reviews by this customer
)
The pillow case are great. It's own 2years Anniversary.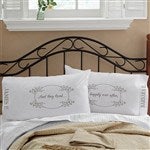 Mrs.
By
Florence L.

(Calabasas, CA) - October 21, 2011 (
See all reviews by this customer
)
I ordered the persoanlized pillow cases for my friend's bridal shower. She opened today at the party, everyone in the room loves the gift. You should be in the party with me, the eyes and mouth are opened so wide on each one of them. "Oh my god, the cuties gift, where did you find it?" The bride to be are so happy with the gift. I ordered two sets for two friends bridal shower. I will write another review in December for another bride to be. Let see how other group react to the gift. I love it myself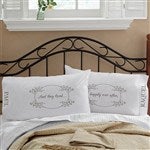 So sweet, made her cry
By
John O.

(Kingman, IN) - December 20, 2013 (
See all reviews by this customer
)
Truth is bought this as an after thought, it was kinda cute and a bit cheesy.
WOW! After being married for 30 years and thinking I know my wife I put these
on the bed after she had been gone on business for two weeks. She came out of the bedroom with tears in her eyes. Hey, I send flowers to her when she is away I am a romantic, but this totally took me by surprise. Cuddled on the sofa. She kept saying "so sweet" The cases are great They fit the pillows on our queen size bed.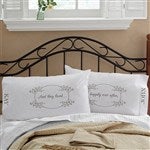 Personalized Pillowcase set
By
Shopper

(Claremore, OK) - August 19, 2013
I was very happy with my purchase of pillowcases. They wer Perfect! and arrive in just a few days!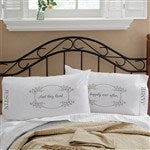 Gifts to be given
By
Betty L.

(Farmington, CT) - July 29, 2013 (
See all reviews by this customer
)
I ordered 2 sets of pillowcases as anniversary gifts for our kids. Haven't given them out yet but the quality seems very nice and I hope they will be enjoyed!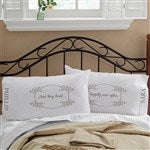 cute shower gift
By
Shopper

(Milton, DE) - June 9, 2013
really a great quality gift at a very reasonable price for a monogrammed gift.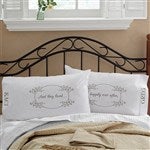 Perfect Anniversary Gift
By
Jennifer C.

(Morristown, TN) - May 21, 2013 (
See all reviews by this customer
)
I got these pillowcases for my parents on their 25th anniversary and they loved them! I have made lots of purchases from personalizationmall.com and have NEVER been disappointed! I was a little worried about getting them on time since I waited longer than I should have, but I ordered them on Sunday night and they were on my doorstep when I came home from work on Wednesday afternoon. They turned out wonderful and made my mom cry. Dad said they would take them on their anniversary vacation because they wanted to use them right away.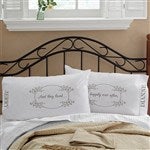 exactly as described
By
Sidney C.

(Dallas, TX) - April 9, 2013 (
See all reviews by this customer
)
We like the pillow covers. I personally prefer the ones that have a flap to tuck in the pillow (don't know what it's called exactly lol) but these are very pretty too.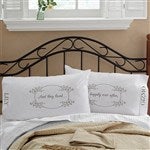 great gift idea
By
Carolyn C.

(Maryville, MO) - March 30, 2013 (
See all reviews by this customer
)
Bought the pillowcase set for a friend, item was sent fast, seems to be great quality(can't really take it out of the orignal packaging). I am always pleased with the items i order from the website!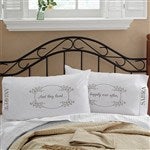 Happily Ever After Pillowcases
By
Myra R.

(Avon, NC) - February 19, 2013 (
See all reviews by this customer
)
It looks perfect and my husband loved the gift. The printed side is not that comfortable to sleep on so I turn the pillow over to go to sleep. Perhaps it will be better after a few washings.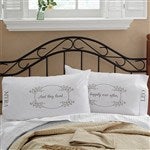 great gift
By
Shopper

(Lancaster, SC) - February 11, 2013
it is a great wedding gift!! the reciever loved it and said that was a very unique gift!!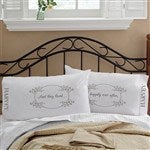 CHEAP Looking
By
Shopper

(Keuka Park, NY) - January 29, 2013
I am very disappointed in the look and feel of this product. It looks cheap and feels cheap. The lettering is just printed on,not even screen printed so it has no feel to it. At this point, after I have been refused a refund, I would not recommend this product nor this company. I would be ashamed to give this gift to my friends.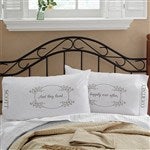 Font
By
Ann L.

(Encinitas, CA) - November 9, 2012 (
See all reviews by this customer
)
Would have preferred the names on the cuff in the same script as the Happily Ever After. The bold lettering is unfortunate and takes away from the elegance of the pillowcase. ~~A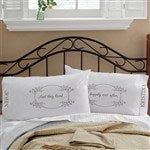 Printed not embroidered
By
Patricia H.

(Orange Park, FL) - November 5, 2012 (
See all reviews by this customer
)
I did not realized this was printed on the fabric and not embroidered. It does not seem to be the quality I am used to from Personalization Mall.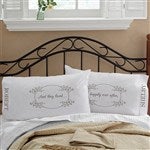 Great Product
By
Shopper

(SanJose, CA) - August 17, 2012
The pillowcases came out great. The shipping was very fast. Overall a very nice product that will make a nice adding gift.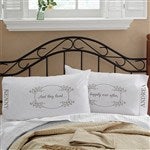 quality of item
By
Carol G.

(Venice, FL) - July 24, 2012 (
See all reviews by this customer
)
The quality of print was not as dark as it appeared in the photo. Also, I paid an additional fee of $5.95 for wrapping. I had to re-wrap it because it was only in a box with an elastic string on it. I expected more. Not sure if I will order from you again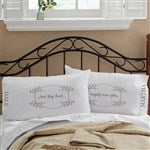 Great gift
By
Shopper

(Franklin, IN) - June 9, 2012
These pillowcases were a hit with the newly married couple. I just wish they were a little softer.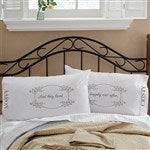 Great Wedding Shower Gift
By
Susan G.

(Lincoln, CA) - May 19, 2012 (
See all reviews by this customer
)
I bought these as a gift for my daughter and her fiance. I will give it to them at their upcoming Couple Wedding Shower.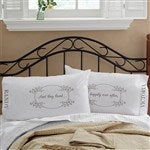 wonderful
By
TONYA W.

(BATON ROUGE, LA) - April 29, 2012 (
See all reviews by this customer
)
my husband and I just got married and is a wonderful item to add that special touch to our bedroom.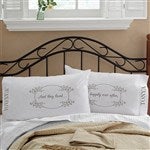 Cuter than the photo
By
Shopper

(Marietta, GA) - April 2, 2012
I am very pleased by the quality of the pillowcase set. I am sure that the bride to be will be excited about it when she opens it!!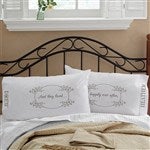 Pretty Pillowcases
By
Marielizabeth S.

(Florence, SC) - February 27, 2012 (
See all reviews by this customer
)
These are really cute for a new married couple. The quality it good and you will need queen sized pillows to fill them. The personalizing is so cute!!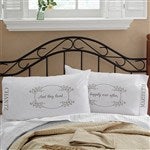 Nothing to special
By
Shopper

(Sheridan, WY) - February 24, 2012
Loved the saying on the pillow, they are not ment to be slept on unless you like a scratchy surface to lay your head on. I had to put 2 pillows, one thin and one thick just to fill the pillowcase. They are WAY to oversized! I wish whey were more like a decorative case rather then the open end because they are more for looks because of the scratchy hard surface from the writing. They are nice thick pillow cases however.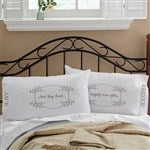 Fabulous
By
Lourdes B.

(Ridgefield, NJ) - March 23, 2010 (
See all reviews by this customer
)
These pillow covers are a fabulous gift for any newlyweds.

Nice for wedding gift
By
Shopper

(Lincoln, NE) - April 3, 2013
I really liked how the names turned out. Daughter will love this!! I hope it will last through washes.

Unique gift
By
Shopper

(Oakland, NJ) - June 4, 2013
Nice quality and quite diffent. Make sure you know which side of the bed each person sleeps on -- I got it right! I would highly recommend if you want to get something different for the couple. I purchased this with the black & white canvas and matching picture frame. It made a very nice gift and the couple loved it.

Unique Idea Anniversary Gift/Difficult to Buy For
By
Shopper

(Carroll, OH) - October 15, 2012
Looking for something unique? You found it! Romantic, pretty and memorable wrapped into one; great price point, as well. Classic Personalization Mall quality and would have given 5 stars as I normally do, however, the material of the pillowcases is "stiff" and would have gladly paid more for soft/high thread count ones to go w/high thread count existing bedding. Overall, fantastic purchase :)

Happily Ever After pillowcase set
By
Bridgette L.

(Augusta, GA) - April 15, 2010 (
See all reviews by this customer
)
Nice

Forever Pillow Cases
By
Shopper

(Wilson, NC) - July 5, 2012
They were nice. Wish it had a little more design or variety of colors to choose from. But the pillow cases overall were nice.

cute gift
By
Nicole J.

(Hoboken, NJ) - August 29, 2012 (
See all reviews by this customer
)
I've been wanting these for a while but thought them a bit pricey so when I got a coupon I went for them. They arrived quickly and the personalization was done accurately. Definitely would be good as a unique gift for newlyweds or for a bridal shower. The only cons are that the fabric is a little stiff and the character limit was too restrictive for me so I had to get creative in my personalization.

Pillowcases
By
Sandy A.

(Gibson, NC) - January 29, 2011 (
See all reviews by this customer
)
The pillowcases are beauitful, But I was expecting them to be embroidered and they are printed.

Wedding Gift
By
Shopper

(Bakersfield, CA) - February 5, 2011
I received these very quickly but was disappointed that the script 'happily ever after' was slightly slanted across the pillow case. And I did not expect the names to look like 'iron on's'. However, I did like the idea of this gift so I put them on bed pillows I had purchased and wrapped them. The couple absolutely loved them! So, in the end, I was pleased with this unique and personalized gift.

Really cheap looking
By
Shopper

(bridport, VT) - April 8, 2013
Disappointed when they arrived they were arrived. They looked like iron ons. Nothing special about them at all

So awesome
By
Julie S.

(West Seneca, NY) - July 14, 2010 (
See all reviews by this customer
)
Love the pillow cases! The names were hot ironed on the cases and it is noticable...but they are so soft and since the couple is so easy going they will love it! I wouldn't recommend it for the "high strung" kind of gals who need everythinggg perfect! haha

Happily ever after Pillowcases
By
Nadia C.

(Springfield gardens, NY) - January 24, 2012 (
See all reviews by this customer
)
These were done nicely, they came in the exact time alotted.

Great gift idea
By
Sannyu H.

(Nolensville, TN) - May 24, 2010 (
See all reviews by this customer
)
We purchased this for a 13th wedding anniversary gift. I was a little let down that the embroidery had a green tint to instead of solid black as it looks in the picture. Otherwise it was a great and the couple loved it.


Show Stopper Wedding Gift
By
Shavon R.

(Philadelphia, PA) - September 21, 2010 (
See all reviews by this customer
)
I gave this gift to the Bride at the Bridal Shower and when she opened it and held it up the entire room gasped. She absolutely loved the gift and so did the groom. This is a great gift. The only reason I did not give this item 5 stars is because I'm a bit concerned with how well the personalization will stay on after washing.

Mismatched Colors
By
Shopper

(Hillsboro, OR) - May 8, 2013
The pillowcases are cute and they were inexpensive, so I don't want to complain too much. Online the writing just looked all black to me, but when I received them, there are 2 different colors. The design is sort of a medium-ugly brown, the quotes and the names are a darker brown. Not a big deal, just a little disappointing.

Sentimental not comfortable
By
Leeann B.

(Enumclaw, WA) - May 5, 2010 (
See all reviews by this customer
)
These are really cute - the couple will love them, though the thread count could not be very high - kind of stiff. Not washed yet though.

Shipped quickly!

What a wonderful gift
By
Patti W.

(Ventura, CA) - May 6, 2010 (
See all reviews by this customer
)
I bought these pillowcases for my daughters bridal shower. What a great hit. Everyone loved them including my daughter.