Great item!
By
Diane L.

(Eastchester, NY) - May 3, 2010 (
See all reviews by this customer
)
Good quality, fast turnaround & shipping. HUGE bag! Very happy.

Cute Tote Bag
By
Annette H.

(Woodstock, GA) - April 28, 2010 (
See all reviews by this customer
)
I love the tote bag. I bought as a gift for my daughter and I think she will absolutely adore it. Thank you.

Teacher appreciation gift
By
Yvonne F.

(El Paso, TX) - March 29, 2010 (
See all reviews by this customer
)
The quality of the item is great, and looks even better once you receive it. The bag has lots of room and the colors are very bright. The time from order to delivery is super fast, great site.

cute
By
Shopper

(Fresno, CA) - November 27, 2013
My son's teacher will love this bag. It's size will hold many books of all sizes & it is very durable. It would be nice if the tote itself came in other colors, however the handprints are great. His teacher is going to love it!

very nice tote
By
Catherine W.

(Auburn, AL) - November 26, 2013 (
See all reviews by this customer
)
The tote was much bigger than expected. This is for a friend that got her first full time teaching job. I know she will love it.

Love the handprints
By
Shopper

(San Diego, CA) - June 3, 2013
Reusable totes will be used for many years to come and it was such a special gift to give to such an inspiring teacher. My son and I loved it, and so did his teacher.

Perfect!
By
Shopper

(Crestline, CA) - June 2, 2013
Just what I was hoping for! Sturdy canvas bag with quality lettering. The only negative was the strong chemical-like smell when I first opened the plastic bag. Luckily, it arrived a week before I needed to give it as a gift, so I had plenty of time to air it out. Good quality, good price.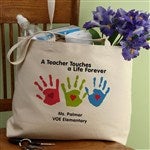 Helpful Tips
By
Shopper

(Louisville, KY) - May 16, 2013
I purchased this gift for my son's birthday. He is a school teacher and minister. He was pleased with the gift. His only complaint was that he wished that educator and minister was on a separate line under his initials. And that the Mr. K was the largest print. This personalization was done without me asking him. My suggestion is to allow one more line instead of only two for personalization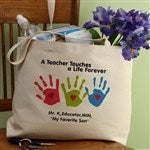 Tote Bag Review
By
shelley F.

(Woodbury, TN) - January 21, 2013 (
See all reviews by this customer
)
Ordered tote bags online for my boys teachers, they loved them. The only thing was not enough to put the word School on the bag so the only drawback was that. It arrived promptly and with no errors. Will defintely use again!

Tough Tote
By
WALTER GLENN L.

(HURST, TX) - March 18, 2012 (
See all reviews by this customer
)
The bags are very nice and very good quality. I like them as gifts. I only wish they would have allowed a few more letters in the personalization.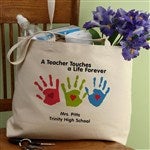 bag
By
Megan M.

(Roslyn , NY) - February 20, 2012 (
See all reviews by this customer
)
The bad cam out great i loved it!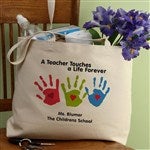 Very Nice.
By
Shopper

(Oak Creek, WI) - December 19, 2011
Bought this as a Christmas present for sister in law. Colors and font came out nice and sharp. Material of the bag looks nice and sturdy. Hopefully it will make it through nice wear and tear.

Teacher's Tote
By
Shopper

(New York, NY) - June 11, 2011
Cute! The message on the bag says it all!

Large tote!!
By
Kelli H.

(Clarskville , TN) - April 10, 2011 (
See all reviews by this customer
)
Very happy with this product! Larger than I expected! Nice and sturdy. Hope the teacher likes it and gets many years of use from it!

NEED HARD BASE
By
Hengkie T.

(Pittsburg, CA) - January 2, 2012 (
See all reviews by this customer
)
I am pretty satisfied with the tote...till I found out there is no hard base .
It is really really much better if you put hard base for the tote...not only
the tote could stand firmly but also for the safety of the stuff inside that,
and for the cleanliness. We could take out the base to clean after we use.
Believe me, if the tote has hard base, it wouldbe the best tote I ever had.