Custom Guitar Picks
By
Shopper

(Greeley, CO) - November 2, 2011
The picks came out AMAZING!!! The picture was exactly like what it showed in the preview of my order before I paid for it!!! The only thing I can suggest is the writing on the back of my picks were really small so it is kind of hard to read, but overall I am very very happy with my order of picks. I will be more than happy to purchase from here again!!!

Guitar pick
By
Mary B.

(Etna Green, IN) - October 28, 2011 (
See all reviews by this customer
)
Picks were ok. The color on the front did not match the color on the back.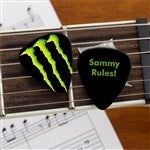 Loved this! Perfect thoughtful gift idea.
By
Shopper

(Leesburg , AL) - October 10, 2011
Turned out great. I only wish that the picture could have been more centered. Overall very pleased. I love it!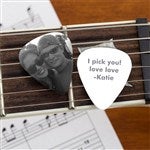 Happy Bass Player's Son
By
Shopper

(Burnsville, MN) - September 25, 2011
I purchased these as a gift for my father at my wedding. I haven't given them to him yet but I am expecting him to be very happy. The picture on them looks great and the weight of the pick is great too.
Strongly Reccomend

Pretty great
By
Shopper

(Trussville, AL) - September 23, 2011
love the picks! Picture looks great but text is not centered on the back side!! :( I didn't like how complicated it was to get the picture on there. I had to add 7 layers of borders just to crop out.

very nice
By
Shopper

(Edinburg, TX) - September 21, 2011
I ordered this item for my boyfried, I loved it, cant wait for him to see it. What i didnt like, was that I had to try a bunch of pictures until I found the right one that fit in.

cute idea
By
Shopper

(Garnerville, NY) - August 28, 2011
cute idea... a little thinner than i thought.. more of a cute favor than as something to put in use.. but i have 20 of them so even if they break, i have many backups!

Great Job with the picture but HORRIBLE writing
By
Shopper

(Kentwood, MI) - August 27, 2011
They did a great job with printing the picture exactly as I wanted but the writing on the back was really small and the letters almost ran into eachother. It would have looked a lot better if they would have made the font bigger especially because there was room. It was mailed quickly and packaged well. Only negative thing would be the writing.

Fun Item
By
Buck McCoy M.

(Franklin, TN) - July 25, 2011 (
See all reviews by this customer
)
These picks are a solid product. People love it when I pass them out at shows. I get the best price from this company. They deliver on time. Go for it. Get some picks today!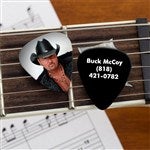 looks good
By
Judy F.

(PEMBROKE, VA) - July 22, 2011 (
See all reviews by this customer
)
Picks came quickly. Picture quality is very good. Very satisfied.

Personalized Guitar Picks
By
Kristi Y.

(Gilbert, AZ) - June 22, 2011 (
See all reviews by this customer
)
Good quality product, but I imagined the picks would be a bit larger. Picture of my family of 4 was quite small. However, overall happy w/ purchase.

Great
By
Shopper

(Arlington, TX) - June 19, 2011
Y'all always have the best gifts. These were so unique and special. Cheaper than other sites that customize guitar picks. It was kind of hard to crop a photo to fit perfect on here, but I guess that's understandable. Anyways, my man loved them! Thanks!

Nice Pick!
By
Lori W.

(Aurora, IL) - June 5, 2011 (
See all reviews by this customer
)
Small in size but says loads about the thought behind the gift. Nice job done. The smaller your image is the more inclusive the image on the pick will be. My oldest brother just started playing his guitar again after several years. He will really get a kick out of these.

Great Customer Service
By
Shopper

(Shorewood, WI) - May 28, 2011
The original item arrived with the inscription way off center. After review, they replaced the item at no additional cost to me, with quick turn around.

Muted color :(
By
Shopper

(West Jordan, UT) - May 20, 2011
The quality was great; my only complaint was the color spectrum of the image I uploaded wasn't printed as vibrantly much more muted tones but overall happy with the purchase.

A big hit with my fellow musicians!
By
Loraine M.

(Reading , PA) - May 9, 2011 (
See all reviews by this customer
)
I thought the pic turned out exactly as shown in preview. However, some of the photo did not cover the entire pic. Thought that the part of the pic without the photo should have been the same color as the back side of the pic, rather than showing white. Formating options to fit photo could be a little more user friendly. Possibly by allowing room to skew the photo to fit on desired item. Will probably purchase different pics in the future for other venues. Turn around time was very quick. All in all, very satisfied with the end result.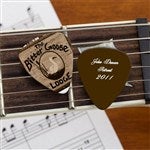 1st anniversary present
By
Erica M.

(Nesquehoning, PA) - April 20, 2011 (
See all reviews by this customer
)
I bought these for my husband for our first anniversary. The picture came out great! However, the wording came out super tiny. I could be partly to blame due the number of letters. I shouldn't have gone with the script font, which made a little squished too. Overall, they are really nice. I'm sure he will love them!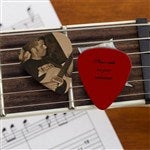 Better
By
Shopper

(Hampton, MN) - April 19, 2011
Well after the first run was poor and not at all as we expected, or even paid for, Personalization Mall came to the rescue. They did a rerun and the product looked much better. We would say that customer service was decent and kind and took care of our issues in a effective & caring way, that is how businesses should be run. We would recommend them to other businesses if they try as hard as they did for our business to make things correct and without hassles. They will make it right and stress free. We will be purchasing more from them shortly.

Very Cool Guitar Picks
By
Michelle S.

(Temperance, MI) - April 18, 2011 (
See all reviews by this customer
)
I purchased these guitar picks for my fiance who plays guitar in a local band. I had a picture of him playing on one side and his name and the band name on the other. The picture turned out great. Although he would not use these to play, they are a great souvenir for him to share with the crowd. Plan to order more for for my fiance as well as the bass player in his band.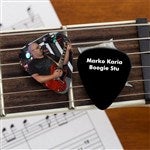 nice gift but could be better if....
By
Brittani M.

(Lacey, WA) - April 17, 2011 (
See all reviews by this customer
)
My dad plays the guitar, this was an awesome gift idea but I was a little dissapointed that you could only use 1 picture for 20 picks. it would be better if you could use 20 different pictures and phrases for the picks or something close to that, since 1 order comes with 20 picks.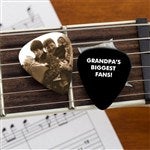 Great but..
By
Marina X.

(Spartanburg, SC) - February 17, 2014 (
See all reviews by this customer
)
I love the quality of the item and how it was printed, however, I wish there was not a minimum quantity set to purchase.

somewhat satisfied
By
Shopper

(Bristol, CT) - January 6, 2014
I was happy with the product. The picture came out great and the guitar picks feel durable. It would make a great gift but I wish the writing on the back was bigger. It's bold font so it is legible if you have a magnify glass to read the tiny print.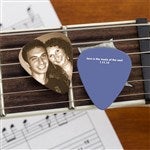 ok
By
Shopper

(Spencer, WV) - December 24, 2013
Picture quality was less than desirable. Had high expectations with low results.Very pricey!

Personalized Guitar Picks
By
Carina W.

(Redondo Beach, CA) - November 25, 2013 (
See all reviews by this customer
)
I ordered these for my husband for Father's Day (June 2013) and they were a huge hit. He liked then so much that he again requested them for his Birthday (November 2013) - my most recent purchase. I rated this purchase 3 stars because it appears that the guitar picks this time around are thinner / more flimsy - almost to the point that they are not 'usuable' as guitar picks. My husband still likes them as a memory/keepsake item, but he no longer uses them while playing guitar.

Photo guitar picks
By
Shopper

(Waterbury, CT) - November 22, 2013
The preview looked much better than the actual pick. It's very hard to read what is written on the pick. Other than that I was satisfied.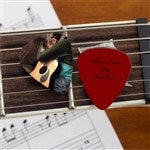 Great Picture Quality - Poor Font
By
Shopper

(Yuma, AZ) - September 9, 2013
When I first saw the preview photo for my personalization I was very excited. However when I received them in the mail (shipping was great) I was a little disappointed. While the picture quality was absolutely amazing the back message was pretty disappointing. The font was incredibly tiny and was unable to be read. I knew exactly what it said because I made it but the people who hadn't seen it struggled to make out what it said. The message and font look very clear in the preview but not in person. I would suggest this item but don't choose the cursive font!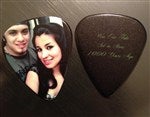 very nice
By
Shopper

(Chicago , IL) - April 1, 2013
came on time only gave 4 stars cause the picks are very flammable which didnt tate when ordered and also the do chip easy. I think you should sell a necklace holder or pick holder to place them into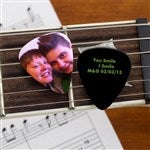 memorial guitar picks
By
Ashley M.

(West Chester, OH) - March 16, 2013 (
See all reviews by this customer
)
The quality and thickness of the picks are greay, and the picture showrd up wonderfully. However, the text was very small and hard to read, and we didnt use the full amount of characters. We have to look very closely to be able to read it. Other thab that, we love then and were a great memorial piece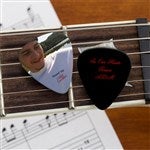 Great but careful with white
By
Apolline C.

(New Orleans, LA) - February 8, 2013 (
See all reviews by this customer
)
This is the second time I am purchasing this product. The first one was great when I chose a background color as black, and the quality was great. The second time I ordered white and unfortunately there were scratches and marks on the white. The picks are maybe color white at the beginning so they didn't add the "color" to it. Great product quality apart when choosing the white background... disappointed about that one.

What I didn't like
By
Shopper

(Omaha, NE) - December 31, 2012
I bought these for my boyfriend for Christmas and he loved it. But i wish i could've chosen a different pictures instead of getting all 20 with one picture. I would've liked to put a picture of him and his friends and stuff like that as well as the picture of him and I that I chose.

Font on the back misleading....
By
Shopper

(North Tonawanda, NY) - November 28, 2012
I LOVE the whole idea of this and the picture on the pick turned out nice, but the wording on the back is tiny and light compared to the sample it showed when proofing the order. So go large and bold!!!

Neat Idea
By
Shannon G.

(Wakefield, MA) - June 25, 2012 (
See all reviews by this customer
)
My boyfriend loved his gift, however the picture came out a little fuzzy. I also wish that I could've made a whole photo album on guitar picks without buying several different packages. Overall it's a good gift.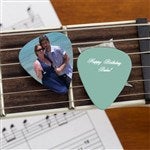 His guitar picks
By
Shopper

(Midland, TX) - May 11, 2012
He loved them alot.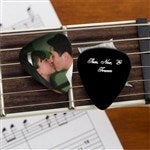 size options
By
Heather T.

(orange park, FL) - March 18, 2012 (
See all reviews by this customer
)
well the picks are great but i would have liked to see them come in different kinds of sizes... like the ones you gave me and thick and i have thinner ones i can use but i think it would be helpful if we (as the shoppers) could choose the size of the guitar poicks we recieve. or even better get a variety box :P thanks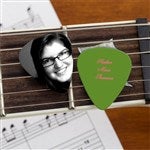 Great Idea-- bad execution
By
Shopper

(New York, NY) - February 7, 2012
I love the personalized guitar picks but only half of my order came aligned properly.
A little disappointing.

SMelly
By
Shopper

(Horseheads, NY) - January 3, 2012
These picks smell like alcohol or something.. and the color comes off when you play guitar with it.. cute but they could be a lot better quality!!

Guitar picks
By
Shopper

(Highlands Ranch, CO) - December 31, 2011
I was pretty unhappy with the way the photo i chose was centered on the pick. I wish there was a way to preview finished product before it was created and shipped. The font on the reverse side was also very small.

becareful of the color combo you pick
By
Shopper

(Dallas, TX) - December 29, 2011
I loved the picture side of the pick but I picked black and red for the personalization and you couldn't read the name or the inscription. So dissapointed, they were a Christmas gift and my nephew couldn't read his name!

OK
By
Shopper

(Cordova , SC) - December 4, 2011
The gutair picks were ok. The writting on the back was a problem you could only see it well on half of the picks but the other half looked good. Also the picture was a little blurry & they were smaller than expected..

average
By
anna L.

(Canada) - November 28, 2011 (
See all reviews by this customer
)
Easy to create your personalized picks. Pictures are very small, picks very hard but still a good item as gift