Beautiful!
By
Jackie P.

(Troutville, VA) - December 16, 2011 (
See all reviews by this customer
)
Love this! A simple and elegant way to honor our loved one and his or her service. The etching is not as white as it appears in the picture, it has more of a grey look from across the room, but you can easily read it. I think glare-free glass would make it even nicer, but this is certainly acceptable.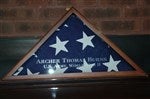 American Flag Display Case - Personalized
By
Shopper

(Pfafftown, NC) - June 27, 2011
A beautiful solid wood display box, laser engraved with my Daddy's name, branch of service, and the war he served in! It's one of the proudest items I own that honor his memory and his service to our great country! Thank you, Personalization Mall, once again for a quality product that is unsurpassed!!!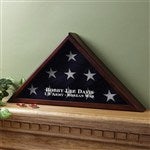 Personalized Flag Box
By
Brenda Z.

(Mantua, OH) - May 22, 2011 (
See all reviews by this customer
)
When I received this item, unfortunately, the glass was cracked. Personalization Mall.com quickly replaced it. I am very pleased with the service. The box is well-built and a beautiful piece of work. I would recommend Personalization Mall with no reservations.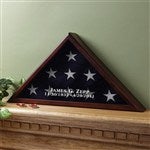 American Hero Personalized Flag Box
By
mary D.

(Calvert City, KY) - May 12, 2011 (
See all reviews by this customer
)
I ordered this flag box right after my dad passed away. (I accidentally put two S's at the end of the word States and got a phone call from the Personalization Mall to see if it was an accident!) The box is absolutely perfect and looks so much better than the photos. My dad would have LOVED it as we do!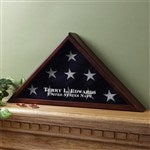 Quality Product
By
Robert C.

(Seneca, SC) - November 17, 2013 (
See all reviews by this customer
)
The personalization was done exactly as I had requested. The fonts are clear and precise. The wood casing is made of a quality wood. This is surely ready to honor and respect the active duty of any military person, especially in memory of my father. Dad would be very pleased.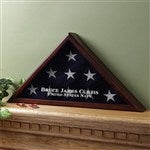 American Hero Personalized Flage Case
By
Shopper

(Old Bridge, NJ) - November 9, 2013
I was excited the package came so quickly. The packaging of this product was extremely packed well for prevention of breakage. A beautiful job on the etching and my Dad's flag is now resting in it's new home.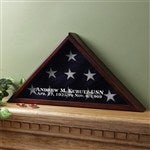 nephew
By
Samuel W.

(Syracuse, NY) - November 6, 2013 (
See all reviews by this customer
)
It is very nice for the money.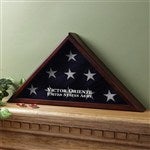 proud family
By
Pamela W.

(Orlando, FL) - October 14, 2013 (
See all reviews by this customer
)
Finding Dad's casket flag, oh, 40 years after his passing, was emotional and meaningful. Wanted to display and give him and his service to our country deserved recognition. Was awestruck at Personalization Mall's case, the personalization and timeliness of its delivery. An amazing shopping experience. My family and I will forever treasure the memories this memorial represents ...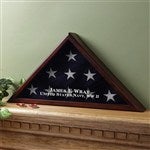 Coming out of the closet
By
Sandra B.

(Billings, MT) - October 4, 2013 (
See all reviews by this customer
)
My father-in-law's flag has been stored in the closet for 58 years. Finally, I have an attractive display case to store it in. I think he would be pleased. The case is a nice addition to our home and will be a conversation piece going forward. The quality is what I hoped for. However, the lettering shows up nicely over the blue but is hard to see over the white stars.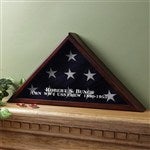 OUTSTANDING
By
Carl H.

(Bloomfield, NJ) - September 30, 2013 (
See all reviews by this customer
)
The service and speed that I received cannot be exceeded. The Case is beautiful and will protect this tribute to an American Hero for years to come.

Thank you!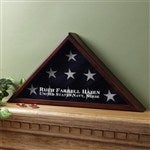 Awesome
By
Clarence A.

(Arcadia, FL) - September 21, 2013 (
See all reviews by this customer
)
A very nice, professionally done, and fitting tribute to my mother in law.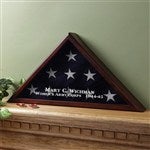 Very Nice.
By
Mike H.

(Olivehurst, CA) - June 29, 2013 (
See all reviews by this customer
)
Very nice Flag Case, overall quality seems very nice, and the personalization on the front is perfect. This look's and is a perfect way to honor my late Father.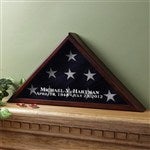 Beautiful keepsake
By
Shannon L.

(Roxboro, NC) - June 4, 2013 (
See all reviews by this customer
)
Excellent quality.. Much better than I ever expected. This is for a full size flag though just FYI.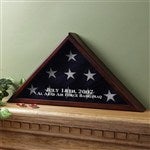 DOES MY FATHER'S MEMORY JUSTICE
By
Sheila K.

(Glendale, NY) - April 14, 2013 (
See all reviews by this customer
)
I ordered this immediately after my father's funeral so we had a place to put the flag they gave us. The fact that you can engrave the case and put their branch of the military makes it that more special than the others. We've received many compliments, and several friends have also ordered this for their military parent as well.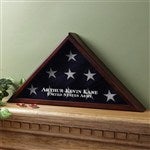 great value
By
George P.

(Boynton Beach, FL) - March 1, 2013 (
See all reviews by this customer
)
great value, looks outstanding. exactly as described, shipped to my door 3 days after processed.......outstanding!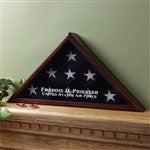 Flag Case
By
Shopper

(Summerton, SC) - February 18, 2013
This is a very nice flag case. The personalization makes it very special. A befitting honor for my late husband.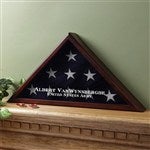 Beautiful!
By
Charlene R.

(Weatherford, TX) - February 10, 2013 (
See all reviews by this customer
)
I ordered two of these as both my husband and I had our Dad's service flags. They arrived very quickly and are beautiful. I am proud to display the flags in these cases.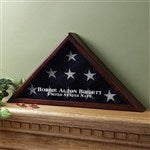 flag case?
By
Shopper

(brimfield, MA) - January 29, 2013
i thought the box was extremely light weight for what i purchased. when i opened it i realized the case was more like a shadow box with a picture frame back and not an actual case that opened. it had a small scratch on the front which i didn't appreciate considering the amount of bubble wrap used to protect it.

i should have fussed but the flag fit perfectly and it does look nice but it's no case. it's a shadow box or frame.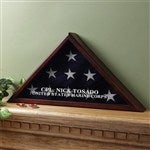 personaliz name an date
By
Shopper

(Stone Mountain, GA) - December 28, 2012
Got this for my friend for the lost of his father he love it an was very serprice thank you very mush well done Personalization mall.com.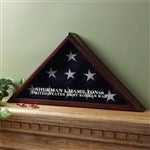 Honor those who gave their life!!!!
By
Deanna M.

(Bakersfield, CA) - December 17, 2012 (
See all reviews by this customer
)
I love this case it came out beautifully, it was a great way to honor my grandfather.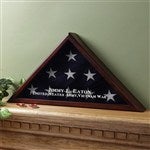 Dad's Flag Case
By
Darlene J.

(Broussard, LA) - December 4, 2012 (
See all reviews by this customer
)
I was really impressed with the quality of this product. The naming on it made it all that more special to us, If you have a loved one that passes and your looking for a flag case, This is the one... Thanks Personalzation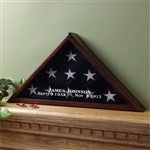 Flag holder
By
Kim E.

(Maumee, OH) - August 6, 2012 (
See all reviews by this customer
)
Bought this for my mother-in-law since my father in law passed reciently. Turned out beautiful and she loved it. He is a WW II Navy Vet and she is thrilled to have something so nice to display his flag in.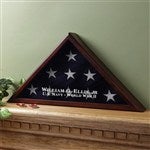 Beautiful Flag Display Case
By
Linda C.

(Palmetto, FL) - May 21, 2012 (
See all reviews by this customer
)
My father passed away and he was not married so we decided my brother would receive his flag at his funeral. when we got back he came home and was able to put it in this immediately. Beautiful.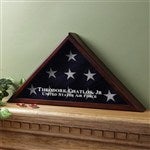 Very Nice!
By
Shopper

(Gretna, NE) - December 29, 2012
The flag case was a very nice gift. I personalized it with my son-in-law's new rank, military branch,and date. A great gift for the price.

Personalized flag case
By
Shopper

(Hampton, NH) - December 15, 2012
This is absolutely beautiful. The wood, the etching of the glass is perfect. it will be the perfect home for my son in law's grandfathers flag.....


Frame for the flag
By
elena M.

(rocakaway beach, NY) - February 15, 2013 (
See all reviews by this customer
)
The frame is beautiful, it will make a good memory.

Michael Murphy
By
Michael F. M.

(Harrison , AR) - February 3, 2013 (
See all reviews by this customer
)
Fantastic! Better than I hoped for!

wonderful honor for a Veteran
By
susan R.

(phila, PA) - February 3, 2013 (
See all reviews by this customer
)
We bought this case to store the flag that covered the casket of my Father-in-law, who was a WWII veteran. He died at the age of 91. The military honor guard at his funeral and burial was very touching and a wonderful honor for him.. The flag was presented by one of the soldiers of the honor guard to my husband. Our daughter has it in her room now. This case holds it very well and it looks very classic.

Excellent Customer Service
By
Jerome B.

(Sturgeon Bay, WI) - February 1, 2013 (
See all reviews by this customer
)
I had purchased a personalized flag case for my dad who had just recently passed away. My mom is Red, White and Blue through and through and like the rest of my family were so proud of the service and dedication he gave to our country. Displaying his flag in a proper case was a top priority. After doing some on-line research and comparison, I choose Personalization Mall for its high reviews and we were not disappointed. There was a small chip that broke off on the first case I received, however after calling and talking to them, I had a new replacement in-hand 2 days later. Great service and Great turn-around time!! Highly recommended.

Very nice frame
By
Shopper

(MILTON, MA) - February 21, 2013
This frame arrived safely and quickly. It is very nice looking.
I would happily do business with this company again.

Wonderful Tribute to My Father's service.
By
Donna J.

(Woodland Hills, CA) - March 18, 2013 (
See all reviews by this customer
)
My Father was the most amazing man I have ever known. The flag that was presented to our family, at his funeral, needed a special display case. This case is perfect. I am so proud of my Father, and to have the flag honoring his service displayed in this perfect case, in my home, is very special to me. Thank you for such a great product, and for such fast delivery.

Great Honor
By
Shopper

(Baton Rouge, LA) - March 9, 2013
This case is beautiful, beyond my expectations. What a wonderful way to honor my Father.

Brought me to tears....
By
nancy P.

(branchburg, NJ) - September 17, 2012 (
See all reviews by this customer
)
Dad would be honored to see this. We are honored to have this personalized frame to recognize dad's service to our country and as a precious momento in our family. The frame is rich. The engraving is subtle. This flag and it's new presentation is a cherished treasure in our family.


Nice flag case
By
Shopper

(Charlotte, NC) - August 2, 2013
Very nice case, but the preview is slightly misleading, because the personalization is not printed in white, it is etched on the glass, so a little harder to see, but still very nice.

Love the piece!
By
Kay B.

(Salem, NH) - July 1, 2013 (
See all reviews by this customer
)
I love the memorial flag display case. It was one more way of honoring my brother-in-law, and allows us to continue honoring him every time we look at it. The case is beautifully crafted, it arrived in perfect condition and it was easy to insert the flag. The ordering process was fast and easy and I love how it gave me an actual picture of what the piece would look like with my requested personalization before I placed the order. It also arrived in an extremely reasonable time frame. my only disappointment is that the lettering is a little light and can only be read close up, not quite as easy to read from a distance as represented. But still very nice, and I am extremely satisfied.

I bought this for my Husband's flag
By
Roma L. P.

(Havana, KS) - November 10, 2013 (
See all reviews by this customer
)
Very nice quality. The name is a little hard to read. Letters could have been bolder.

Thank you
By
Shopper

(Sallisaw, OK) - October 18, 2013
Thank you so much it was absolutely beautiful.

Letters on display case
By
Shopper

(Bonifay, FL) - October 25, 2013
I gave this item only 3 stars because of the letters etched in the glass.
Also I'm not sure it's even glass. On the web site the letters are white and bold. The one I received the letters are neither white or bold. If the light is not just right it's difficult to read my Dad's name. Other than this negative the case seems to be well made. I'm not sure I would purchase this item again.

A Little Disapponted
By
Mark W.

(Eldersburg, MD) - April 20, 2012 (
See all reviews by this customer
)
My flag box has several imperfections on the wood, and there is a light scratch several inches long on the inside glass surface as though the etching device skimmed across it. From a short distance away these flaws are not noticeable. Still, being a bit of a perfectionist I would normally return something like this, but I've got too much going on right now and don't feel like dealing with it.

Flag Box
By
Shopper

(Mark, IL) - September 16, 2013
the flag box looks really nice, but the regulation size flag BARELY fits inside. I was afraid I would bread the glass!! It would be better if the box were bigger.