Very Cute!!!
By
Heather H.

(Lewisville, TX) - September 5, 2011 (
See all reviews by this customer
)
Beautiful gift for preteen/teen girl!!!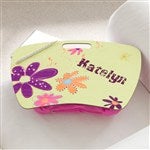 The lap desk was fine... BUT
By
Barbara M.

(Westhampton Beach, NY) - June 29, 2014 (
See all reviews by this customer
)
The top portion of the lap desk is great! Perfect size, cute design, little handle and personalized! The "pillow" part is fine as well . It is pink and came as a separate piece. On the pillow itself, were four strips of velcro sewn upon the bottom of the pillow. Two across the sides and one across the top and one across the bottom. They were approximately seven inches long by one and half inches wide. Also included were four similar sized pieces of velcro that I had to attach to the bottom of the lap desk so the pillow would adhere to it. Herein lied the problem.... getting the four pieces of velcro glued to the lap desk in the exact pattern they were sewn on the pillow. It doesn't sound that difficult but it was! Realize, it was a haphazard pattern... and they had to align exactly so the pillow would adhere!

After paying $40 for the lap desk plus $32 for shipping I expected more. I expected the lap desk to be up and running. I didn't expect to have a do it yourself project.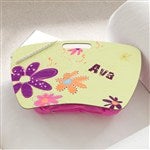 Cute Christmas Gift!
By
jaime V.

(louisville, KY) - November 4, 2013 (
See all reviews by this customer
)
This desk is adorable. I ordered one for each of my daughters for Christmas.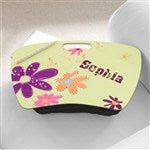 Great gift for a new student
By
Kristin A.

(Knoxville, TN) - March 3, 2013 (
See all reviews by this customer
)
I've ordered this lap desk for my 5-year-old daughter as well as two of her 5-year-old friends and they absolutely love it. They want to use it for writing, drawing and coloring and a table for snacks too. The personalization is beautiful and the fact that it also serves as a wipe-off board adds even more. I highly recommend this desk!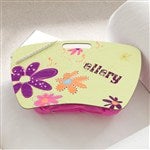 Very cute
By
Shopper

(Ladera Ranch, CA) - December 11, 2012
This is a darling little lap desk and I was very pleased with the way the personalization was done as well. This is a bit smaller than most lap desks so it is perfect for a little girl.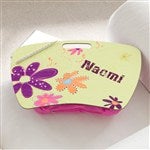 Worth every penny
By
Shopper

(Escondido, CA) - November 30, 2012
I had a groupon and fell in love with this lap desk. When i recieved it in the mail i loved it even more! I know there will be one happy girl on christmas! Soo pretty!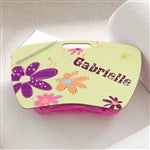 Awesome!
By
Lori T.

(Saint Johns, MI) - July 25, 2011 (
See all reviews by this customer
)
This is just another product from Personalization Mall to rave about. This is sooo adorable and very well made. I love it!

Personalized Lap Desk Review
By
Kristen P.

(Gretna, NE) - November 29, 2011 (
See all reviews by this customer
)
This product is extremely cute and the desk top portion is very sturdy and large that is useful for homework, drawing, reading ect... My niece is 10 and absolutely loves this. The bean bag bottom is a little smaller than I assumed and I would have liked it to be as large as the desk portion. Well worth the money

Great Customer Service. : Loved Floral Design for Girls
By
Shopper

(Pleasanton, CA) - December 28, 2012
Loved the floral design for girls and the personalization which was great! It was delivered as promised by Christmas (in fact came the Friday before!). For a 5 year old, would have preferred a little larger desk surface and a more substantial pillow (thicker, better padding). A dry ink eraser with it would have been nice. The pen and eraser could be stored in the pocket. Overall, very nice, cheerful design, inexpensive.

Great item for road trips!!!
By
Shopper

(North Plainfield, NJ) - April 24, 2012
My baby loves having her name on stuff. A lap desk to do her homework on during long car rides was the perfect gift! We both win. The size is perfect for a 4-5 year old up to a high school student. Very convenient and easy to pack for travels.

Adorable
By
Shopper

(Grand Ledge, MI) - June 9, 2013
I was initially a little hesitant about the design on these because the background color looked a little drab from the online photo. I needn't have worried. In person, the background is a lovely shade of yellow. And it coordinates really well with the flower colors. I ordered these as a surprise for my 3rd and 5th grade girls. When they spotted the packages, they couldn't remove the plastic fast enough. Since then the lap desks have seen daily use. The girls love the dry erase marker (which is a good quality one) and just use an old sock to wipe the board clean. I wish there was a little more fill in the pillow itself, but figure that we can add stuffing to the pocket at some point to bulk up it if needed. We love that they come with a carrying handle, since they get transported all over the house. Overall, the desks are cute, appear to be pretty durable and my girls love using them ... so I am one happy customer.

Perfect for Homework
By
Shopper

(Covington, LA) - July 31, 2011
My 6 year old loves her new lap desk. She can now do her homework anywhere...even in the car. Excellent quality and fast shipping.

Awesome Gift!
By
Turkessa M.

(Prattville , AL) - November 30, 2011 (
See all reviews by this customer
)
I purchased this as a Christmas present for my 10yr old daughter to accompany her new computer and I know she will be very pleased. As for the merchandise the personalization was PERFECT; I do wish the bottom had more filler and possibly a slot on top the desk to hold a pen or pencil to prevent from rolling but the storage space works just as good. I am very pleased with this purchase as with all things I have bought from Personalization Mall. I bought personalized stickers with the same Flower Power theme and they will be a hit too.