Paisys lunchbox
By
Renee G.

(San Antonio, TX) - August 22, 2014 (
See all reviews by this customer
)
LOVE it!! My daughter hasn't put it down since we received it! Thank you so much!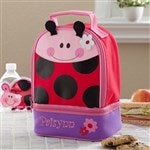 loove it!
By
Ivette M.

(Miami, FL) - August 11, 2014 (
See all reviews by this customer
)
I bought this lunch bag in another model for my little girl's first year at day care, I used it for 2yrs and still using it for summer camp! Excellent quality, performance, design, everything! Love it!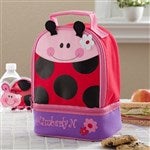 Lady Bug Lunch Box
By
Shopper

(Miami, FL) - August 10, 2013
This is an adorable lunch box that I purchased for my toddler. It came exactly the way I pictured it. I'm very happy with my purchase. My daughter is excited to use her new lunch box on Monday.

Awesome
By
Shopper

(Saint Louis, MO) - July 27, 2013
Sooo cute and great quality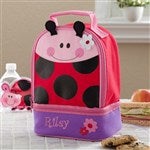 Adorable!
By
Shopper

(Vineland, NJ) - July 3, 2013
Got this lunch box for my God-daughter for school (summer camp). She loves it and brings it with her everyday, even when she is not packing her lunch :-) She loves that it has her name on it and she shows everyone! Great and adorable!

Great Lunch Box!
By
Natalie M.

(Flushing, NY) - June 18, 2013 (
See all reviews by this customer
)
I ordered this for my 17 month old to take her food to daycare or when we travel. Just as everything else on PersonalizationMall, the quality is SUPERB. It is heavy duty, spacious, vibrant and very pretty. I used it for the first time this morning and it fit 2 full size baby bottles, a baggie of cereal, a baggie of a cut up apple, two yogurts, a 4 oz food container, another snack, the matching freezer friend, and there was still room! I expect it to last a long time. Thanks again for a great item!! (Only downside is that it's so pretty, I have to order the other pieces to the set now!)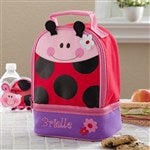 adorable and durable
By
Shopper

(MIAMI, FL) - December 18, 2012
my 1 year old loves the colors... and smiles when she tries to carry it.

great gift

Super Cute
By
Kelli V.

(Coopersville, MI) - July 19, 2012 (
See all reviews by this customer
)
I bought this with the matching duffel for a Christmas present (even though Christmas is 5 months away!). It was a little smaller than I imagined, but perfect for little tykes. I would definitely recommend the lunch bags; especially if you get a matching bag with it. Perfect gift!

Cute and fast delivery, but a week later and bow fell off of ladybug
By
Susan L.

(Oklahoma City, OK) - September 2, 2014 (
See all reviews by this customer
)
We love this lunch bag! It works well and was personalized and delivered very quickly. However, less than a week of carrying it to school, the flower on the ladybug's cheek has fallen off. Apparently it was just glued on. It would be way better if it was glued and sewn on for added support. We still use the lunch bag, this won't cause us to throw it away or anything, it's just a little annoying.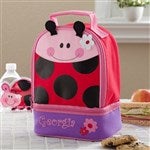 Too Sweet!
By
Neelam A.

(Danville, CA) - February 12, 2014 (
See all reviews by this customer
)
My daughter took her new lunchbag so proudly to her preschool. Immediately showing it off to her teacher. It made the transition from home to preschool so much easier. It is just do cute!
Only downside is the chemical smell from the fabric. I hope it goes away ASAP as I don't want her inhaling it or getting into her food. Hmmm...

Too Cute
By
Shopper

(Chicago, IL) - January 21, 2014
Very cute bag. Not too big, however a little pricey.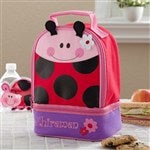 Very cute!
By
Shopper

(Sciota, PA) - September 4, 2012
Love my daughter's new lunch box. It's super cute and very spacious. I was a bit surprised by the quality of the actual liner/padding. It felt a little thin. I hope it lasts through the year.

cute
By
Shopper

(Austin, TX) - August 22, 2012
very cute!