Beautiful gift
By
Michele J.

(russiaville, IN) - December 27, 2011 (
See all reviews by this customer
)
Daughter loved it. Would have been better without the plastic felt lined insert. But still a beautiful piece.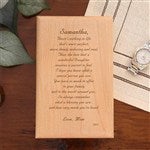 Uncle Giftgiver
By
George R.

(Fond du Lac, WI) - December 26, 2011 (
See all reviews by this customer
)
I put my nieces names, where their names came from, what the names meant and they all turned out beautifully. I considered these heritage gifts and they all really liked them. It was something a little bit grown-up and an item that they will keep for a long time. The box was well-made, the interior had compartments and velvety lining. Laser engraving looks exactly as shown.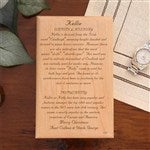 Very Sweet
By
Shopper

(San Antonio, TX) - December 21, 2011
I ordered this as a gift. I was worried about the quality of the box. Well I received it today and yes it is small and not deep; BUT the quality of the box and laser print was great.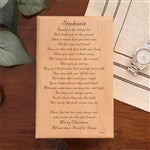 Jewlery Box
By
Shopper

(Chambersburg, PA) - December 17, 2011
I got three of these one for each of my girls. They are more beautiful than I realized, and I'm sure they will love the poem on them. For old or young, they will be a treasure that will last a lifetime! Awesome, thanks!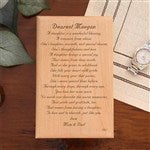 From Mother to Daughters
By
Shopper

(Zephyrhills, FL) - December 16, 2011
I was looking for that perfect gift to give my daughters for Christmas and I am so pleased with the choice I made. I was able to have my own personalized poem put on each of their boxes and they both turned out absolutely beautiful! To make it even more special, I purchased some jewely as gifts to put inside each box. I wish I could be there when they open their gifts, but since we live such a long distance from each other, that makes this gift even that more special, a gift they can cherish forever. I would highly recommend this item!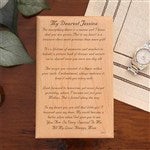 Wonderful
By
Shopper

(Shepherdsville, KY) - December 16, 2011
Super fast shipping!! These boxes are beautiful. So happy I got them for the women I have to buy for Christmas. They will love them too.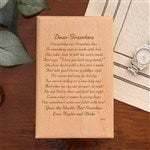 Wonderful!
By
Shopper

(Northwood, NH) - December 12, 2011
What a personal gift for that special someone! The engraved jewelry box exceeded my expectations! Thank you!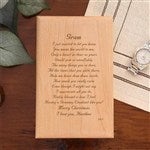 A PERFECT CHOICE
By
Nancy D.

(Palm Beach Shores, FL) - October 30, 2011 (
See all reviews by this customer
)
High-quality workmanship, attractively packaged, AND the most beautiful mother-daughter poem for an adult daughter that I have ever read..A real hit!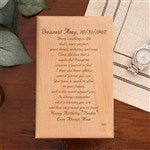 Product features good and bad
By
Shopper

(Logan, UT) - October 11, 2011
I absolutely LOVED the jewelry box. The engraving was beautiful and my only disappointment is that it was about half the size that I thought it would be. That's my only complaint. I wish it was bigger!!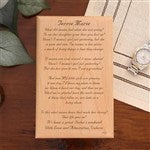 Perfect gift!
By
Shopper

(FAIRBURN, GA) - October 5, 2011
I got this for my Godmother for her 68th birthday, she absolutely loved it! This is for someone who has everything.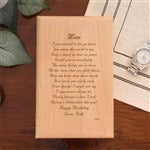 amazing boxes for any occasion
By
Connie L.

(Irving, TX) - September 19, 2011 (
See all reviews by this customer
)
I have now purchased two of these fabulous boxes as gifts for friends as graduation gifts and I will be purchasing a third in January.

i have recommended these boxes to so many people and will continue.

thank you
connie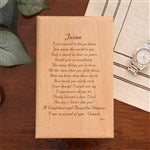 Jewelry Box - Birthday Gift to Daughter
By
Valerie P.

(Santa Fe Springs, CA) - July 19, 2011 (
See all reviews by this customer
)
The option of poems was great and the personlization available... My daughter has been my life line through some very difficult times and this poem was perfect! She loved the gift and like my son for his birthday.... she stated that this was the best gift ever!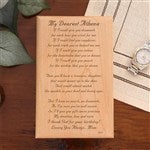 jewelry box
By
Shopper

(PENSACOLA, FL) - May 31, 2011
Product very nice for price. Bought as a keepsake for daughter's 30th birthday and she will be thrilled. Service and shipping are always great. shop here very often and always pleased.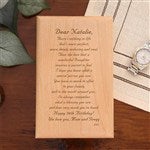 Yep, very pleased!
By
Peter B.

(Columbus, NE) - May 23, 2011 (
See all reviews by this customer
)
Was made and shipped all within just a few days. Box itself is nice enough, but the engraving is perfect, really clean and looks great. Standard jewelery box interior. Thanks a lot, perfect gift and I know she'll love it!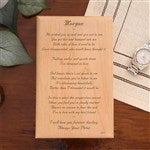 Beautiful Jewelry Box
By
Chandra D.

(Butte, MT) - May 20, 2011 (
See all reviews by this customer
)
Love this Jewelry Box. So excited to give it to my daughter for her birthday!! :)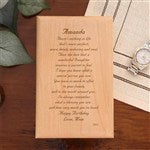 Friends Forever
By
Gwendolyn V. M.

(Washington, DC) - May 16, 2011 (
See all reviews by this customer
)
My best friend was so pleased and happy with this gift. Thank you personalization mall for creating something different as a "Forever" gift. Especially because I was allowed to use my own words. Very highly recommended for a "Special" gift (male or female).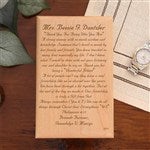 From A Mommy to Her Mother
By
Shopper

(Brooklyn, NY) - May 13, 2011
I selected this for my daughter to my mom for Mother's Day. I often order from this site and am always pleased with my purchase. The poem was lovely and said all that needed to be said. My mom owns classic pieces of jewelry for which this jewelry box was perfect. The only thing I would improve is a section for rings, otherwise, this is a great item (even if you'd want to treat yourself to something nice).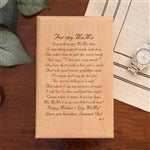 BEAUTIFUL GIFT
By
Franki N.

(Boulder, MT) - May 11, 2011 (
See all reviews by this customer
)
I ordered two of these for my boys to give to their teachers at the end of the year and when I received them I thought they were absolutely beautiful and I know their teachers are going to love them... Would order again...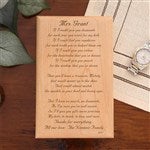 Great Mother's Day Gift
By
Shopper

(Bronx, NY) - May 7, 2011
I bought this item for five different people as Mother's Day gifts. They all love them and want to know where do I find such great gifts. I love the jewerly box and would recommend it to anybody.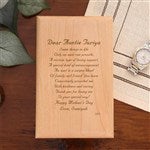 BEAUTIFUL
By
Rosemary V.

(Phoenix, AZ) - May 6, 2011 (
See all reviews by this customer
)
ORDERED ONE FOR MY MOM AND MY BOYFRIENDS MOM AND THE JEWELRY BOXES ARE VERY WELL DONE AND THEY ARE BETTER THAN WHAT I OR HIM EXPECTED. CAN'T WAIT TO SEE THEIR FACES WHEN THEY RECEIVE THEM AS I KNOW THEY WILL LOVE THEM.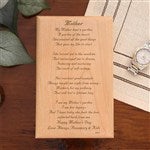 Birthday Poem/Gift
By
Christine C.

(Media, PA) - April 26, 2011 (
See all reviews by this customer
)
I neded a birthday gift for my best friend, something from the heart and I am thrilled with my purchase. The price was amazing. Nowhere else could I have gotten anything close to this for the price. I'm so happy I found this web-store. Super fast shipping. I know where all my gifts will be bought from now on. Thank you!!!!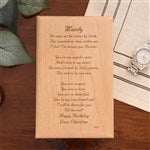 Alway Special
By
Clintsy Y.

(Corpus Christi, TX) - April 25, 2011 (
See all reviews by this customer
)
I was extremely happy to be able to add a poem fit for the gift. I've always been very pleased with my orders from Personalization Mall.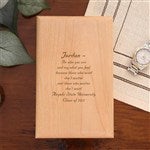 Nice
By
Shopper

(Campbell, NY) - April 25, 2011
The quality is great and it is really nice just a little smaller that I though which is my falt for not paying more attention to the measurements.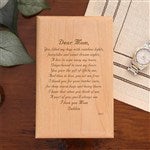 Beautiful box
By
Josiah B.

(Switzerland) - December 8, 2013 (
See all reviews by this customer
)
i bought this for my wife for Christmas has not given it to her yet but, i think she will love it. There is something about the box that caught my eye, and the finishing is also great.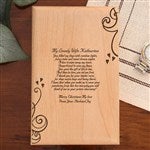 A PERFECT KEEPSAKE
By
EILEEN K.

(New Britain, CT) - December 4, 2013 (
See all reviews by this customer
)
If we are buying a piece of jewelry for a loved one, what a perfect keepsake to put it in. They will always remember the emotion behind the gift when it is in such a touching box.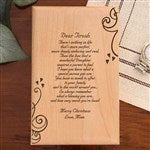 My Guardian Angel Will Just Love This Gift
By
Elisa M M.

(Warwick, NY) - December 1, 2013 (
See all reviews by this customer
)
Every time I order from Personalization Mall, I am always pleased with each gift. Among many Christmas gifts I ordered this year and all the past years from your company, my expectations have always been exceeded. Your special customer service representatives are most helpful, considerate; and they make shopping a pleasure. The delivery is always on time.

The special poem for the item: A Poem For Her Engraved Jewelry Box, has special meaning for the recipient because I was able to compose my own poem from my heart. Thanks, Personalization Mall for helping me express my thoughts.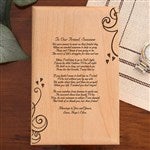 Memory Box
By
Shopper

(Red Bud, IL) - November 30, 2013
The jewelry boxes are very nice. What appealed to me was the customization that was possible. I discarded the idea of a poem and used the available lines to mention snippets of things that would have meaning to each of my friends, thus creating a personal, lasting memory of our times together for each of them. Delivery was fast. The personalization was perfect.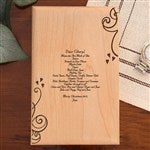 Beautiful!
By
Crystal L.

(Clifton Park, NY) - November 27, 2013 (
See all reviews by this customer
)
I was nervous buying something like this online without seeing it in person, and when I received it I was more than happy! The craftsmanship is amazing! The wood is real too, which was a pleasant surprise. The engraving was exactly how I wanted it and just gorgeous. I also loved that I had several poems to choose from or I could create my own. I highly recommend this product. It is very sentimental. I bought it for my mother for Christmas and I'm sure she will cry happy tears!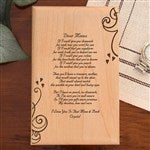 Great gift for the price!
By
Kristin K.

(Homewood, AL) - November 27, 2013 (
See all reviews by this customer
)
I ordered this box for my mother-in-law from my husband for Christmas. We recieved it in only 3 days and the personalization is incredible. The box is engraved which makes it look very expensive and I was surprised that a personalization could be finished that quickly! Even my husband, who is not impressed by very many things, made the comment of how nice the box was.

I will DEFINATELY order more gifts this season!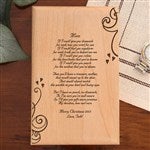 beautiful box
By
brenda W.

(canyon country, CA) - November 25, 2013 (
See all reviews by this customer
)
it came just like it looks in the picture the writing on it was beautiful. they shipped it very nicely packed. I am very pleased with my purchase.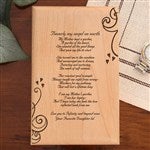 A great keepsake
By
Shopper

(BLACKWOOD, NJ) - November 24, 2013
Although I am happy with this purchased I was a bit disappointed in the engraving. The print is not dark enough. Some may struggle to read the poem. It is a lovely keepsake. I brought it for my daughter for her 30th birthday to put a special piece of jewelry inside.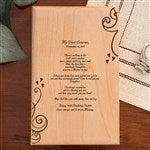 Nice, but not the quality I expected
By
Beth W.

(Chester, IL) - October 22, 2013 (
See all reviews by this customer
)
I loved the jewelry box however the inside was plastic with a 'fuzz' like appearance. Not quite what I expected.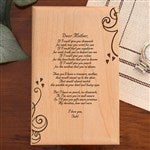 Made my mom cry..
By
Candice R.

(Haslet, TX) - May 20, 2013 (
See all reviews by this customer
)
The box itself is very pretty..inside very small..there are only 3 little compartments..but the meaning behind it made my mom cry and that was very much worth the cost. It arrived on time as promised. I ordered the gift box which was definitely a waste of money.. Ended up using my own wrapping paper.. The gift box is not worth it and very time consuming to assemble only to see ripped cardboard etc.. I was definitely disappointed in that.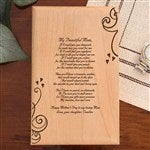 Very special gift that touched my mothers heart
By
Tracy S.

(North bellmore, NY) - May 20, 2013 (
See all reviews by this customer
)
My mom usually is the one to write poems for my daughter and when I saw this and the perfect poem - I just had to puchase this. She cried when she received it, and now it will bring a smile to her face every morning.

Quality was beautiful and I will purchase another but for my daughter.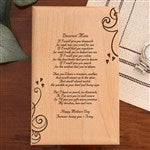 Great Product!!!!
By
Shopper

(San Jacinto, CA) - May 15, 2013
I bought this item for my mom for mothers day i had my Thoughts on what is was going to look like i was scared but once i received it in the mail i was truly amazed it was an excellent product and my mom loved it so so much!!
I would recommend this product and store to anyone! YAY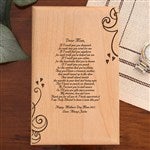 Just beautiful
By
Heather M.

(El Paso, TX) - May 12, 2013 (
See all reviews by this customer
)
Mother's Day present for my mom. Shipping was faster than I thought it would be and it's everything advertised. Tears were shed and she loved it. Just a great item for anyone special!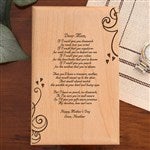 Can't read tiny writing
By
Shopper

(Havertown, PA) - May 11, 2013
Would have been perfect if the box was big enough - good quality but beautiful poem I chose is much too long for the size of the box - need a magnifying glass to read it. It should not be one of the options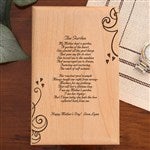 Lovely
By
Shopper

(Stephens City, VA) - May 3, 2013
This turned out really lovely. The outside of the box is extraordinary and I cannot wait to give it to my mom for mother's day. The inside (which I couldn't locate a picture of prior to purchase, but just bought this in lieu of a card, so wasn't that bothered) is kind of cheap looking and I would have been disappointed if this was the only item I was planning to give her for mother's day. Given the inside, I'd rate this item as 'good'.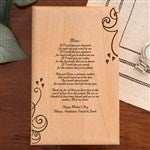 proud mom of the bride
By
Lori M.

(Due West, SC) - May 1, 2013 (
See all reviews by this customer
)
I ordered the engraved jewelry box with a poem that I wrote especially for my daughter's wedding. The quality and detail is exceptional. I had made a typo that I did not catch until the product had already been shipped to me. However, this typo will remain a part of the interesting story.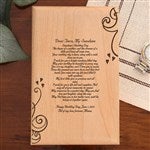 Jewelry box
By
Sandra M.

(Cogan Station, PA) - April 29, 2013 (
See all reviews by this customer
)
This jewelry box is amazing......it brought tears to my daughter's eyes....which was kind of what I wanted......The quality and personalization was more than I expected........excellent...I may just order another one for my other daugther soon....:)