Better Than Expected
By
Christine K.

(Howell, NJ) - August 2, 2014 (
See all reviews by this customer
)
This pendant was much nicer than I expected. The pendant is solid and excellent quality. Highly recommended.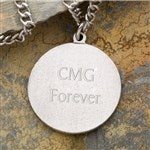 Excellent Gift Choice
By
Shopper

(Fair Lawn., NJ) - April 11, 2014
I purchased this pendant as a Confirmation gift for my grandson. I am more than pleased with it. I know he will be excited to wear it and have it as a keepsake for this special day. The engraving is exactly as it was pictured on the website. The quality is better than I anticipated and I would recommend it to other shopeers.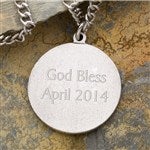 Great gift
By
Shopper

(Burtonsville, MD) - March 16, 2014
I sent this to a friend who loves to travel. He enjoyed this birthday present and loved the personalization on the back. Special!!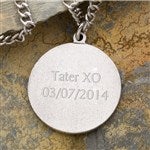 The perfect gift
By
Victoria G.

(Riverside, CA) - March 12, 2014 (
See all reviews by this customer
)
I ordered this medal for my adult son who is making his Conforrmation. I was so happy to find an item that I could have personalized for this occassion. Its a nice weight, size & a gift he can keep & wear & remember this important day.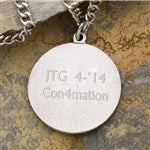 A*W*E*S*O*M*E
By
Shopper

(Harker Heights, TX) - March 8, 2014
I bought this for my fiance who travels a lot. He loved it ... loved that I had the back engraved. Thank you so much!!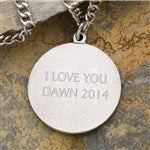 Great gift
By
Shopper

(welsh, LA) - February 21, 2014
Awesome product. Good quality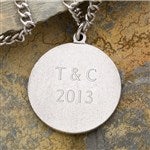 Very Nice
By
Shopper

(san diego, CA) - February 3, 2014
My son who will be 16 has wanted a St. CHristopher and since he now has his driving permit, I thought his 16 birthday would be a good time to get his one. The item is very nice. Only thing I would change is the engraving. It is not a deep engraving on the back,almost looks like it could rub off but hoping this is not the case. I think my son will love it!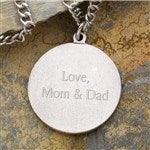 delivery issue
By
Casey M.

(Decatur, IL) - January 9, 2014 (
See all reviews by this customer
)
We really like the pendant itself. We were disappointed in how light the engraving was- at some angles you cannot see it very well. The big disappointment was the delivery. This was a Christmas gift for my Husband. I called UDS 3 times prior to Christmas and each time was told it was scheduled to be delivered tomorrow. We received it the day after Christmas. So much for guaranteed by Christmas delivery.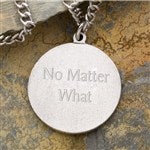 Sweetest Day Gift
By
Mary S.

(Hilliard, OH) - October 28, 2013 (
See all reviews by this customer
)
My husband gave our son his old St. Christopher necklace so I thought I would get my husband a new one. He loves it and plans to take it to church to get it blessed!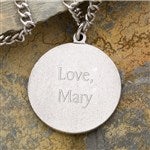 Very Durable
By
MelissaTye W.

(Amarillo, TX) - July 8, 2013 (
See all reviews by this customer
)
I have given my husband a St. Michael for many years because he does travel so much and he has broken all of them with just daily wear. This one is thicker and the chain is much stronger then previous ones I have boought from other companies. He said that he also likes the size of this one as well as the image on the pendant. It's about the size of a quarter. Great product overall!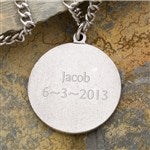 Just what I wanted
By
Patricia B.

(Dayton, TN) - June 24, 2013 (
See all reviews by this customer
)
It is just what I wanted. I do not know why I have not seen this before but I love it.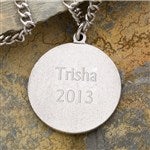 St. Christopher pendant
By
Maria H.

(Las Vegas, NV) - May 6, 2013 (
See all reviews by this customer
)
Great gift, my son loved it! quality product. The Pendant arrived just as it was described on the website.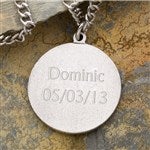 I'm absolutely loving it!!!!
By
Kamila F.

(Greenwood Lake , NY) - March 27, 2013 (
See all reviews by this customer
)
I just received my delivery it's Wednesday I waited 3 business days in stead of 2, but Im absolutely glad I got it for my husband his name is Christopher and he used to have one just like this he got it from his mother when he was little and last year he gave it away to my family friend witch was in very deep depression so he gave it to her from the heart. I felt so bad since this meant so much to him I got him one from here and I can't wait till he comes home and I can give it to him. Thank u very much! Great price for such a wonderful gift! This was my second time buying anything from this website and I am deff looking foward to buy more! :)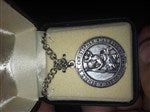 Perfect
By
Shopper

(Wadley,, GA) - February 4, 2013
This is the 2nd St. Christopher pendant I am buying my husband. The first one had good run of about 2 years (24/7 365 and he works in construction) and I have come back to get him another for Valentines Day this year. It is the perfect size and perfect chain. As always with Personalization Mall, the shipping was quick, the price was good, and the products are always of great quality!!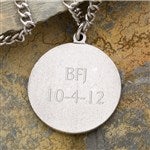 average item
By
Shopper

(Mount Pleasant, PA) - February 20, 2013
This was an average item, even for the price, it looked a lot cheaper when I got it and the engraving wasnt the best, it was very light and cant be seen very well. Also the chain is a pull over the head type which I was not aware of when I ordered it. I dont know how I missed that, because I wouldnt have ordered it, my husband has a big head and we cant fit it over his head. Now I have to find a jeweler who will charge me a reasonable price, hopefully to add a clasp to this so my husband can even wear it. Bummer.

Lovely
By
Shopper

(Burtonsville, MD) - December 25, 2013
Well made, engraving perfect, fast shipping. Love it.

not good quality
By
Danielle S.

(Lafayette, IN) - February 23, 2013 (
See all reviews by this customer
)
I'd definitely not recommend this item. The quality is poor all around. The engraving can barely be seen and looks very cheap; does not look like preview picture. I'd maybe pay $10 for this, but definitely not $30. I've bought from Personalization Mall previously with good luck, so I was surprised and disgusted when I received this tacky, cheap item.

Poor picture
By
Jennesa L.

(Richmond, VA) - February 2, 2013 (
See all reviews by this customer
)
Although the piece was packaged beautifully in a nice leather box, the pendent itself left much to be desired. In the picture it looks like a solid coin, however upon receiving it in the mail I was startled to find out how cheaply it looked. The engraving looks as if they etched it and then painted the lettering in white... which is kind of flaky. If you intend this to be a keepsake I suggest that you seek a different website and get a higher quality piece. I plan to send this into combat with my solider and I hope that it does not break.

Engraving Failure
By
Shopper

(Ekron, KY) - June 12, 2014
I ordered this item as a gift for my dad for Father's Day. When I received the chain and pendant I was SO excited as I usually love everything I get from Personalization.com however, this time I was extremely unhappy. The "engraving" is not what one would expect. It is actually what appears to be a stamping on the back of the pendant. It is smooth, not engraved and it is so light in color that you have to hold the pendant at an angle to read it. I'm sure after a few weeks of wear, that the "engraving" will disappear totally. If you want to order just the chain and pendant, it is of decent quality for the price. Don't bother getting it engraved. Very disappointing.

Great value for the price.
By
Michele H.

(Lexington, KY) - February 11, 2013 (
See all reviews by this customer
)
Thsi is a nice medal especially for the price and having it engraved makes it a special gift.

he loved it!
By
Shopper

(New Brighton, PA) - February 20, 2013
I bought this for my man to keep him safe, as he has a very dangerous job. He wears it everyday and people comment on what a nice pendant it is

Exactly what I wanted
By
Stephanie H.

(Avondale, AZ) - June 13, 2013 (
See all reviews by this customer
)
Comes in a cute little black box, and this is exactly what I expected. I cant wait to give it to my husband for Father's Day!

Outstanding gift for firemen
By
Gail D.

(Phoenix, AZ) - October 7, 2013 (
See all reviews by this customer
)
This was given to our nephew on him receiving his badge at the fire department. He seemed thrilled and immediately put it on.

replacement
By
Shopper

(Lynchburg, VA) - June 15, 2013
My daughter always wears her dads St. Christopher, she was ecstatic to have her own and withher name and birthdate on it