Heavenly
By
Bob S.

(Overland Park, KS) - September 11, 2014 (
See all reviews by this customer
)
The chime is beautiful and well done. I had one made for my sister and myself in
memory of our mother and father. Every time we hear it chime it is as if they are talking to us.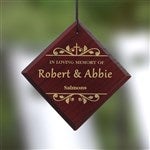 VERY IMPRESSIVE
By
Shopper

(Decatur, IL) - August 15, 2014
We gave this to a friend of ours that lost thier mother. They loved it very much and said it sounded beautiful. I am so glad we gave them a gift that they can cherish and remind them of their mom.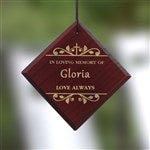 will order this again
By
Amanda M.

(Monterey, TN) - July 14, 2014 (
See all reviews by this customer
)
Its beautiful. The recipient loves it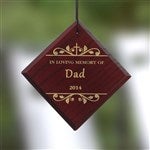 Memorial Chimes
By
Vicki B.

(Anderson, IN) - June 18, 2014 (
See all reviews by this customer
)
I sent these chimes to my brother-in-law and another set to my exsister-in-law upon the death of their son. They both called as soon as the chimes arrived and said how beautiful they were. I love to give chimes in memory of a loved one, to listen to the wind going through them is easing to your heart.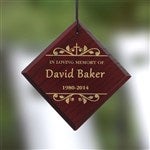 Beautiful
By
Liz L.

(Lake Charles, LA) - April 7, 2014 (
See all reviews by this customer
)
Touches my heart every time I hear the tinkling of the chimes in the breeze. I love this wind chime. I bought it in my husband's memory. I lost him 12 years ago. I plan to buy one for my daughter for Christmas.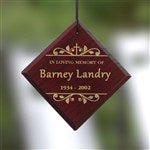 I thought it would have bigger.
By
Bonnie W.

(Little Elm, TX) - February 17, 2014 (
See all reviews by this customer
)
I was very please with my Wind Chime when I finally received it.I ordered it early Friday morning & paid extra for the 2 day delivery because I wanted for the Memorial Service.Well it did not arrive in time for the Services on Tues & Wed. I did not get the Wind Chime till Thurs.I was very disappointed.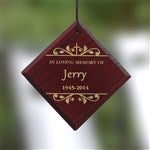 Personalization
By
Sharon S.

(Harpursville, NY) - February 1, 2014 (
See all reviews by this customer
)
The windchimes are beautiful. The lettering for personalization is disappointing. The gold is not as I expected, it is kind of "faded." I expected more perfection with the personalization.
The photo's you will see of the personalization are NOT what it looks like at all.

Thank you......
Sharon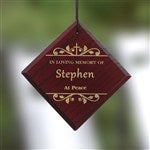 Beautiful
By
Shopper

(Peachtree City, GA) - January 31, 2014
The wind-chime is beautiful. I received it quickly and I am very pleased with the product and the company.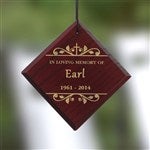 easy and quick
By
Bethany D.

(louisville, KY) - January 19, 2014 (
See all reviews by this customer
)
When looking for a wind come to give my friend after her grandmother passed away, I found this one online. It was not only beautiful, but a very easy process to order. The wind chime came sooner than I thought and it was more beautiful than the picture online. My friend loves it!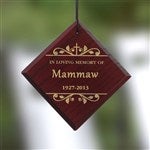 Meaningful Memorial
By
Paula W.

(Taylor Mill, KY) - December 11, 2013 (
See all reviews by this customer
)
We sent this in lieu of flowers upon the death of a close friend. His wife was very grateful for the lasting remembrance. It was nice to be able to personalize the inscription beyond just name.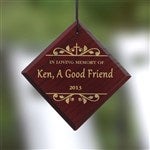 Very appreciated gifts
By
Shopper

(Caldwell, NJ) - November 10, 2013
Order 2, one for my sister-in-law and her sister due to the passing of their Mom.
Both really appreciated the gift and thought they were beautiful. In fact my sister-in-law stated every time she hears the chimes it like she's getting a warm hug from her mom.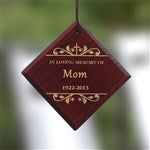 Friends are happy with these chimes
By
Betty W.

(Lewisburg, KY) - September 6, 2013 (
See all reviews by this customer
)
I have ordered 30 of these memorial wind chimes since 2010. That statement alone shows what a quality product these chimes are. These chimes have been appreciated and loved by everyone they were given to. I have shopped on other web sites for memorial wind chimes but no one meets your price nor the quality of your product. Please keep this item in your collection.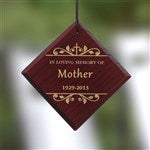 The perfect touch ...
By
Michelle H.

(Marco Island, FL) - August 18, 2013 (
See all reviews by this customer
)
The perfect idea ... thank you PMall for having a sound byte of the chimes. Some chime sounds are awful, some are wonderful ... your sound byte helped us decide that this beautiful memorial gift was perfect. Quality is excellent and the tone is beautiful.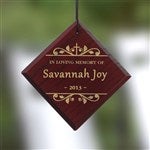 Family Gift
By
Patricia C.

(Gilbert, AZ) - June 3, 2013 (
See all reviews by this customer
)
This order was done as requested and sent to the family less than 2 days after I placed the order.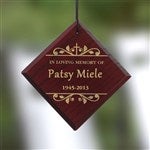 Beautiful Wind chimes
By
Shopper

(Lafayette, IN) - May 30, 2013
I have given these wind chimes a dozen or more times in lieu of flowers and, though I have never seen them in person, each of the recipients raves about how wonderful they are and what a meaningful gift it is. This is my go to site for a quality gift shipped super fast!!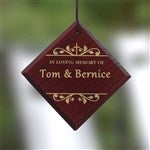 Windchime
By
Rhonda U.

(Washington, IL) - April 28, 2013 (
See all reviews by this customer
)
Very Nice! Shipped within the week! Love the sounds!!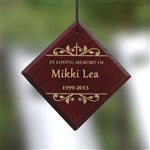 Perfect gift
By
Ashley M.

(Clemmons, NC) - April 22, 2013 (
See all reviews by this customer
)
Perfect gift for a coworker who lost her son to cancer. Would buy again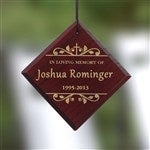 Memorial Windchimes
By
Maryann N.

(Oceanside, NY) - March 25, 2013 (
See all reviews by this customer
)
I sent these windchimes in memory of two yound adults, lost way too early. Both were received warmly. Will begin sending these as a tribute to anyone I am close to who losses someone dear.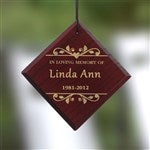 Appreciated
By
Betty W.

(Lewisburg, KY) - March 11, 2013 (
See all reviews by this customer
)
the wind chimes are beautiful as usual. This is a quality product that I continue to pour chase over and over.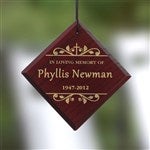 memorial wind chime
By
Shopper

(Mount Orab, OH) - December 29, 2012
My husband and I were looking for a year-round memorial item for not only us but also his 2 sisters since the passing of Dad. This is the time of year when Christmas ornaments and similar items can be found, but when we searched the Persoanlization website, we found this beautiful windchime. And it could be personalized. We had it personalized in a way that it is a message from us to our parents, and can be reversed into a message from them to us. Not only is the windchime beautiful and constructed well, it will serve as a daily memory to our parents.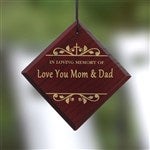 My Mom Loved It!
By
Shopper

(Mesa, AZ) - December 11, 2012
It was on time with shipping, my mom loved it and said it was a quality wind chime. She said the chimes sound beautiful. I am so glad I could give her this to remember my grandma and grandpa with.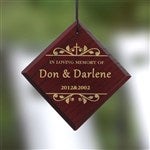 Much better than standard flowers
By
Kimberly N.

(Simpsonville, SC) - October 25, 2012 (
See all reviews by this customer
)
When my best friend's mother passed away, my first instinct was to order flowers for the service. But then I thought how she deserved something that would last and always be a memorial to her. These wind chimes were PERFECT. Ordered on a Saturday and delivered on Thursday. As a matter of fact, the package was sitting on my friend's porch when she returned home from the funeral. Perfect timing, and she LOVED them.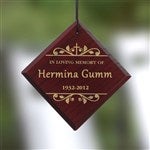 Teinas windchimes
By
Nancy B.

(Richmond, KY) - October 6, 2012 (
See all reviews by this customer
)
When my sister passed away last month there were among all the flowers, five windchimes for each child and her husband. What a wonderful idea. When my friend in Arkansas lost her brother a couple of weeks ago, I wanted to send something really special to her. I knew how my family liked their windchimes and decided that's what I wanted to buy. The first place I checked was Personalization Mall. The perfect gift. My friend absolutely loves the gift. Thank you!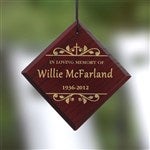 Perfect
By
Laura L.

(Memphis, TN) - April 11, 2012 (
See all reviews by this customer
)
A good friend lost her father and we didn't want to send the traditional flowers, or gift basket. I found this on the website and thought it would be perfect! My friend called me as soon as she opened it and was floored! She said it was so wonderful she was going to get one to send to her mom. I have never been dissapointed with anything I've purchased from personalizationmall.com!!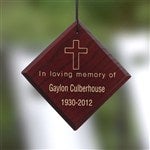 Beautiful substantial wind chime with soothing sound
By
Christie M.

(San Jose, CA) - April 1, 2012 (
See all reviews by this customer
)
What a pretty well-made wind chime. Personalization engraving looks so nice--enough to see easily, but does not detract from the wind chime to look at. My friend's beloved dog passed away and she was very touched to receive this gift in Spicy's memory.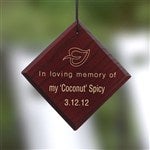 perfect memoir gift especially for someone who loved the outdoors
By
Shopper

(Given, WV) - September 16, 2012
This was purchased as a memoir gift for the loss of a loved one for a dear friend. Although a little pricey it was beautiful and perfect for the occassion. My friends loved one who was lost had a huge funeral and we wanted the gift to be something besides the traditional flowers since the family received tons of flowers. The association this individual was associated with got the family several personalized throws but no one thought of a personalized wind chime.

What a way to remember a loved one
By
Kimberly B.

(Newington, CT) - September 24, 2012 (
See all reviews by this customer
)
I purchased this for one of my closest friends. She is an avid gardner and likes to be outside. When her father passed away I thought this would be a great gift. I had it personalized and she loved it. Better than sending flowers that don't last.

Bring a smile to your face
By
Shopper

(Apopka, FL) - September 2, 2012
I bought this for my mom who recently lost her husband of 55 1/2 years. He was also my daddy. I knew she would love this and the sound the chimes make. Every time it chimes it brings a smile to her face. She placed it near her front door. She has received so many compliments, everybody wants to know who gave it to her, where did she get it from? I'm thinking of buying myself one as well!

well received sympathy gift
By
Shopper

(New Albany, IN) - September 10, 2012
this was loved by our co-worker who lost his mother. quick service and delivery.

Memorial Wind chime
By
Linda D.

(Edgewood, KY) - January 20, 2013 (
See all reviews by this customer
)
bought for my sister-in-law who really apreciated it.

Nicer than I thought
By
Shopper

(Santa Rosa Beach, FL) - November 10, 2012
I ordered one of these for a friend who just lost his son and decided to get one for myself as I had lost my son a few years ago. I only wish you could get a 2 sided personalization instead of only one side. The color of it was nicer than I was planning on also. Would order again.

Heartfelt, Excellent Memorial!
By
Tiffany O.

(Sussex, WI) - November 4, 2012 (
See all reviews by this customer
)
I have ordered three of these so far and will order more in the future. The price seemed a little steep at first, but they are of high quality and make a lasting impression that you are thoughtful and care about the person you are giving it to. It is surely one of the best keepsake gifts I've ever seen. Different than the usual dust collecting paperweight or corny poetry plaque that holds a picture...I just don't like that stuff! I want something that will bring pleasure not a reminder of a loss or pain. These windchimes are a gently and pleasent reminder that the one that is gone is still present in our thoughts and hearts.

Beautiful memorial
By
Shopper

(Montz, LA) - December 28, 2012
I bought this item as a Christmas present and it came out beautifully. The quality was much more than I expected. Such a good product for the price!

Made for a very nice Memory Gift
By
Shopper

(Brighton, MI) - February 19, 2013
My Uncle passed away, his wife & him Loved to sit on the front porch. As a Memory Keepsake I had his name engraved on this, now she can still sit on the front porch & reminisce...She really Loved the idea!

In lieu of flowers
By
Nancy L.

(Indianola, IA) - August 1, 2012 (
See all reviews by this customer
)
Very personal way to honor the memory of a friend or loved one. I prefer to give these chimes instead of flowers and they are warmly received.

very pleased
By
Jaymi B.

(Lansing, MI) - December 30, 2012 (
See all reviews by this customer
)
Great quality & great care in shipping. My only complaint and I wouldn't really even call it that was the engraving was a little smaller then I had expected. Overall, however, I was very pleased, as was the recipient.

Love it
By
Shopper

(Cordova, TN) - December 17, 2012
This is a great memorial. The only reason I gave it 4 stars is because some of the print was very light and hard to read. Quality other than that was great and shipping was quick.

Memorial Wind Chime
By
Bonnie M.

(Milford, MI) - June 15, 2013 (
See all reviews by this customer
)
Excellent quality and fast delivery.

Beautiful Product
By
Shopper

(Hinckley, OH) - May 13, 2013
This was purchased for a family member who recently lost a loved one. They loved it. It was everything it is described as and great quality. A lasting memory and better than flowers.

Memorial Wind Chime
By
June M.

(Shippensburg, PA) - September 17, 2012 (
See all reviews by this customer
)
I loved the wind chime, and my niece thought it was very special. I only wish that the letter with my sister's name and the dates would have shown up a little better when it is hanging. But, over all I'm pretty pleased with it.