Beautiful blanket!
By
Barbara S.

(Elizabethtown, KY) - December 5, 2012 (
See all reviews by this customer
)
This blanket is beautiful and the personalization looks great!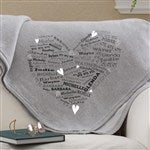 LOVE!!! Very pretty and comphy.
By
Kathy G.

(Arcadia, FL) - December 2, 2012 (
See all reviews by this customer
)
Love this blanket!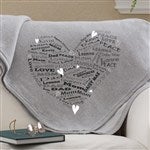 Personalized Sweatshirt Blanket
By
Shopper

(Summerville, SC) - November 30, 2012
Bought this for my sister who is both an Aunt and Great Aunt. I had all of her nieces, nephew, great nieces and nephew's names on it. I love the way the names are repeatedly placed on the heart. My only regret is that one of the names is not as predominant as the others.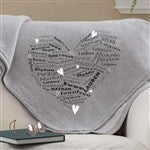 Big hit!
By
Shopper

(Houston, TX) - November 27, 2012
I bought this along with the same-design mug for my aunt's 80th birthday. She LOVES it and can't stop talking about how soft and warm it is. Highly recommend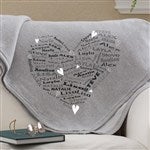 Soft!
By
Virginia B.

(Spartanburg, SC) - November 16, 2012 (
See all reviews by this customer
)
This is a beautiful idea. The blanket is so very soft you don't want to put it down. I put the names of my grandchildren and great grandchildren in the heart making it extra special for me to cuddle. Each name is clear and readable. The names in different fonts adds an interesting look. This is not your fancy throw to put in your living room but instead is the throw you put in your special chair to grab and cuddle and wallow in the softness and keep those people in the heart close to you.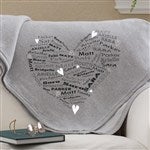 Wonderful Gift!
By
Kim H.

(Winston Salem, NC) - November 13, 2012 (
See all reviews by this customer
)
I purchased this For my Mother-in-law and Grandmother. I am so pleased with the finished product. I know is will be displayed in both of their homes and will be a cherished item.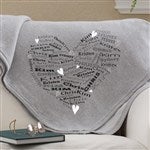 Unique birthday gift for someone special
By
Christina R.

(Imperial, MO) - October 14, 2012 (
See all reviews by this customer
)
My friend loved the personalized blanket! I plan to order more for Christmas gifts!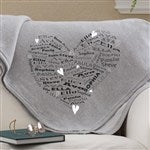 The perfect gift!
By
Lauralee J.

(Gatesville, TX) - October 7, 2012 (
See all reviews by this customer
)
The fleece backed blanket is very good quality and will be a light weight, yet warm, bit of comfort for whomever receives it as a gift. The heart shaped multi-name personalization adds that little something special that makes it a great gift for any occasion. I ordered one for my daughter-in-law and one for my sister. Both love them!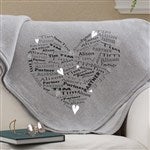 VERY USEFUL & UNIQUE GIFT
By
deborah N.

(arlington, TN) - May 12, 2013 (
See all reviews by this customer
)
We ordered two of these as Mother's Day gifts for my mother and my mother-in-law. They both really liked the blankets. My mother, who is a homebound Parkinson's patient, can use it as a "brain-teaser" because I had all of her children, grandchildren, and great-grandchildren listed (by doubling up two names to one line). She forgets their names, and this will help her remember! My mother-in-law, on the other hand, can use it to stay warm at her grandsons' football games. Very versatile gift...I only wish there were more colors to choose from than grey with black print! The lack of color options is why I gave it 4 stars instead of 5.

Cute, cozy blanket
By
Shopper

(Escondido, CA) - August 3, 2013
This blanket is just as pictured, with a heavy enough weight to feel like a cozy sweatshirt. The backside is fleecy soft, but because of that, I'm not sure how it will wash (which is why only 4 stars). Despite other reviewers complaints of the size of the heart, I found it to be just as pictured, filling a corner of the blanket and over 1' in each direction. It's a perfect extra touch that doesn't overwhelm the blanket. The varying shades of black, gray & white give it the worn-in look of a cozy sweatshirt, but more colorful printing would have also been nice. I'm very pleased with how mine turned out! (a 10-year anniversary gift to myself with my husband's and my name, wedding date, and other words like family, love, together, forever, etc.)

Great gift!
By
Shopper

(Newington, CT) - November 10, 2013
I bought this as a gift and my receiver LOVED it! It's comfortable, a great size and came just as pictured! I would definitely buy this again!

So neat!
By
Shopper

(Mount Airy, MD) - November 29, 2012
The fabric feels thick, nice and cozy. Great idea for Christanukkah!

Cute
By
Shopper

(Deptford, NJ) - May 14, 2013
Cute and recipient loved it but I wish the personalization was all over the blanket and not just one small heart.

Very satisfied!
By
Shopper

(Belgrade, ME) - October 15, 2013
I bought this for my daughter and her boyfriend for Christmas. It's a perfect lightweight blanket for them as they live in Nevada. It will make a great "couch" blanket.

Cute blanket
By
Carly A.

(Fort Worth, TX) - November 19, 2013 (
See all reviews by this customer
)
I bought this blanket for my mom and she loved it! I added the names of her kids and grandkids. The fabric is not great quality, but it's not bad for the price. The names were printed correctly and clearly. I would recommend this as a gift.

I like it but alittle disappointed
By
Shopper

(Milton, VT) - May 24, 2013
My friend got her blanket I gave as a gift. While the blanket is light and nice, I was disappointed that the heart and words were small and in the bottom corner of the blanket. When I saw the picture, I thought the picture would be in the middle of the blanket and larger.

Good Blankie
By
Mayra G.

(Los Angeles, CA) - September 20, 2013 (
See all reviews by this customer
)
This is a great gift, but the blankie could have been a little bigger. But, other than that the quality is great, definitely jersey soft, and it is always such a great gift for anyone =)

Cozy
By
Laura B.

(Aberdeen, MD) - November 20, 2012 (
See all reviews by this customer
)
Better than expected!

Blanket for mom for christmas
By
Marcia G.

(Panama City Beach, FL) - November 20, 2013 (
See all reviews by this customer
)
It is perfect. Came in 3 days after I had ordered it. It was packaged well. I ordered 3 total...........after the first one came in. Had to get one for my mom; my husband's mom and his step mom. We all loved it!!! Love the material!! The names were perfect. I will order another one soon!! God bless you!!

Nice gift!
By
Shopper

(Kearney, NE) - May 20, 2013
I got this for my husband for fathers day - haven't given it to him yet but the kids like it and it feels like a great material.

Exactly as described
By
Shopper

(Palmyra, NY) - May 20, 2013
The lettering on it was clear and printed well. My mother really liked it!

Good marks!
By
Shopper

(Bradenton, FL) - November 25, 2013
I am very pleased with this product. It is exactly as described. The personalization came out perfect. I purchased this as a gift for my sister, with all of the family names on it. She will love it! I have never been disappointed in any item I have purchased from Personalizationmall.com.

Great Gift!
By
Shopper

(Downey, CA) - December 6, 2012
This came out better than I thought. What a wonderful gift for my daughter. She can cuddle in a personalized blanket filled with the names of her family when she gets a little homesick. This is AMAZING and well worth the price. Shipping was fast for a personalized item. Great job! Will order more for Mothers Day 2013.

Christmas Gift
By
Brenna C.

(Gilbert, AZ) - November 27, 2013 (
See all reviews by this customer
)
So happy with how these turned out! I ordered 6 of them for different members of my family and they are super cute. Can't wait to give them to everyone!

A perfect gift for the person who has everything!
By
Chante W.

(Middletown, DE) - November 22, 2013 (
See all reviews by this customer
)
This was a huge hit for my sister's bday! It came fast and the work done was beautiful.

personalized sweatshirt blanket
By
Shopper

(Freeport, FL) - May 28, 2013
Ordered this as a gift for my mom & she absolutely loves it. The order arrived in a timely manner & was just as I had expected so I was pleased all around. Will definitely consider another order in the future! Thank you.

Family Favorite
By
Jennifer G.

(New York, NY) - December 2, 2013 (
See all reviews by this customer
)
This was a gift for my SIL, who has EVERYTHING and can afford everything as well- and let me tell you, she LOVED this blanket. She has 5 children (yes, 5) and having her name as well as everyone else's on there was priceless for her. She couldn't believe it and loves the blanket. It's basically a big sweatshirt. Great to cozy up to on the couch. Personally, I wish it were a wee bit bigger for snuggling, but it's still great.

Great gift
By
Shopper

(Indianapolis, IN) - December 4, 2012
Gift for a grandparent with all the grand kids names

Love it
By
J M.

(Indianapolis, IN) - December 4, 2012 (
See all reviews by this customer
)
Good buy

Wonderful
By
Shopper

(Dunwoody, GA) - October 20, 2012
Just received this today for my Mother's Christmas gift. It is just beautiful. The names came out GREAT and the quality of the blanket is just wonderful. ANOTHER HIT from Personalization Mall :)

Gift for grandma
By
Shopper

(Macomb, IL) - December 26, 2012
Picture shows letters darker/brighter than blanket recieved but grandma was thrilled with finished product and will keep warm wrapped in the blanket.

Cozy and cute!
By
Shopper

(Cortland, OH) - December 27, 2012
I initially ordered just one of these blankets for a Christmas gift; however, after seeing it I re-ordered three more! The graphics are good and I would rate the comfort/thickness of the blanket an 8 out of 10. I used each of my children's first and middle names, as well as our last name. It came out very cute!

It looked great.
By
Shopper

(Richardson, TX) - December 23, 2012
The personalization on the blanket looked great. I just wish that the blanket itself was larger.

Heartfelt Gift
By
Shopper

(Melbourne Beach, FL) - December 16, 2012
This personalized sweatshirt blanket was for my sister who is very ill. Luckily it had eight places for names to put in the Heart of Love as she is one of nine siblings. The blanket came out beautifully with all of our names in the heart of love and she was so touched. It made for a wonderful gift so she knows she is loved by her family at all times.

Blanket
By
Shopper

(Horseheads, NY) - December 22, 2012
I thought this blanket would be a little heavier but that's okay. It turned out nicely, great present for my parents anniversary :)

Perfect gift and excellent quality
By
Kristi C.

(Feasterville, PA) - October 22, 2013 (
See all reviews by this customer
)
Feels like your favorite sweatshirt! This is quality material, doesn't feel flimsy or cheap. I absolutely LOVE how the names look on it. Will be purchasing more than one of these this holiday season and have shared the site with my co-workers.

nice gift idea
By
Lisa B.

(Ashburn, VA) - December 28, 2012 (
See all reviews by this customer
)
got two blankets made for my parents & in laws with all their grandchildren's names on each blanket. they both loved the idea. However, i wish the blanket was a bit thicker & longer.

Love!
By
Shopper

(English, IN) - October 21, 2013
This was exactly what I was hoping it would be! The personalization is big enough that you don't need to squint to see it. The blanket is soft and feels just like a cozy sweatshirt!! I am 100% happy with my personalizationmall.com product once again :)

Nice Quality
By
Linda M.

(Clifton, NJ) - December 27, 2012 (
See all reviews by this customer
)
This throw is thick and soft. To make it 5 stars.....the heart could be bigger. It is overall a nice item; just wish the heart were a bit bigger.

Cozy
By
Shopper

(Cincinnati, OH) - December 28, 2012
Thicker than I expected. :)
Mom loves snuggling with all of her kids names on the heart shape.
Other colors might be even nicer.