Top-notch etching
By
Shopper

(Madison, AL) - July 16, 2012
Before buying, and after reading the reviews, I had already assumed the etching would be good quality but once I received them, I was blown away with the quality. I bought several of these for my groomsmen and ushers for my upcoming wedding and I know, without a doubt, these will be a hit.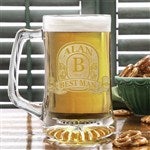 Happy customer
By
Shopper

(Canton, CT) - July 6, 2012
I was over the top pleased with my recent purchase. The quality was what I expected, nice hefty mugs with deep, beautiful etching.

Great Looking
By
Shopper

(Aurora, CO) - July 6, 2012
I purchased 4 of these for my groomsmen. They look Great! Solid glass, not too heavy, and look like they belong in a Bar.

For the Dad who's hard to buy for...
By
Scott F.

(Trexlertown, PA) - June 29, 2012 (
See all reviews by this customer
)
We were looking for a great Father's Day gift and PersonalizationMall.com made it easy. My father-in-law was very impressed with the quality and detail. "For a man who appreciates a good beer, this Deep Etch Beer Mug makes any beer the perfect beer."
I recommend PersonalizationMall.com for when you need that "extra special gift" with an amazing variety to choose from.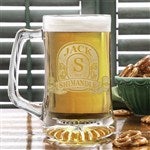 Beautiful product and fast shipping
By
Jennifer T.

(Bellevue, WA) - June 27, 2012 (
See all reviews by this customer
)
I received my order today and I am very impressed! The mugs are beautiful--with the starburst design at the base, the etched design, and the thick (sturdy) glass--and the turnaround time was remarkable fast. I placed my order on a Sunday evening and, with 2-day shipping, I received my order on Wednesday. (Note: I live in Seattle and I think these shipped from California.) I cannot wait to see my friends' reactions when I give them their housewarming gift on Saturday.

Best mug ever!!
By
Shopper

(Torrance, CA) - June 25, 2012
this is truly the bestest beer mug ever!! It's heavy & thick! The engraving is amazing. U could feel the thickness of the engraving on the glass .. This is a great classic mug.. Better than those stainless steel plated mugs u buy at the mall... I really impressed my hubby on fathers day with this.. If u have a beer drinker to buy for.. This is ideal!!

Love it!
By
Shopper

(Riverside, CA) - June 25, 2012
Great quality! Awesome design! We are actualy thinking of getting a few more!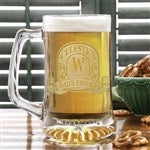 Looks great & arrived quickly
By
Shopper

(Chehalis, WA) - June 24, 2012
Heavy, beautiful, perfect... Wish it came with graphics options like a horse or sailboat.

Better than I expected
By
Shopper

(Milwaukie, OR) - June 22, 2012
The glass is large and very good quality. The etch work in it looks really great. It couldn't have been better.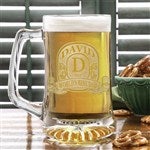 Love, Love, Love
By
Shopper

(Edmond, OK) - June 21, 2012
We ordered five of these mugs and was pleasantly surprised by the quality. These are heavyweight mugs and the etching is top notch. We personalized each for our groomsmen with their nickname and their drink of choice. It made for a fun gift with that personal touch.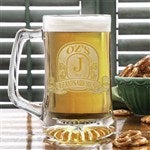 Very Nice!
By
Lisa B.

(Arvada, CO) - June 20, 2012 (
See all reviews by this customer
)
These came out great and my husband loved them! Quality is top notch for the glass itself and the etching.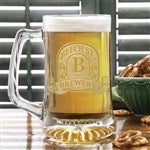 Beer Mug
By
Shelley V.

(portland, ME) - June 19, 2012 (
See all reviews by this customer
)
My husband loved this mug! I got it as a Father's Day present for him, and we thought it was gorgeous! The glass etching is quality..the glass itself has weight to it, and is really well made. All in all, we are 100% satisfied with the product, it came fast, and was perfect..will order again for sure!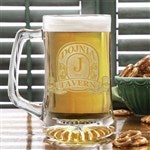 Excellent service & product
By
Evelyn L.

(Cave Creek, AZ) - June 17, 2012 (
See all reviews by this customer
)
I was pleasantly surprised how quickly the engraving was done & delivery was before the scheduled date. Quality product & service all around!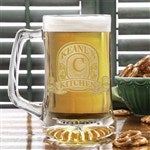 Wonderful Quality
By
Shopper

(Fredericksburg, VA) - June 13, 2012
Great quality! Definitely will come back and refer others!

Personalized mugs
By
PHILLINE L.

(TEMPLE, GA) - December 30, 2013 (
See all reviews by this customer
)
The mugs looked great. My brother put them n his new bar in basement. Look great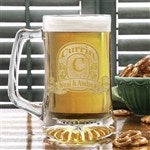 Wonderful gift. Great big smile received!
By
Shopper

(Yonkers, NY) - December 25, 2012
Etching looked wonderfully done! I enjoyed that I could add more than just a name on this particular item. Customizing it further was fun and much more personal. Mug is true to size and a solid functional piece. Can't give it 5 stars yet until receiver gives me feedback after repeated use. This has been one of my favorite items purchased.

Deep Etich?
By
Shopper

(Humble, TX) - December 17, 2012
The glass is beautiful and I love it.
The only comment I have is that the description says "Deep Etich"
The eitching on the mug was not deep. I have seen much deeper on other simular products. The glass seemed like it could have witheld a little deeper proccessing. Anyway, over all it was a good product. I might just revise the description.

Great Gift
By
Keyana M.

(Richmond, VA) - July 16, 2012 (
See all reviews by this customer
)
I ordered this for my friend's birthday. It was better than I expected, and he loved it! I would recommend this for anyone who loves beer.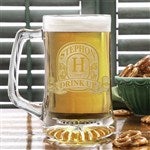 Cool with Personality
By
Shopper

(adams, MA) - October 18, 2013
I loved how the glass came out, but too large. 16-20 oz would have been a more ideal size