Better in Person
By
Shopper

(North Hollywood, CA) - May 8, 2013
I think my biggest concern with any personalized item is that what you see in the online mockup won't be as good as what you get in person. Here the opposite is true. I ordered 5 mugs for my groomsmen, each with a different name and "bar." So each of my mugs was different. And I'm happy with all 5. Incredibly happy. Each of them looks great. It's a really nice mug, and the glass etching on each is really well done. This is a solid buy, and at a great price!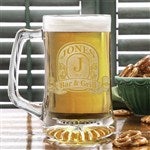 Great drinker's gift
By
Shopper

(Kansas City, MO) - April 20, 2013
This mug will be a go-to item for many occasions. It's hefty, large size, and beautifully crafted.

Extremely Pleased
By
Eunavae T.

(San Antonio, TX) - April 12, 2013 (
See all reviews by this customer
)
I was extremely pleased with this product. It looks like a very high quality item. Proud to give as a gift.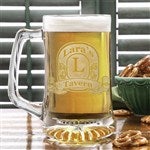 BEST GIFT IDEA
By
Shopper

(Overland Park, KS) - April 9, 2013
This was a graduation gift for someone at my job. As soon as he unwrapped it he was speechless. Could not be happier with the overall product, the design and size of the mug are perfect. Definitely a fan of personalizationmall.com.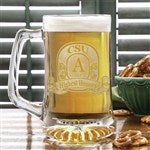 Awesome
By
Dawn F.

(Sidney, OH) - March 24, 2013 (
See all reviews by this customer
)
I bought one for my grown son and one for my hubby.They're really nice and sturdy.The design is etched right into the glass beautifully.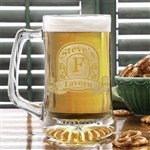 Solid, quality feel!
By
Rebecca C.

(EULESS, TX) - March 10, 2013 (
See all reviews by this customer
)
This mug looks awesome! Would be a great gift for a home bar. The weight is nice. It feels "solid" - not chintzy. I ordered a second one to have a set of two. Even though they were ordered separately, I cannot see any difference in the quality of the work. So they do a great job and they do it consistently! And they look EXACTLY like the preview picture during the ordering process. Highly recommended!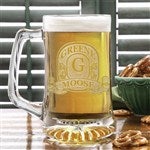 Thoroughly Impressed!
By
Jamie H.

(Williamsburg, VA) - March 4, 2013 (
See all reviews by this customer
)
This mug is very good quality! Thick and holds two beers, yes, TWO! I ordered it as a gift for my husband and we're going to order more to have a set. Definitely recommend this!

Beautifully Done!!
By
Shopper

(Kannapolis, NC) - March 2, 2013
I bought this for my son's 50th birthday. He is going to love it, I just know.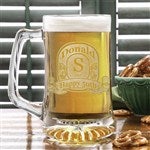 Great Quality Mug
By
Tiffany Z.

(Kewadin, MI) - February 24, 2013 (
See all reviews by this customer
)
I was very pleased with how high quality, heavy duty this mug is; it has a great weight to it and the etching looks very nice.

"Engraved Beer Mug"
By
Shopper

(Tallahassee, FL) - February 10, 2013
I got my brother this mug as a retirement gift. It was much bigger than I expected. He loved it!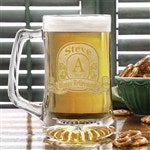 Beer mug
By
Leslee M.

(Vista, CA) - February 9, 2013 (
See all reviews by this customer
)
Bought this mug as a birthday gift for my nephew. It turned out great!! The size of the mug and the quality, outstanding. He wil love it. Thank you.

Better than expected!!!
By
Shopper

(Panama City, FL) - February 8, 2013
I ordered these for my groomsmen. Initially I couldn't write the name like I needed it because it had a lower case letter. I called and spoke with Judy who went above and beyond to help me. She spoke with the individual who does the engraving and then she called me back. He changed the website so you can basically use and letter or number you want to. The mugs arrived and I was blown away. It states "deep etch", and it is. Excellent quality. I chose the gift boxes and put them together myself since it's cheaper. And even those were nice.
But I was more impressed with Judy and her customer service. She was very polite and helpful and followed through when she promised to call me back. She is the reason I will continue to purchase any personalized items from this website.

have a cold one
By
Richard K.

(East Islip, NY) - February 5, 2013 (
See all reviews by this customer
)
very timely delivery product came in excellent condition, I ordered on the phone and their help was terrific. very professional web site. i believe one can order with confidence.

awesome
By
Shopper

(Edison, NJ) - January 28, 2013
bought this for a 40th birthday. it turned out awesome and he loved it

Awesome and Creative Gift Idea
By Shopper (Fort Collins , CO) - January 25, 2013
I was so thrilled when I received the personalized mug I created online! The image that helps you visualize what the actual product will look like was spot on. The shipping process was so easy and you are able to track your product each step of the way. My package came right on time and in perfect condition. The engraving on the glass was done very neatly and I couldn't be happier with the quality of this product! The glass is heavy duty and will definitely be able to last a long time. I was very pleased with the product as a whole and would definitely recommend this as a gift!

Love the mugs!
By
Shopper

(Mullica Hill, NJ) - January 21, 2013
Ordered three of these one for each of my guys for their man cave bars. Superior quality and product but so is everything I get from PM!

Perfect!
By
jean m N.

(e wareham, MA) - January 21, 2013 (
See all reviews by this customer
)
I am so excited my mug was delivered perfectly just the way I ordered it. I can't wait to give it to my son...unfortunately, I have to wait until April to give it to him. What a great gift idea! I put the year he was born instead of the current year. I love it!

Great find!
By
Mandy F.

(Woodstock, VA) - January 12, 2013 (
See all reviews by this customer
)
Easy to personalize product. Great quality. Happy recipient. Cheers all around!

Nice Mug
By
Shopper

(North Providence, RI) - January 11, 2013
Mug is really nice and makes a good gift. It is heavy and the deep etch is awesome.

Birthday Gift
By
Shopper

(bronx, NY) - January 7, 2013
I got this for my boyfriends birthday and he loved it. It was great quality & it's heavy. He loves it & so do I.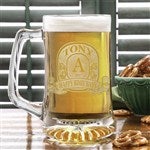 Awesome
By
Megan L W.

(Oceanside, CA) - January 2, 2013 (
See all reviews by this customer
)
I bought two as Christmas gifts. Both came out very nicely. Design was deeply etched into mug so it will not be coming off.

stein
By
Michelle G.

(San Gabriel, CA) - December 30, 2012 (
See all reviews by this customer
)
The fella I bought this for was pleasantly surprised, as promised I recieved several days before Christmas.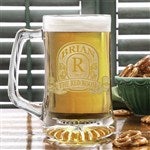 Vintage Bar Sign Personalized Deep Etch Beer Mug
By
Linda R.

(Beverly Hills, MI) - December 28, 2012 (
See all reviews by this customer
)
I highly recommend these. I purchased 8 mugs and was very pleased with the etching on the front of each.

SO AWESOME!
By
Shopper

(Cincinnati, OH) - December 25, 2012
My pawpaw loves his Beer mugs. And when i saw this, i knew i had to get him it. It was his favorite gift, and he loved it. He smiled so big when he opened it! IT was awesome. Thanks so much for putting time and effort in this!

A thrill for my would-be microbrewer
By
Shopper

(Huntsville, AL) - December 19, 2012
I was so impressed with the size, weight, and quality of this piece -- my husband has already asked if we can get another so he will have a set!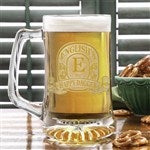 perfect gift
By
Shopper

(corpus christi, TX) - December 17, 2012
was looking for a gift for my brother in law,and thought a beer mug would be perfect for him. The engraving was great,and the package was secure.I was worried that it might break cause it was glass, but it didnt. It arrived in less than a week. overall GREAT product, hope he enjoys it as a glass mug or a decorative item.

BEAUTIFULLY DONE!!!
By
Shopper

(Travelers Rest, SC) - December 15, 2012
This turned out even better than I imagined! Great gift idea!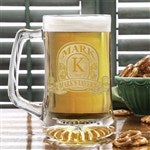 Looks Great!
By
Kimberly D.

(Laughlin AFB, TX) - December 13, 2012 (
See all reviews by this customer
)
The mug is nice and heavy. I was really surprised at the quality of the mug. The etching looked amazing. It wast he first time I have ordered from here. Since then I have ordered several things.

sweet mug!
By
Cari M.

(St Johnsbury Center, VT) - December 11, 2012 (
See all reviews by this customer
)
So impressed with the quality of the etching!! And the price couldn't be beat. This is not my first order with this company, and it is far from my last. :-)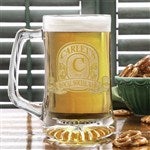 Beer mug
By
Shopper

(Andover, MA) - December 11, 2012
Exceeded my expectations...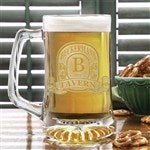 Great purchase!
By
Amber H.

(Kenmore, WA) - December 11, 2012 (
See all reviews by this customer
)
I ordered 4 mugs and am thrilled with they turned out! I loved being able to completely personalize unlike many other sites. I was able to purchase a $40 for $20 coupon from Google deals which was awesome! Order got here within to weeks. Qualify of glasses and etching is great! 5 star!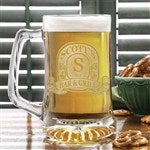 Barware
By
Shopper

(Randolph, NJ) - December 10, 2012
The steins I bought came in perfect shape and exactly as viewed online. They also arrived very quickly.

Quality!
By
Shopper

(Ankeny, IA) - December 9, 2012
arrived fast and looks awesome!

Amazing
The mug is amazing. I got it for my boyfriend for Christmas and I'm glad we opened it early because he thought it was awesome. And we will be making one for his dad! He guesses it will hold about 20 oz. so it's big and has a nice sturdy bottom and says it's heavy duty and that he loves it. Plus the etching has a nice depth. Definitely a great present for any person =)

Better Than Expected
By
Shopper

(Tuscaloosa, TN) - December 8, 2012
This is the REAL DEAL! Huge mugs, with beautifully engraved design custom with whatever name you choose. I've bought three pairs of these for friends as wedding gifts, they all seem very happy with them.



Great Quality!
By
Shopper

(Turnersville, NJ) - December 7, 2012
I went back and ordered a second one. Great Quality!

Awesome Quality
By
Shopper

(Duluth, MN) - December 5, 2012
I just ordered this for my boyfriend for Christmas and I think he'll love it. The etching has a good depth, it's not too shallow but not too deep either. I LOVE seeing the work done in the scrolls because it looks just amazing.

Has a nice heavy bottom to it as well and what seems like a sturdy handle. Thanks! =)

wow!
By
Andy M.

(austin, TX) - November 30, 2012 (
See all reviews by this customer
)
I know the other reviews commented on how heavy they were, but I was NOT expecting anything close to what I received. These mugs are AMAZING. The engraving is raised, so the glass is textured. They're flawless.

I have ordered 6 so far!
By
Cherrie L.

(Hampton, CT) - November 28, 2012 (
See all reviews by this customer
)
These steins are much bigger than they look and very heavy! Great quality ! The best is the quality of the engraving. It is a wonderful gift. I was sad to see them go on sale AFTER i ordered my 5th one though.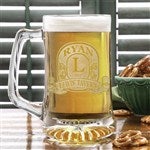 Wonderful
By
Shopper

(Kenai, AK) - November 27, 2012
This mug is great! High Quality, heavy, love the handle AND base. Also love how great the inscription looks!! Highly recommend. Will be ordering another in the future.