Kitty Frame
By
Shopper

(los angeles, CA) - September 28, 2014
Wonderful way to remember my sweet Groovy...TY!!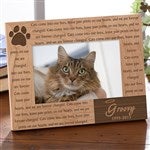 More than I expected
By
Shopper

(Tarzana , CA) - September 20, 2014
Just received my frame.
I was surprised how nice it really was.
I wanted a nice frame for my kitty Mugsy.
I recently lost him from cancer.
I wanted a frame to put his picture in. This was perfect and added bonus was the way they personalized the frame.
I'm very happy with my purchase.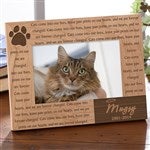 PERFECT!
By
Natalie P.

(Columbus, IN) - July 7, 2014 (
See all reviews by this customer
)
I searched high and low for a nice memorial frame for my fur baby and when I finally decided on this one, I was not disappointed at all when it arrived. The quality was AMAZING and it actually looked a lot better in person. I will keep ordering from this company with quality products like this!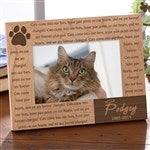 Paw Prints Frames Help Healing
By
Andrea K.

(Westminster, MD) - April 29, 2014 (
See all reviews by this customer
)
We have given these frames to four different friends and/or family members who have lost fur kids during the past year. Each recipient has indicated how please they are to have such a lovely piece to display a permanent reminder. The frame is top-quality in design and craftsmanship, and delivery is prompt, so dealing with personalizationmall.com is quite easy! I'm so glad we found this website!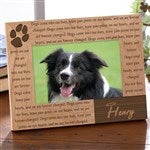 Beautiful way to memorialize a pet.
By
Patty O.

(Waynesboro, VA) - April 14, 2014 (
See all reviews by this customer
)
Love this frame. Have purchased it twice....first for a friend and now for a family member who lost a beloved pet. It was greatly appreciated both times.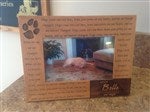 Beautiful
By
Shopper

(Edwardsville , PA) - April 12, 2014
Loved it so much when it came in, was very pleased with it. I would get it again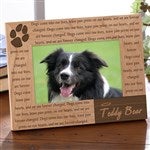 frame
By
jennifer C.

(forest hills, NY) - March 30, 2014 (
See all reviews by this customer
)
Beautiful memorial for a beloved fur baby. Very well made and has brought lots of happiness to those who have received it.

Perfect
By
Shopper

(Montgomery, TX) - March 11, 2014
Gift for grieving sister-in-law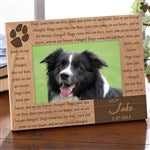 Love this frame!
By
Stephanie C.

(Madison, AL) - November 17, 2013 (
See all reviews by this customer
)
This is a beautiful frame and I am so happy that I purchased it to give to my friend who recently lost her beloved dog, Buddy. The frame is great quality and I love the engraved name & date. I would definitely purchase from Personalization Mall in the future.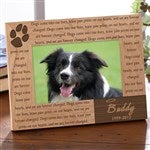 Very Fast with Good Quality
By
Shopper

(Stuart, FL) - November 12, 2013
The order was processed and shipped very quickly, actually surprisingly QUICK! The quality of the frame and personalization was what I've come to expect from "Personalization Mall.com". I would buy this again and have no problem recommending this product to you.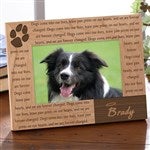 Beautiful Memorial To Pet
By
Jessica W.

(Hilton, NY) - November 8, 2013 (
See all reviews by this customer
)
This is a custom, well made frame. Sturdy. It is a beautiful way to memorialize a pet with the perfect photo!!! Definetly recommend.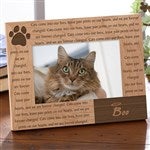 Beloved pet
By
Judith F.

(West Orange, NJ) - October 19, 2013 (
See all reviews by this customer
)
I don't have much to say except that it was more than I expected. Ordering this item did not fail when compared to the photo on line. You will not be disappointed.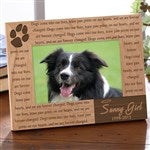 A Special Frame For A Special Friend
By
Vincent B.

(Rockford, IL) - July 17, 2013 (
See all reviews by this customer
)
I thought the frame was really nice.I loved the personal engraving with my cats name on it.I liked the fact that you could hang it on the wall.We have it hanging in a special place..A great product to pay tribute to a special friend..Thank You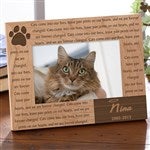 the frame was beautiful. I just love it.
By
KATHLEEN M.

(MINE HILL, NJ) - July 5, 2013 (
See all reviews by this customer
)
When I received them, what great workmanship on these frames. I was very happy with them. One was a gift for my friend, her family love it too.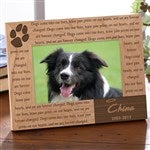 Beautiful Frame
By
Shopper

(Woodbridge, VA) - June 10, 2013
This is a beautiful and very-well made frame. My little Cassie looks great in it. As an added bonus, the frame arrived several days eariler than expected. If you're looking for a great photo frame to help celebrate the life of your four-legged family member, you can't go wrong with this frame.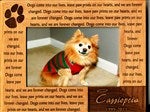 Spectacular frame!
By
Michelle K.

(New Smyrna Beach, FL) - March 16, 2013 (
See all reviews by this customer
)
The picture online does NO justice to the actual frame; exquisite carving!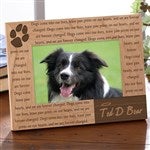 Feline Version Frame
By
Shopper

(Grand Rapids, MI) - December 5, 2012
I bought this frame as a memorial to my beautiful cat Hershey. This frame is beautiful and solid wood and has a solid feel to it. The inscription of her name and years are perfectly inscribed with precision. No rough edges or such. High quality, deep cut inscriptions. I HIGHLY recommend this frame. It has brought me great comfort.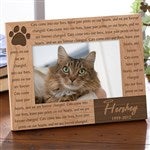 Toby frame
By
Connie F.

(Janesville, WI) - November 25, 2012 (
See all reviews by this customer
)
The memorial frame for my sisters pet was beautiful and greatly appreciated.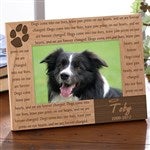 Super sweet
By
Georgina K.

(West Chicago, IL) - October 3, 2012 (
See all reviews by this customer
)
This product is super nice in person and a great gift for any "pet parent". Shipment was super fast and I am happy with my purchase.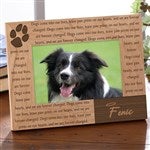 Perfect
By
Mark N.

(Wheeling, IL) - September 8, 2012 (
See all reviews by this customer
)
A friend of mine from work recently lost her sweet dog and I wanted to get her something to memorialize him ~ this ended up being the perfect gift. She immediately put his picture in it and it sits on her desk where she can see him every day. The quality was excellent and the personalization was great ~ I especially loved the little halo above the first letter in his name!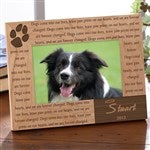 Pet Mom
By
Shopper

(West Covina, CA) - October 12, 2012
Nice frame just what I wanted to remember my dog.

Love it, except...
By
Shopper

(Erie, PA) - December 17, 2013
I love the frame and it is great way to memorialize my pet. The only complaint I have is that the section where her name is written is made of two pieces of wood that are different colors and her name blends in at the end. Otherwise, it is great.

Love this Frame although slightly different than expected
By
Cynthia G.

(Bellingham, WA) - December 26, 2013 (
See all reviews by this customer
)
I would give this product a 4 1/2 star if there was one. The frame we ordered arrived quickly and in great condition. Personalization was correct. Price was great as item was on sale when I finally got around to ordering it shortly before Christmas - was $6 more earlier. And the 20 percent off coupon pretty much covered the postage charges. The only thing I was disappointed in was that I thought our frame would be exactly as the one above. Can't remember what it looked like in the final picture they sent me showing my personalization. The frame we received while beautiful was all beige natural wood so the pawprint and name did not stand out as well. We are happy with it though and like it enough that we will not send it back. When I first looked at my received product I though the dog's name and date didn't stand out as much as expected and it wasn't until I saw this picture here that I saw why - both corners are done in a darker stain. Oh well - we love the frame we got. It was a Christmas present for my son who lost his beloved lab the past year. He was thrilled and nearly in tears when he saw the gift.

Simple and Classic
By
Shopper

(Las Vegas, NV) - August 20, 2012
I wanted something not too fussy or sentimental to memorialize our recently departed dog. This was perfect - the frame is good quality, and the design is simple and classic. The ability to add our dog's name and the years of his life made it special, and shipping was very fast. Very pleased and highly recommend.

Photo Frame
By
Dinah C.

(Robinson, IL) - October 1, 2012 (
See all reviews by this customer
)
I am very pleased with the picture frame I received and the prompt service.
It is a very fitting tribute to my precious, beloved pet.


Thank you

gift purchase
By
Shopper

(Marlinton, WV) - December 24, 2013
For the price, I thought it could have been better quality.

Excellent quality and personalized gift for a sad time.
By
Scott T.

(Castle Rock, CO) - November 12, 2012 (
See all reviews by this customer
)
We were very pleased with the quality of this frame and how quickly we received it. It is a nice idea for someone that has just lost their best friend. It will be a keepsake forever for the owners.

Lovely memory
By
Shelly B.

(Willow Park , TX) - October 13, 2013 (
See all reviews by this customer
)
This frame is exactly what I needed. I have a beautiful picture of my dog,this is a great way to remember her. The frame is good quality, the printing is very good. We received the frame in a couple of days.
Excellent price and an excellent buy.

Special memorable gift for that special person
By
Candi G.

(Newberg, OR) - June 10, 2013 (
See all reviews by this customer
)
I bought (2) of these for (2) of my best friends that had just lost their dog. They loved them and it meant so much to each of them. This way they'll always remember their dog in an extra special way with their name and years old. Thank you for making such a special, priceless gift!!

Wonderful Frame
By
Shopper

(Lexington, KY) - April 26, 2014
Bought this frame after my cousin's dog passed away. It was very nice quality and I am so pleased and so was she. Definitely would order again.

Touching Photo Frame
By
Shopper

(Deptford, NJ) - January 14, 2014
Really nice photo frame, good quality and very touching for someone who has lost their pet.

Vicki
By
Victoria J.

(Butte, MT) - March 3, 2013 (
See all reviews by this customer
)
It is absoulutely What I was looking for It a beautiful frame Thank you very happy with it

Excellent gift
By
Traci D.

(Lees Summit, MO) - December 22, 2012 (
See all reviews by this customer
)
This prodcut arrived timely. It was very well made. Beautiful! My boss loved it. She just lost her dog this November. Would definitely shop this site again.

Paw prints frame
By
DeAnn R.

(Lawrenceville , GA) - May 31, 2013 (
See all reviews by this customer
)
Got this for my husband after his beloved Gracie passed. It brough tears to his eyes. It's a beautiful frame.

Wonderful Memorial To Our Beloved Companion
By
Glenda S.

(Chuluota, FL) - March 31, 2013 (
See all reviews by this customer
)
After searching for hours for just the ideal frame to honor our devoted dog of 16 years, I ordered this one. So glad I did!!! It is a quality frame that is so attractive, appropriate, and classy. Could not be happier with my purchase. The personalization is so professionally done. If you purchase, you will definitely not be disappointed.