For our Pup...
By
Shopper

(Kent, WA) - August 29, 2014
My wife and I had to put our 14 year old dog down recently and wanted to find the perfect container for his cremains. After looking at several options, we found Personalizationmall.com. We were able to put our favorite picture of our pup and his name on a cookie jar. To be honest, we weren't really expecting much due to the price. We were extremely surprised at the fantastic job they did! The quality of the jar itself was very high and the picture and text are crystal clear! Well done!!!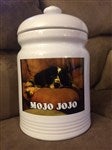 Very nice
By
Rosemary H.

(Wade, NC) - June 3, 2014 (
See all reviews by this customer
)
I ordered the cookie jar to use as an urn for my pet's ashes. It turned out great! It will hold her ashes as well as a few special items that belonged to my pet.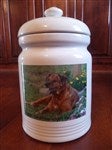 very nice
By
shannon D.

(N Tonawanda, NY) - May 11, 2014 (
See all reviews by this customer
)
Thank You ! IT turned out very nice. We are quite pleased- just wish the jar was a bit larger.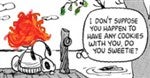 FANTASTIC!
By
Jay N.

(Corrales, NM) - August 25, 2013 (
See all reviews by this customer
)
I couldn't be happier, this is everything I wanted and more. Great size, printing is excellent and the gasket on the inner lid makes a good seal to maintain freshness. Ordered this item along with three matching mugs and they all were perfect: shipped on time and arrived well packaged without any damage. I'm impressed with this site and will be ordering more items soon.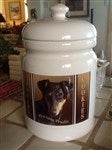 Cookie Jar
By
Shopper

(Oglesby, TX) - November 5, 2013
I bought this as a gift for my grandmother and put all 4 over kids, 15 grand kids, and 8 great grandchildren names on this. My grandma loved it, she made me put it in the kitchen and put the cookies in it immediately so everyone would be able to see it.

Beautiful wedding present
By
Shopper

(Chestertown, MD) - October 27, 2013
I designed my own jar because the other jar options were too hokey for my friend as a wedding present. I customized it to fit the wedding's theme and paid extra for shipping because I'd ordered it last minute. It came right on time and looked absolutely stunning. In fact, my friend said it was the best present of the lot from her wedding. Designing it was extremely easy - save a picture then upload it, and the program's fonts and customizable text were varied enough that I found the perfect one for the occasion. Overall, this was a homerun and I can't be happier with the end result.

love it!
By
Shopper

(farmington, MN) - September 20, 2013
awesome quality. I was afraid the cookie jar may be too small but it is the perfect size--not small at all. Picture is crystal clear.

Cookie Jar was a hit
By
Shopper

(Waterloo, NY) - December 29, 2013
The Cookie jar was high quality and a the kids and parents loved there name on it with a there own slogan in the middle. Really big hit when you put your own cookies inside.


Very nice
By
Shopper

(Lincoln, KS) - December 25, 2013
We are using this as a money savings jar and the design area was amazing! I love the way it looks!

Great gift idea and well made!
By
Aubrey S.

(Phoenix, AZ) - December 24, 2013 (
See all reviews by this customer
)
I purchased this jar for my uncle who we call the cookie monster. It was a great size and bigger than I thought. We were able to personalize it and put a few touches of our own as well. Its a good weight and came right on time. I was very pleased (again) at what personalizationmall did!!

Cookie lover
By
Shopper

(Warren, NH) - August 27, 2013
I had a cookie jar made for a friend who loves cookies and he absolutely loved it. I was able to put his picture and logos with Mike's Cookies on it and he displays it at his restaurant. The jar is a sturdy cookie jar and holds 2 dozen cookies..

Love this cookie jar
Personalized one for doggie treats..great size

So pleased with our purchase
By
joyce R.

(rochester hills, MI) - May 25, 2013 (
See all reviews by this customer
)
We wanted to commemorate the first Mother's day for our new daughter in law with a special gift; the graphic quality and printing on it exceeded my expectations. Thank you, Personalization Mall!

Joyce, Michigan May 25, 2013

Very Pleased
By
Shopper

(Placitas, NM) - May 8, 2013
I was surprized by the size of this well-made, heavy duty cookie jar. It will hold approximently 1 1/2 dozen medium sized cookies without crushing them. It has a nice seal on the lid to ensure freshness. I made a custom design, and they did a fabulous job on it! The Photo came out beautiful and the lettering is very clear, legible and perfect. Nice Job guys!

cookie jar
By
Shopper

(brentwood, TN) - January 25, 2014
The cookie jar was a great gift and the picture clear and the color perfect. My 4 star instead of five is that I wish the picture had been larger..which could have been some my fault. Great gift idea

Great End Result
By
Shopper

(Brooklyn, NY) - December 14, 2013
The cookie jar we were able to personalize was delivered true to form. Looks great, can't wait to present as a gift.

Great Gift!
By
Brenda K.

(West Hills, CA) - July 31, 2013 (
See all reviews by this customer
)
Put a picture of the grandkids on it and it was the perfect Birthday gift for Grandma. Have this jar in my own home and it keeps the cookies nice and fresh...not that they are in there long!

Must have for new home!
By
Shopper

(Roosevelt, NJ) - July 26, 2014
This was for my nephew for graduation and new apartment. He loves it. I had a picture of him and his siblings. Great gift.

Love it!
By
Cheryl S.

(Fairborn, OH) - July 22, 2014 (
See all reviews by this customer
)
I personalized and ordered this cookie jar. I was concerned that it would be a blurry image or the jar itself would be too small to be useful. However, I was wrong all around. This is the cutest thing ever. I am very pleased with the jar. It is going to make a great gift. Thank you! Cheryl

Personalized cookie jar
By
Shopper

(Fort Washington, MD) - July 21, 2014
Excellent job with the personalization. Perfect, in fact.

Beautiful Dog Treat Jar
By
Dawn C.

(Sayre, PA) - August 11, 2014 (
See all reviews by this customer
)
The personalized cookie jar is large and very sturdy, and the printing is crisp and beautiful. There is a rubber seal to keep contents fresh. I gave it as a gift to be used for dog treats. The turn around time was very short and I am very satisfied with the final product and experience. Now I'm going to order one for myself!

Perfect Closing Gift
By
Shopper

(Fontana, CA) - August 19, 2014
I'm a Realtor and I've ordered these for several home buyers as a Thank You gift. They are very nice, great quality!

perfect gift
By
Shopper

(CLERMONT, GA) - August 18, 2014
I love love this cookie jar!

Excellent as always.
By
Shopper

(Westwood, NJ) - August 16, 2014
Not surprised at the high quality of the jar and the imprinting. I got it as a gift for my boyfriend and my anniversary - he loves it. It makes me so happy to see him put cookies in it.

Cookie jar
By
Naomi J.

(Pearland, TX) - May 31, 2014 (
See all reviews by this customer
)
We designed the cookie jar for a silent auction piece for our 60th family reunion. It turned out perfect. Just the way we wanted. The script is beautiful and well done. We love it!!!

excellent
By
Shopper

(Fuquay Varina, NC) - March 22, 2014
This cookie jar is very well made, the personalized writing and picture were beautiful. I highly recommend this product.

Fabulous
By
JoAnne B.

(San Jose, CA) - February 23, 2014 (
See all reviews by this customer
)
This came out fantastic.......it was a Wedding Anniversary gift and they simply loved it!

cookie jar
By
Shopper

(LEOMINSTER, MA) - December 29, 2013
I ordered this cookie jar for a gift and it was so nice quality was great and my gift went over so big I will order one for my self soon.

Mission Accomplished!!!
By
Jeffrey F.

(Cumming, GA) - April 8, 2014 (
See all reviews by this customer
)
I bought this item and had it personalized to commemorate the grand opening of a dear friend's new coffee shop. I was worried that the low resolution image would be an issue, but the finished product was far greater than I ever imagined!!! (Based on her tears, I would say she loved it!!!) It is now proudly displayed on a pastry case and everyone who comes into the coffee shop asks about it. This was my first time using Personalization Mall....and it WON'T be my last. I couldn't be more pleased with the service and this cookie jar.

best gift site ever!!
By
Shopper

(Woodworth, LA) - May 25, 2014
I feel like I have discovered a secret place to shop, I LOVE the things I have bought so far. Very good quality and price. Comes in at a reasonable amount of time. I need to order something for myself now,everything has been gifts for someone else (they loved)

Awesome Dog Treat Jar
By
Shopper

(Albuquerque, NM) - May 25, 2014
Was exactly as I designed. Rubber seal is tight but not to tight can open with one hand. Post pic on Facebook and everyone loved it on the Dog Facebook page my wife belongs to. Highly recommend this style jar as a design your own or pre-designed.

Amazing Gift for a Perfect Price
By
Shopper

(Henrico, VA) - May 6, 2014
I have a friend that loves the TN Titans. I got him this cookie jar with their logo and personalized it with his name. He loved it! This cookie jar is a PERFECT gift for anyone and the personalization turns out beautiful! Great quality and a great price seeing as other places this would cost $50 or more. Shipping was super fast, took four days tops for me to get my product. I can't wait to order more items from this site!