Fathers day
By
Kimberly M.

(Staten Island, NY) - June 18, 2013 (
See all reviews by this customer
)
This is the second tie I got for my dad and were pleased both times with this item. It is a good quality tie and it comes out great. I recommend this product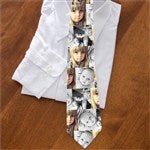 CREATIVE
By
Shopper

(lebanon, PA) - June 17, 2013
This was so nice my dad loved it. He said it was so creative. THANK YOU!!!!

Priceless
By
Shopper

(Mahomet, IL) - June 17, 2013
The quality is very impressive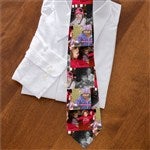 perfect
By
Shopper

(DRACUT, MA) - June 17, 2013
was a hit on Father's day!! All the pictures were very clear, it was perfect!!

Photo Collage Tie
By
Janet D.

(Dudley, GA) - June 17, 2013 (
See all reviews by this customer
)
Excellent quality & quick service. Gave as Father's Day gifts to my son, husband, and dad. Everyone loved the tie. This will be a SPECIAL keepsake.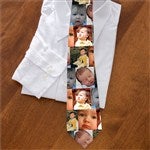 Great purchase
By
Shopper

(Drexel Hill, PA) - June 17, 2013
Awesome tie! We bought two and they came out great!!

Better than expected!!!
By
Shopper

(Mountain Home, ID) - June 15, 2013
I am so pleased with the way the tie turned out! I wasn't sure since I couldn't arrange the pics the way I wanted but I LOVE the way it looks! My husband is going to love it, it's his Father's Day gift. Thank you so much for providing this service and for using such high quality materials! I will definately be back for more!

Love this tie!
By
Lauren M.

(Merritt Island, FL) - June 15, 2013 (
See all reviews by this customer
)
I got this for my dad for Father's Day. He absolutely loved it! He thought it was the coolest gift ever. It turned out great!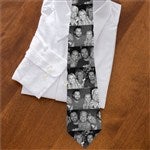 The cutest tie in the world! More than 5 Stars!
By
Shopper

(San Antonio, TX) - June 14, 2013
I was a little skeptical about ordering this tie for Father's Day. I did and am more than pleased with it. I chose 5 of the best pics I own of my 1 year old and the anticipation of giving this to my husband for father's day is growing more and more each day. I am sure he is going to LOVE it. I ordered it in silver/black/white tones so it blends with all of my husband's work shirts. The tie is actually a much more brilliant shimmery silver metallic color than I expected. I LOVE LOVE LOVE this tie. It is the perfect rmost sentimental, and most useful gift for any male. This tie deserves a 10 star! Thank you so much!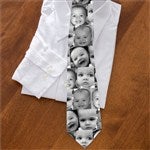 Absolutely Awesome
By
Shopper

(Greensboro, NC) - June 13, 2013
Thank u personalizationmall.com For The Excellent Products & Service!!!

Oh My Goodness, what can I say about this Beautiful tie & All That I Ordered? Simply Put, Awesome!
Having A husband that LOVES Gifts, he LOVED this tie.
This gift he never expected and it brought him to tears.

I Love This Site!!!

How it looks
By
Shopper

(Miramar, FL) - June 11, 2013
The tie is very beautiful and detailed and looks like the pictures I chose. I know it's going to be appreciated it's too fabulous. Thank You Again. P.M.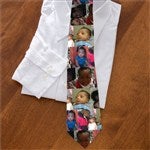 Collage Ties
By
Shopper

(Lake George, NY) - May 29, 2013
Fabulous quality, unique gift!,,

Photo Collage Tie
By
Janet D.

(Dudley, GA) - May 28, 2013 (
See all reviews by this customer
)
Exceptional quality and adorable keepsake of my grandon's pic's for my son's father's day. I know my son will LOVE the tie! Another terrific gift from personlization mall. Thanks!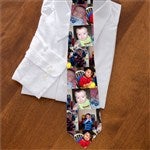 I'm in love!
By
Amanda G.

(Chesterfield, MI) - May 27, 2013 (
See all reviews by this customer
)
I bought this for my husband for fathers day and I cant wait to give it to him. The pictures came out so clear and bright it looks amazing! Personalization mall you did it again another great gift and I get all the credit :)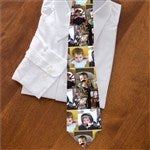 Awesome just Awesome
By
Tanza S.

(Albany, GA) - April 12, 2013 (
See all reviews by this customer
)
I could rave forever about personalization mall.com! Excellent product and service each time!
My boyfriend LOVED his tie (tears) thanks!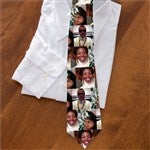 cheer Banquet Tie
By
Shopper

(Acworth, GA) - April 10, 2013
This tie was the talk of the banquet!!!!
such a neat idea and the quality was great!
the pictures were very clear quality and this will be a treasure for years to come:)

great purchase
By
Shopper

(cranston, RI) - April 8, 2013
This item was priceless

Adorable ties
By
Michelle B.

(Tampa, FL) - March 22, 2013 (
See all reviews by this customer
)
I purchased 3 ties for my husbands 50th and our 20th Anniversary for our 3 boys to wear at his 50th surprise bday party. The ties are so cute! Each ties will represent a time period in my husbands life (self,couple,kids) and I can not wait for him to see them! When arranging pics there is a trick per say, if you do not like the auto arrangment just go back to start and place pics in different order until you get photos the way you like best.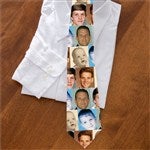 Photo Tie
By
Shopper

(Del City, OK) - March 13, 2013
Excellent product! Quality of satin-like material, placement, size and clarity of photos on the tie was perfect. I used black and white photos which ran the whole length of the tie, and they looked great. The reverse side of the tie was a solid white satin (look and feel) which complemented the b/w photos on the front. The stitching, length, width and overall shape of the tie was perfect. Item was prepared and shipped in less than 24 hrs. and I received the pkg in excellent condition a few days later! Extremely pleased with the product, workmanship, quality and service for this item just as I have been with ALL the other items I've purchased from Personalization Mall!

great personal gift
By
Shanon H.

(nampa, ID) - February 4, 2014 (
See all reviews by this customer
)
loved how the pictures came out---

super awesome gift!
By
Shopper

(Billings, MT) - January 1, 2014
Bought one and loved it so much bought two more as gifts. Better than I expected. Love that you can do five pictures. I will be doing this again.

Awesome
By
Shopper

(Dubois, PA) - December 23, 2013
Very pleased with the picture quality. Only reason for 4 star and not 5 is that it should be on a black tie instead of white.

Favorite Faces Personalized Photo Collage Tie
By
Shopper

(Stanton, CA) - November 4, 2013
I ordered this for my Pop's B-Day.
The tie has the appearance of silk. The black & white photos of his folks were printed flawlessly & glossy. Everyone at the party passed it around & was very impressed!
The tie & I were a hit! Thank you
One very small detail & the only reason for the 4 instead of 5 star rating, the seam down the back of the tie could be sealed or sewn a touch better. But, still awesome...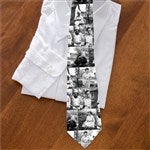 Great and unique present
By
Shopper

(Brooklyn, NY) - June 25, 2013
Very happy with tie. Unique present! Only wish I could have used 4 pictures instead of 5. Also, the pictures were a little blurry but that could have been because of the picture quality.

Personalized Tie
By
Colleen B.

(Murfreesboro, TN) - June 23, 2013 (
See all reviews by this customer
)
The photo collage ties at adorable. I made a tie for my husband for Father's Day, we do not have children, I used pictures of our dogs and cats and made a second tie with pictures of our chickens. The pictures pint out nicely on the tie. It definitely is a conversation piece!
The only thing I did not care for was the back of the tie. Apparently the pictures are printed on the material in the shape of a tie, so after folded and sewn in the tie shape, the back is left white, when you tie the tie it twists and shows the edges of the white backing. It would be nicer if the back was black or even better would be if the pictures were printed on the whole piece of material so there is no problem with edges showing.
Otherwise it is a cute idea and my husband loved his tie, he wore it the next day!