Wonderful Mother's Day Gift
By
Meghan L.

(Durham, NC) - May 14, 2013 (
See all reviews by this customer
)
Such a wonderful gift for Mother's Day... I had this made for my mother with pictures of my children. She just loves it!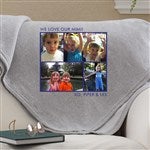 Great Present
By
Shopper

(Omaha, NE) - May 13, 2013
My sister loved the blanket.
She loved all the photos of her family.
I liked shopping on the website because you have alot of sales. I also liked the free shipping.

Sweatshirt Blanket HUGE success
By
Sandra B.

(Somersworth, NH) - April 2, 2013 (
See all reviews by this customer
)
I purchased the blanket as a 1st Birthday gift for my only grandson. Put a picure of him the day he was born with me feeding him added 3 other pictures of various stages of his year and ended it with a pitcute of his parents,him, me and his Great Grandfather.....what a HUGE success this gift was. Everyone wanted to know where I got it done and when I told them of the website and that it only tood a few days to get it they were all sursprised and excited to visit the site. I also brought it to my office and know several of the youngs moms that are going to be purchasing them. GREAT PRICE, GREAT KEEPSAKE, GREAT CUSTOMER SERVICE AND OVERALL GREAT EXPERIENCE.

Thanks Personalization.com
Sandra B.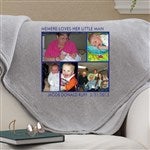 LOVE
Just received my blanket. I love it. So much nicer than what I expected. This was my first order. I will be a return customer. Fast delivery as well for a personalized product.



Beautiful
By
Shopper

(Bronx, NY) - March 16, 2013
I really was surprise to see how great the photo was on the blanket. I bought as a gift, I hope they enjoy it as much as i did.

Nice.
By
Shopper

(Baker , LA) - June 12, 2014
It's actually a pretty big blanket. One side is super soft too! The picture is at the corner of the blanket. The rest of the blanket is just plain. You get what they say you'll get. Only thing that could've been better is if the print would've had more contrast to show up on the blanket better. You can still see it clearly though. I'd recommend!

Father's day gift
By
Shopper

(Flushing, MI) - June 9, 2014
My husband opened his box, provided by Personalizationmall.com, and he couldn't stop smiling. He has washed the blanket and keeps it right with him. Proud daddy moment from his almost 2 year old son.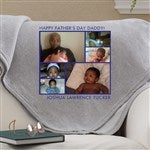 Loved the product
By
Shopper

(Blacklick, OH) - June 2, 2014
I purchased this blanket as a graduatuon gift for a friend going offf to college. I loved it and she loved it even more. It is the perfect size and will be very cozy once washed. However, getting the pictures cropped was rather challenging. I did not feel that the program for downloading and cropping pictures was very user friendly. Overall, very pleased with this product and all other products i have ever purchased from this site.

GREAT GIFT!
By
Erin D.

(Pittsburgh, PA) - May 12, 2014 (
See all reviews by this customer
)
I PURCHASED THIS ITEM AS A GIFT. I THINK IT'S PERFECT FOR WHAT I NEEDED IT FOR & PRICED FAIRLY. I AM SURE THE PERSON IS GOING TO LOVE IT. HAS A GREAT PERSONAL TOUCH! :)

Pleased
By
Carli N.

(Virginia Beach, VA) - March 14, 2014 (
See all reviews by this customer
)
I was pleased with the way the pictures turned out. I wish the helpful 'good,better,best' tips when editing your photos would be more specific. Mine said better when I was editing my photos, and they were not as I expected. The pictures came out darker then they were pictured. I was still very pleased, and you could still make out what each picture was. If I was to order this blanket again, I would just make sure I chose better pictures.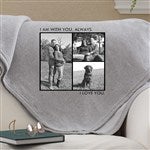 Mom Loved It
By
Teresa C.

(China) - January 24, 2014 (
See all reviews by this customer
)
It was my mom's 80th birthday and I wanted to get her somethings unique. So I chose our favorite picture and put it on this blanket. Since it is sweatshirt fabric it is not too hot nor to cold to use as a wrap. Great gift!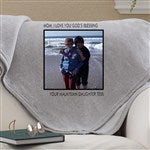 Very nice gift
By
Shopper

(Sistersville, WV) - January 23, 2014
I bought this to give as a gift. I thought it was a nice personal item to give. Only thing I would change is the size of the picture. I think it should be just a little bigger. Other than that, it was very simple to pick a picture, upload and preview.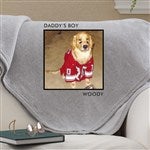 Sweatshirt Blanket
By
Shopper

(Poughkeepsie, NY) - January 6, 2014
I bought this blanket as a gift for my mother and put a picture of my son. The blanket itself is wonderfully soft. The picture printed a little lighter than I thought it would but it still looked nice.

great grandchildren
By
angela B.

(north bergen, NJ) - December 14, 2013 (
See all reviews by this customer
)
I ordered two blankets with pictures of my grandchildren. They will be x-mas gifts for great grandma and grandpa. I am very happy with the way they look. I am sure great grandparents are going to be surprised and so pleased with these gifts.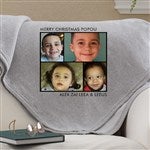 Excellent gift!
By
Shopper

(Easley, SC) - November 20, 2013
Will order more gifts from this company. Know the grandparents will love the blankets!!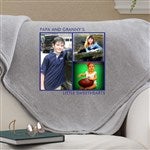 Almost perfect
By
Pat F.

(Maple Shade, NJ) - November 12, 2013 (
See all reviews by this customer
)
The sweatshirt material is just like one you'd wear, soft and warm. I hope it gets better with age, just like a sweatshirt you'd wear. My only wish is that the photos could've been much bigger. It only covers a small corner. I would've liked 8x10, or even larger photo sizes! Overall, it's a nice memorial of our dear cat, Butterman, may he rest in peace.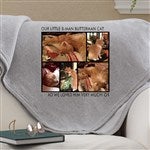 quality wasn't bad
By
amanda L.

(commack, NY) - May 19, 2014 (
See all reviews by this customer
)
The blanket itself was nice, just really disappointed on how big the picture was.

Not as I thought
By
annie M.

(san ramon, CA) - April 27, 2014 (
See all reviews by this customer
)
It's a nice blanket but the pictures are too dark Ive never had problems before but this item wasn't the best quality

Blurry Photo
By
Shopper

(South Windsor, CT) - March 21, 2014
I have ordered MANY things from Personalizationmall over the years and have always been very happy. I recently purchased this photo blanket with my kids faces on it, and was dissapointed with the clarity of the printing. The photos are rather blurry.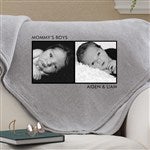 Not what I expected!
By
Shanda M.

(Macomb, MI) - May 13, 2014 (
See all reviews by this customer
)
I ordered this for my mother for Mother's Day 2014. I was disappointed because the picture was placed in one corner of the blanket and it was smaller than I thought it would be. I would have liked the pictures to be bigger and in the center of the blanket so she could spread it across her bed.

Smaller Than I thought
By
Donna F.

(Salisbury, MD) - December 24, 2013 (
See all reviews by this customer
)
I like the cover however, I thought that the image would have taken up more space on it. Other than that I am fine with the product.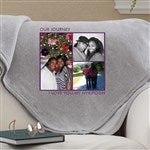 Not like the preview picture
By
Shopper

(Boulder, CO) - March 31, 2013
I have made so many orders from PM what I love about this website is the very high quality of their products and the fact that their preview (i.e. click to view your personalized item button) really shows you what to expect. I would say all their products either come as the preview or even better. But unfortunately, the preview for this blanket came with the pictures being really clear and crisp but when i received the actual blanket the pictures were really washed out and blurry even though the pictures are high resolution. I'm disappointed with the product (I bought two blankets and both are the same. I'm sure PM can improve the quality of this product). I wont stop shopping here but I would probably be more cautious buying clothes etc with pictures printed on them if the quality is like the blanket I got.

Photo Blanket
By
Shopper

(Blakely, GA) - April 26, 2013
I was very displeased with the quality of the photos on the fleece blanket. The photos were previously used on another blanket by another company and looked great. I spoke to a rep with the company and they said they didn't see a problem and did not want to correct it.

Not Happy
By
Shopper

(Moreno Valley, CA) - April 23, 2013
The preview for this blanket came with the pictures being really clear and crisp but when I received the actual blanket the pictures were really washed out and blurry even though the pictures are high resolution. I'm disappointed with the product