just as ordered
By
Meredith M.

(North Highlands, CA) - July 21, 2014 (
See all reviews by this customer
)
We are very pleased with the stamp that was ordered and received promptly. I loved the way you showed us exactly what it would look like at the time of placing our order. Thank you so much.

Great gift for new homeowners
By
Hilarie W.

(Beaverton, OR) - July 8, 2014 (
See all reviews by this customer
)
I have ordered personalized address stampers before, but liked the fact that the writing on this one was horizontal, and did not take up a lot of space. I ordered it for a young couple who just moved into their first home, and they loved it. It has a simple design that is easy to read. The self inking stamp is very useful on both personal and business stationery.

my personally designed stamp
By
Sherry D.

(Mesa, AZ) - July 7, 2014 (
See all reviews by this customer
)
I love the design that was available for me to make this a more personal stamp. It really looks nice and the design flows which is what I was going after.

Great Stamp
By
Shopper

(Cleveland Heights, OH) - July 5, 2014
Stamp came out just as expected. Works well!

Stylish & works great!
By
Shopper

(Fremont, CA) - June 29, 2014
I love it! I ordered the stamp for return addressing our wedding thank-you cards. It has lots of style but is clear and readable. Font is a good size. Stamps clean and ink nicely saturates the envelope without bleeding.

LOVE LOVE!
By
Jessica R.

(Miami, FL) - May 18, 2014 (
See all reviews by this customer
)
This was a gift for my mom and sister. They absolutely loved them!!!! The packaging, quality, and delivery were EXCELLENT!!!! Very happy with the product. I will be buying myself one soon. ;)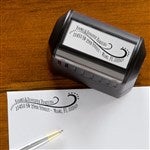 Self inking stamp
By
Shopper

(Oak Brook, IL) - April 26, 2014
Love the design on the stamp and the quick delivery of the item...

Better than I expected!
By
Shopper

(Parsippany, NJ) - April 12, 2014
Great quality. It came exactly as pictured in the preview. Love the purple color. It is dark enough to see well but not so dark that it looks black. It was also delivered very quickly.

Efficently Useful
By
Shopper

(Yonkers, NY) - February 15, 2014
This product saves the time and effort in backing a envelope for mailing. Nice prints too!

Really pretty
By
Shopper

(Alexandria, VA) - January 24, 2014
I was hoping the letters wouldn't turn out wonky and uneven on the stamp and also thought it was like the old style self inking stamps where if you press down hard enough you will get the outline of the rectangle as you stamp but it isn't and the letters were perfectly in tune with the direction of the lines in the design. I LOVE it, it is elegant and adds a nice touch to letters, postcards, and everything else. I used these to stamp my save-the-dates for my wedding.

Fantastic
By
Sezin K.

(Lighthouse Point, FL) - January 20, 2014 (
See all reviews by this customer
)
This is perfect! Exactly what I need to stamp my novels as well as my art and greeting cards.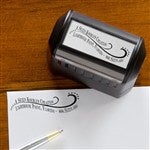 Excellent quality
By
Shopper

(Concord, CA) - January 11, 2014
The workmanship is outstanding. It arrived as advertised. I love it.

No more address labels!
By
Karen B.

(Geneseo, NY) - December 27, 2013 (
See all reviews by this customer
)
Very happy with this address stamper! Glad to have an alternative to address labels!

New last name!
By
Laura T.

(Lake Havasu City, AZ) - March 15, 2014 (
See all reviews by this customer
)
I like the swirls, however the address line is kind of cramped. My street number and name are kinda blended together so it makes it difficult to read. Try to abbreviate Drive, Street, Avenue, etc. Other than that, good quality, cool case that it came in.

Original
By
Shopper

(Chandler, AZ) - March 4, 2014
Purchased this stamp as it looks a little more personalized than the majority of stamps on the market.

Pleased Indeed!
By
Shopper

(Mesa, AZ) - February 12, 2014
I've seen these stamps and are pricier but I think the quality of this stamper is excellent and easy to use. I'm planning on purchasing another one or maybe even buying as a birthday or Christmas present.

BLOTCHY
By
Shopper

(Cambridge, NY) - January 13, 2014
THE INK LABEL SEEMS A BIT BLURRY,THE INK SEEMS TO BLOTCHY ALSO.....I HOPE THE LETTERING IMAGE IMPROVES AS I USE IF MORE.