Nice Album
By
Candice D.

(Houston, TX) - February 26, 2010 (
See all reviews by this customer
)
This album is great for pictures. It is engraved nicely, and you can put lots of your 4 x 6 pictures in it.

great
By
indyah K.

(houston, TX) - October 21, 2009 (
See all reviews by this customer
)
it was a great and fast transaction i ever had

Great Gift!
By
Dana V.

(New York, NY) - October 8, 2009 (
See all reviews by this customer
)
I bought this for a dear friend's wedding. The Bride and Groom both loved it and said it was their favorite gift that would hold their memories from that great day!
There is no price you can put on sentimental value, however, if was definitely affordable!

Very Nice.
By
Nelson L.

(North Judson, IN) - October 3, 2009 (
See all reviews by this customer
)
The photo album is great. Made with great quality and the personalization turned out very nicely. The only downfall is it gets fingerprints on it very badly every time you touch it which is annoying.

glass photo album
By
Shopper

(Mt Pleasant, MI) - May 30, 2014
Very impressed. Got it very quickly. Wish it was a little bigger. But think they will love it. Will for sure order again

Cover Slides Off & Pages Tear Easily
By
Shopper

(East Freetown, MA) - January 5, 2014
I really liked the engraving that is done on the cover, however the cover slides off the album itself. I would have rather had a cover that was permanently attached to the album. Also, the pages tear very easily. I was putting in pictures and the page tore.

Just Okay - Description not quite acurate
By
Allison H.

(elmer, NJ) - July 23, 2013 (
See all reviews by this customer
)
For the price this album is okay. The engraving is nice, however, the shiny surface gets fingerprints all over it very easily. The photo slots are bigger than 4x6 (I'd say more like 4.5x6) which makes it easy to get pics in, but then it looks like they are too small. Not the nice finished look I was hoping for. Also the photo slots are flimsy, so it seems cheap but again for the price what did I expect? Lastly, the album actually holds 100 pictures not 80, which is great for those who need more slots but I only needed 64 and now I have so many more extra than I thought I would.

Love Ever After
By
Shopper

(Quincy, MA) - October 21, 2011
I was disappointed that the engraving was not very noticeable. it looks like it was etched not engraved. i bought this for my son & future daughter-in-law as an engagement present but since I was disappointed I went out & bought something else & will give it to them as a just because gift.

Dont EVER buy the gift boxes $4.95 is a rip off!!
By
Shopper

(ALBUQUERQUE, NM) - September 19, 2011
The album was beautiful but kinda cheaply made and small for the price...Also the girft boxes I paid $4.95 each for were crushed and thin paperlike boxes definitley not worth the money for the gift boxes

Love Ever After Photo Album
By
Kathleen C.

(Franklin, TN) - July 4, 2011 (
See all reviews by this customer
)
Nice product, but again not as big as expected. This is the second time I have purchased something from Personalization that I wasn't pleased with the size.
This seems to be a trend lately with your company. For the money that is spent on the product you should get more. The personalization is beautiful. The dimensions should be accurate in the product discription. Maybe, a actual size comparison should be shown.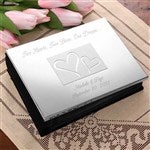 Inside looks great... outside not so much
By
Beth T.

(Pflugerville, TX) - May 18, 2011 (
See all reviews by this customer
)
The front of the album has a mirror effect to it that makes it difficult to read the personalization and reflects light into your eyes. It also shows fingerprints easily. The inside of the album is nice though.

Surprised
By
Karen W.

(Clarksville, IN) - July 8, 2010 (
See all reviews by this customer
)
I was surprised that the product was very shiny and will show fingerprints easily. The writing can be seen the clearest by holding the album at a certain angle. It is not at all what it looks like in the picture.

Wedding Gift
By
Marta P.

(Ashburn, VA) - June 10, 2010 (
See all reviews by this customer
)
The engraving is hard to see. I had to angle the photo album to see what it said.

Very disappointed
By
Shopper

(Cathedral City, CA) - July 4, 2011
The Album is nice enough, but the engraving was so faint you had to tip the album a certain way in order to to see it, other wise it appeard blank.

I was extremely disappointed.

I have purchased many gifts from Personalization Mall, this makes me wonder about the gifts I had sent directly to the recipients.



Not pleased
By
Amruta A.

(Houston, TX) - June 20, 2010 (
See all reviews by this customer
)
The engraving was very light. Had hard time making out what was written.

Looks much different in person
By
Shelley V.

(Greensburg, PA) - April 22, 2010 (
See all reviews by this customer
)
This photo album doesn't look the same in person. It is a mirror, not a steel finish. So when you hold it up to look at the engravement, you are looking at yourself! Wasn't happy with this purchase.

absolutely useless..
By
Shopper

(iselin, NJ) - April 17, 2012
Its so useless bought it as a wedding gift but cant read any letters at all wish i knew wont come out as good as it shows on the website...should atleast inform the customer about it....sheer waste of money...very dissapointing..

wedding gift
By
Linda M.

(Hallsville, MO) - October 18, 2011 (
See all reviews by this customer
)
Ordered Photo Album for a wedding gift. Not pleased with it. Poor engraving on front of album couldn't read it very good. didn't look like picture on computer screen. Would not buy another one. No refund policy.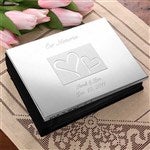 disappointed
By
Sharon S.

(Indian Wells, CA) - March 9, 2010 (
See all reviews by this customer
)

I had planned to give this album to friends but when I saw it, I knew I wouldn't give it to them. Not only is the engraving cheap looking, it's crooked!
I will be returning it.