Nice byt title is misleading
By
Kirt T.

(North Liberty, IA) - December 12, 2009 (
See all reviews by this customer
)
This is a beautiful trinket box, it isn't a jewelry box as the title states. However, very nice look, lettering, and quality

Good
Very nice item, and personalization was great.

Dainty, but cute
By
Libby C.

(Shelbyville, IL) - October 27, 2009 (
See all reviews by this customer
)
Got this for a friend for her birthday. Won't hold too much, but it was very pretty. Would have liked a few more lines available, but was still a really good gift.

Nice gift
By
Terri H.

(Carol Stream, IL) - October 13, 2009 (
See all reviews by this customer
)
This is a beautiful box. Very special. I love it except the words don't stand out enough. Maybe deeper engraving would help. The service was excellent from ordering to receiving!

Beautiful Jewelry Box
By
Barbara M.

(South Plainfield, NJ) - October 9, 2009 (
See all reviews by this customer
)
I really liked this purchase. I would only add one "wish" for it. Could the etching (somehow) be darkened? It's difficult to read unless you put a dark paper under it.

Very Nice
By
Joanne P.

(Clay, NY) - October 2, 2009 (
See all reviews by this customer
)
I purchased this as a trinket box for a newborn that has everything she will ever need so I was looking for a unique baby gift....I put her name date of birth and weight on the top....It was beautiful my only issue was I wish the engraving were a little deeper maybe so that it stood out a little more if possible...But it was very nice...Thanks for your products and pricing is good....Awesome delivery....

Personalization is too pale.
By
JANICE B.

(FAR ROCKAWAY, NY) - June 13, 2014 (
See all reviews by this customer
)
Love the concept, but inscription is too pale. Have to angle it against the light to read the whole thing. Aaaand, the metal trim on the box itself is lighter in color than represented in the picture. In the picture the metal is more intensely dark allowing for a better contrasting look. Anyway, I'm sure my niece will like the thoughtfulness of the personalization, especially not having seen it on your site to make the comparison.

I've ALWAYS been VERY pleased with my previous purchases from this site, and they've been 5-star rated but this time,I'm a little disappointed. All that being said, I'm sure SHE'LL like it.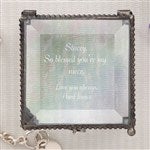 The box is nice
By
Shopper

(dover, DE) - December 19, 2013
The box is in good order and looks like the picture. As for the print was not very clear and looks like it was spray painted on with a very cheap stencil. I would have been better off with no words on the box.

Disappointed
By
Angela J.

(Farmington Hills, MI) - November 1, 2013 (
See all reviews by this customer
)
I really love the box, but the engraving is disappointing. You can hardly see it! I bought this as a b-day gift and I feel embarrassed giving it to her. I will have to point out the engraving to her, as I had to put dark paper behind it to see. I hope PM finds a way to better engrave on glass so it's obvious.

A LOT SMALLER THAN EXPECTED
By Shopper (philadelphia, PA) - September 4, 2013
Maybe I should have paid close attention to the measurements before purchasing. Instead I stared so much at the pictures of the jewelry box. The idea& the detail is nice but next time I'd probably purchase something else. Also, the engraved name is lightly printed and could have been darker.

Jewelry box
By
michelle J.

(yorktown heights, NY) - September 1, 2013 (
See all reviews by this customer
)
Pretty box - engraving was too light

sizing
By
Melissa C.

(Manchester, NH) - June 3, 2013 (
See all reviews by this customer
)
This is an adorable treasure box I got for my mom for our wedding. I was a little dissapointed in the size, it is a little small so I don't think she will be able to put much in there.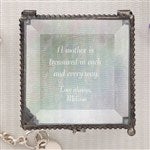 Disappointed
By
Shopper

(Desert Hot Springs, CA) - March 25, 2013
I am afraid I was disappointed with this item. While the box itself is gorgeous, the etching that was done on the glass was faded on many of the letters. The top of some letters was faded, and would gradate down and become stronger etched at the bottom. If it was consistent it might have been so bad, but it was like that on maybe half the letters, - If that makes sense. Hoping next time will be better.

jewlerybox
By
Shopper

(RANDOLPH, MA) - February 4, 2013
The box is cute, but, I was surprised of how small it really is. The engraving is ok but could hardly read. Overall, I was disappointed. I would not purchase this particular jewelry box again.

Jewelry chest
By
Gloria R.

(New Orleans, LA) - December 27, 2012 (
See all reviews by this customer
)
Very nice gift item. I'm sure the person will love it.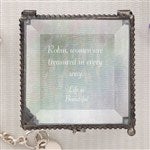 Smaller than seems
By
Shopper

(Binghamton, NY) - September 29, 2012
I will be more careful in the future to recheck dimensions. The jewelry box is not the typical size you would expect of a jewelry box. Quality isn't bad, product is very pretty though. I will just be more careful in the future.

vintage treasure
By
Andi M.

(Sulphur Springs, TX) - July 31, 2012 (
See all reviews by this customer
)
we loved the personalized jewelry box we are accually using it in my daughters wedding to put the rings in instead of using a pillow. The only down side to this is the engraved part is kind of hard to read i think it would have been better in a dark color, other than that we loved it:)

Pretty
By
Shopper

(Maspeth, NY) - March 5, 2012
Was very pretty but the engraving was too light to be seen clearly on glass .It should have been done in a darker colored script instead of white. But price was good

was only "Okay"
By
Shopper

(Rockdale, TX) - January 3, 2012
this product quality was only okay. the hanging heart was extremely off center...not sure if that was how it was to look or not, but made it look like a clearance item, and the heart was nice but the "chain" it hung on looked cheap. the glass was pretty though!

I love the gift even though there were malfunctions.
By
Shopper

(Poughkeepsie, NY) - December 18, 2011
This item looked good so I personalized it and waited for it to come. It's convenient because the store sends you e-mails that inform you about the process and stages of shipping! The only downside for me personally, was that when it came, it was cracked. So I complained and they sent me another one free of charge and I didn't even have to bring back the other one! I'm very pleased with this gift!

Lovely Gift but not Worth the Price
By
Lori K.

(Pasadena, CA) - December 16, 2011 (
See all reviews by this customer
)
I loved this gift idea, it was a nice change of pace for a Birthday present. I bought it for my cousin's 18th Birthday & was very dissapointed. The writing on the lid was very faint and hard to read. I had to hold it at certain angles to be able to read it. My first dissapointment from personalizationmall.com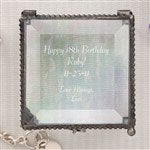 Nice Little Gift
By
Shopper

(San Jose, CA) - December 9, 2011
I was somewhat disappointed in this item. The inscription was hard to read and the dangling heart was just a plain piece of not-so-pretty metal. Overall it's nice, but not great.

unique, but could have better material
By
paige S.

(hodges, AL) - December 1, 2011 (
See all reviews by this customer
)
This was as seen in picture--pretty and a unique idea! However...a piece on it looked very cheap, and the front leg was very bent in! But was fixable. I give it a B-

Little disappointed
By
Shopper

(RIVER OAKS, TX) - November 19, 2011
This is nice, not wonderful, but nice. I doubt that I would order it again.
I plan to place a piece of jewelry inside, so that will increase the "Special Factor" and make this gift acceptable (in my eyes )to give.

Smaller than you think.
By
Cynthia G.

(San Jose , CA) - November 5, 2011 (
See all reviews by this customer
)
I really loved the box and the engraving, but the box size was smaller than I thought for the price.

Not as nice as I thought...
By
Shopper

(Hemet, CA) - October 18, 2011
I ordered both this jewelry box, as well as the clear jewelry box. I was much happier with the less expensive, clear box, as it was a little simpler and more classy. But the main reason why I didn't prefer the Vintage box was that the bottom of the box on the inside is irridescent making it nearly impossible to make out the inscription on the top of the box. I fixed that problem by cutting out a piece of purple construction paper and placed it in the bottom... it worked like a charm. All is good.

Gift
By
Shopper

(Williston Park, NY) - June 27, 2011
It is very nice, but smaller than anticipated, a little costly for it's size.

Nice
By
Sherrie H.

(Cape Coral, FL) - May 9, 2011 (
See all reviews by this customer
)
This is a nice keepsake, but I did notice that I could have included my name on it, even though the company said there was not enough room.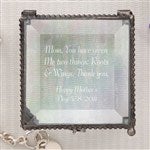 They sure do try...
By
Shopper

(Manchester, NH) - April 29, 2011
I have bought from Personalization Mall before and they are hit or miss really. This box is really pretty and a nice little gift for decent money. But mine came with the heart on the front not connected to the box and it looks like the little metal loop is broken. No time to return for another - shame on me for not taking that into consideration. I have to try to fix it myself and hope for the best. Sometimes there stuff is lovely - other times it's broken or wrong.

Nice, but not awesome
By
Brandi S.

(Camby, IN) - April 26, 2011 (
See all reviews by this customer
)
I really loved this jewelry box when I first saw it and thought my mother would love it for Mother's Day. It did turn out very nice and I'm happy with it, but it's not a super great quality. I feel like it may be a bit overpriced. I bought the glass "Mom" sun catcher for my MIL and wish I would've gotten that for my mom as well. It turned out to be a much nicer product for more than half the price.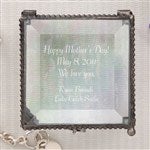 Just Okay
By
Shopper

(North Andover, MA) - April 12, 2011
This item is just as described except the engraving could be better. Since it is on the glass it is very difficult to read. Overall it is nice and I am satisfied but I am glad it was an extra gift for my MOH and not what I chose for the entire wedding party.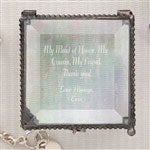 It's alright
By
Kelly K.

(Flandreau, SD) - December 15, 2010 (
See all reviews by this customer
)
The box is very pretty but the engraving is hard to read.

Writing Hard to Read
By
Katelyn M.

(Louisville, KY) - November 27, 2010 (
See all reviews by this customer
)
I was not so thrilled with this purchase... It was very hard to read what I had etched in the glass. I have purchased a lot from personalization mall, and this was the first item I wasn't pleased with... The item itself was very pretty. It was just the writing on the lid that bothered me.

Very nice piece, but..
By
Lynn E.

(Palmdale, CA) - November 17, 2010 (
See all reviews by this customer
)
It was received very promptly, and I love the piece, but I was disappointed that the quote on top is very hard to read because of the white bottom. It blends in because there is not contrast behind it. If there were a black or purple velvet lining on the bottom, it would set off the letters better.

Jewelry Box
By
Jolyn B.

(Strongsville, OH) - August 25, 2010 (
See all reviews by this customer
)
This was much smaller than I thought it would be but very nice. The inscription is very light and I had a hard time reading it.

Vintage Jewelry Box
By
Grace B.

(Riverview, FL) - August 12, 2010 (
See all reviews by this customer
)
We gave this jewelry box to my granddaughter for her 18th birthday. Inside we put a piece of jewelry that belonged to her great-grandmother. It was both sentimental and meaningful. The personalization marked a milestone in our granddaughters life as well as a beautiful jewelry box to keep her memories in.

nice but..?
By
Enid L.

(Columbia Heights, MN) - May 18, 2010 (
See all reviews by this customer
)
this is a lovely box. but i'm a little confused..its very hard to see the lettering, from any angle! and mine was printed a little crooked. i dont have time to send it back before my wedding, but i was thinking it would be perfect, given the other reviews, and its not quite there.

Good Gift - Small Writing
By
Angela B.

(Atlanta, GA) - May 12, 2010 (
See all reviews by this customer
)
We bought this as a Mother's Day gift. It is a cute little jewelry box, however the writing was entirely too small to read. It would help if the sight allowed to upgrade the font to a thicker BOLD font. Other than that it served its purpose.

Hard to read engraving
By
Amy R.

(Cave Creek, AZ) - April 26, 2010 (
See all reviews by this customer
)
The box itself is beautiful but the engraving is difficult to read, you need to tile the box to the right angle. The picture is a little deceiving but as I said, the box itself was perfect!

Somewhat Disappointed
By
Laurel B.

(Tucson, AZ) - April 8, 2010 (
See all reviews by this customer
)
This is nice enough, but not worth the price. The metal is discolored, the heart in the front looks cheap, and worst of all --- the engraving is barely visible. You have to hold it at an angle to see it, and even then it's hard to make out. Not the quality I was expecting.